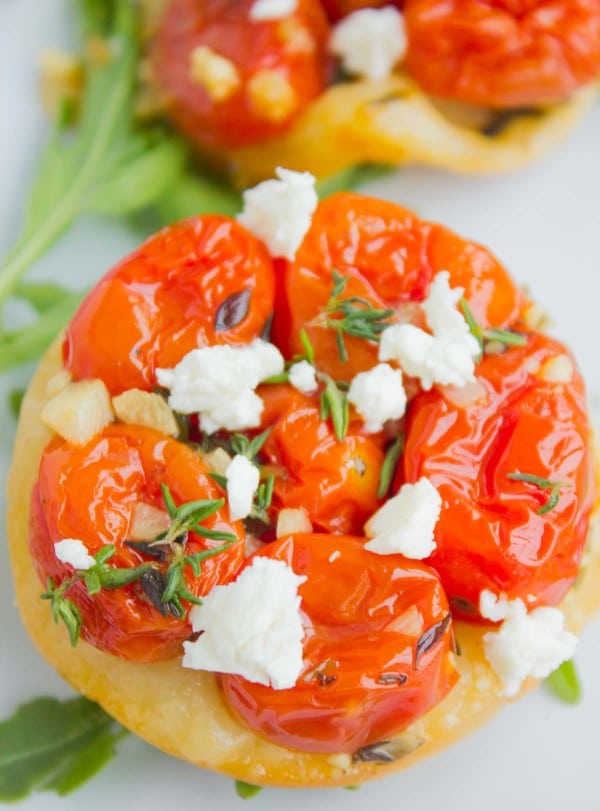 This gorgeous looking, sweet tasting, super easy tomato tarts tatin recipe is the perfect appetizer or finger food to impress with! Tomatoes are sautéed with garlic for an extra burst of flavor, topped with salty feta and fresh thyme, and all covered in a flakey pie dough baked till golden crisp. When flipped, the tomatoes will be slightly softened and and sweet from roasting.
This is one of those recipes I love making at my cooking classes because of the "wow" factor it offers with a shamefully simple and easy technique. It's perfect for entertaining, for fancy potlucks, or when you're making a special dinner for a special someone!





I also love this recipe, because it reminds me of my mom. Not only because she has a passion for French cuisine, but also because she loves tarts sweet and savoury, and absolutely loves everything in mini size! I think by far she taught me the most that food has to look as gorgeous and sophisticated as can be. And that food looks better in mini sizes. Now that doesn't mean making food more complicated, it actually means making it simpler and faster.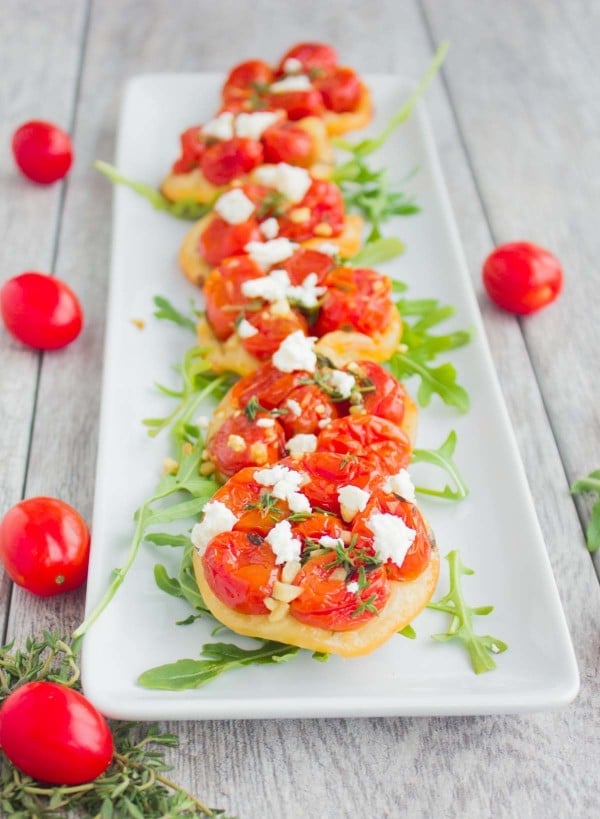 When it comes to those mini tomato tarts tatin, imagine biting through a beautifully ripe and sweet roasted tomato that has a hint of garlic and fresh thyme, a tang from the feta and an ever so delicate pastry crunch. Mind you, goat cheese or Parmesan cheese are just as yummy in this recipe, and any type of cheese you like! It adds a compliment taste to the tomatoes, and most importantly, the cheese get the tomatoes to stick to the pastry.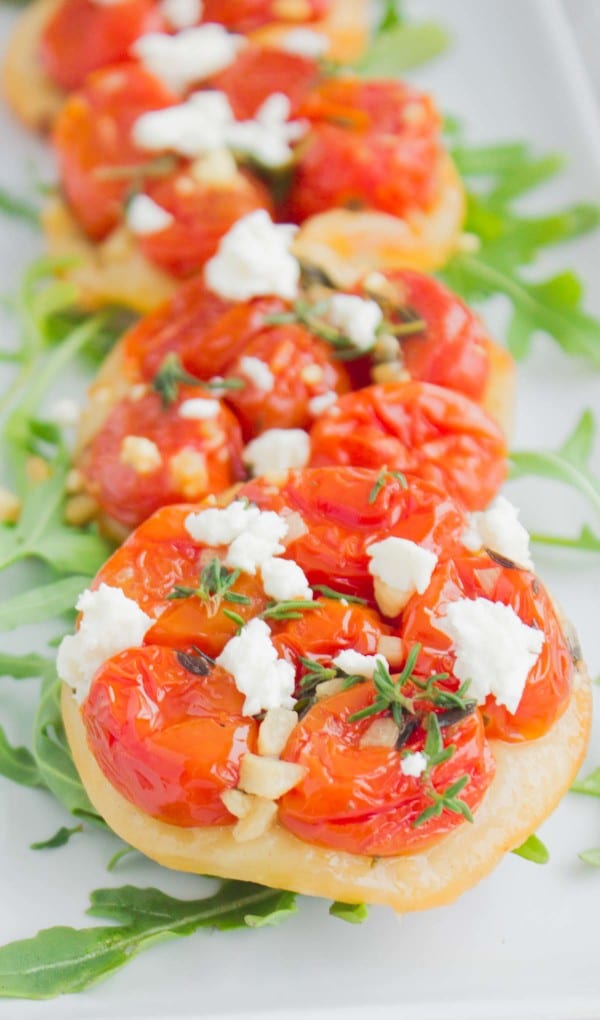 I've posted my easy flakey pie dough before, and I can't stress how easy it is because I use frozen shredded butter and a fork as opposed to making it by hand, food processor or using any gadget. However, I will stress too that store bought puff pastry works just as fine with these tomato tarts tatin. And it makes them do-able in 20 minutes from start to finish!
Back to the easy flakey pie dough, again I would recommend it because it's easy and has far better flavor and less butter than puff pastry for sure! And if you prepare it in advance, it also makes these tarts do-able in 20 minutes from start to finish! So, take the challenge and take your tarts to the next level!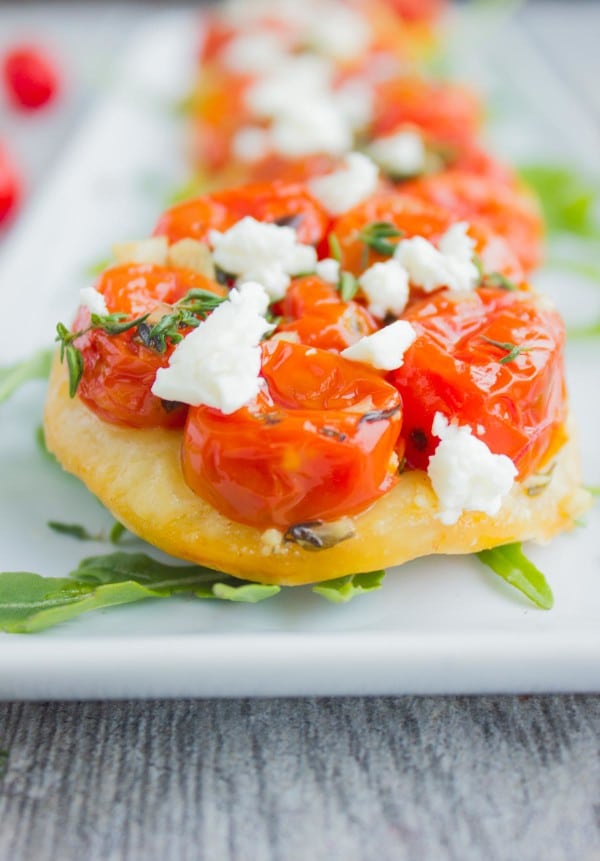 These tomato tarts tatin are perfect for your next brunch, or finger food party. They make a great appetizer or side dish at your table. And a potluck superstar! Give those gorgeous, delicious and super easy tomato tarts tatin beauties a try and enjoy!:)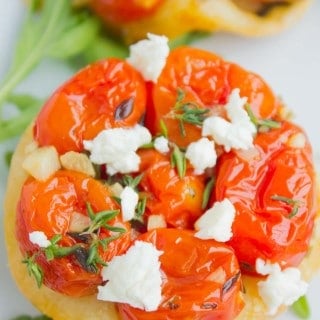 Tomato Tarts Tatin
Ingredients
1

batch of easy flakey pie dough or store bought puff pastry

1

Tablespoon

of olive oil

2

boxes of baby tomatoes

1

large clove of garlic

1

tablespoon

of fresh thyme

, minced

1/4

cup

of crumbled feta cheese

pinch of salt

1

egg beaten with 1 tablespoon of milk in a bowl
Instructions
Preheat the oven to 400 degrees F.

Sautee the garlic in olive oil over medium high heat for just a minute until it's fragrant, then add in the tomatoes and thyme and sauté for 30 seconds more

Remove form the heat and allow them to cool.

Roll out the dough into 1/8th thickness and use a round cookie cutter about 1 1/2 inch in diameter to cut out circles of dough.

On a standard size muffin pan, place about 4-5 pieces of tomatoes at the bottom of each cavity and arrange them so they don't overlap.

Sprinkle about 1/2 teaspoon of feta cheese on top of the tomatoes and make sure the cheese doesn't sink to the bottom of the muffin pan as it may burn during baking.

Take a circle of the dough and press it firmly on top of the tomatoes and feta.

Brush the tops of the pie dough with the egg wash and sprinkle extra fresh thyme.

Bake for 15-18 minutes until the pie crust is golden.

Remove the muffin pan from the oven and wait 2 minutes for them to cool down.

Use a small spatula, plastic knife or spoon and gently lift the tarts out of each muffin cavity and flip them upside down on a plate. Serve.