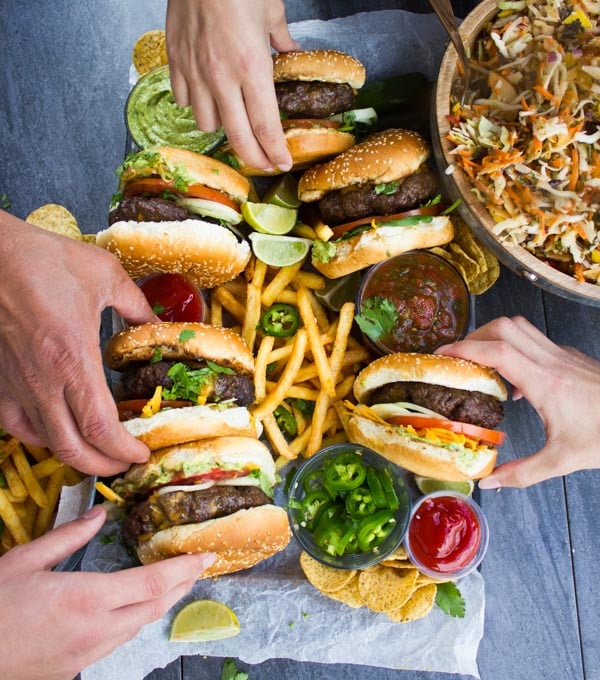 Fire up your BBQ today—you can't miss these Best Lamb Burgers Loaded with Nachos recipe! They're succulent, juicy and frankly the most flavorful lamb burgers ever! Now imagine combining these burgers with the flavors and toppings of your favorite nachos—it just takes burgers to a whole other level! A burger dream come true.. 🙂
This succulent post is sponsored by friends at American Lamb as part of their Summer LambVentures Contest. American Lamb is delicious, fresher, bread primarily for quality meat, nutrient rich, excellent source of lean protein and is growth hormone free. Look for American Lamb at your local grocery/butcher stores and taste the difference!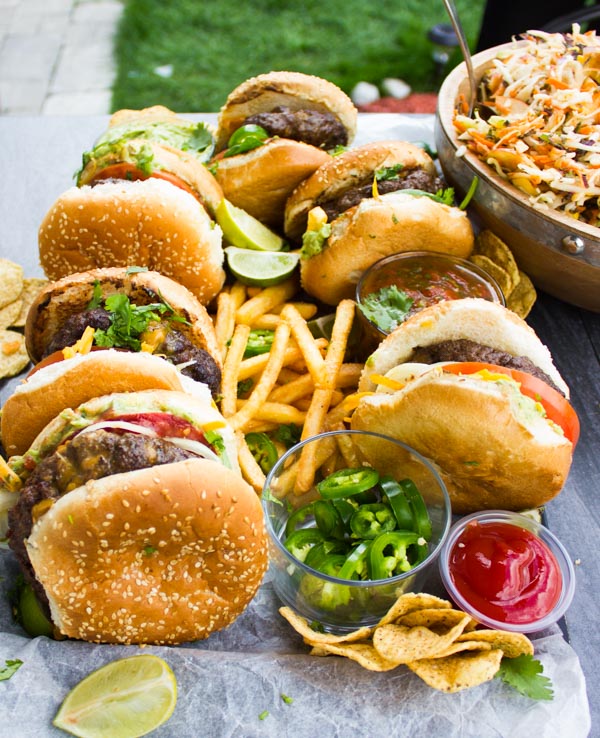 I'm so excited about these lamb burgers for so many reasons. First of all, they're seriously the BEST lamb burgers you can ever have!! They're different from the classic idea of lamb burgers loaded with feta and yogurt—which don't get me wrong, are still delicious! But these nachos loaded lamb burgers offer quite a lot more 🙂 There's the succulent juicy flavor packed lamb which is stuffed with cheddar cheese, jalapeños and spiced up with plenty of flavor, and there's all your nachos fixings.
Before we get to the recipe, can you see our brand new BBQ? Yaaaaay it feels great! So let's not get into the details of why we had to renovate, but the best part is we HAD to 🙂 While the weather was awesome at the time we got it, just a few days later we went through a series of rainy weeks. So the BBQ stayed safely in its' box. Finally the weather warmed up and it was time to get the BBQ up and running. But it's not fun to BBQ on your own isn't it?
We called our closest friends and said—hey we've got the best lamb burgers here, but our BBQ needs to be assembled..The same day my friend and her two handsome young gentlemen in high school put this BBQ up in no time! In the meantime, I was getting the burgers ready, making this quick Restaurant Style Mexican Salsa and Classic Mexican Guacamole, frying up some fries and a side of my Coleslaw with Kale Apple Pomegranate (substituted peach for the apples). And it was party time! 🙂
So let's talk about the succulent lamb burger goodness. First of all, it's all about the lamb so get yourself some really high quality American lamb to get the best lamb burgers. Spice it up with flavors that pair perfectly with your nachos toppings—dried oregano, chilli powder, cumin, garlic powder, salt and pepper. Get your lamb well mixed with all the spice but don't overwork the meat. Shape your lamb into patties (the size of your choice—I made 3 inch diameter patties, 1/2 inch thick). Open up a small hole in the centre of each lamb patty and stuff it with shredded sharp cheddar cheese and sliced jalapeños. This is optional but SO worth it!
Now get grilling! The burgers need about 6-8 minutes on each side with the grill covered half way, and a medium high flame. While that's cooking, prep your buns, toppings, salads..everything 🙂 To assemble those BEST lamb burgers, slather your buns with guacamole, top that with salsa, jalapeño slices, onion rings, tomato rings, the lamb burger, cheddar cheese, more salsa, guacamole and crushed chips! Imagine every bite… :) And imagine how hard it was for me to snap those photos with so many hands impatiently waiting for their lamb burgers lol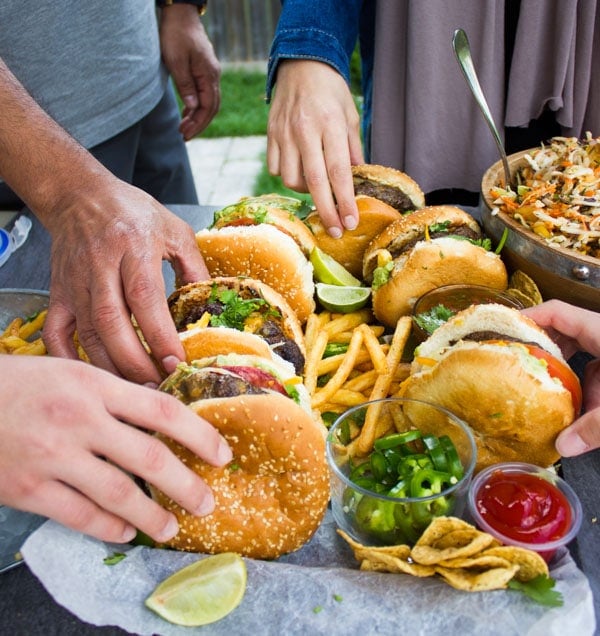 Hands down, the BEST lamb burgers there can ever be! And probably the best way to celebrate this BBQ season and the best meal for Father's Day! Above all, it's as easy, quick, simple an straight forward as can be! This is a recipe you can NOT miss and I'm sure you'll be making it way after the Summer too! Fire up your grill and Enjoy these lamb burgers! 🙂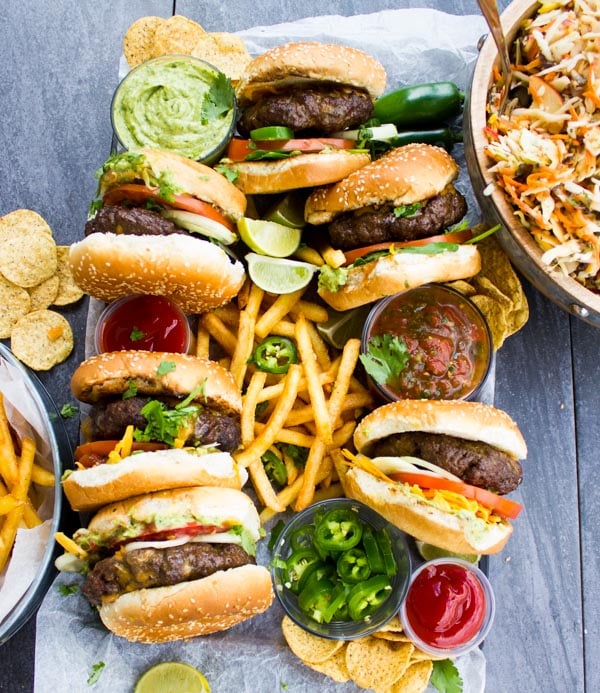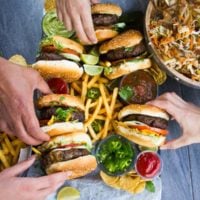 The Best Lamb Burgers Loaded with Nachos
Fire up your BBQ today—you can't miss these Spicy Loaded Nachos Lamb Burgers recipe! They're succulent, juicy and frankly the most flavorful lamb burgers ever! Now imagine combining these burgers with the flavors and toppings of your favorite nachos—it just takes burgers to a whole other level! A dream come true.. 🙂
Ingredients
3

pounds

of ground American Lamb

2

teaspoons

of Kosher salt and same amount of coarse black pepper

2

tablespoons

of chilli powder

1

tablespoon

of oregano

1

teaspoon

of cumin
Filling: (optional)
4

jalapeno's thinly sliced

1

cup

of packed of shredded cheddar cheese
Toppings and Sides:
Classic Mexican guacamole

Restaurant style Mexican Salsa

Sliced jalapeños

Shredded Cheddar Cheese

Onion Rings

Tomato Slices

Crushed Chips

(your choice)

Burger buns

(your choice)

French Fries

Apple Kale Pomegranate Slaw

(substitute Peach for the apples)
Instructions
Season the lamb with all the spice and gently mix it to incorporate all the flavors without overworking the meat.

Divide the lamb into 8 large patties—the size is your choice, I made large patties about 3 inch diameter and 1 inch thickness, and set the patties on a parchment lined baking sheet.

Take one patty at a time and make a small dent in the centre and widen it so it can take the stuffing. Place about 4 slices of jalapeños and 2 tablespoons of cheddar cheese into each patty (more or less to your taste) and gently seal the patty back to its' original shape.

Preheat your BBQ to medium high and place the burgers on the grill. Grill for 6-8 minutes and then flip to the burger. Cover the grill and let the burger continue to cook for another 8 mins (depending not he size of your patties). Keep the grill covered until your lamb burgers are ready.

Assemble the lamb burger: on the bottom burger bun, spread a teaspoon of guacamole, top with salsa, jalapenos, onions, tomatoes, the lamb burger, cheddar cheese, more salsa, guacamole, crushed chips and the top burger bun.

Serve right away with a side of slaw, french fries, extra guacamole, salsa and chips! Enjoy 🙂