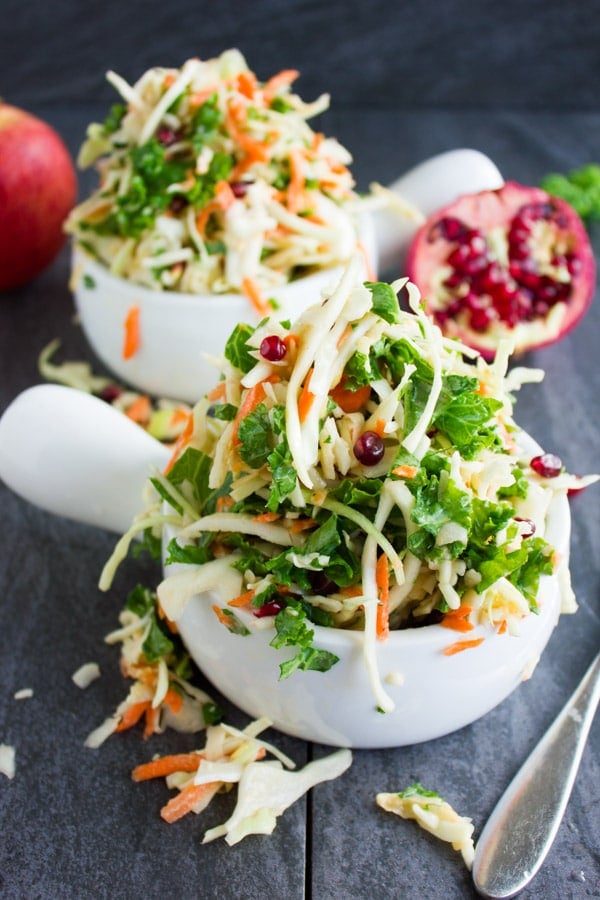 This coleslaw with kale apple pomegranate recipe is a Spring fling that carries on to Summer and beyond! It's one of my favorite slaws, it's ever so crunchy, perfectly sweet, slightly bitter and ultra light weight. It's refreshing and zesty enough to be served on a side of any meal, yet filling and satisfying to make your perfect lunch. Simply put, it's a really good salad. And a really good twist on your average coleslaw!
Alright it doesn't at all feel like Spring around here. I mean it's like we've been fooled by a few good days and then got hit by cold weather and snow storms in the last 2 weeks. And I am keeping my morale up. Having a bad flu doesn't help, but I've been dreaming of this coleslaw which makes all this mess go away in my mind. So closing my eyes, digging my fork and feeling like the freshest person on earth 🙂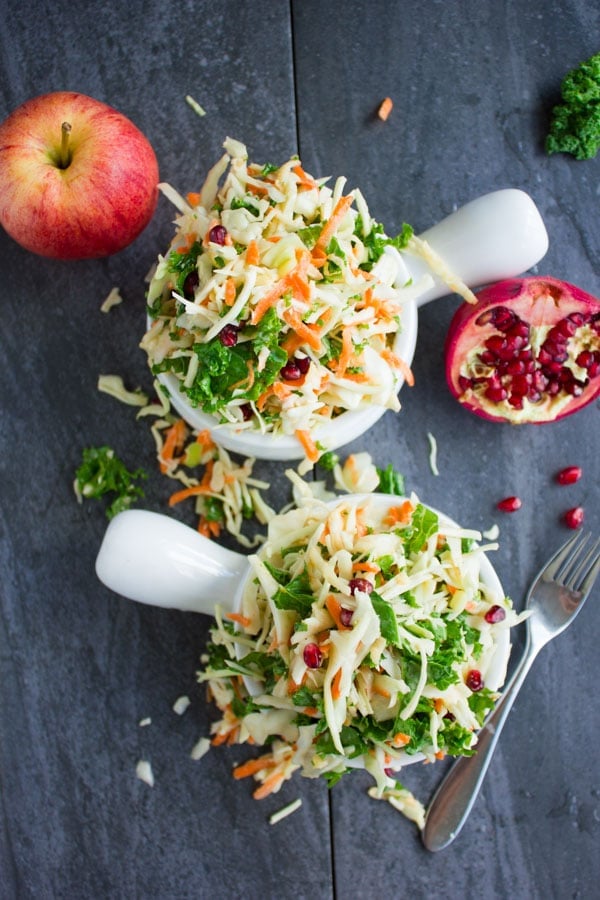 Before you run away—if you're a non coleslaw lover, let me tell you a sure thing. This is NOT your average greasy, heavy, mayonnaise dunked slaw. It's not your mushy, watery, sugary slaw. It's rather your dream come true coleslaw! YES! I am a coleslaw person, yes, even all of those icky slaws leave a small level of comfort in my heart. Which I am NOT proud about. But I seriously love coleslaw. So I make my healthy light coleslaw salad recipe whenever I crave the classic version of coleslaw—it's made with only sour cream, no mayo! And it's ultra creamy, light, slightly sweet and super satisfying.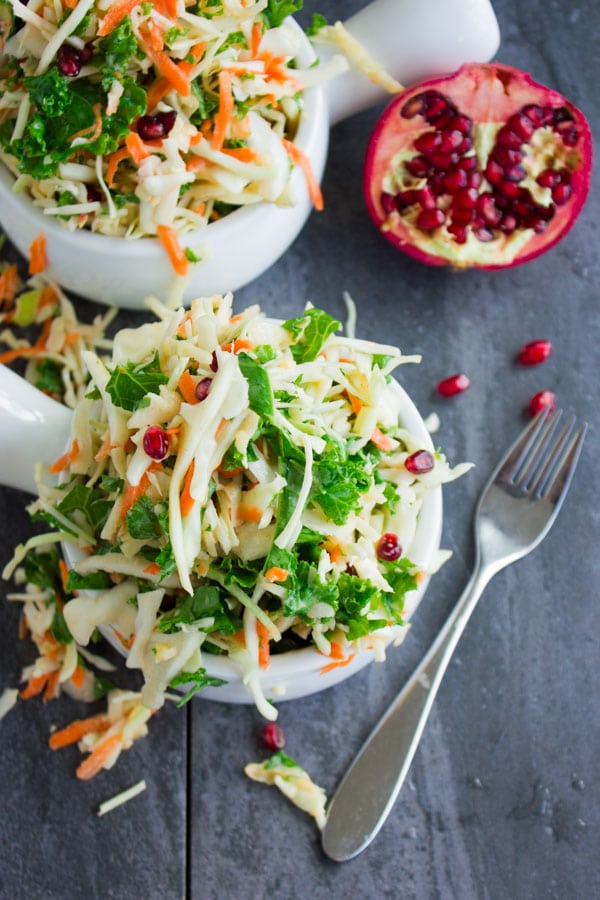 Today, I'm making my other favorite version—coleslaw with kale apple pomegranate. This version is less creamier than your average coleslaw, and so much crunchier! It's crunchy cabbage, crunchy sweet apples, and slightly crunchy pomegranate, and perfectly chewy kale. Feel free to use spinach here if you're not a kale obsessive person like me—but if so, can I suggest you search up the word "kale" on this blog search bar and explore the many ways you can fall in LOVE with it ? 😉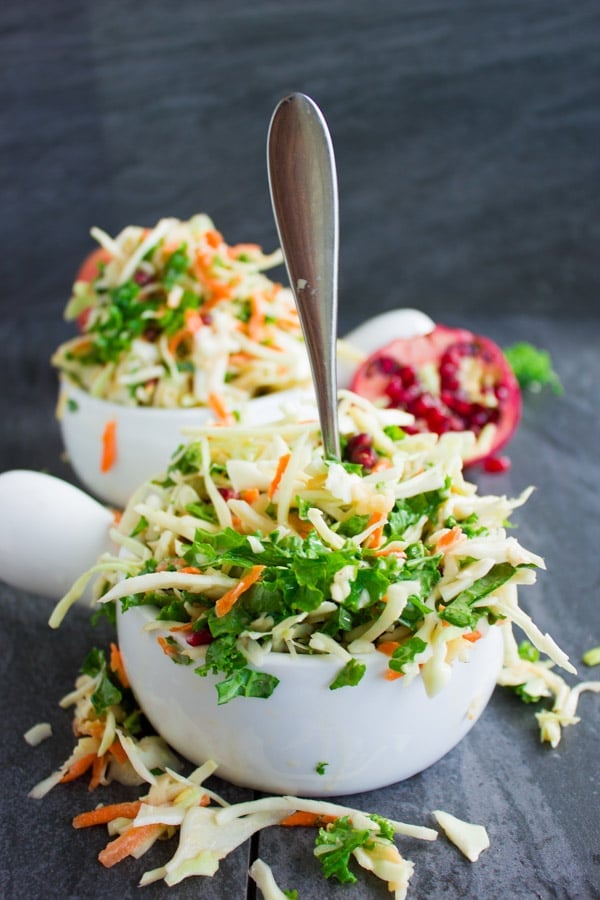 Now on to the dressing. It's all about the dressing. The secret to ultra flavorful classic coleslaw dressing is chopping finely some scallions and pickled cucumbers and adding them right in to the dressing. If you're out of scallions, use red onions or any other type but a little bit less. The second secret here, is to use a little bit of the sweet pickle water along with apple juice. The easiest way to get apple juice is by squeezing out as much liquid as possible of your shredded apples before the go in the salad, and use that liquid to sweeten up the dressing! A touch of vinegar (apple cider is best, but any white vinegar works!) And finally a touch of sour cream (use vegan sour cream if vegan, or skip all together and use olive oil to emulsify the dressing).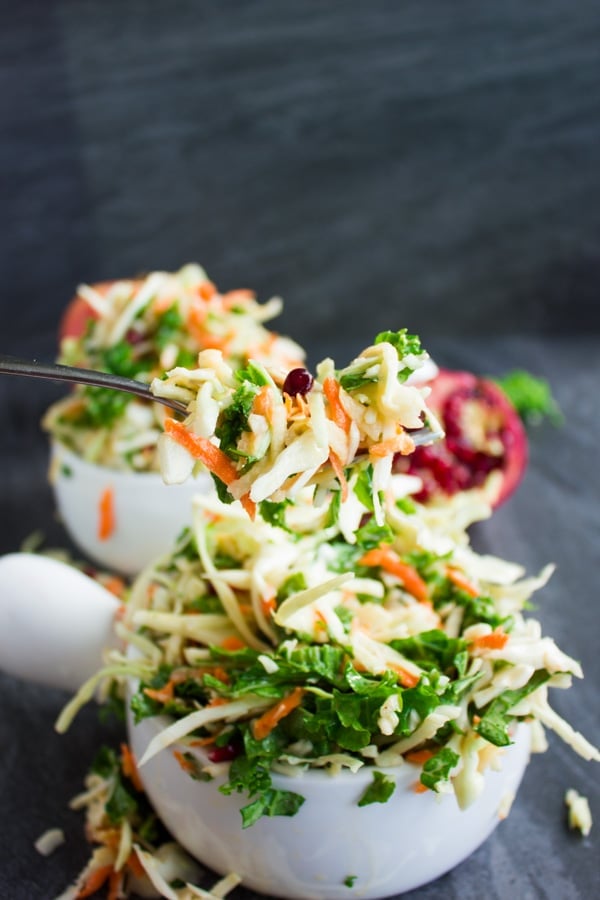 I love making this coleslaw with kale apple pomegranate salad as soon as Spring comes around. It's absolutely refreshing, zesty, crunchy and sweet! Super on its' own, or on a side of sandwiches, burgers, tacos, and anything grilled—hello bbq! Not to mention picnics, brunches and potlucks! Now yes it may have been cold for us, but just making this coleslaw brightened up my weather-mood! And I served it on a side of this Quick Zesty Herb Tilapia, some herbed quinoa and left plenty of room for dessert and coffee! Now try this bright light coleslaw and enjoy 🙂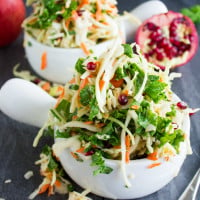 Coleslaw with Kale Apple Pomegranate
Ingredients
2 1/2

cups

of shredded cabbage

1

cup

of shredded apples

(drained and juice reserved)

1/2

cup

of shredded carrots

1

cup

of finely chopped kale

1/2

cup

of pomegranate arils

Dressing:

2

tablespoons

of minced scallions

1 1/2

tablespoons

of minced pickled cucumbers

1

tablespoon

of apple juice

( from the shredded apples)

1

teaspoon

of pickled cucumber water

(or extra apple juice)

1/8

teaspoon

of salt

1/4

teaspoon

of oregano

2

Tablespoons

of apple cider vinegar

1

tablespoon

of sour cream

(use Vegan or use more olive oil)

1/4

cup

of olive oil
Instructions
In a large bowl, mix all the ingredients for the salad.

For the dressing: add all ingredients in a sealable container. Seal the container well and shake it vigorously until the dressing emulsifies.

Pour the dressing over the salad, mix well and serve.