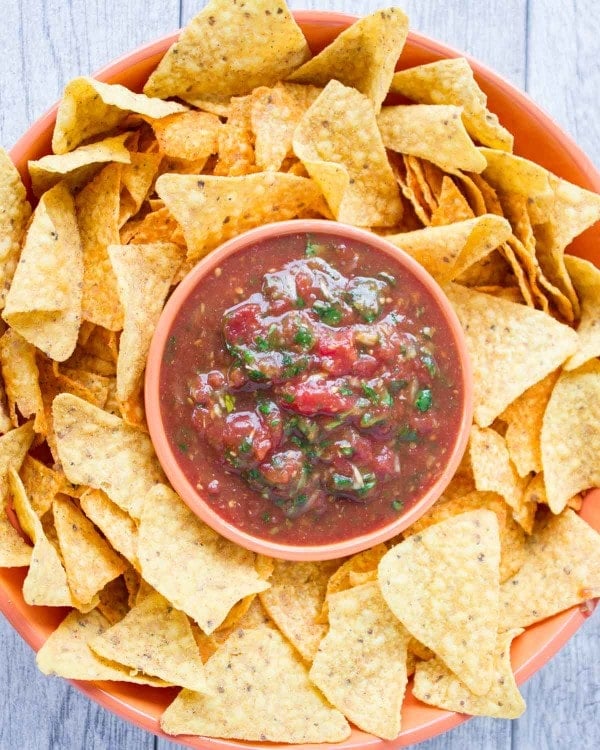 This restaurant style Mexican salsa is the ultimate dip and sauce when you're looking to snack or jazz up any Mexican dish! It's packed with fresh ingredients and flavors and you won't believe how easy it comes together : 5 minutes in your food processor! You don't need a restaurant anymore to have real authentic restaurant style Mexican salsa!
I make salsa all the time, now this is one recipe I love twisting around and around with many different variations..but today let's start with the classic basic restaurant style Mexican salsa. I use this salsa as a dip or as a sauce for fish, chicken, meats, veggies, quesadillas, sandwiches and much more..
I used to always chop and dice all my ingredients until one day, one really busy day I had to make a huge batch of my awesome nachos in 10 minutes—and that's when I took the risk of trying a food processor for my salsa. Oh how I was super pleasantly surprised! It came together beautifully, in just 5 minutes and I was still in control of how chunky I like my salsa.
There are a couple of tips and a secret ingredients in my opinion that take this salsa to another level! For best texture, I start processing the scallions, garlic, jalapeño (if you want a kick to it!), half the cilantro and parsley first. This really gives you much control of the tomatoes texture and the final texture of the salsa.
I use whole canned tomatoes for my salsa (good quality San Marzano tomatoes are best), then add spices, lime juice, remaining cilantro and parsley, and my secret ingredient : a little bit of ketchup! Yes I said ketchup. I know its not Mexican, or even close. But oh my does this ingredient make a difference to your salsa! It tones down all the strong flavours and adds just a hint of sweetness that balances the acidity of tomatoes and lime juice. And it also adjusts the consistency of the salsa and binds it together to a much smoother homogenous consistency – much like a real restaurant style Mexican salsa should be!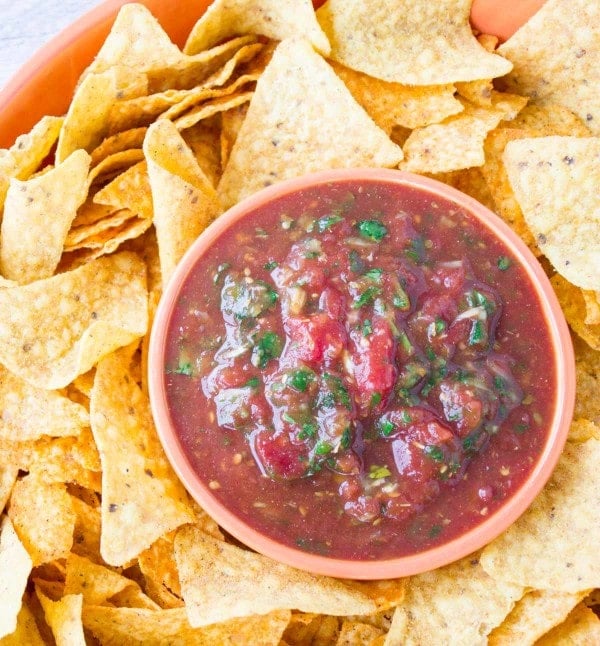 Give yourself 5 minutes today, make a batch of this gorgeous salsa and really enjoy! Store any left over salsa in the fridge for a week or freeze for up to 3 months. 🙂
Restaurant Style Mexican Salsa
Ingredients
4

scallions

, washed and trimmed

1

garlic clove

1/2

cup

of fresh cilantro leaves

, divided

1/2

cup

of parsley leaves

, divided

1

jalapeño pepper

( optional, seeded or not)

1

large can of whole tomatoes

1/2

teaspoon

of salt

(or to taste)

1/4

teaspoon

of pepper

1

teaspoon

of dried oregano

1/2

teaspoon

of cumin

1/2

teaspoon

of chilli powder

Juice of 1 lime

2

tablespoons

of Ketchup

2

teaspoons

of extra virgin olive oil
Instructions
Place the scallions, garlic, 1/4 cup each of the parsley and cilantro and the jalapeño in a food processor and pulse a few times until they are finely minced.

To the same bowl of the food processor, add the whole can of tomatoes (juices and tomatoes), along with the spices and remaining ingredients.

Pulse again a few times and check the texture after each pulse to make sure it doesn't go too smooth.

Stop at the perfect chunky level you like, taste and adjust seasoning, and serve.
Nutrition Facts
Restaurant Style Mexican Salsa
Amount Per Serving
Calories 59
Calories from Fat 27
% Daily Value*
Fat 3g5%
Sodium 496mg22%
Potassium 242mg7%
Carbohydrates 8g3%
Protein 1g2%
Vitamin A 1724IU34%
Vitamin C 29mg35%
Calcium 40mg4%
Iron 1mg6%
* Percent Daily Values are based on a 2000 calorie diet.