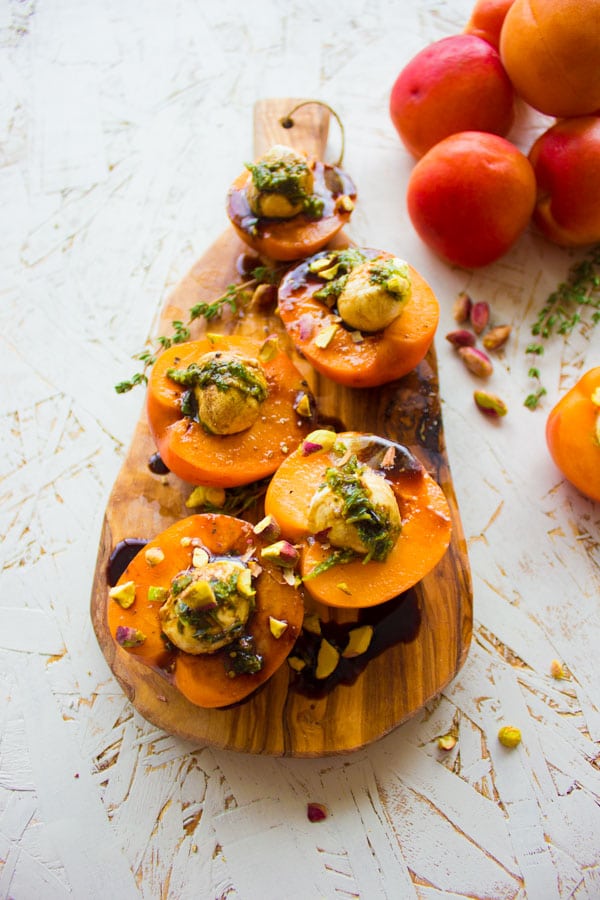 This Quick Easy Appetizer With Fruit And Cheese recipe is like a breath of fresh air. Easy, quick, ultra refreshing, vibrant and sweet appetizer to add to any meal! perfect for your bbq season, fingered party, huge family gatherings, or just a romantic dinner for two.. It's versatile to make with absolutely any type of fruit ad any type of cheese, all you need is an excuse to pair them. I'm pairing gorgeous apricots and bocconcini cheese today!
This is a quick post, really simple and quick, because look at this gorgeous and easy appetizer I'm showing off with today? How simpler can it get! And it's the simplest things in life that are often (if not always) the BEST. Today's recipe falls completely into that phrase. Two star ingredients that shine off your table with a drizzle of balsamic vinegar and some fresh basil–pure LOVE. I sprinkled some chopped pistachios over it because it's one of my favorites. Each bite is a blend of sweet, tangy, smooth, crunchy, perfection!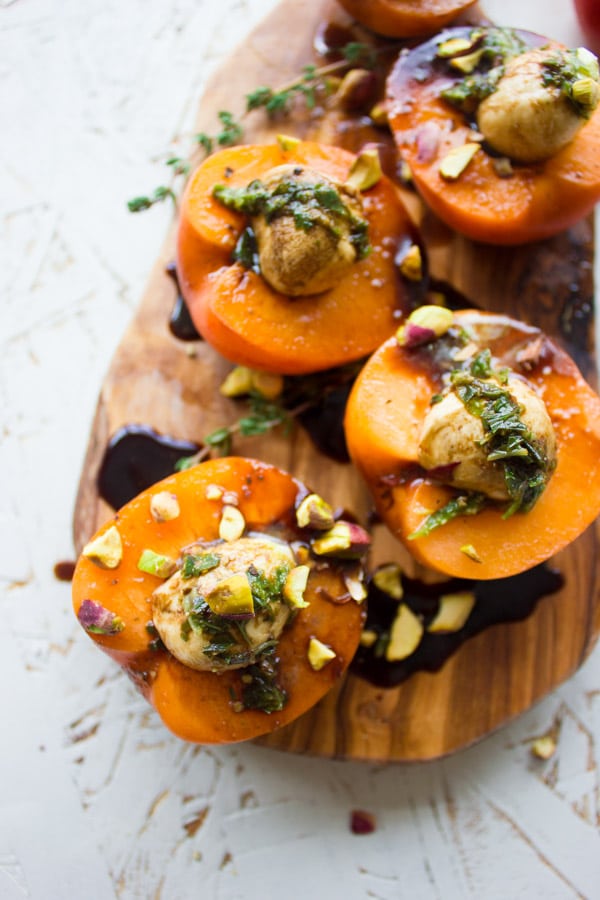 Are you all falling for fresh apricots right now? I seriously am! They're sweet and have this beautiful texture that's not water-y like many fruits. They make the best pies and tarts, the freshest salads, the sweetest cakes and bars, the tangy-sweetest sauce to drizzle on your grilled chicken, and the pair wonderfully with CHEESE. Any cheese. I've made these with goat cheese, blue cheese and even good old cream cheese– they   all came out lick your fingers delicious!
Speaking of fruit and cheese–you couldn't have missed one of my most popular recipes in m cooking classes (and on the blog)–these outstanding goat cheese pistachio coated strawberries. Another fruit and cheese combo that looks and tastes like a five star treat, while took just minutes to make–and I've got stop by step photos for that recipe too…No excuse to miss out.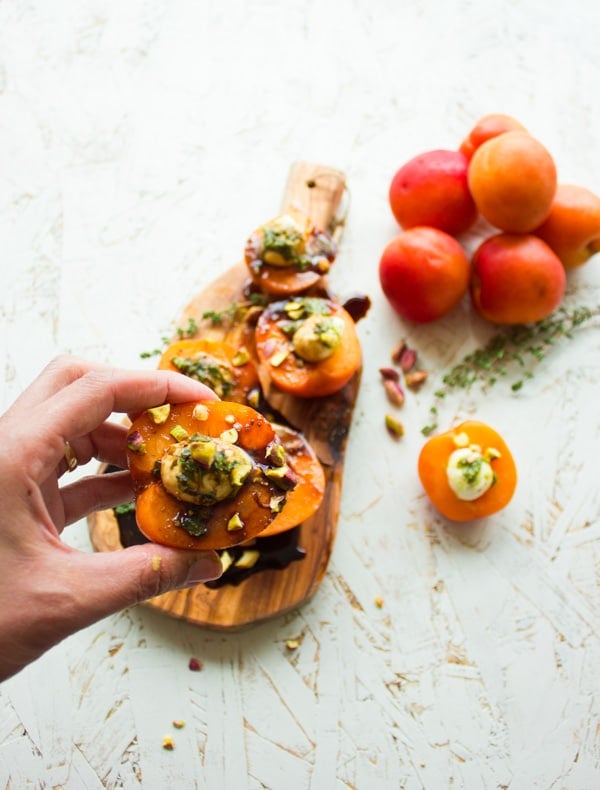 I really have a thing for appetizers and bite sized foods, and I firmly believe I got that from my lovely mom. She's a perfectionist in everything and food is no exception. One of the many many things I learned from her, was to down size everything into mini's. She believes that everything looks yummier in small mini individualized portions–and I was convinced…I find myself always following along with that. At first I loved how personalized mini foods looked but then I discovered that cooking/baking in mini's is MUCH more EASIER and QUICKER! Yes which defies the myth that mini foods are harder and take longer time–absolutely the opposite! Mini foods take an extra few minutes in preparation but save you LONG long minutes of cooking/baking!..If you're not convinced yet–you might want to check out a few of my favorite mini recipes on the blog like: Kale Veggie Mini frittata, Mini Raspberry Cheesecakes and the ultimate chocolate cheesecake, or these Tomato Tarts Tatin, Tri-colored mini potato gratins and these 2 chocolate favorites: Mini Brooklyn Blackout Cakes and Mini Chocolate Pudding Cakes!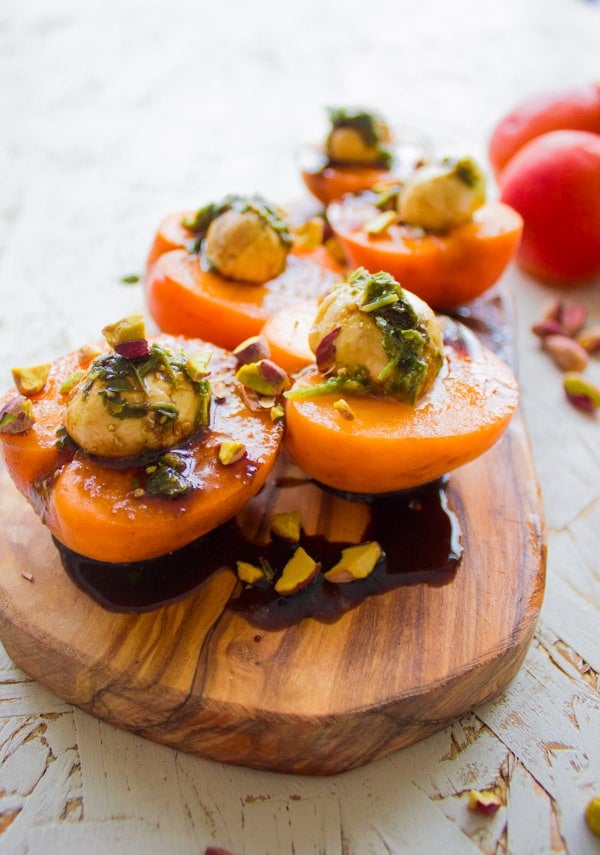 Back to this quick easy appetizer we're loving today, think fresh summer bbq parties, family gatherings, Holiday tables, finger food parties, quick appetizer to get everyone going while you're cooking up dinner, a sweet way to start a romantic dinner, or just a fresh nibble for you when you're cooking for yourself–because YES you deserve it! 😉 There's no limit to how and where you serve this fruit and cheese delicacy of an appetizer.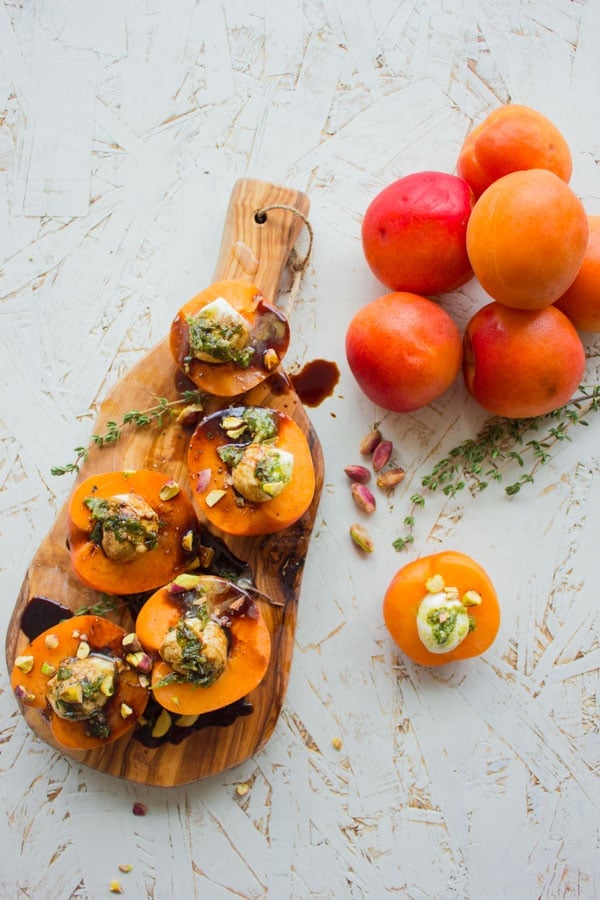 So here I've picked apricots, cut them in half, removed the pit then stuffed a nice ball of bocconcini cheese right at the centre of each half where the pit was. Place them on a platter, scattered some fresh minced basil leaves and drizzled with a nice generous amount of Balsamic vinegar. Simple, easy, quick, fresh and luscious! I felt I didn't even need salt, not a single pinch, or olive oil, nothing. Now here's a few ways I've made this before..I mixed up goat cheese and fresh thyme, stuffed my apricots and drizzled them with honey–this you HAVE to try goat cheese lovers! (hint hint my small sis ;)) Cream cheese is neutral and fabulous here too with either balsamic or honey or both! Cream cheese, honey and vanilla stuffed in the apricots make for a sweet almost dessert like finger food. And don't stop at apricot, play around with all the season's fabulous fruits. Spare 5 minutes for this easy appetizer and enjoy ! 🙂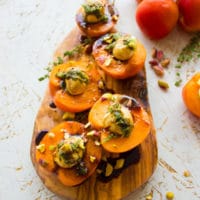 Quick Easy Appetizer With Fruit And Cheese
Ingredients
10

apricots

20

baby bocconcini mozzarella pieces

1

tablespoon

of fresh basil minced

(optional)

2

tablespoons

of chopped toasted pistachios

(optional)

1/4

cup

of Balsamic Vinegar

(more or less to taste)
Instructions
Cut each apricot in half and remove the pits.

Fill each apricot half with one pice of bocconcini mozzarella.

place the apricots stuffed side up on a serving platter.

Sprinkle fresh basil and pistachios if using, and drizzle generously with balsamic vinegar. Serve.