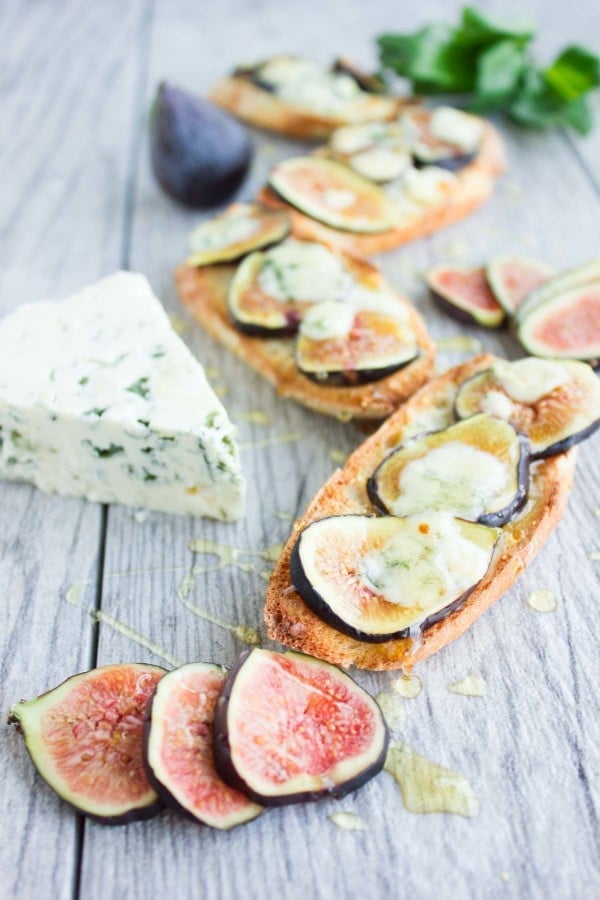 This fig blue cheese honey crostini recipe is a last minute appetizer or finger food to pull up for a five star start to any meal. It's blue cheesy, sweet, crunchy, fruity and an easy way to serve up crostini. Honey adds a sweet finishing touch to the fig and blue cheese, but it's just as good with a balsamic reduction, or leave even as is with nothing drizzled—either way, all it takes is 5 minutes!
This is a must try recipe. And even though I feel all my recipes are really a must try, I always stress on the super quick ones because there's such an awesome feeling you get when you spare a few minutes and dare yourself to try something new, and you realize that, wow that was easy! Or wow I did it, or wow I am so glad I did that, and better off : wow I am so enjoying this!:) Eventually, you'll dare yourself to try more and more, and in time you'll be like- oh yeah I've made that tens of times—I rock!
As yummy and straight forward as this fig blue cheese honey crostini recipe is, it can be made in many variations—which I can dare say, are just as good! So use up peaches, apples, pears, apricots or strawberries instead of the figs, and use any type of cheese you have on hand. Brie, feta, goat cheese, or just about any. For the herb, I sprinkled a little bit of basil on mine, but any herb would work too.
I start off with crunchy baguette slices that have been drizzled with just a bit of olive oil and crisped up in the oven for 10 minutes at 375 degrees. This way the fig blue cheese honey crostini is very crisp, but feel free to use regular fresh baguette and once baked, it will have a rather very delicate crunch and a harder crunch only on the edges. I can't say I have a preference, sometimes the time factor counts, other times it's the type of cheese and fruit combo I'm using that counts. I wouldn't want a soft crostini with a hearty fruit like apples or pears for example. But as always, it's a personal preference.
The final drizzle is the best part in my opinion. Even though I always leave it optional and on the side, because some people (my husband for example) might not prefer it. Honey is a sweet favorite and time saver, balsamic reduction is another sweet favorite which is very simple but takes it's sweet time.
The best way to make a balsamic reduction is to boil 1 cup of your favourite balsamic vinegar (flavored types work beautifully too) on medium heat for about 10 minutes. The vinegar-ish taste completely evaporates and the mixture becomes thicker and more of a syurp. It keeps thickening as it cools down, and it will taste like the sweet part of the balsamic vinegar, without any acidic taste, just concentrated sweet goodness!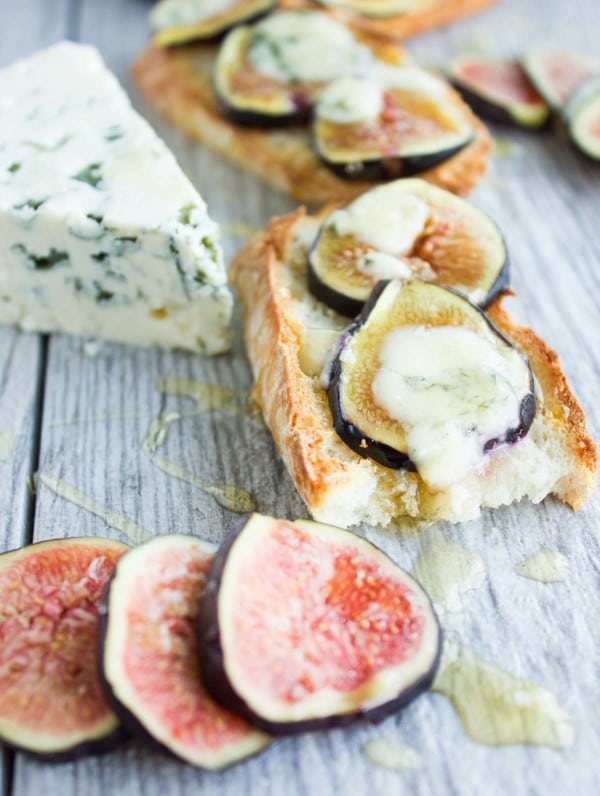 However you prefer your crunch or drizzle, and even however you prefer your fruit and cheeses, this fig blue cheese honey crostini is a must try and a last minute saver recipe—so enjoy!:)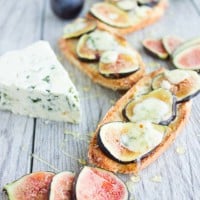 Fig Blue Cheese Honey Crostini
Ingredients
1

baguette thinly sliced on an angle

, each slice drizzled with a tiny bit of olive oil and crisped up in the oven at 375 degrees F. for 10 minutes.

6

large figs thinly sliced

1/2

cup

of crumbled blue cheese

1

tablespoon

of minced fresh basil

Honey for drizzling
Instructions
Preheat the oven to 375 degrees F.

Sprinkle a few basil pieces at the top of each crispy baguette slice and arrange the thinly sliced pieces of figs on top.

Crumble a few pieces of cheese over the figs (more or less to your taste). Repeat with the remaining baguette slices and place on a parchment lined baking sheet.

Bake for 3-5 minutes just until the cheese starts to melt and the figs are slightly softened.

Serve as is or drizzled with honey or balsamic reduction.