This shop has been compensated by Collective Bias, Inc. and The Coca-Cola Company. All opinions are mine alone.#SummerTastes #CollectiveBias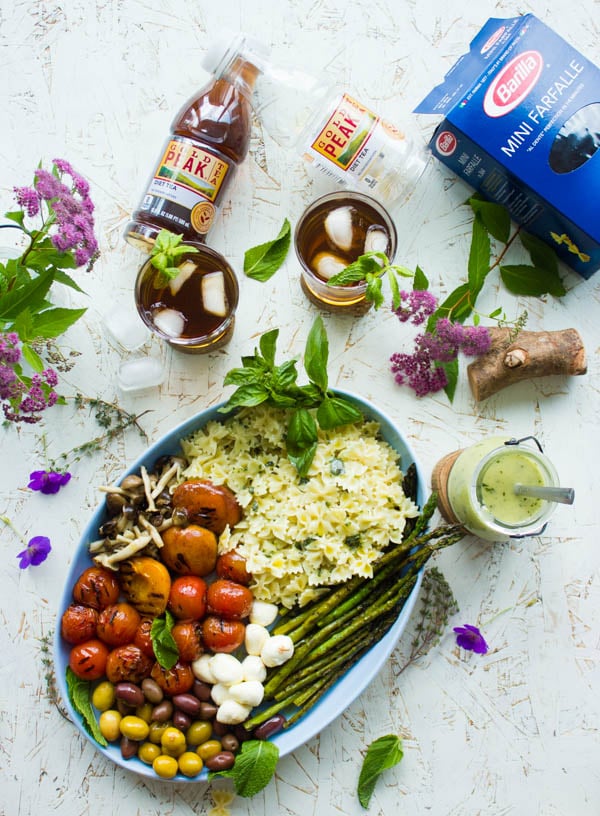 This Summer Pasta Salad Platter with Sweet Tea Dressing recipe is the best way to celebrate the season! Perfectly cooked al dente pasta, tender grilled veggies and fruits and your favorite hard cheeses. All get drizzled with a fabulous sweet tea dressing that's infused with fresh herbs, garlic and olive oil to perfectly flavor the summer platter. This recipes is simple, fresh, easy, versatile and will be your go to summer favorite!
Are you feeling the summer heat yet? We've been blessed with plenty of nice hot summer weather which we seriously can't get enough of! Girls are out all day, dad is on the bbq nearly every day and I'm out looking for gorgeous produce and veggies to use everyday—and a nice bunch of friends is all we need for a summer happy family 🙂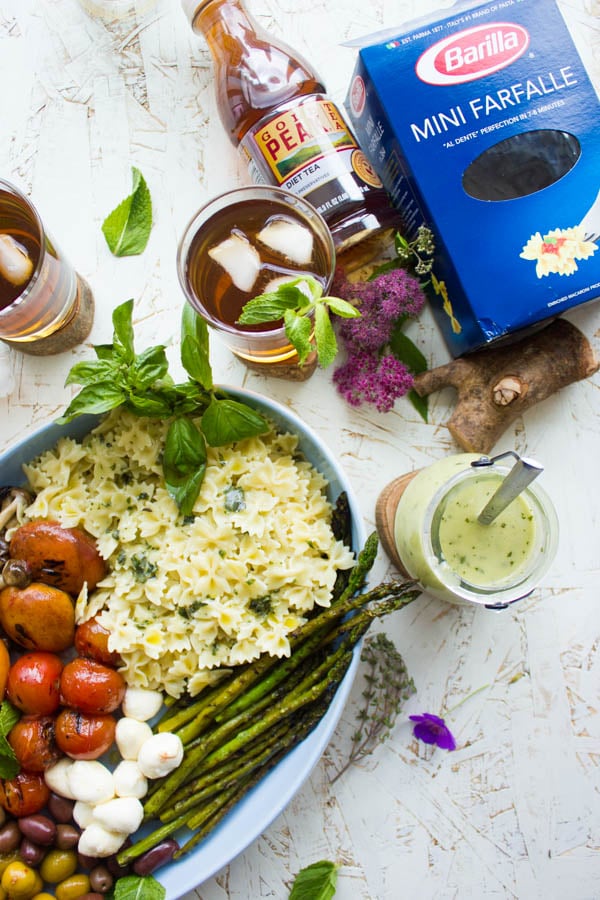 So as excited I sound about having such a lovely gathering of friends and family all summer long, I know many of my friends find it daunting—which is why I wanted to share with you my favorite ways of entertaining this season. There's everyone's favorite—the BBQ. This is really the easiest way to throw a party and impress with minimal work—yes minimal. And there's my mom's favorite thing in the whole wide world—Picnics. And there's outdoor movie nights, playdates, birthdays, pool days, beach days and all sorts of fun occasions. Today I'm focusing on the BBQ theme.
Walmart Shopping
Walmart Shopping
When you're planning a BBQ, think gorgeous fresh light meals like this summer pasta salad platter, specially if it's early on in the day. The beauty of a BBQ like this, is that you don't need much preparation in advance, it's live grilling, very engaging and a fun experience for all your guests. If you wanted to include some type of grilled fish, meat or chicken with this pasta salad platter– all you'll need to do is salt and pepper them and grill them along the veggies. Then drizzle some of that amazing sweet tea dressing (we'll talk more of that later) over them when done for an unbeatable flavor.
gathering ingredients
Adding Gold Peak tea to the sauce
Sweet tea dressing ready
Always keep flavors simple with BBQ because you're getting a nice char grill flavor from the grill, so think garlic, citrus, herbs, olive oil and a sweet touch (honey, jam, or in our case today- a sweet tea). And think of quick, no cook sauces to really impact flavor on your BBQ like a pesto, relish, salsa or today's sweet tea dressing. This method of adding a sauce to the final cooked (or grilled) type of food is very common in many cuisines—it's basically like a reverse or cold marinade. When the cold sauce hits the hot food, the flavors get infused beautifully into your food adding bright fresh flavor like no traditional marinade can ever do. And all you had to is a 5 minute food processor quick sauce combining your favorite fresh ingredients.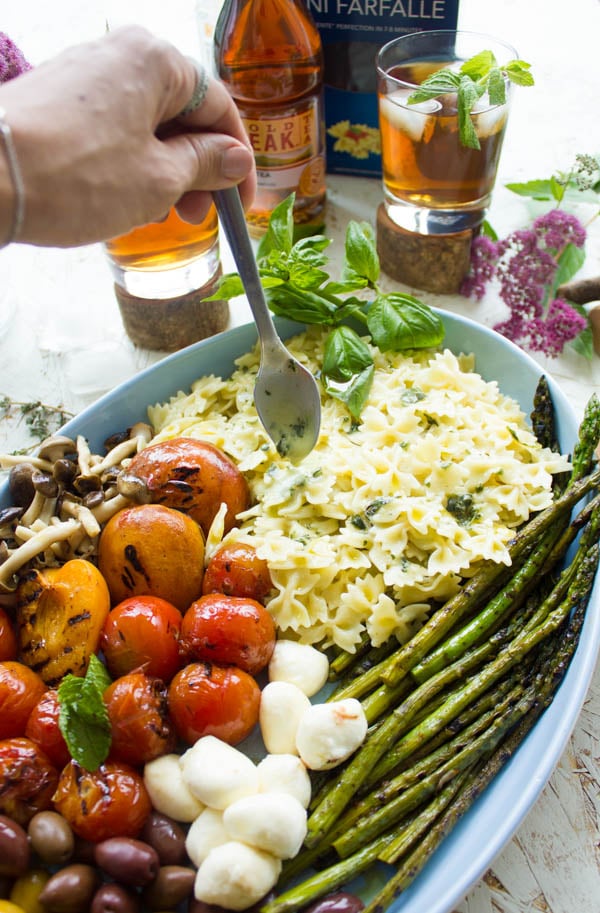 One last thing, keep side dishes, drinks and desserts as simple as can be. My favorite BBQ desserts always involve fresh fruits and ice cream. My favorite drink would be a nice cold ice tea, like this Gold Peak Sweet Tea. This ice tea is perfectly sweet–not too sweet like other brands nor too bland, it tastes great on its own, comes in many varieties (even unsweetened) and it's very refreshing! If you have little ones, you can try these non alcoholic two fizzy summer drinks. My favorite sides would be a simple salad ( you can browse many salads on the blog) or a type of hummus ( you'll find plenty of hummus recipes on the blog too!).
Now let's talk about today's summer pasta salad plater with sweet tea dressing. I chose my favorite brand of pasta—Barilla, and I know it's a favorite to many others too! It's Italy's number 1 brand of pasta, cooks al dente perfectly in minutes so it makes dinner a breeze every single time and it's so versatile to enjoy a different type of pasta every day. You'll find plenty of recipes and inspiration on the barilla website: www.barilla.com I used the mini bow ties today and I paired it with grilled veggies and fruits for a summer Mediterranean feel (perfect for those following a Mediterranean diet which is the healthiest diet according to world records!).
When it comes to the dressing or sauce I'm using to impact flavor to my grilled veggies and pasta, I started out with the base—garlic, plenty of herbs, a touch of mustard and olive oil. Instead of using orange juice or any citrus here, I used the Gold Peak Sweet Ice Tea (the diet flavor). I couldn't believe how crazy delicious the sauce ended up with the tea! I found it so mellow, sweet and perfectly balanced. So I taste the herbs, faint garlic, olive oil and a mellow tea background flavor. If I was using citrus or a type of vinegar, I would taste a strong citrus (or vinegar) note with a mild everything else, but this tea version became my favorite— a perfectly balanced sauce helping me taste the pasta, the grilled veggies and fruits, the herbs, the garlic, the sweetness, the olive oil, and a mellow early tea note.
To me a plater like this is summer BBQ perfection! I love plating it as you can see in a platter form with all ingredients separate, I added some bocconcini cheese on the side and some olives, and I love it when everyone assembles their perfect pasta salad plate to their taste. So if you are vegan or not a cheese person, you can focus more on the fruits and veggies, if you're not an asparagus person, then you can skip it and focus on the rest, etc.. And I placed the extra sweet tea sauce on the side for everyone to flavor their pasta plate to their taste too. I think platters like this feel more flexible and inviting to everyone, but if you like the one bowl salad more, you can chop the grilled veggies and fruits, mix them with the cooked pasta, sweet tea dressing and serve it as one big bowl of summer BBQ pasta salad perfection too 🙂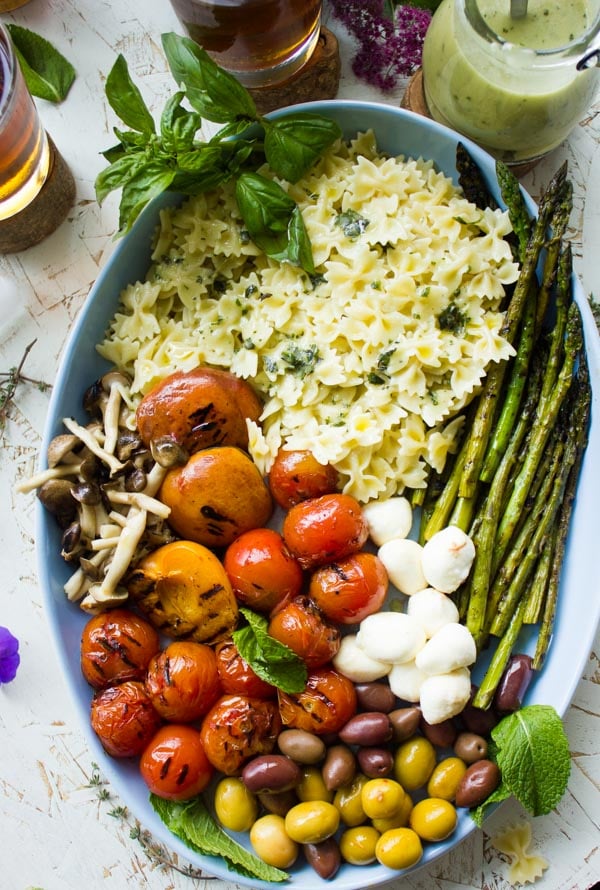 This pasta plater recipe makes a great picnic and potluck option too, it's very kid friendly, easy to transport and just as delicious served warm or cold. Feel free to use your favorite veggies and fruits to grill, and throw in some fresh kale or spinach, some more cheeses and nuts. The sweet tea sauce keeps in the fridge for 2 weeks, it's great on salads, grilled meats, and when mixed with a little mayo, it makes a fabulous sandwich spread. So make a nice large batch and store it in your fridge!
For today's recipe, I shopped for all my ingredients at a Walmart super center www.walmart.com, there's a huge collection of everything you need for this fabulous recipe, and my littlest one even got a toy for shopping with me—so everyone is happy 🙂 Now try this recipe and have yourself a fabulous Summer BBQ party and enjoy!! 🙂 Oh and did you know you can get a fabulous one dollar rebate when you buy any two Gold Peak Sweet Tea 64 ounces and some more fabulous recipe ideas for the summer! Enjoy!!
Summer Pasta Salad Platter With Sweet Tea Dressing
Ingredients
For the Pasta:

1

Box of Barilla int he blue box pasta

(your favorite type—I used mini bow ties)

1

tablespoon

of salt

Plenty of boiling water

For the Grilled Veggies and fruits:

1

large bunch of Asparagus —2lbs

1

large box of sweet tomatoes —2lbs

Fresh pitted Apricots and Peach—1 lbs

1

small mushroom box—8 ounce

pinch of salt

2

tablespoons

of olive oil

, divided

For the Sweet Tea Sauce:

1

large clove of garlic

1

tablespoon

of Dijon mustard

1/4

cup

of fresh basil leaves

1/4

cup

of fresh mint leaves

2

tablespoons

if fresh thyme leaves

1/8

teaspoon

of salt

1/3

cup

of Gold Peak Sweet Tea

( any flavor—I used diet)

1/3

cup

of olive oil

To Assemble and Serve the Platter:

Mixed olives

Mixed nuts

Bocconcini cheese

( feta, goat or any other cheese)

fresh spinach or kale

Cold Gold Peak Sweet Tea for serving
Instructions
Cook the Pasta according to package directions for Al dente in plenty of boiling water and salt.

Mix the veggies and fruits with a pinch of salt and olive oil to prepare for the grill.

Grill the veggies for 2 minutes per side on a medium high grill until tender and slightly charred, remove and set aside to the cooked pasta.

Prepare the sauce: In a food processor, add all the sweet tea sauce ingredients and process until the sauce is smooth. If you prefer a thicker sauce—add 2 tablespoons more of olive oil, for a runnier sauce, add 2 tablespoons more of the Gold Peak Sweet Tea.

Assemble the summer pasta platter by adding your favorite ingredients alongside the grilled veggies and fruits.

Take 1/4 cup of the sweet tea sauce and drizzle it over the pasta, and gently toss it.

Take another 1/4 cup of the sweet tea sauce and drizzle it over the platter ingredients, and keep the remaining sauce on the side.

Enjoy your summer platter by adding your favorite ingredients to the pasta and drizzle with extra sauce.