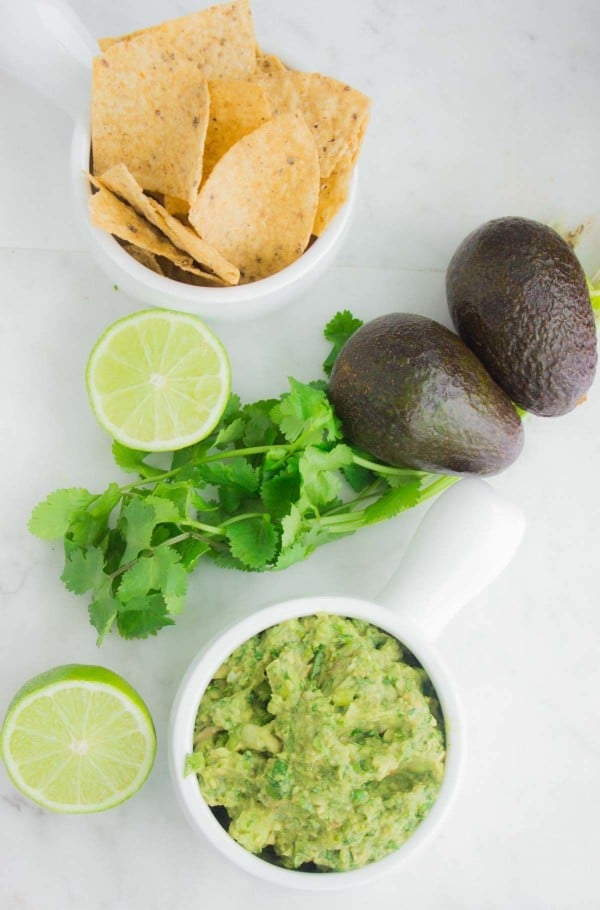 This simple classic Mexican guacamole recipe is fresh, fast and bursting with flavor. The real flavors you expect from the perfect guacamole-avocado, lime, cilantro and a hint of onion flavor from scallions. The perfect dip with just 4 ingredients and a load of goodness from the avocado with a burst of flavor and texture- smooth or chunky! 
I know I know I've tried all sorts of twisted and flavored guacamole recipes too.. And yes some of them are quite good, but nothing beats this classic when you crave guacamole perfection. I mean I crave to taste the avocado here, and I crave to taste that tangy lime contrast with the smooth buttery avocado flavor, and I need that cilantro freshness taste to kick in, and a faint taste of scallions to balance it all out. To me, that's guacamole perfection. Other twists on this classic, I like to think of them as different avocado dips-not really guacamole.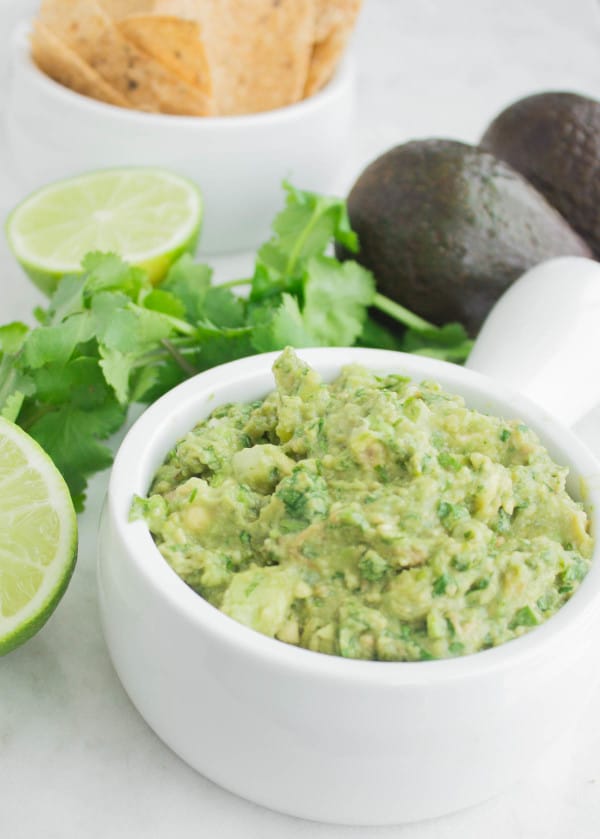 Now I will often add another 5th ingredient to my guacamole, and that's entirely optional. I love adding a tablespoon of extra virgin olive oil to this recipe as I feel it adds richness and compliments all the vibrant flavors going on. But again, it's entirely up to you—although why not try it with and without then decide which is your favorite? And that will be an excuse to make more guacamole and share it at your next gathering. Guacamole is always a hit on any table and this perfect guacamole will make you feel like a hit too!
In this recipe, I left my avocados on the chunky side, because that's our preference and I love the texture this way. Feel free to mash them as smooth as you like, or even use and immersion blender to zip the whole thing into a smooth paste if that's your preference.
Classic Mexican Guacamole
Ingredients
2

ripe and large Hass avocados

( or use 3 small ones)

2

large scallions

, minced (white and greens)

A handful of fresh cilantro

( about 1/2 cup) washed and chopped roughly

Juice of 1 small lime

1/4

teaspoon

of kosher salt

( or to your taste)

1

Tablespoon

of extra virgin olive oil

( optional)
Instructions
Peel and deseed the avocados and place them in a medium bowl. Mash them to your desired consistency.

Add the remaining ingredients and mix them all together.

Adjust salt, lime juice to your taste.

Enjoy right away or store in the fridge with a plastic wrap directly touching and covering the surface of the guacamole for up to 4 days in the fridge.