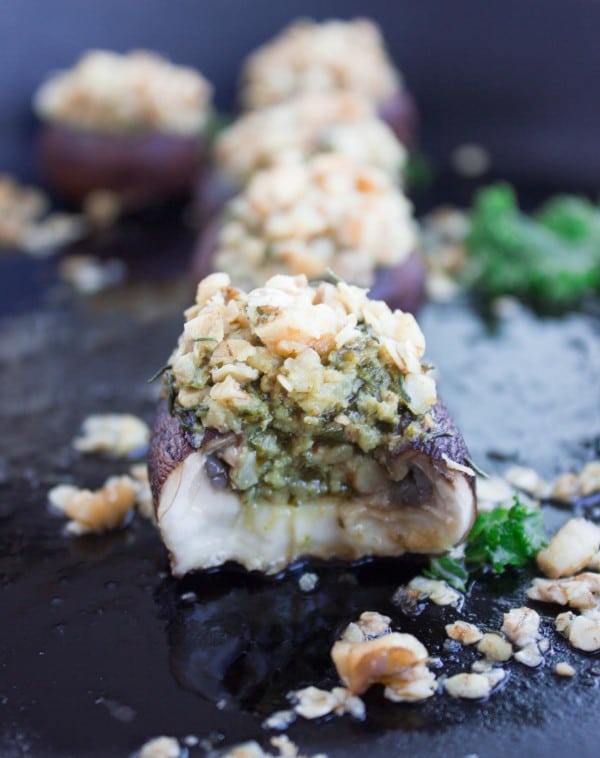 This kale pesto stuffed mushrooms recipe is a delicious healthy twist on stuffed mushrooms. Each mushroom is boosted in flavor with super kale, artichokes, garlic, parsley and a smooth melt in your mouth texture, while the walnut topping gives a beautiful hearty crunch. Healthy, gluten free , paleo and vegan diet friendly—it's finger food you can enjoy without the guilt.
Are you one of those people who ever had greasy, tasteless, mushy stuffed mushrooms before? I am one of those. I have been one of those a few too many times. One very distinctive time was about 2 years ago, we were celebrating a friend's promotion and he treated us and our families to a fancy dinner at a fancy restaurant. He insisted on ordering the mashed potato stuffed mushroom appetizer for everyone since they were a favorite and a house special apparently.
I was anxious for 2 reasons, a.I absolutely love mushrooms and b.I am always on the look for good stuffed mushrooms! So the mushrooms came in and little excitement came with them. I was embarrassed to express my opinion and spoil anyone's mood, so I ended up eating quite a bunch. And to avoid further details, let's just say I stayed away from all stuffed mushrooms for a long while after that incident!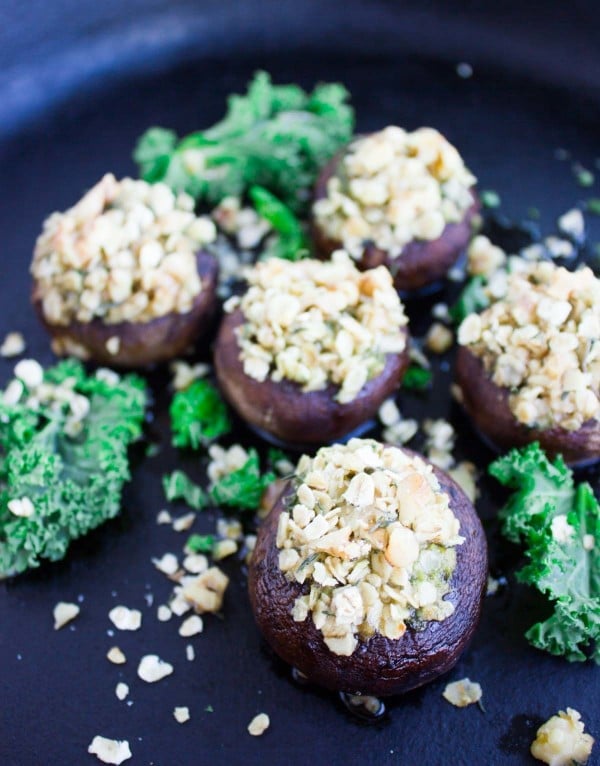 Let's go back to this delicious little finger food, appetizer kale pesto stuffed mushrooms–or let's just call it the mushroom treat. I love a stuffed mushrooms where you can taste both the mushrooms and the filling. I love the mushroom to be still in tact and not over baked or gummy-ish in texture. I love a nice crunch on top of my filling. I totally dislike a greasy feel or taste to my stuffed mushrooms, or a mushy gummy texture to them. If you're sharing this feeling, don't ever miss out on these kale pesto stuffed mushrooms!
It's such a flavorful and easy recipe that happens to be super healthy, great for gluten free diet, vegan diet, paleo diet and no diet at all! The stems of the mushrooms are removed and the mushrooms are placed cap side down on a baking sheet. Seasoned with salt and pepper and filled with this wonderful kale artichoke walnut pesto and topped with a walnut-oat-herb mixture. All baked for a few minutes to soften the mushrooms a little and heat up the filling. Out of the oven and ready to nibble on and enjoy!—don't bother counting, they're really good for you!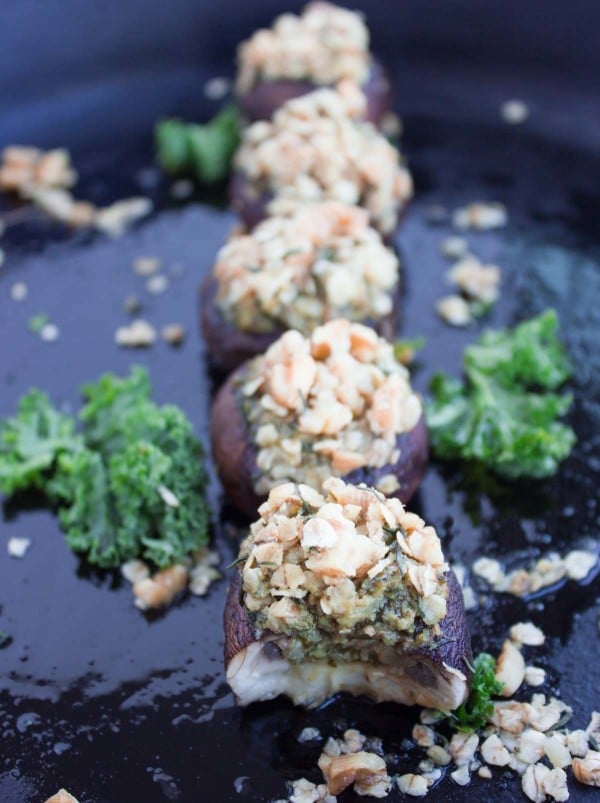 Kale Pesto Stuffed Mushrooms
Ingredients
12

cremini mushrooms

, stemmed removed

1/4

teaspoon

of salt

1/4

teaspoon

of pepper

1/2

cup

of kale artichoke walnut pesto

2

tablespoons

of gluten free oats

1

teaspoon

of fresh thyme leaves

, chopped roughly

1

teaspoon

of fresh parsley chopped roughly

2

tablespoons

of walnuts

, roughly chopped

pinch of salt and pepper

1

teaspoon

of olive oil
Instructions
Preheat the oven to 375 degrees.

Place the mushrooms on a baking sheet cap side down with the mushroom cavity facing upwards.

In a small bowl, mix the oats, thyme, parsley, walnuts, salt, pepper and then add the olive oil and mix them all together.

Fill each mushroom with about a tablespoon of the pesto (depending on the size of your mushrooms) and press it well to fill out any space. You may fill just to the level of the mushroom top or you may over fill and make a little crown head—it's entirely optional.

Sprinkle about 1 teaspoon of the walnut mixture on top of the filling and press it down to make it stick to the pesto.

Bake the mushrooms for 8-12 minutes (depending on the mushroom size) until mushrooms are softened and the filling is warmed up. Serve.