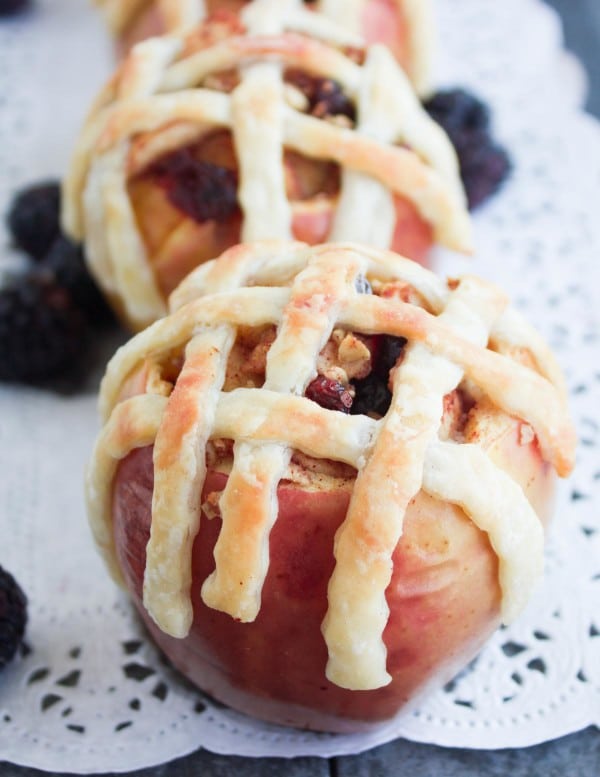 This apple pie stuffed apples recipe is every apple pie lovers wish come true—the real flavors of apple pie, the real feel and texture of apple pie but with absolutely no guilt of apple pie! Cored apples are stuffed with the diced apple filling mixed with blackberries and apple pie spice then topped with a buttery flakey lattice pie dough and baked till sweet golden flakey crisp and apple tender perfection!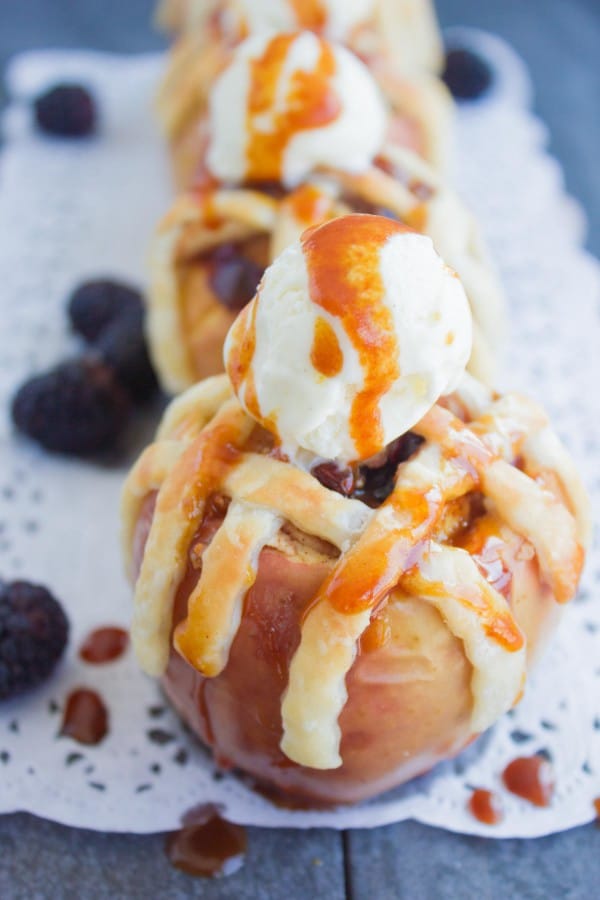 I am such an apple pie lover..I mean I could really have apple pies and apple tarts everyday for dessert in many different forms, and I wouldn't get bored. I do however get bored of eating a good old fresh apple, baked apples though—never. There's something about tender baked sweet soft apples, which are often paired with cinnamon, and most often paired with a flakey buttery crispy dough that makes apple pies so irresistibly good!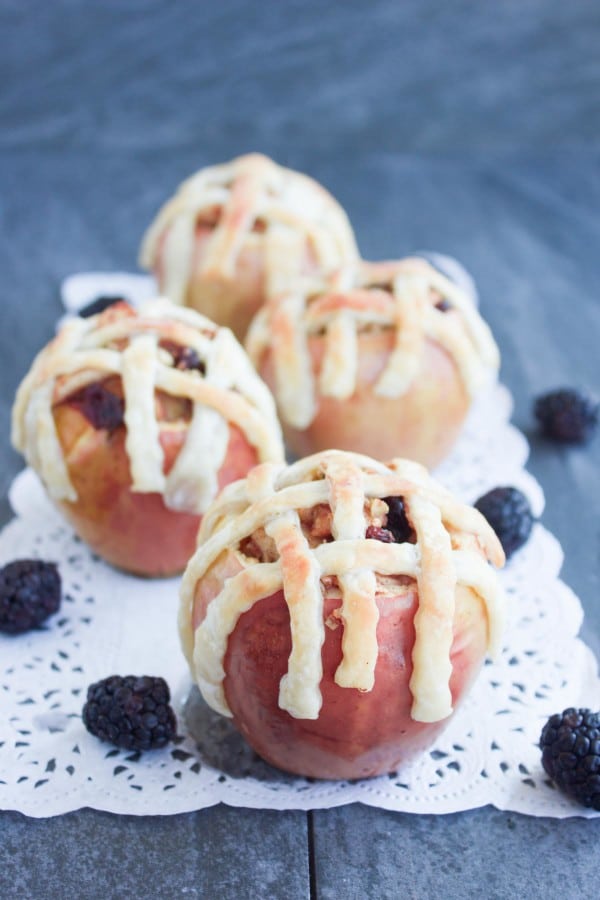 These apple pie stuffed apples are the guilt free version of all the above. They are so satisfyingly yummy that you won't miss out on the original. The only difference is they have more of the apple taste versus the dough taste, and that's why I should rephrase, so you won't miss out on the original but you will miss out on the guilt after enjoying your apple pie ever so generously.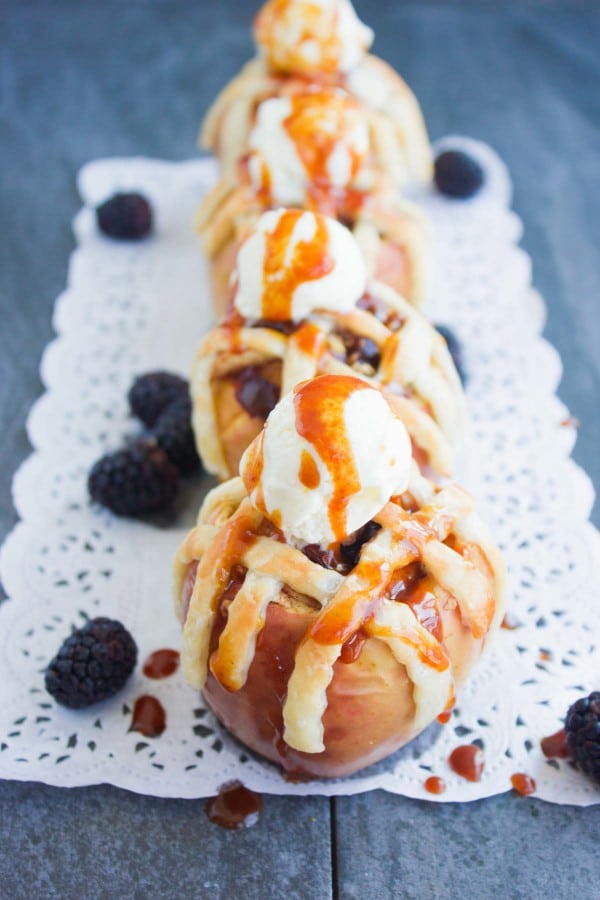 If you remember these amazing baked apples with granola crunch recipe, which are close to an apple crisp only less guilt and completely gluten free, these apple pie stuffed apples are another way to really enjoy and share apple desserts with a healthy twist.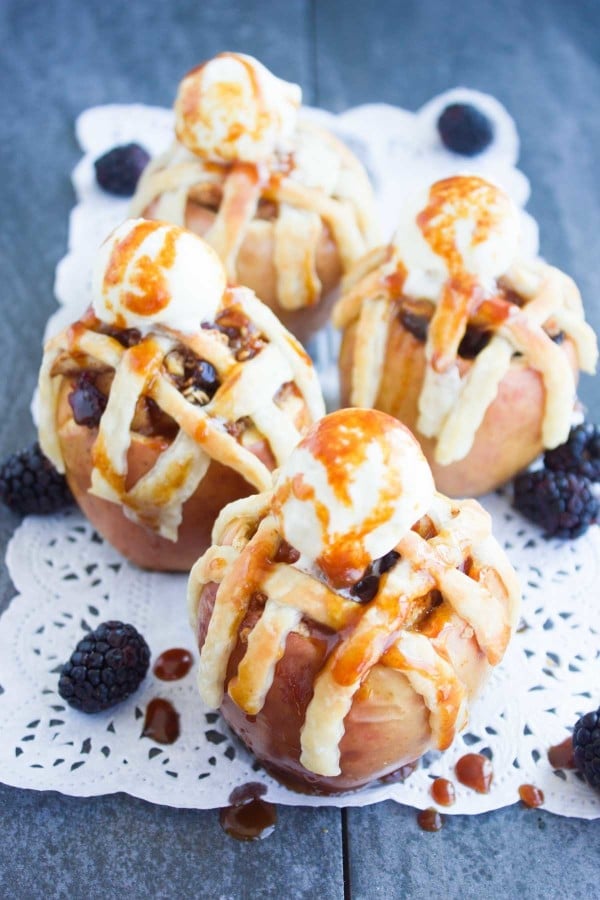 It all starts by preparing a batch of this easy flakey pie dough—which is really what is claims: easy and flakey! Then rolling it into a rectangle and cutting it into thin strips—about 1/8th inch each in width. After that it's time to prepare the apples. They get sliced, cored and hallowed as best as possible using a melon baller leaving about 1/8th inch thickness along the borders. The apple pieces which were removed to hallow each apple are then chopped and mixed with a little bit of brown sugar, some blackberries or cranberries, some apple pie spice and a teaspoon of flour. Then this flavorful apple mix goes right back to stuff the apples again.






The apple pie stuffed apples are now ready for the crust on top. If you want to make this gluten free or vegan, use gluten free/vegan pie dough on top or skip the dough part all together and just bake the apples with the apple pie stuffing. I love arranging the crust on top of the apples in a lattice, which is best explained in the photos, but basically it starts by arranging three strips in one direction. Then fold those three strips half way towards one end making both ends of the strips meet on the same side. Then take a fourth strip and arrange it perpendicular to the three other strips and fold two of those three strips on top of the perpendicular strip and the remaining of the three strips below so it's alternating.






Finally those lovely apple pie stuffed apples hit the oven and bake for 25 minutes until apples are tender sweet and the pastry is golden crisp. I love finishing it off with a dollop of vanilla ice cream and a nice drizzle of my homemade caramel sauce—so now your turn to make them and enjoy! 🙂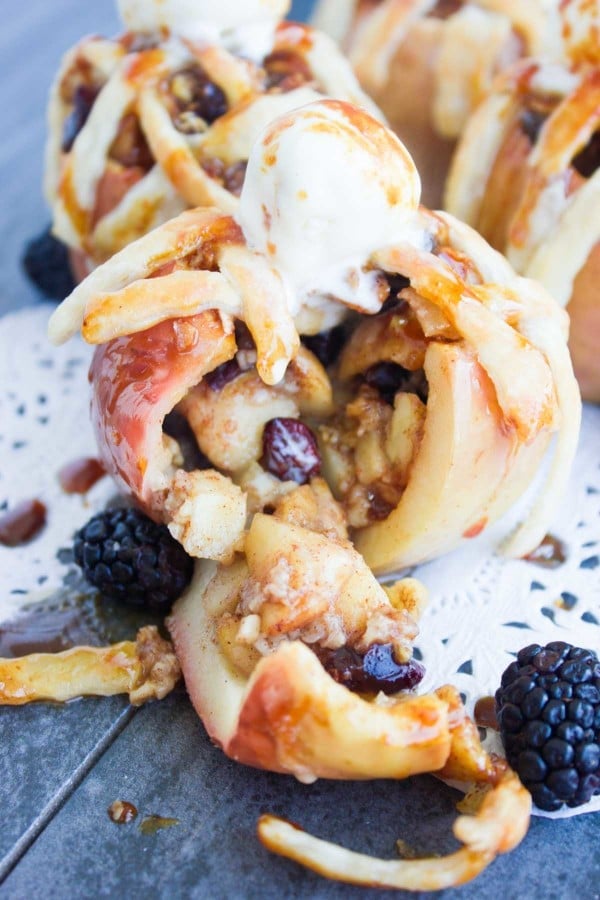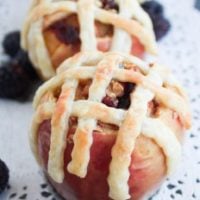 Apple Pie Stuffed Apples
Ingredients
6

gala apples

(or your favorite type)

2

tablespoons

of light brown sugar

1

teaspoon

of all purpose flour

juice of half a lemon

1/4

cup

of cranberries

(optional)

1/4

cup

of blackberries

(optional)

1/4

cup

of crushed almonds

(optional)

1

teaspoon

of cinnamon

1/2

teaspoon

of ginger

pinch of allspice

, cloves and cardamom (optional)

Patsry:

Easy flakey pie dough

Vanilla ice cream for serving

Homemade caramel sauce for serving
Instructions
Prepare the easy flakey pie dough and roll it into a rectangle 1/8th inch thick and slice it into strips about 1/4 inch wide.

Preheat the oven to 400 degrees F.

Slice each apple top and use a mellon baller to hallow out as much of the apple as possible leaving about a fourth of an inch border around the apple.

Take the hallowed apple pieces, remove any seeds, and start chopping up the apple into tiny cubes about 1/4 th inch.

In a bowl, toss the apple cubes with the cranberries, blackberries and nuts if using and add in the brown sugar, flour and lemon juice. add the cinnamon and ginger and extra spice if desired.

Take this apple mixture and stuff it back into the apples.

Now to make the lattice topping, it's best to look to the photos.

Take three strips and place them horizontally on each apple. Fold them backwards towards the edges making room for a vertical strip to land in the middle perpendicular to them.

Then take two of those three strip and fold them onto of the vertical strip, and the remaining one strip below the vertical strip creating an alternating weave like arrangement.

Repeat with three more vertical strips.

Bake the apples for 25-30 minutes until the crust is golden brown and apples are tender.

Serve with a dollop of vanilla ice cream and caramel drizzle if desired.