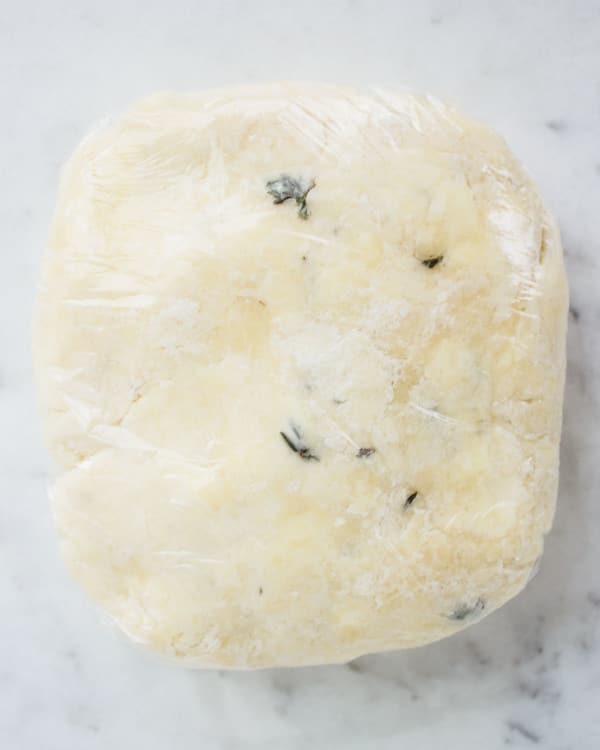 This easy flakey pie dough recipe is all it claims to be! It is super flakey almost like puff pastry, super easy and doesn't need any advanced baking skills, very versatile so it can be used both sweet or savoury, and most importantly, this easy flakey pie dough taste so much better than anything you buy ready made! Take the challenge because this is a no fail fool proof recipe!
Before I get all excited about this super easy flakey pie dough, I have to say this: I know many of you might think I am completely unreasonable labeling pie dough as "easy". And I also know it's sort of a nightmare for all non-bakers. I know all of that, so now we're on the same page. Time to get all excited about the recipe again, join in and you won't regret.
This recipe is really easy because it takes the most daunting and un predictable aspect of pie dough and simplifies it. This is because the butter here is frozen and then grated by hand in a regular grater rather than rubbed or cut into the flour. This is key here because by adding in the grated butter into the flour mixture, you eliminate the risk of over working the dough or over heating the butter which are the most common mistakes people make that result in a tough pie dough.
Once the butter is grated and added into the flour mixture, all you need is to gently coat that butter in the flour using a fork—just a few seconds. Then really cold water is added into this mixture and with the same fork, it comes together into a shaggy mess of dough that you clump and gather with your hands into a rough ball.
This ball of dough is wrapped in plastic wrap and gently pressed down into a disc with the palm of your hands. Then chilled for at least half an hour before it gets rolled, cut and baked into gorgeous flakey layers of pie dough that only took a few minutes to prepare! The dough can be chilled for up to a week or frozen for 3 months.
If you ever peek into my freezer—that's one item you will find for sure! I take it out, defrost it on the counter and roll it out while it's still cold. This recipe is easily doubled, tripled or quadrupled! Wrap each batch (recipe below) separately if you're making extra batches in advance for freezing, that way it's easier to  defrost, roll and use in endless ways!
In those photos above as you can see, I have made this savoury by adding fresh thyme leaves into the dough. If you're making it in a sweet recipe, simply remove the fresh thyme leaves. You can also flavor the dough many many ways from citrus zests to vanilla to nuts, or spices, fresh herbs and cheeses!
If you've never attempted pie dough, or have with little success, and if you've ever felt pie dough was to daunting for you.. I urge you to try this recipe! It can never fail you and you will be pleasantly surprised!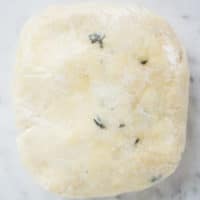 Easy Flakey Pie Dough
Ingredients
1

stick of unsalted butter

, frozen and the grated using a regular large size grater.

1 1/4

cup

of all purpose flour

1

teaspoon

of sugar ** see note

1/4

teaspoon

of salt **see note

2 - 4

tablespoons

of icy cold water

Flavors** see note
Instructions
In a large bowl, mix the flour, salt and sugar and any flavors you like.

Add the frozen grated butter onto the flour and use a fork to gently coat the butter into the flour mixture.

Add 2 Tablespoons of the cold water and use the same fork to gently mix it into the flour-butter mixture. Touch the dough and try to clump it together. If you feel it is dry and doesn't hold together, add water 1 Tablespoon at a time and mix gently after each addition until the dough clumps together—but it should not feel dry and fall apart, nor should it be sticky or wet, it should just hold together.

Clump the dough into a circle and wrap it in plastic wrap.

With the palm of your hands, press down on the plastic wrap until the dough forms a disc.

Chill the dough for 30 minutes minimum or flash freeze it for 15 minutes.

Roll out the dough on a lightly floured surface or between 2 sheets of parchment paper.

Cut or use the dough as per your recipe.

Bake at a 400 degrees (no less) to ensure flakiness.

**The amount of salt and sugar may vary according to your recipe, the basic guideline is:

For a sweet pie dough: use 2 teaspoons of sugar and 1/4 teaspoon of salt

For a savory pie dough: use 1 teaspoon of sugar and up to 1/2 teaspoon of salt

** Flavor this dough with nuts, orange or lemon zests, vanilla extract, cinnamon or any sweet flavorings you like. Or use: nuts, spices, herbs, or cheeses for a savoury version.
Nutrition Facts
Easy Flakey Pie Dough
Amount Per Serving
Calories 591
Calories from Fat 18
% Daily Value*
Fat 2g3%
Cholesterol 2mg1%
Sodium 589mg26%
Potassium 167mg5%
Carbohydrates 123g41%
Protein 16g32%
Calcium 23mg2%
Iron 7mg39%
* Percent Daily Values are based on a 2000 calorie diet.