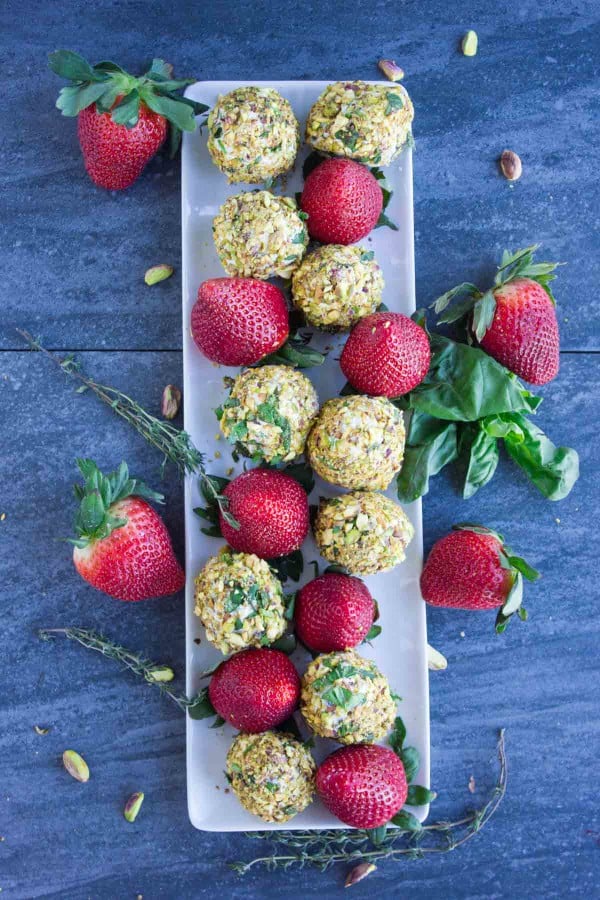 This goat cheese pistachio coated strawberries recipe is every goat cheese lovers' dream, every fruit and cheese lovers' dream, every finger food lovers' dream…every foodies' dream! Creamy goat cheese is flavored with fresh thyme and honey, then a strawberry is coated in this creamy cheese mixture and rolled, and finally dipped in crushed pistachios and fresh basil..need I say more?
A week ago we went to Michigan for a much needed family gathering. Girls played with their baby cousin girl and we the adults had much to share and chat about. While we were there, my sweet sister in law, Dima (who loves goat cheese!) asked me for a new goat cheese appetizer recipe. Without a doubt I knew this would be all she dreamed about so we planned it all out. But now try to imagine—the 2 little ones got sick, long socializing and shopping missions got our way, exhaustion prevailed and we left with a promise of the recipe to come out here. So Dima—this one is for you!
It's no secret I am very much in a Spring-y mood and can't stop myself. But honestly this recipe is not entirely Spring or any season related, it's great anytime of the year and it's the perfect appetizer or finger food to make when you have a special occasion or when you want to impress!
This recipe goes back to my "e for easy elegant entertaining" cooking classes about a year ago and I made it so many times with so many versions—so be prepared to chose your favorite version to make right away! It starts with the fruit—I chose strawberries here, but I've made it with melon balls and grapes too. Chose a fruit that isn't very watery or sensitive (like raspberries) to get started. Then let's talk cheese. Goat cheese is the perfect candidate because of its' smooth creamy texture, that is perfect for rolling around the fruit and it firms up when chilled. Now that doesn't mean I haven't made it with blue cheese or feta cheese, but I needed to add a ratio of cream cheese to reach a good malleable consistency.  Finally the nuts, I chose pistachios here, but almonds, walnuts, pecans all have been terrific in this recipe. I love mixing a fresh herb with the nuts, so I chose basil here because I love the basil strawberry combination, but I also love the mint and melon combination and the parsley grape combination!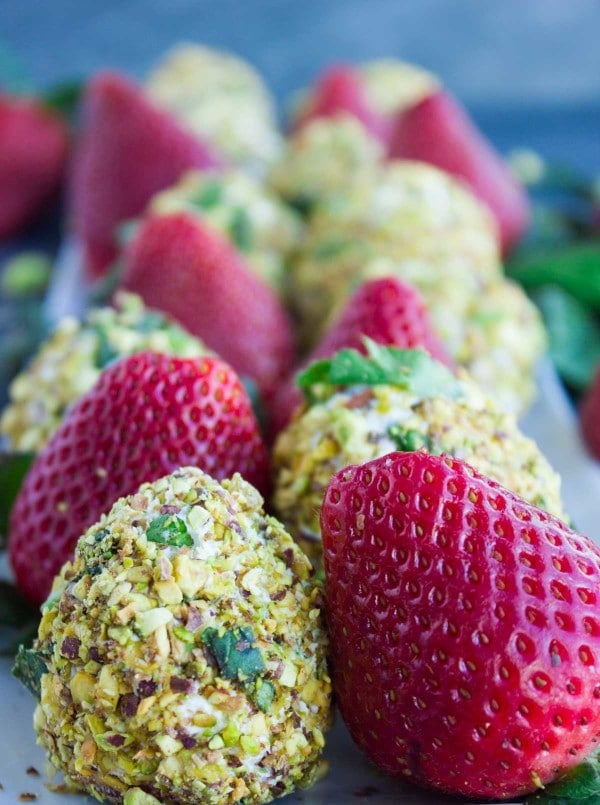 It starts with softening up the cheese with a fork and seasoning it with a pinch of salt, any fresh herbs and a tiny drizzle of honey. Chose strawberries that are sweet and uniform in size as possible (the smaller the better—since it's an appetizer). Then take a small size ball (just a little smaller than a golf size ball) and flatten it on the palm of your hands. Place the sweet strawberry in the center and then gently roll the cheese all around it to cover it up, and then dip the strawberry goat cheese rolls in the pistachio-basil mixture. The beauty about covering the strawberries with goat cheese is— it doesn't have to be perfect because it will get all covered up in nuts! So don't over work this step or waste time perfecting it. But I should warn you though, it will be quite messy!
These goat cheese and pistachio covered strawberries are best when chilled for an hour after they're done so the cheese can firm up. Serve them with crunchy baguette slices or on their own. This recipe I have to say is a must try and is one you will find yourself trying with different fruit-cheese-nut and herbs combinations..and is one you will definitely enjoy!:)
Goat Cheese Pistachio Coated Strawberries
Ingredients
1

lb

log of plain soft goat cheese

pinch of salt and pepper

(or to taste)

1/2

teaspoon

of honey

1

teaspoon

of fresh thyme leaves

1

pint

of strawberries

, washed, dried and stems removed

1 1/2

cups

of chopped pistachios

1

teaspoon

of fresh basil leaves chopped
Instructions
In a small bowl, mash the goat cheese with a fork to soften it up and season it with salt, pepper, thyme and honey. Mix it well and set aside.

Mix the pistachios ad fresh basil in a separate wider bowl and set aside.

Take a slightly smaller than golf size ball of the goat cheese mixture and flatten it on the palm of your hand into about 1/8 inch thick circle.

Place one strawberry in the center of the cheese and use both hands to carefully fold the cheese around the strawberry and begin rolling it around. This doesn't have to be perfect or even, as long as all the strawberry is covered up with a thin layer of goat cheese.

Remove any excess cheese in areas of the strawberry and roll it again if necessary.

Place the strawberry in the pistachio plate and roll it around to coat evenly and place on a plate in a single layer.

Chill the goat cheese pistachio coated strawberries in the fridge for at least one hour and serve.