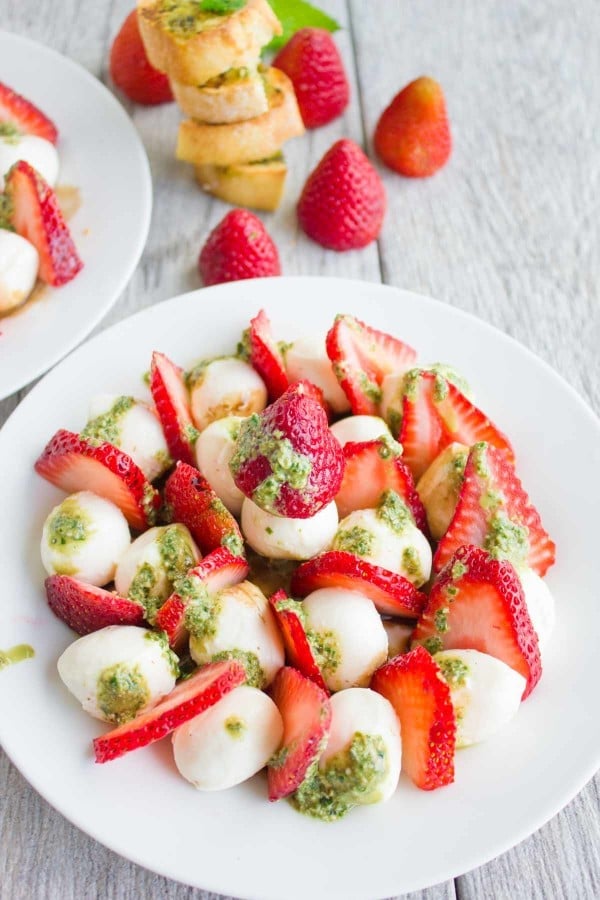 This strawberry caprese salad recipe is so simple and delicious! Only four ingredients and a couple of minutes are needed to whip up this bright, fresh and sweet salad. Sliced strawberries, bocconcini mozzarella alternate on a bed of balsamic vinegar and drizzled with tangy basil pesto for a sweet summer taste of Italy. A fresh twist on a classic that will brighten your season!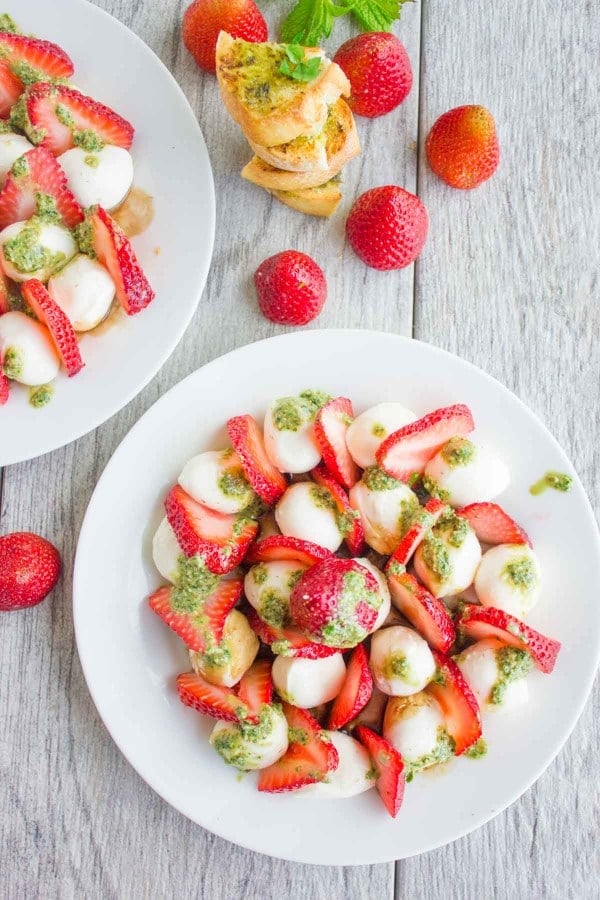 Like many people in this world, I love Italy and Italian food! I love the beauty and simplicity it offers with undeniably unique flavors. Today's recipe is just a perfect example even though it's a slight twist on the classic.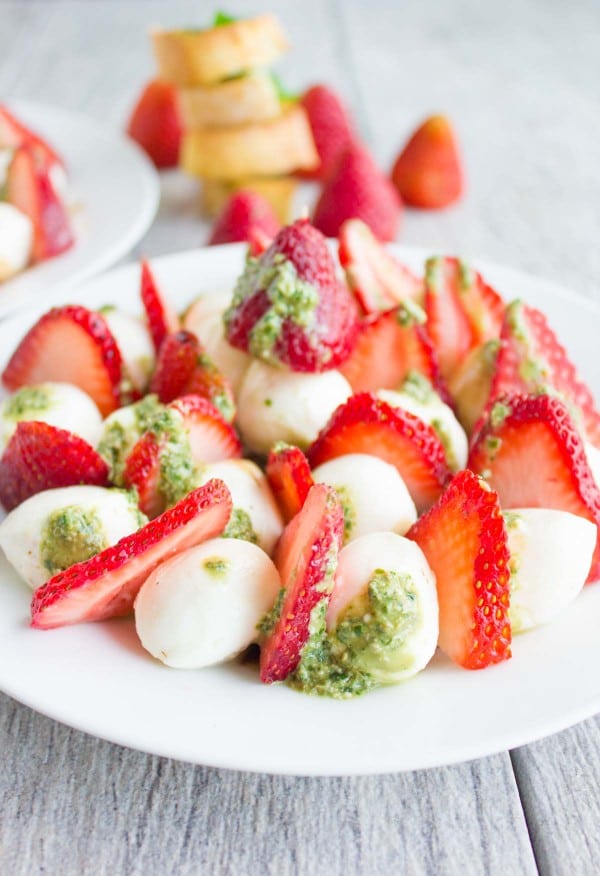 The first time I visited Italy long ago I was a kid and we used to live in Paris. And while food wasn't the first thing I look for back then, I can still remember the difference I felt between both food cultures. I'm not sure if I have a preference necessarily, but I can say that I love the uniqueness each has to offer. This strawberry Caprese salad really showcases the beauty, simplicity and outstanding flavors of Italy.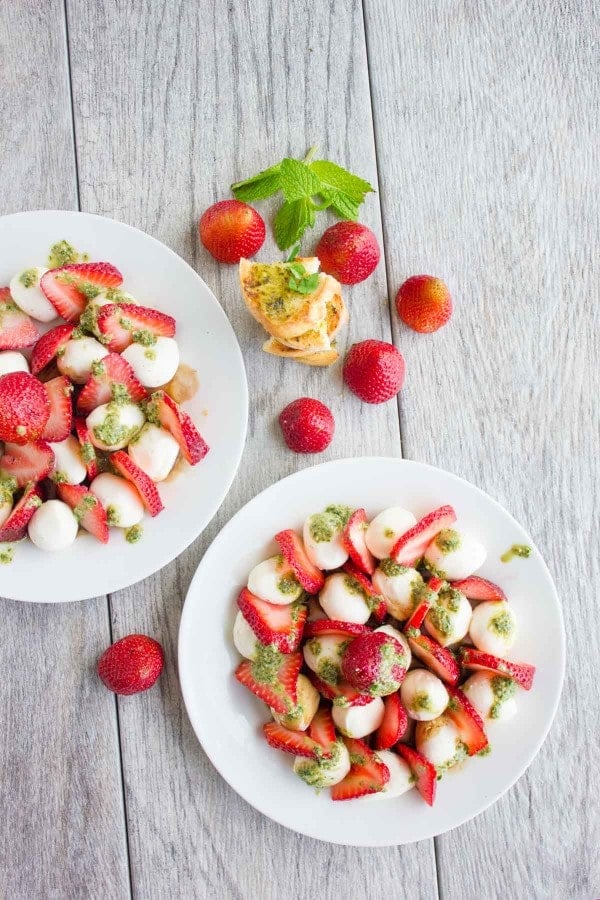 This salad needs a basil pesto, and because I most likely will always have a jar of my protein packed nut free hemp basil pesto in the fridge, it comes together in just minutes for me. And if at all you'll be preparing the pesto first, then you'll just need to add an extra 3 minutes and you'll store the remaining pesto in the fridge for many more yummy days—so overall it's a win win situation!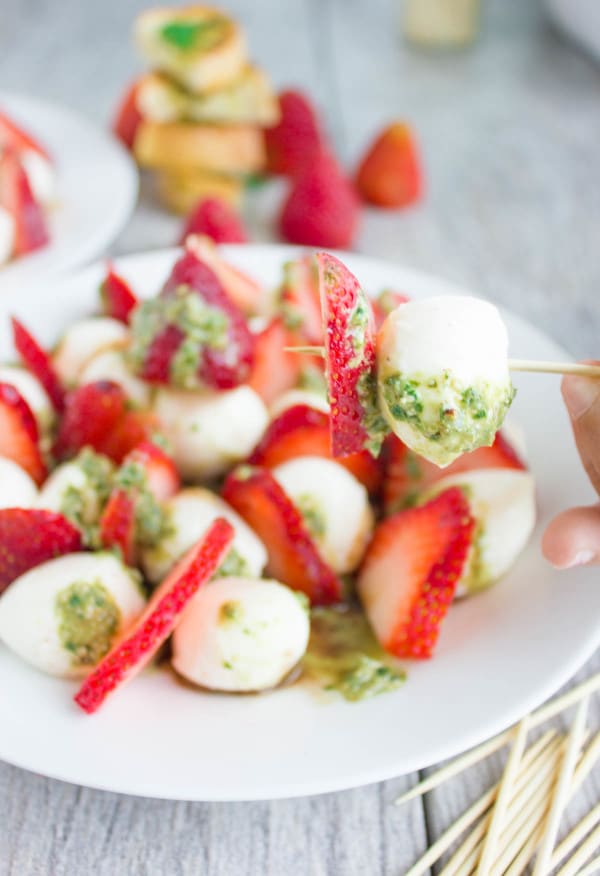 I love putting a thin layer of balsamic vinegar on the bottom of the serving plate. Then I start slicing the strawberries and alternating them with those baby bocconcini cheeses, but I've made it with whole strawberries a few times, and stacked each strawberry with a ball of cheese on a toothpick for the perfect finger food salad. The basil pesto dressing is basically a couple tablespoons of this protein packed nut free hemp basil pesto (or store bought if you must) and a tablespoon of white balsamic vinegar. Spooned right on top dressing up the strawberries and bursting the bocconcini with flavor.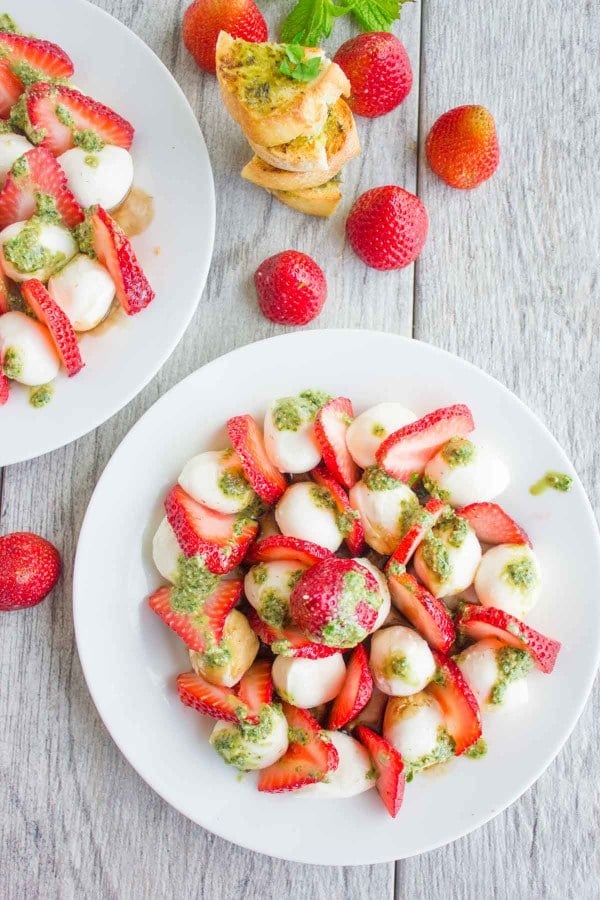 I love pairing this strawberry Caprese salad with a really nice herb cheesy garlic bread—which I promise to post a recipe for really soon. In the meantime, take a few minutes and make this lovely yummy salad and enjoy!:)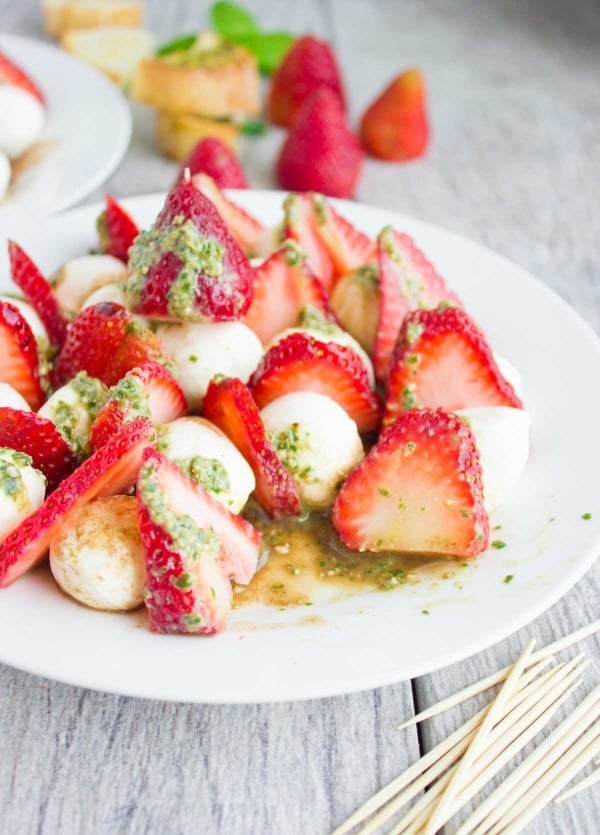 Strawberry Caprese Salad
Ingredients
2

tablespoons

of Balsamic Vinegar

1 1/2

cups

of baby bocconcini cheese

1

cup

os strawberries

, ,thinly sliced

2

tablespoons

of protein packed nut free basil pesto

(or store bought)

1

tablespoon

of white balsamic vinegar
Instructions
Take your serving plate and pour in the Balsamic vinegar.

Alternate a slice of strawberry with a bocconcini cheese all around the plate in circles, lines or however pattern you like.

In a small bowl mix the pesto with the white balsamic vinegar until smooth and runny.

Drizzle the pesto dressing all over the strawberries and bocconcini and serve.

Altrenatively you may secure a slice or whole strawberry on a tooth pick, a basil leaf and a piece of bocconcini and drizzle with the same dressing.