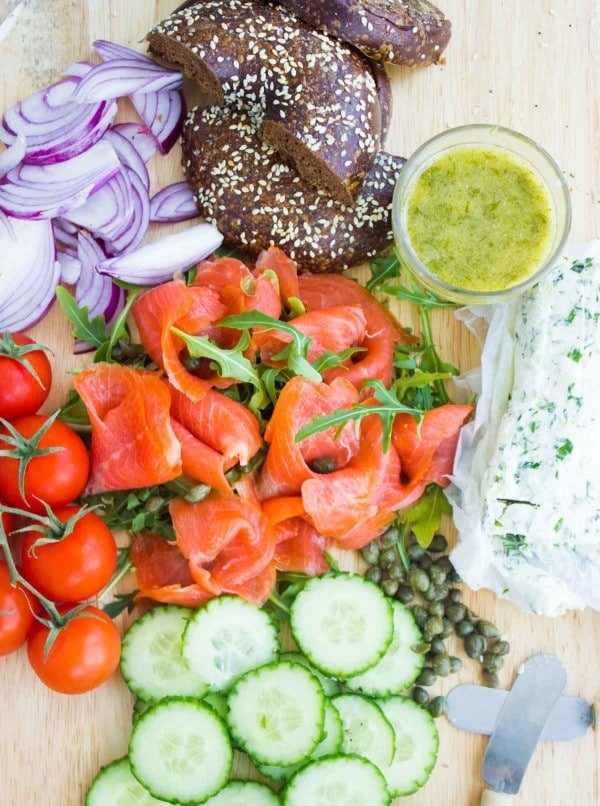 This easy smoked salmon platter recipe is rustic, easy and no fuss. The smoked salmon is surrounded by sliced red onions, cucumbers, capers, arugula, pumpernickel bagels, and some of my all time favorite staples : sweet mustard dill sauce and garlic herb lemon cream cheese. Throw in some more of your favorite condiments and make it your perfect breakfast, brunch or light lunch to pull up last minute when you have friends over.
My family loves smoked salmon, I carried on that love and luckily my husband does too. My girls, well I won't get into that right now.. Non the less it's a staple at my home and a platter like that is one of my favorite ways to enjoy it.
This platter isn't really a recipe per say, it's rather how I love to arrange and combine different condiments and veggies into a fabulous lunch, brunch, fancy breakfast or light summer dinner! Most of the time I'll add in extras like avocados, sliced apples, radishes and just whatever I have on hand. It's totally versatile and can be arranged in a few minutes.
My homemade condiments here are the garlic herb cream cheese, a must try for flavored cream cheese lovers . It has the perfect balance of creaminess and herb-garlic flavor to compliment the salmon, bagels and veggies. And my sweet mustard dill sauce, which unlike most tangy mustard dill sauces—this one is actually quite sweet to perfectly compliment the saltiness from the smoked salmon. Another must try!
I love to take one of my cutting boards, place the salmon right at the center and then surround it casually by all the ingredients. Now mind you that might not be the best way to serve this plater for everyone, so let's say my mom is coming over—I would neatly try to arrange the ingredients in my lazy suzan like in the photo below..And that's simply because she taught me sophistication makes everything better. And I agree. I just sometimes, well, like a more rustic natural earthy feel to my food..sometimes.
So go ahead, take out your fancy or rustic side out and arrange yourself a perfect smoked salmon platter. Enjoy!
Easy Smoked Salmon Platter
Ingredients
1

lb

of smoked salmon

1

cucumber sliced

1

red onion sliced

1/4

cup

of capers

, drained

1

cup

of arugula

4

pumpernickel bagels

, toasted

Lemon slices

Avocados

, radishes, tomatoes, apple slices (optional)

Garlic Lemon Herb Cream Cheese

Sweet Mustard Dill Sauce
Instructions
Arrange the salmon right at the center of your serving plater and surround it by the rest of the ingredients. Add more or less to your taste.