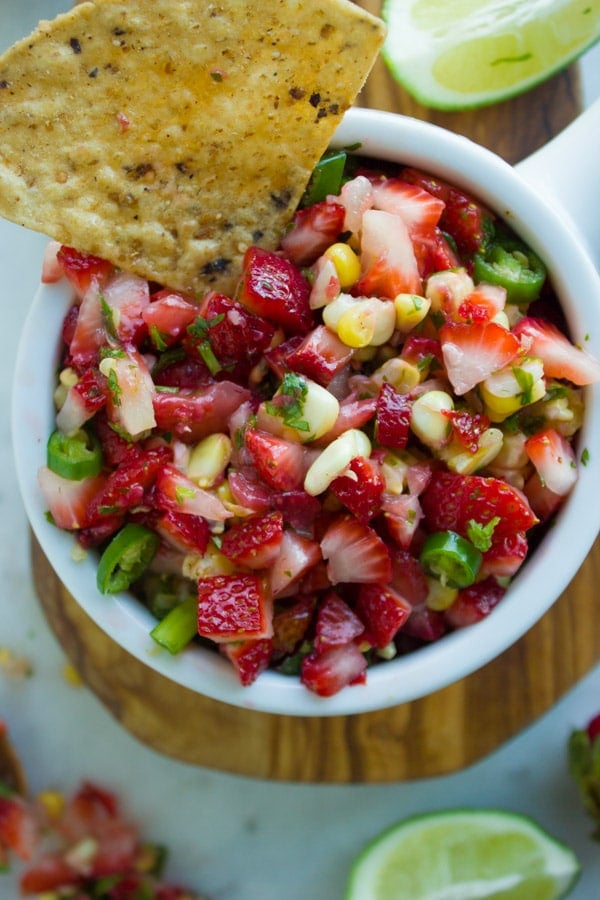 This Best Strawberry Corn Salsa recipe is one you can not miss! Sweet strawberries and corn with plenty of spice from habanero peppers, all in a zesty lime, cilantro, parsley, scallions and olive oil sauce. It's the perfect way to start your BBQ, and it pairs wonderfully with anything you plan to serve it with. It's seriously the best salsa you can make, oh and did I mention it takes 5 minutes to prepare? Now here's the perfect way to celebrate!
Ok I'm so excited to share with you this recipe today. I have a soft spot for quick, simple, fresh and utterly good food like this. And I have another soft spot for Mexican anything stuff. It's like I have a hidden Mexican gene maybe that I'm not aware of? I don't know what it is about Mexican food, it's the freshness, the spice, the flavors, and the cilantro I think!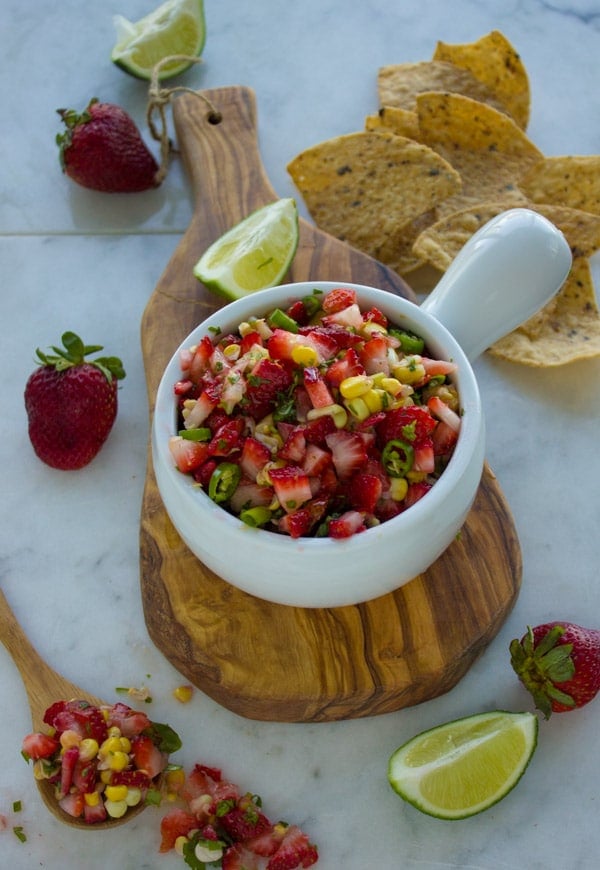 I know a bunch of people who will NOT eat cilantro..just like that. One of the chefs at my cooking school says it tastes like soap, and I've actually heard this before. But she doesn't mind the taste of cilantro seeds (coriander seeds). I read so much about it–because I seriously love cilantro lol And I discovered it's actually super common and it has to with a genetic composition which lets certain people detect a common type of aldehyde found in both soap and cilantro!! Now I obviously can't imagine that, but bottom line what I'm trying to say is–if by any chance you or someone you know is not a cilantro fan, go with parsley alone!
To be honest, this strawberry corn salsa tastes amazing too with an Italian twist–basil, scallions, olive oil a touch of lemon and a touch of balsamic vinegar. Or like I mentioned earlier, with parsley alone. I mean I love food and love it this way, but I always mention in all my recipes that you can twist them to your taste–and I won't deny that they'll taste even better for you. Even at the cooking school, I love giving variations and examples of different ways to make the recipe. And I think this way either you'll feel like no no I'm making it as it is, or for example, yes I can use up my beloved ginger here too! (If ginger is your thing;) )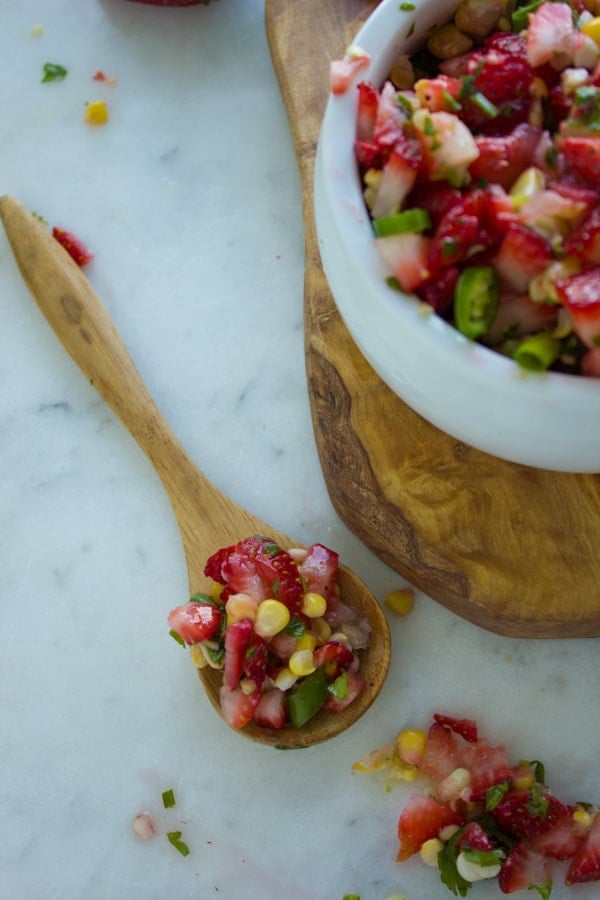 Wait now I've been writing all this about cilantro and the star here is the strawberries and corn! My girls and I adore strawberries–the hubby not so much. When they're sweet and seasonal like they are now, I love to make the most out of them. Have you missed one of the most popular recipes on the blog–this Goat Cheese Pistachio Coated Strawberries? What about these Strawberry Brie Lollipop Pies and this ever so simple Strawberry Caprese Salad? And when it comes to corn, I can only think of my all time favorite Cheddar Zucchini Best Cornbread Recipe.
The Combo here of strawberries and corn are a perfect compliment of sweetness with different textures–juicy strawberries and slightly crunchy corn. I love adding a touch of spice, ok well plenty of spice. I had a bunch of Thai and habanero peppers so I mixed them up, but jalapeño works wonderfully here too. If you're not a spice person, then skip it all together.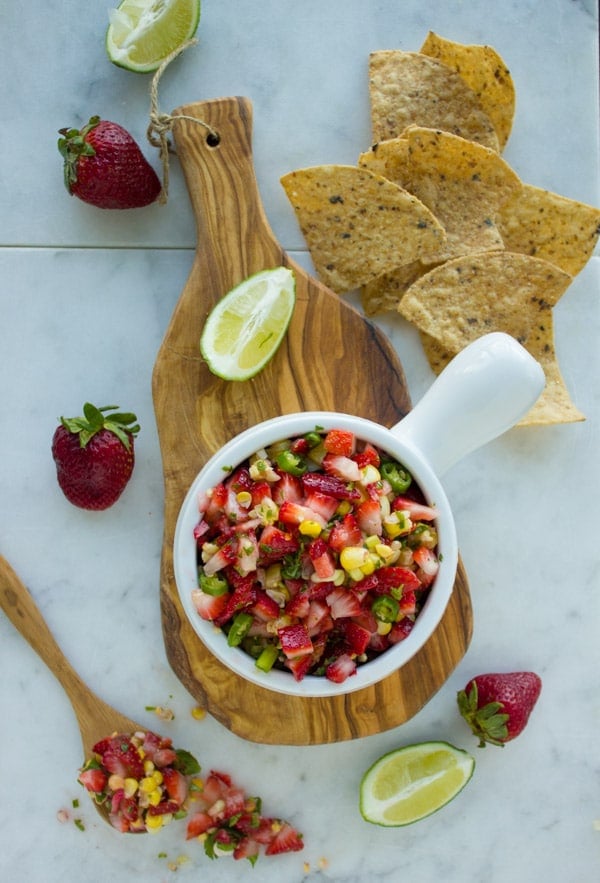 I love mincing some scallions (by hand or mini food processor if you're rushed) and adding some lime, olive oil, pinch of salt, plenty of cilantro and parsley. I add this to a bowl and then add on finely chopped strawberries and corn. This corn salsa is made easily with fresh corn, but I prefer cooked corn (either boiled or grilled). I strongly urge you to make this recipe right away- it's a perfect way to celebrate! I love it just as a snack, or an appetizer to a summer BBQ. It's perfect to serve as a salsa over your grilled goodies and makes a festive potluck too, but I feel it's not the best picnic or make ahead candidate because the strawberries start to wilt. The good news is it really takes 5 minutes to prepare so you don't have to worry about anything except enjoying it!! 🙂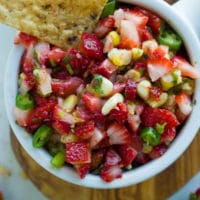 Best Strawberry Corn Salsa
Ingredients
3

scallions

, finely minced

1/4

cup

of minced herbs

(half cilantro and parsley or all parsley, or basil)

pinch of salt

juice of 1 large lime

( about 2 tablespoons)

2

spicy peppers minced

(jalapeños, habanero or your favorite)

pinch of salt

1/4

cup

of olive oil

2

cups

of finely diced strawberries

1

cup

of cooked corn kernels

( use raw if you prefer, or use grilled/boiled corn)
Instructions
In a medium bowl, add the scallions, herbs, salt, lime and olive oil. Mix them well and then add in the strawberries and corn. Mix the salsa and serve with chips, or top it over your grilled goodies!