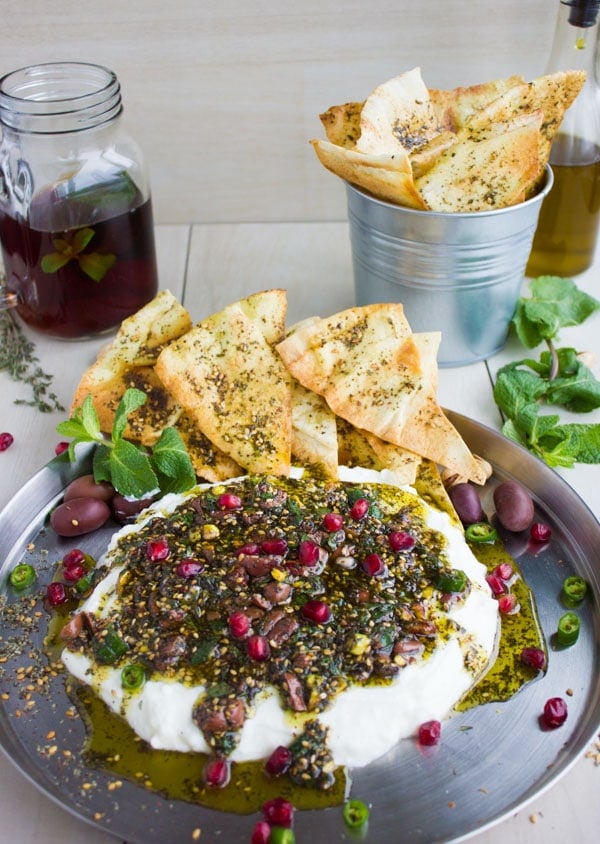 This labneh dip with zaatar pistachio olive mint topping recipe is a the best, flavorful and lightest way to ever do any dip! Creamy smooth low fat labneh or Greek yogurt is topped with a mixture of zaatar spice, chopped olives, fresh mint and pistachios in olive oil for an absolute Mediterranean dip you can't miss! Sprinkled with fresh pomegranate arils and served with zaatar pita chips– this is a dip you will make more often than you believe!
It's time for something bright, zesty and refreshing around here. I've been under the weather for a while and felt like I couldn't take the idea of another ranch dip this SuperBowl!! So we're up for a different mood this year. It's like we're peeling off our skin and going against tradition–which in some cases, like this one, feels SO GOOD!!!!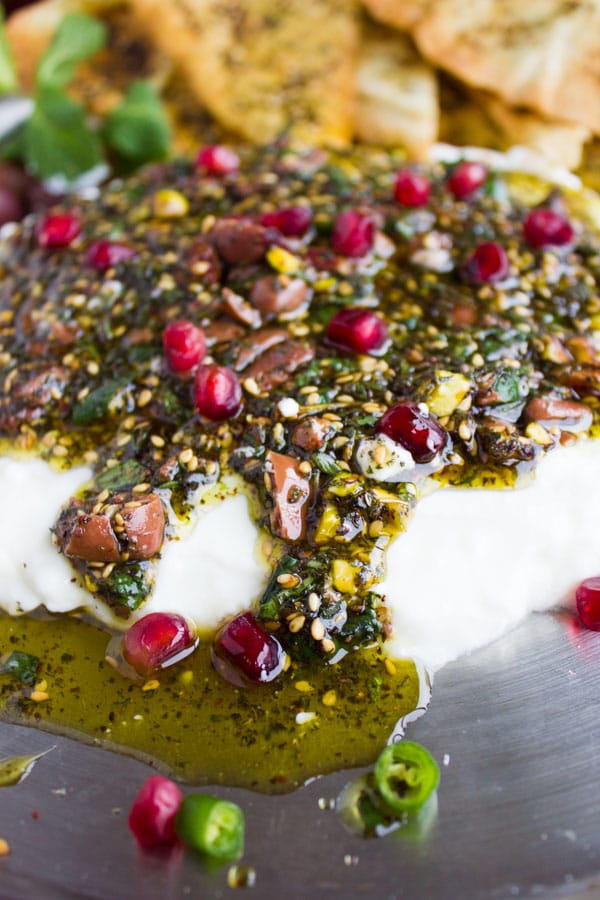 So have you ever had labneh or heard of it??!! Well I only did when we went to Jordan about 18 years ago–and I found out it's been around for centuries and in many neighbouring foodie cultures! Now a days though, I think you don't need a trip all the way to Jordan or a close by spot to find out about Labneh, it's widespread and I see it everywhere.. Ok I just re-read that sentence and it made me sound like I'm double my age lol either way you get the idea 🙂 So labneh is basically strained tangy yogurt with a bit of salt. It can be full fat or low fat. It has the texture of sour cream or Greek yogurt, but it has a more tangy and saltier taste. Which is why you can absolutely make it from scratch–OR use your favorite brand of Greek yogurt with an extra 1/4 teaspoon of salt!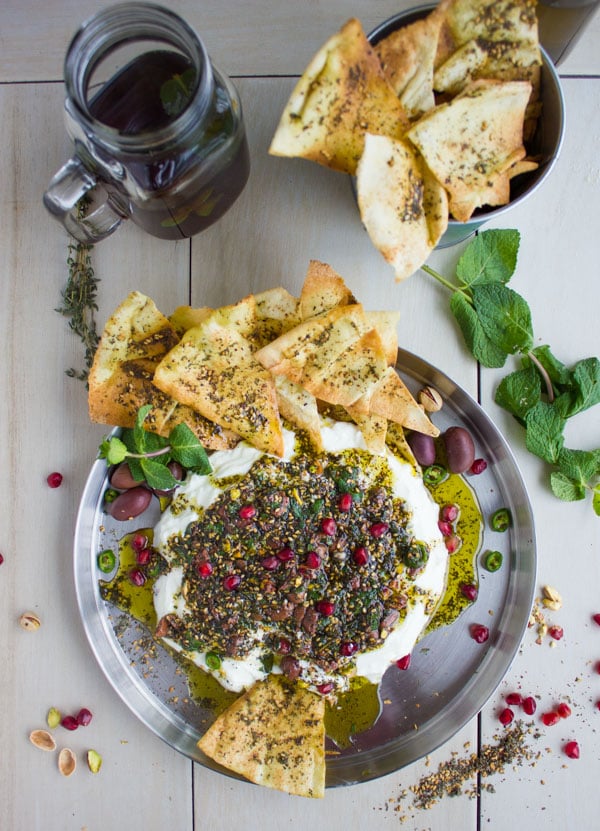 If you're in the mood of making labneh from scratch, simply strain a nice tub of tangy yogurt (Indian or Middle Eastern yogurts work best if you can find them) with a 1/4 teaspoon of salt, until the yogurt is thick and creamy. This takes anywhere from 8-24 hours depending on the type of yogurt you used to start with. And it's done! Store it in the fridge in a sealed container for up to 2 weeks, and enjoy 🙂
So how about the Zaatar spice? Again, super common now in many stores—this spice blend is one of my favorites! Its basically a combination of toasted dried thyme leaves, sesame seeds, salt and lemony sumac spice (a fabulous lemon tasting flower spice which I used in this lemon artichoke garlic roast chicken with salsa, this Turkish style chicken skewers, Turkish pizza Lahmacun, and Ultimate lamb kabab platter)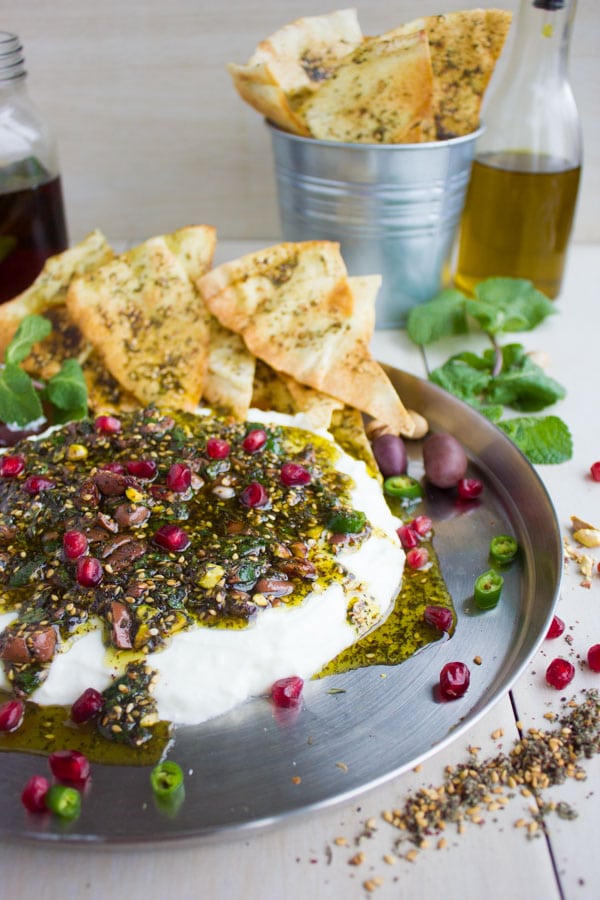 Zaatar tastes just like every ingredient I listed—thyme-ish, lemon-ish and sesame-ish! It's a perfect spice but mostly used as a condiment on its own. So sprinkled over cheese, pizzas, salads, breads, dips and more. I was very fortunate to have a Jordanian friend bring me some Zaatar from her trip to Jordan last summer, I love it and use it wisely like it's gold sprinkles 🙂 But I find it in all specialty stores, spice stores and Middle Eastern stores. I can't say I would like you to substitute anything for Zaatar in this recipe, but I can say—if you absolutely MUST, then toast in a skillet over low heat :1/3 cup of dried thyme leaves with 2 tablespoons of sesame seeds and 1 Tablespoon of sumac spice and 1/8 the teaspoon of salt—for about 1.5 mins until fragrant and toasty.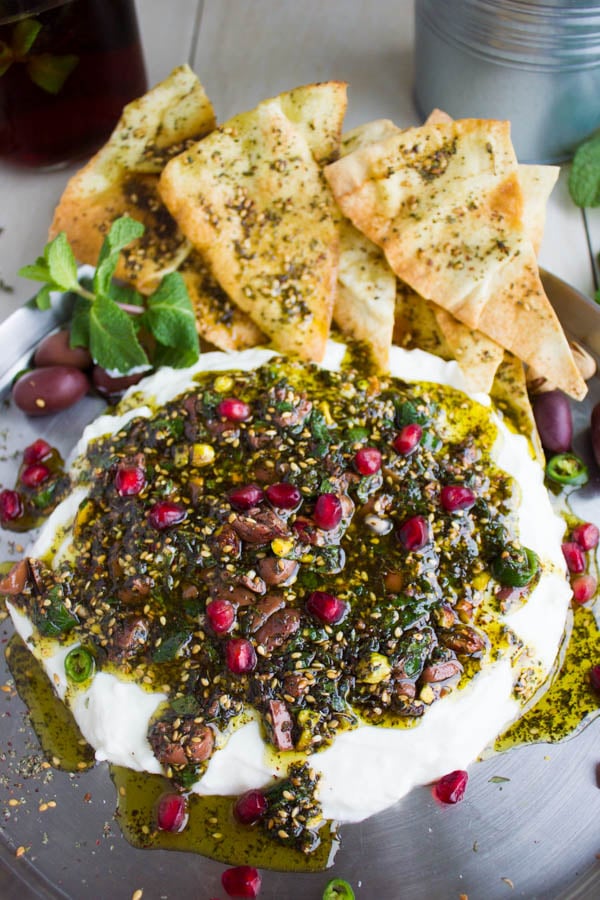 So while labneh and Zaatar have been around forever, this labneh dip with zaatar pistachio olive mint topping has ABSOLUTELY not! It's my way of twisting and adding a TON of flavor, freshness and punch to a classic! 🙂 There's something about a cool labneh or yogurt that's wonderfully contrasted with fresh mint, salty olives, crunchy pistachios, sweet pomegranate and rounded up in plenty of zaatar and olive oil! OMG seriously you can not miss this recipe!
To make life easier—you can absolutely food process the topping ingredients, I like to chop them (even though I'm a huge processor fan!) because I love a chunky texture and feel to them. And it really just takes a minute—because you're not chopping large batches of anything, just a couple of tablespoons of each and they all get chopped up together.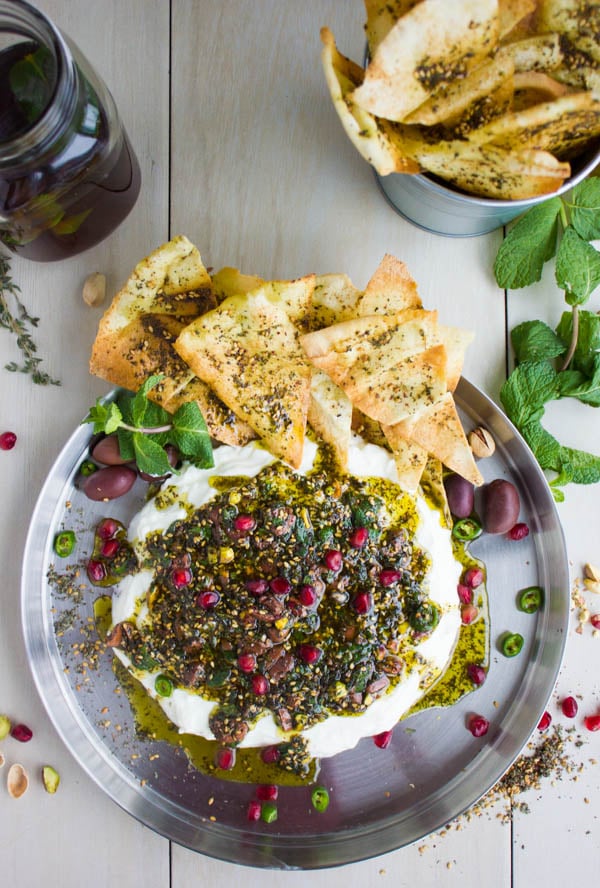 This gorgeously delicious labneh dip with zaatar pistachio olive mint topping can be served with any type of cracker or veggie you have on hand. I paired it here with my favorite zaatar pita chips—which I strongly recommend you do! Just take thin type pita bread (not Greek style) and cut each into 8 wedges, then separate the upper and lower part of the bread so you'll end up with 16 wedges from each pita. In a bowl I mix some zaatar and olive oil and brush the tops of each pita wedge with this fragrant mixture, then bake the bread for 6 mins till crispy. Absolutely easy, quick, and DELICIOUS. These zaatar chips are perfect for hummus dipping too (hint : garlic kale hummus dip or the ultimate hummus dip), and they stay crispy forever—just store them in a ziplock bag to enjoy through out the week! 🙂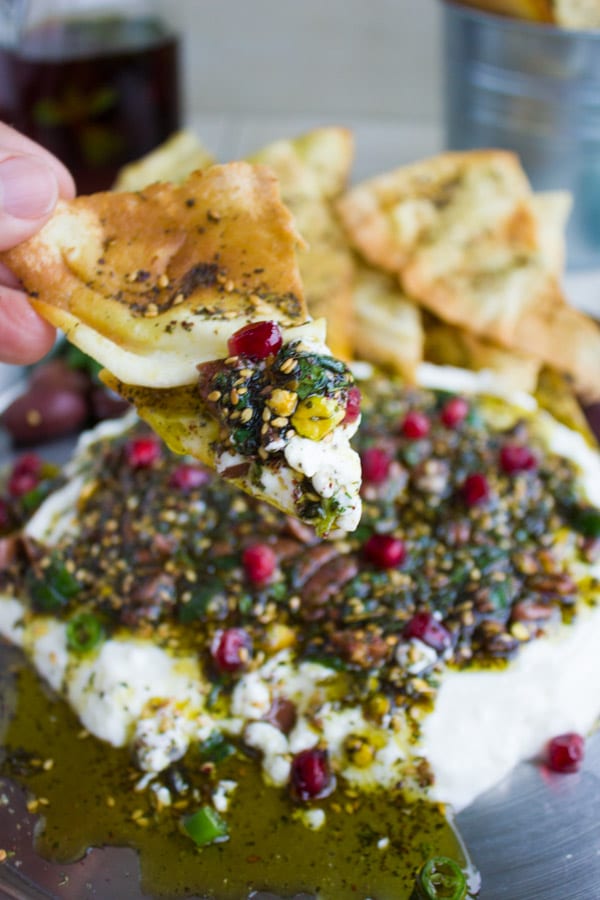 Make a labneh dip with zaatar pistachio olives mint topping this SuperBowl for a different vibrant take on your classic game day flavors, and if you do, pair it with this fabulous Turkish pizza Lahmacun and Turkish style chicken skewers for a flavorful out of the box menu! And if you're having a potluck, this labneh dip makes a perfect choice—assemble it last min and watch everyone go in for seconds and thirds!
So before rounding off, Superbowl or not, I just have to say—MAKE this AMAZING recipe, I promise you will DEVOUR it 😉
Labneh Dip with Zaatar Pistachio Mint Olive Topping
Ingredients
2

cups

of labneh

(store bought or home-made) or Greek Yogurt

1/4

teaspoon

of salt

2

tablespoons

of chopped fresh mint leaves

2

tablespoons

of chopped pistachios

(toasted preferably but optional)

1

tablespoon

of chopped pitted Kalamata olives

pinch of red pepper flakes

(optional)

1/4

cup

of Zaatar spice

1/4

cup

-1/3 cup of good quality extra virgin olive oil

1/4

cup

of pomegranate arils

For the Zaatar Pita Chips:

3

large pita pocket breads

(not Greek style) cut up into wedges

2

tablespoons

of Zaatar spice

2

Tablespoons

of olive oil
Instructions
Preheat the oven to 375 degrees F. Start by making the Zaatar Pita Chips, cut up each pita bread into 8 wedges and then separate the 2 layers of the pita bread giving you 16 wedges in total per bread. In a small bowl, mix the zaatar spice and olive oil.

Lay the pita bread wedges in a single layer on a baking sheet and brush them with the Zaatar and olive oil mixture. Bake for 6-8 mins until crispy (keep an eye on them because they burn easily!)

In a small bowl, add in the chopped mint, pistachios, olives, pepper flakes, zaatar spice, pepper flakes, zaatar and olive oil. Mix the topping ingredients well.

Spread your labneh (or Greek yogurt) on a flat plate mounding the labneh to about an inch high.

Spoon the topping ingredients over the top of the labneh and allow it to drip from the sides. Sprinkle the pomegranate arils on top.

Serve with pita bread and some minty red tea.