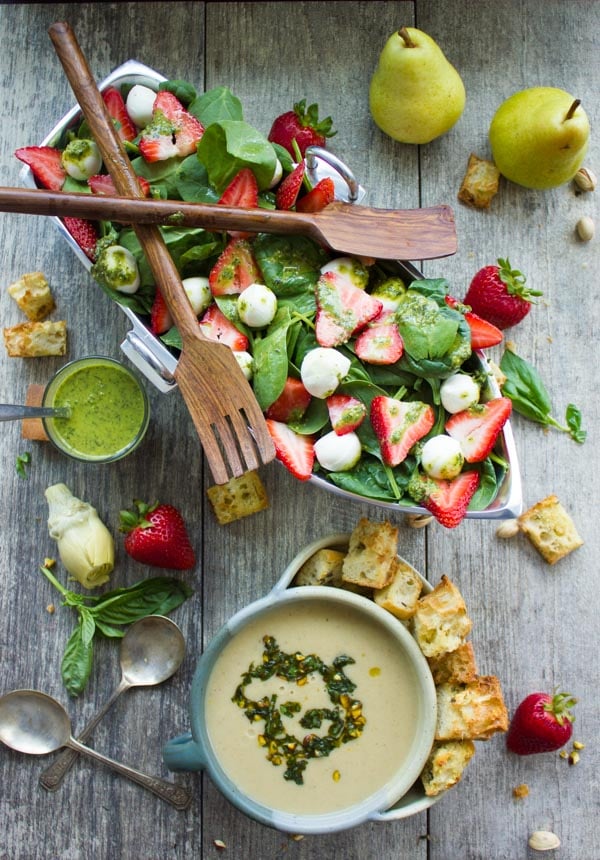 Here's a Strawberry Spinach Salad & Artichoke Soup Brunch recipe combo that's absolutely the best way to celebrate this beautiful season! Light, fresh, vibrant and so so DELICIOUSLY good! A vegan, super creamy thick luscious artichoke and pear soup that's spiked with a basil pistachio olive oil topping for a perfect finish. Pair this with a seasonal strawberry and spinach Caprese salad that's dressed up with a citrus basil vinaigrette, and together this fabulous lunch/brunch makes the perfect Mother's Day meal 🙂
Today's post is sponsored by the amazing UncommonGoods. It's one of my favorite websites to shop and look for inspiration—It's like a show case of super talented artists, offering their handmade uniquely designed products just for you! A little background about UncommonGoods: It was founded in 1999 and headquartered in Brooklyn, New York. A privately-owned retailer that endeavors to feature unique jewelry, designer décor, tabletop items and handcrafted gifts created in harmony with the environment without harm to animals or people. All operations run out of the historic Brooklyn Army Terminal, where the lowest-paid seasonal worker starts at 50% above the minimum wage. With a mission to support and provide a platform for artists and designers; half of the products are made by hand and most of the jewelry products, home décor and table top items are created in the USA, and about one-third of the entire collection incorporates recycled and/or upcycled materials.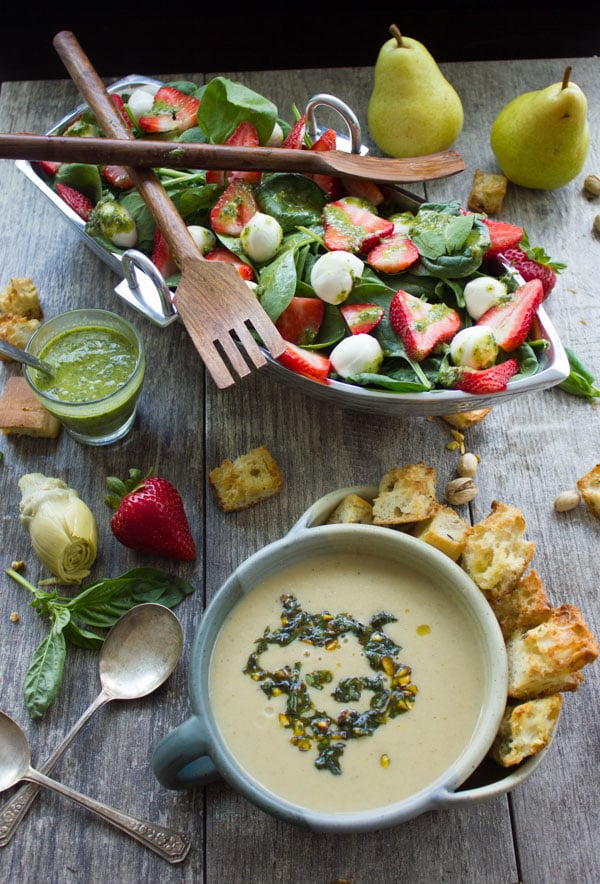 When I look at their kitchen collection—I feel like buying it all!! 🙂 You'll really find a variety of amazing and "Uncommon" goods to chose from—And as if that's not enough, for everything you shop at UncommonGoods, a $1 donation goes for a good cause. So the core of the company is to have respect for the integrity of the creative individual and the belief to impact the world in a positive way, and they've won plenty of awards to support that! And as a consumer, I feel SUPER happy to support that too!


Now for today's post, I had to chose from this and thisamazing Mother's Day Gift collection—again, it was very hard to chose! So I picked things I knew my lovely Mom would like, like those stunning soup and cracker stone bowls, look how gorgeous they are! You can serve soup and croutons (like I did here), or crackers, veggies—your choice. The handle is so well designed so you can lift the soup bowl and sip away 😉 Then I also picked this stylish salad row boat with cute wooden  utensils. It's heavy, silver-plated and absolutely perfect for a crowd. These gorgeous items would make a great Mother's Day gift and will be the topic of conversation at your next party for sure!
For my sweet Mom and Mother's Day, I'm making a very Spring feel brunch/lunch. She's all about fresh light meals like this, and she also has quite the sweet tooth 🙂 Let's start with this lick your spoon artichoke soup. My mom absolutely loves artichokes. And she passed on this love to us. ( If you've missed this lemon artichoke garlic roast chicken with salsa or this lemon caper artichoke chicken piccata —you've missed a lot! ) So here's the perfect way to make a super creamy artichoke soup—minus the cream!!
I have a few tips on soup perfection which I shared in a few soup recipes before–basically my secret thickener and cream factor for this artichoke soup is adding navy beans! The beans not only add protein and fibre to the soup, but they add a luscious creamy thick texture without any cream—making this artichoke soup absolutely vegan! I also love adding a 1/4 cup of rolled oats to the soup. Again for thickness and to mellow out all the flavors. Pears. Yes I LOVE adding pears/apples to my soups. There's an undeniable balance of sweetness that the pear adds to your soup—one you can't replace with anything else.
Then comes the crunch herb topping, which in fancy gourmet French terms is referred to as pistou. It's simply a combo of chopped pistachios and basil, mixed with olive oil and salt. This tiny bit of 2 mins work makes a BIG difference to your soup! The pistou adds a delicate crunch to the artichoke soup and a bright basil pistachio flavor. Served up in my new favorite soup bowls with croutons—perfection! And served along with the strawberry spinach salad with basil vinaigrette—a dream come true!


If I had to pick my Mom's favorite herb, it would be basil. And that's why I themed the brunch around it. And if I had to pick a favorite Spring item for her, it would be strawberries. So I chose to make her a simple, fresh salad that's similar to this strawberry Caprese salad (which she loves). This strawberry spinach salad comes together in mins. The dressing is made in a blender or food processor—plenty of basil, some garlic, some vinegar, some olive oil and mustard. Toss and drizzle this basil vinaigrette with spinach, bocconcini and sliced strawberries and that's the brightest salad ever! Perfect for picnics, lunches, potlucks and bbq this season! And If you're serving this salad Vegan, skip the bocconcini.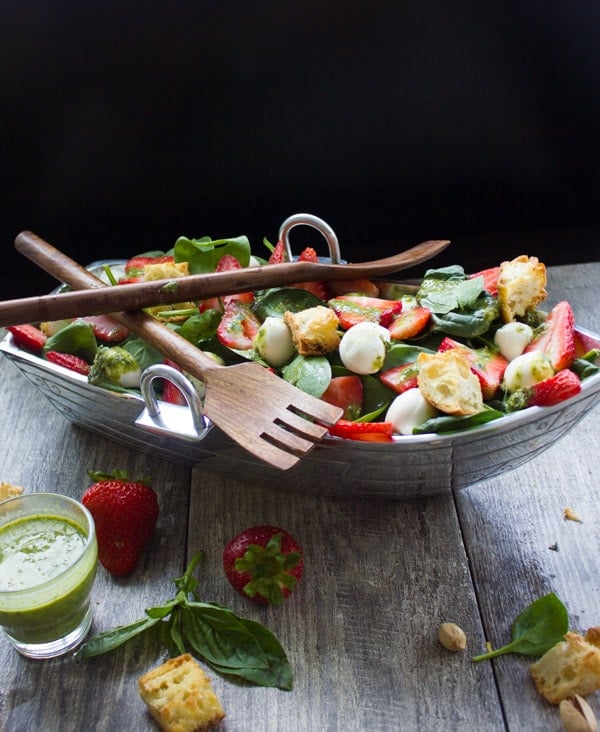 You can definitely toss in some croutons to your strawberry spinach salad for a more filling lunch. For now, we're keeping the croutons with our velvety smooth artichoke soup only. This simple salad and soup combo comes together literally in 30 mins start to finish, and it makes a perfect brunch menu this season—so don't miss out!
If your Mom is anywhere close to you–take advantage and ENJOY a special day together! Happy Mother's Day to my amazing Mom and all the lovely Moms out there! Enjoy this quick, easy yet scrumptious brunch menu—and surprise your Mom with a special and unique gift from this UncommonGoods collection too! 🙂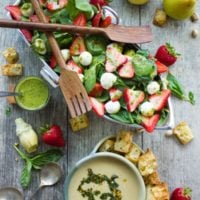 Strawberry Spinach Salad & Artichoke Soup Brunch
Ingredients
Artichoke Soup:

1

teaspoon

of olive oil

1

yellow onion

, finely diced

1

yellow bell pepper

, finely diced

1/2

teaspoon

of oregano

pinch of salt

2

large cloves of garlic

, minced

2

cups

of chopped frozen artichokes

1

large bartlett pear

, cored and diced (Use any type of pear you have)

3

cups

of low sodium vegetable broth

1/2

cup

of cannellini beans

, drained and rinsed

1/4

cup

of steel cut or rolled oats

(gluten free if needed)

1/4

teaspoon

of salt

Pistou Drizzle for the Soup:

2

tablespoons

of chopped pistachios

2

tablespoons

of minced basil

2

tablespoons

of olive oil

Garlic Croutons:

1/2

a large baguette cut up into cubes

1

garlic clove minced

2

teaspoons

of fresh thyme leaves

( or 1/2 teaspoon of dried oregano)

pinch of salt

2

tablespoons

of olive oil

Strawberry Spinach Salad:

3

cups

of spinach leaves

1

cup

of hulled and sliced strawberries

2/3

cup

of bocconcini cheese

Basil Vinaigrette:

1

cup

of fresh basil leaves packed

1

small garlic clove

juice of 1 lemon

1

Tablespoon

of white balsamic vinegar

1

teaspoon

of dijon mustard

1/4

cup

of olive oil
Instructions
Preheat the oven to 375 degrees. Toss all the croutons ingredients and layer them in a single layer on a baking sheet. Toast them in the oven for 10-15 mins (depending on the size of your croutons). Let them cool.

For the soup: heat the olive oil in a medium size pot, and add in the onions, bell peppers and pinch of salt.

Sauté the veggies for about 3 mins until soft and slightly caramelized. Add int he garlic, oregano and sauté for a minute more until fragrant.

Add in the remaining ingredients and mix. Bring the soup to a boil and lower the heat to low.

Let the soup cook for about 20-30 mins most.

Use and immersion blender and puree the soup to a smooth velvety texture. Taste the seasoning and adjust.

For the pistou—simply mix all ingredients in a small bowl.

Serve the soup topped with pistou.

For the Basil Vinaigrette: blend all ingredients in a processor or high speed blender until smooth.

For the Salad: Toss the spinach with 2 tablespoons of the vinaigrette.

Place the spinach on the salad plate, scatter the strawberries and bocconcini over the spinach and then drizzle with more of the basil vinaigrette to your taste.