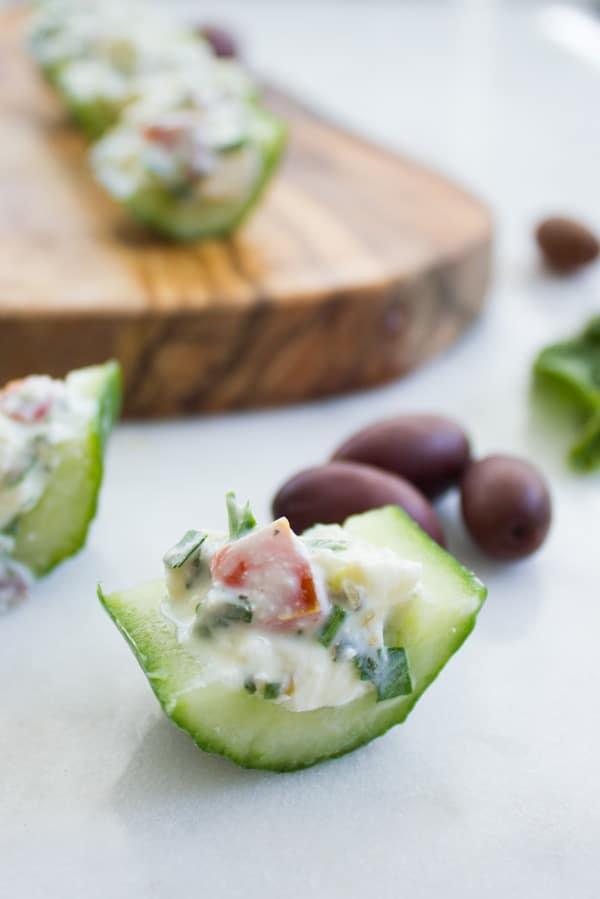 Here's a perfect las minute bite size appetizer for those summer BBQ parties coming up. These are the Best Cucumber Salad Bites, a cross between your favorite feta cucumber salad and crunchy cucumber bites. It tastes so fresh, slightly tangy and salty, spicy, zesty with a crunch! Just a burst of sunshine in every bite 🙂
Hey! YES I'm one of those people going super light on my meals right now. No more sauces, no more heavy pastas and no heavy desserts! But maybe just a little breads and pizza. Most of all I feel I'm all for cleaner healthier foods, and all for the BBQ fun! So you'll be seeing quite a bunch of salads, slaws, fruity desserts, ice cream fun, and lots of things grilled!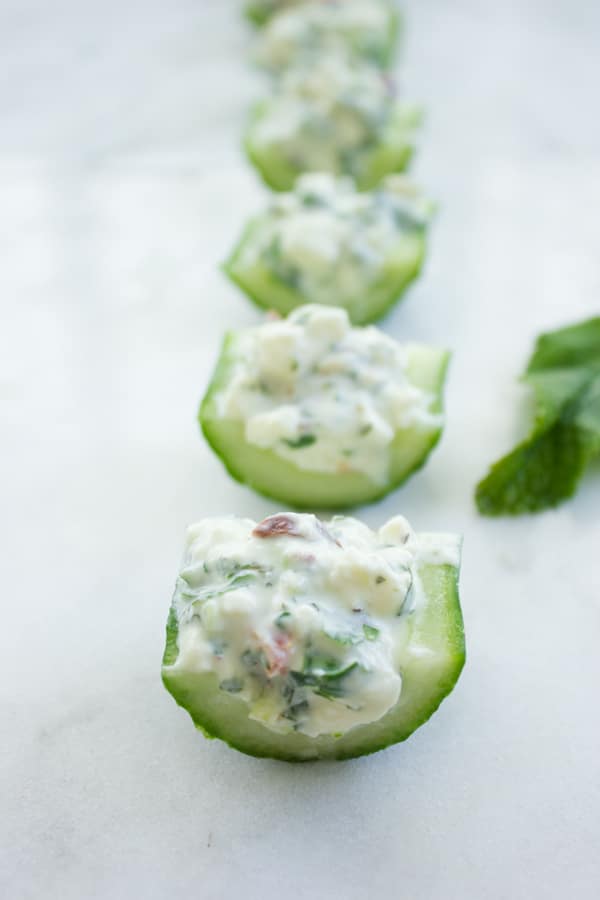 Luckily for me, hubby won't complain anymore that I'm the reason he can't maintain his weight lol And while maybe I should look at the bright side and take this as a compliment, I somehow always get a tiny bit offended. Actually quite offended. However he means it, the good news is I won't be hearing it for a while lol
Back to those cucumber salad bites. Do you remember I made those delicious Mini Zesty Feta Stuffed Peppers a few months ago? At that time I made them for the Big Game and I broiled them slightly to get a nice char on them, but they would be even better on the grill! So make sure you try them too 🙂 Also I've used the same zesty feta filling, so once you make that fresh tasting feta filling, use it for both recipes!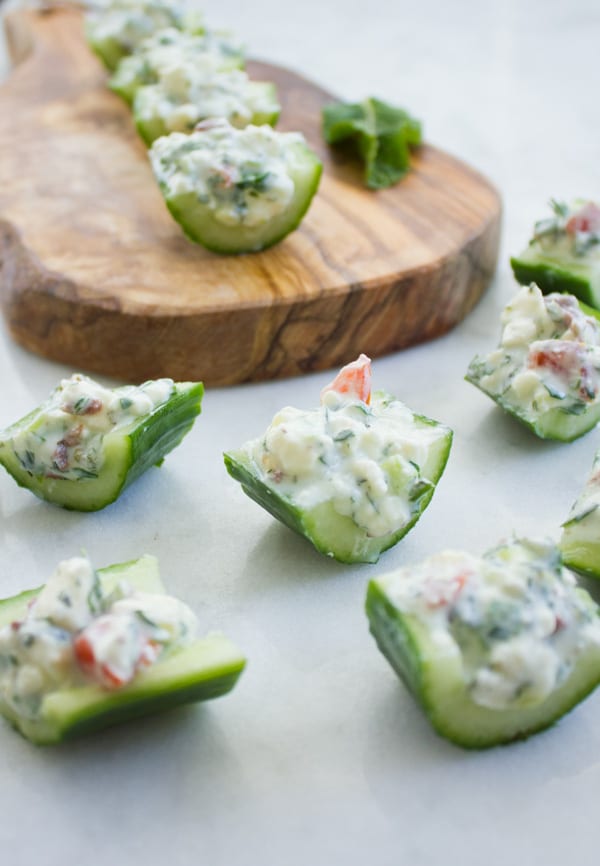 While I've made the filing using my favorite ingredients, you can totally play around with it! My Mom used to make this feta salad for us for as long as I can remember and every time I think of a feta mixture, I always find myself reaching for the same classic ingredients I'm used to. They're a perfect match for a cucumber salad. As much as I would love for you guys to stick to them too, I definitely can imagine this herb is missing from the fridge today or you haven't heard of Zaatar spice before or you're not a tomato person..etc. So that's why feel free to play around with the filling to suit your taste 🙂 But also try it as is when you get a chance 🙂
Basically the cucumber salad bites come together using a large cucumber split in half lengthwise. You'll then scoop out the seeds using a spoon and make a tiny grave so it looks like a boat. Then once you scoop the filling inside, you'll simply cut up the cucumber salad into bit sizes about an inch wide. And you'll be gobbling them up one after the other like I did while taking the photos lol Filling is simply feta, garlic, sour cream, herbs, chilli, olives, lemon, scallions, olive oil and Zaatar spice blend—which you can read all about in this luscious Labneh Dip with Zaatar Pistachio Mint Olive Topping recipe!
Fire up your grill, and munch on those cucumber salad bites while you wait for your food to be ready—you'll absolutely totally Enjoy!! 🙂 And finally, while we're all about quick appetizers for the season–can I just say this amazing Quick Appetizer with Fruit and Cheese is absolutely divine too! Made with just apricots, bocconcini and balsamic vinegar..Pure LOVE you can't miss 🙂
Best Feta Cucumber Salad Bites 
Here's a perfect las minute bite size appetizer for those summer BBQ parties coming up. These are the Best Cucumber Salad Bites, a cross between your favorite feta cucumber salad and crunchy cucumber bites. It tastes so fresh, slightly tangy and salty, spicy, zesty with a crunch! Just a burst of sunshine in every bite 🙂
Ingredients
1

large cucumber sliced in half lengthwise

For the Feta Mixture:

Recipe at the Mini Zesty Feta Stuffed Peppers: https://www.twopurplefigs.com/mini-zesty-feta-stuffed-peppers/
Instructions
Take a small spoon and scoop out the seeds of the cucumber while creating a small dent along the length of it so it looks like a boat.

Using a small spoon, stop the feta mixture along the length of the cucumber boat making sure to press down so the mixture sticks tot he cucumber.

Use a small serrated knife, cut off 1 inch wide pieces of the cucumber and serve right away 🙂