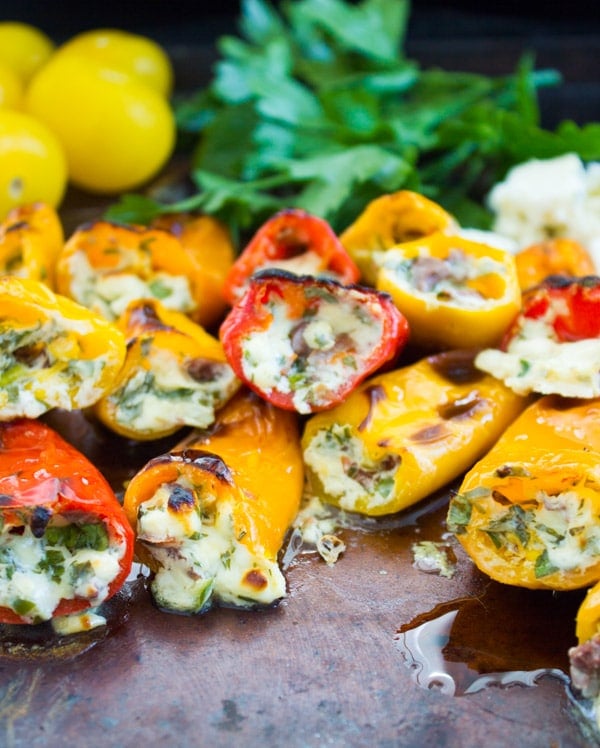 A mixture of zesty, tangy, spicy and herb loaded feta cheese is stuffed into mini coloured bell peppers to create this Mini Zesty Feta Stuffed Peppers Recipe. The peppers are then broiled for a char flavor which perfectly compliments the freshness of these stuffed peppers. Super easy appetizer or finger food that you can make way ahead of time. Sweet, salty, tangy, spicy, slightly crunchy and ultra refreshing!
More appetizers, finger food and GameDay snacking is happening here. Are you all preparing for the Game? I feel like every year I freshen up my menu a bit more, and it has nothing to do with New Year resolutions by the way. But more to do with craving fresh and lighter food. Since we're all piled up in snow this time of year, a bit of freshness doesn't hurt 🙂
So last year I posted this Mediterranean Super Bowl Recipes round up—which is also a combo of fresh finger foods for the Game. It was a potluck and everyone got to made 1-2 easy recipes to bring on, all super simple and perfectly complimenting each other. This year I'm changing things a bit. No potluck and no particular ethnic food. So just a menu of healthy tiny bites like those stuffed peppers (Ok yes for New Year's resolutions lol) with a refreshing flair. Dessert will be a fruit platter and a  favorite at the cooking school—my Mini Lemon Pudding Cakes, and I promise I'll post that recipe with the beginning of Spring 🙂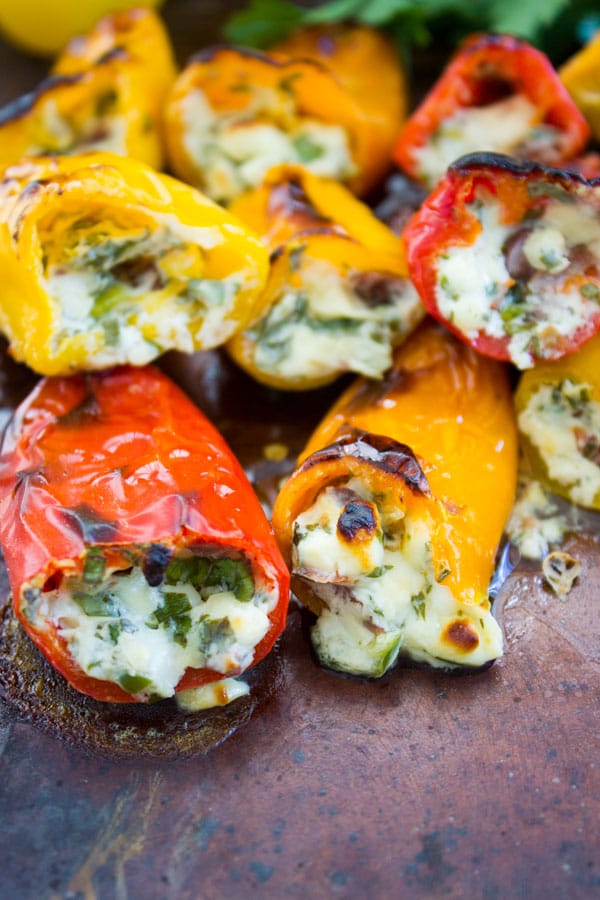 If you've read my Chicken Shawarma in Lettuce Cups recipe, another bite size light and fresh item on this year's menu. I mentioned some of my favorite food prep tips for the Big Game, so check it out! Basically the simpler the better. And also the selection of recipes makes a big difference, so always chose recipes you can prepare ahead of time to make your life easier. That's not to say you're skimping on any flavors or indulgence here, but it's more of the "Work Smart not Work Hard" motto. If you haven't heart of that motto, I don't blame you. I've heard it and ignored it for so long, but recently I feel like I'm forced to adapt it to keep my sanity lol
Quick How To
Ok back to the stuffed peppers. Please don't just make this recipe for the Big Game and forget all about it when its BBQ season! 🙂 Since they're easily and perfectly made on the grill too, these stuffed peppers are AWESOME for grill season and Memorial Day. The beauty of it is using those mini colored peppers which are so incredibly sweet ad tender. They cook in a blink and they still keep their shape even if for any reason you overcooked them.
The stuffing is what I have to talk about. Put aside the fact that I adore Feta and Greek food, and my affinity for Turkish flavors from a Turkish grandma, and everything like that. This zesty feta filling I use for the stuffed peppers is delicious just eaten by the spoon! My mom used to pull this filling out anytime she wants to make an extra side dish/salad/dip/condiment/breakfast item..anything! It's basically crumbled Greek feta cheese, mixed with lemon zest and a touch of lemon juice, sour cream (for creamy dreamy texture) and a hint of garlic. Then some chopped green chilli, plenty of fresh chopped herbs, scallions and chopped kalamata olives are added in. A touch of Sumac spice (optional but so very worth it!!) and it's ready! Pure lush.
Variations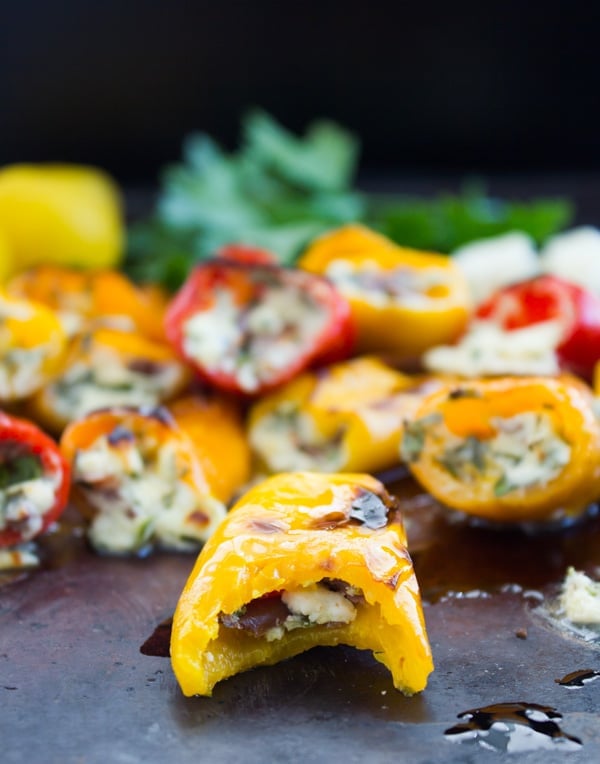 This Feta mixture you can easily adapt to your taste, so add in or asap herbs, add a chopped tomato if you like ( I did), take away the olives and add a olive oil, add some Zaatar blend spice..etc. P.S—you can get so much info about Zaatar blend and how to make it in this fabulous Labneh Dip with Zaatar Pistachio Mint Olive Topping recipe!
The stuffed peppers can be grilled, baked or broiled, or frankly left raw and crunchy as is. I prefer a nice char flavor on them, so when it's BBQ season, I throw them on the grill for 3 minutes per side and when it's freezing cold like today, I broil them for 5-6 minutes. Either way, they're done in minutes! And the feta mixture can be made well ahead of time ( a week or more—but without tomatoes) and stored in an airtight container in the fridge. If you're serving these stuffed peppers cold, then broil them and keep them in the fridge for up to 3 days before serving. See that's the work smart part I was telling you about earlier 🙂 Now enjoy 🙂
Recipe
Mini Zesty Feta Stuffed Peppers
Ingredients
Feta Mixture:

1

cup

of crumbled Greek feta

1/2

cup

of sour cream

1

clove

of garlic

, minced

zest of 1 lemon

juice of 1/2 a lemon

2

green chilli or jalapeños

, minced (optional)

1/2

cup

of mixed herbs chopped

( parsley, oregano and cilantro)

2

scallions

, minced

3

Tablespoons

of kalamata Olives

, minced

1

tomato

, finely chopped (optional, **see note)

1/4

teaspoon

of salt

pinch f black pepper

1/4

teaspoon

of sumac spice

(optional)

2

Tablespoons

of Zaatar spice blend

(optional)

1

teaspoon

of olive oil

For the Peppers:

2

bags of mini trip coloured sweet peppers—2 lbs total

, tops cut off and any seeds removed

pinch of salt

1

teaspoon

of olive oil
Instructions
Preheat the broiler to high or the grill.

On a baking sheet, lay the mini peppers in a single layer. They usually have no seeds, so once the tops are cut off they're ready for the filling.

Sprinkle a pinch of salt and olive oil over the peppers and toss gently. Keep them always in a single layer.

For the Feta filling: Mix all the ingredients in a medium sized bowl.

Use a teaspoon, place a teaspoon size filling inside each of the mini peppers. Make sure NOT to overfill the peppers.

Any remaining feta mixture can be stored in the fridge for a week minimum—so long as it has no tomatoes **.

Place the pan in the broiler over and broil for 5-7 minutes until peppers are charred and tender.

If grilling, place the pepper on the grill and grill for 3 minutes per side.

Serve right away or chill in the fridge for up to 3 days.

**If using tomatoes in the feta mixture, it can only last in the fridge for 2 days. If not, then it lasts at least a week.