This is the best orange carrot cakes recipe, this will take over the place of your favorite carrot cake and carrot muffins! It's light as air, very tender, moist, fluffy and studded with carrots. It has an extra boost of flavor and freshness from the orange and a faint hint of cinnamon spice. Drizzled with orange cream cheese icing, it's orange carrot cakes perfection!
I know everyone has a favorite carrot cake recipe, ok not everyone, nearly everyone. And I say that with a bit of confidence because I've had so many carrot cakes labeled "favorite". And while I did enjoy some of them, I have to say this one here is my absolute favorite. And I will explain why—without using my girls as a reason—because they totally love these best orange carrot cakes!




Unlike many carrot cakes, these cakes have very little oil and so they're not greasy or heavy. They're rather on the fluffy side. These cakes have plenty of carrots in them, so they're unmistakably carrot-y. And because of that, they can take on the extra shot of flavor which the orange adds. Now let's get to the orange, it compliments the carrots perfectly without overpowering them and it freshens up the cakes. I use orange zest and just a little bit of orange juice in the recipe. I've tried using much more juice, and that's when I felt it became overpowering.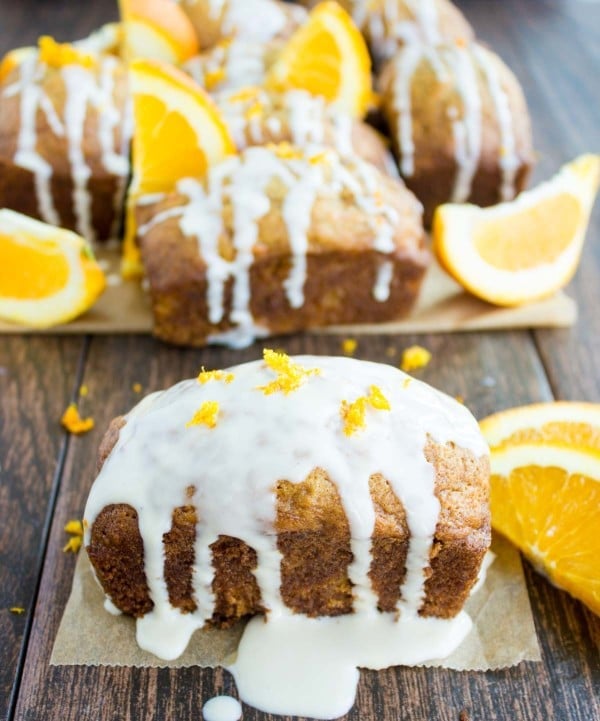 A few years ago while we were still living in Vienna, my brother in law asked me to make him the "best carrot cake" -now he is not a picky or a foodie person at all, rather an easy going just add ketchup to it and it'll taste great kind of person. So I thought let me make him something a bit more impressive and I made him another fabulous carrot breakfast type of cake with pecans, coconuts, pineapples and raisins (recipe will come up on the blog too!).
We all enjoyed that cake except him, suddenly his picky foodie side came up and he said that was not a carrot cake. He just wanted a carrot cake. So that same day I couldn't wait and baked him these gorgeous orange carrot cakes. And I left the glaze optional. I was quite nervous until.. it was love at first bite! Now that's a carrot cake he finally said! And then added, that's actually the best carrot cake!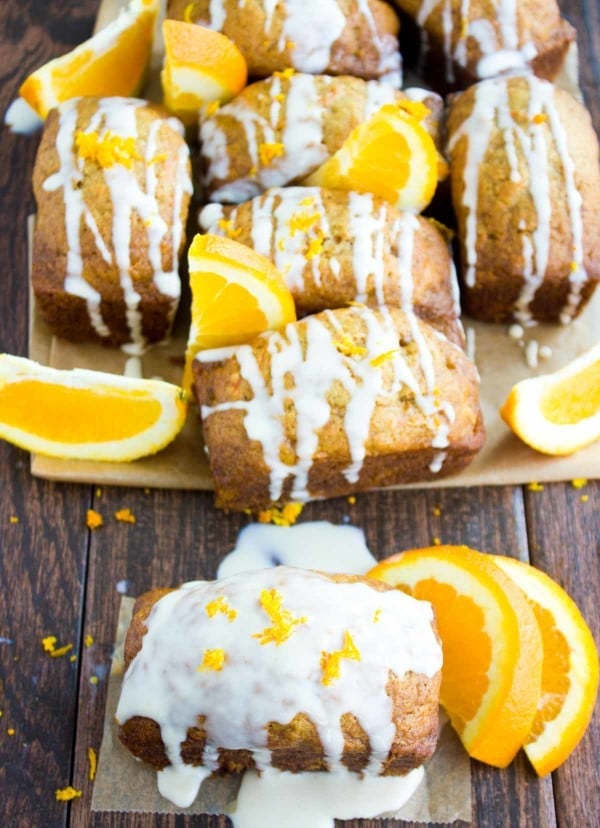 So there you have it, the best orange carrot cakes, muffins, or cake! Try this and enjoy the best orange cakes with your family, kids, friends and co-workers!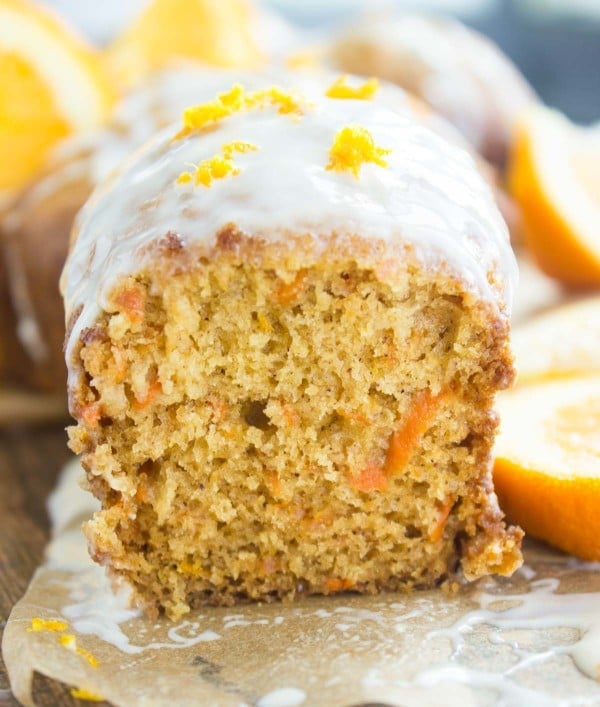 I'm sharing this awesome recipe today for my wonderful sister in law who happens to be my girls' favorite aunt Susu 🙂 And who happens to be a die hard carrot cake lover! So here is the best orange carrot cakes recipe, enjoy! 🙂
Best Orange Carrot Cakes
Ingredients
Wet Ingredients:

1/3

cup

oil

2

eggs

1/2

cup

of light brown sugar

1/2

cup

of granulated sugar

1

tablespoon

of orange zest

( about half the zest of 1 large orange)

1

tablespoon

of orange juice

3

tablespoon

of buttermilk

Dry Ingredients:

1 1/3

cup

of all purpose flour

1

teaspoon

of baking soda

1

teaspoon

of cinnamon

pinch of salt

1 1/2

cups

of shredded carrots

( about 3 carrots)

Cream cheese icing

(optional)

extra orange zest for sprinkling

(optional)
Instructions
Preheat the oven to 375F and spray or paper line your mini loaf pan.

In a large bowl, add all the wet ingredients together and whisk them smooth.

In a smaller bowl, blend all the dry ingredients together.

Add the dry ingredients in to the wet ingredients bowl, and then add the carrots. Fold the batter together using a rubber spatula, making sure to evenly distribute the carrots and incorporating all the flour mixture. The batter will be lumpy—which is ok, it produces a fluffier cake.

Pour the batter into the 12 cavity mini loaf pans and bake for 18 minutes until a toothpick inserted in the centre of the cakes comes out clean.

Let the cakes cool for a few minutes before removing them.

Glaze the cakes with an orange flavored cream cheese icing if using and sprinkle with extra orange zest.