This crunchy sweet potato gratin recipe will make you look at sweet potatoes in a whole new way! Tenderly cooked sweet potatoes (with a secret tip!) are topped with a crunchy, slightly buttery topping flavored with parmesan and herbs. The contrast of sweet and salty, soft and crunchy, paired with the herbs and cheese takes the humble sweet potato to a whole new level. Make this your favorite new side dish, main dish, snack dish, anytime dish!
This is really such a special special side dish, that I promise you will make over and over again. It's one of those super simple recipes that will make you wonder—why didn't I think of that before? It takes 20 minutes in all, it gives a fancy gourmet feel to sweet potatoes, and most importantly, it's so utterly delicious!
I can't count how many times I've made this crunchy sweet potato gratin recipe at my cooking classes, and it always leaves everyone pleasantly surprised. It's almost like eating a sweet potato dessert, only it's a simple side dish. I often pair it with a simple roast chicken for a cozy comfort feel, and it's the perfect pair–like this easiest garlic herb roast chicken or this rosemary balsamic bbq whole chicken. For a more "gourmet" pair, I love it with this perfect grilled steak with lemon rosemary butter (aka–skip the steak house dinner!)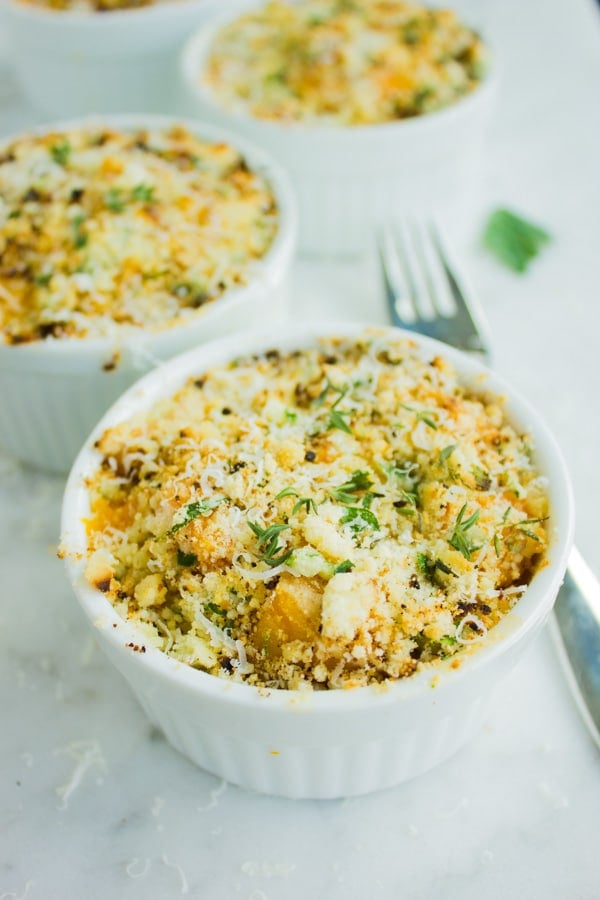 Ironically, I've always been a sweet potato non-eater. My sister on the other hand would devour roast sweet potatoes, she wouldn't mind eating them everyday. I found all kinds of excuses to avoid them and at the end I guess I was labeled a picky eater. But as an adult, I didn't want that label. I really worked on it. Then I had my first baby girl—she was a baby with her aunt's genes! She devoured sweet potato puree..she then went to devour roast sweet potato bits..And eventually, I started falling in love with that sweet potato day after day! I developed new recipes and really enjoyed eating them with her. Now the irony is, as my love for sweet potatoes grew and grew, two years later, my baby girl started to distance herself from sweet potatoes–to a point where she absolutely doesn't eat them now! I suppose she has my genes after all..



The trick (or secret tip as we call it at the cooking school!) to this sweet potato gratin is cooking the sweet potatoes on the stove, in a pot, covered over low heat with no water or anything. It starts by sautéing them with shallots and fresh rosemary (but feel free to use garlic, spices and any other herb) and then simply cover the pot, lower the heat and wait for them to soften up and retain their nutritional value. This produces tender and flavorful sweet potatoes, perfect texture and gorgeous color! . When it comes to the final texture of the crunchy sweet potato gratin, I like it chunky, so I keep the cooked sweet potatoes as they are. But I found some prefer it mashed, so pick your favorite–either way works.
Now to the crunch in this crunchy sweet potato gratin, which absolutely is a must and takes it to another level. It's a mixture of flour, Parmesan cheese, herbs and butter (or olive oil) which are mixed together with a fork until they look like crumbles. These crumbles are scattered over the sweet potatoes and broiled just to make the topping golden and crunchy. If you're following a vegan lifestyle, use olive oil and skip the cheese completely. I often use pecans, or walnuts too–which I highly recommend!
I love to make those crunchy sweet potato gratins in individual sizes, but they're easily made into one large 2 quart dish. This recipe will make you fall in love with sweet potatoes all over again, so enjoy!:)
Crunchy
Mashed
Crunchy Sweet Potato Gratin
Ingredients
2

medium small potatoes

, washed, peeled and diced up to ½ inch pieces

2

tablespoon

of butter or olive oil

(for vegan)

1

large shallot or 2 green onions

1

teaspoon

of fresh Rosemary

a pinch of salt and pepper

Crunch Topping:

1/2

cup

of all purpose flour

¼

cup

of freshly grated parmesan cheese

(skip if vegan)

2

tablespoons

of fresh parsley minced

6

Tablespoons

of butter or extra virgin olive oil

(for vegan)

1/4

cup

of crushed walnuts or pecans pr hazelnuts

(optional)
Instructions
Preheat the broiler and set the rack on the second top shelf of the oven allowing 6 inch distance from the heating element.

Heat a large deep skillet over medium high heat and add the butter. Add the shallots and sauté over medium heat until tender.

Add in the sweet potatoes and season well, then add the rosemary and toss everything well with the butter. Lower the heat to medium low and cover the skillet.

Cook until the sweet potatoes are tender, about 12 minutes.Remove from the heat.

In a small bowl, mix the flour, parmesan parsley and season with salt and pepper. Then gently rub in the butter with your fingers until the mixture crumbles up with pieces of butter.

Divide the sweet potatoes among 8 ramekins (or you can make this into one large gratin dish-2 quart capacity) and divide the crumbly flour mixture evenly on top of each ramekin. Divide and drizzle olive oil on top of each ramekin.

Place the ramekins on a foil lined cookie sheet and broil 3-4 minutes until the tops are golden and crunchy.

Note-Any vegetable may be substituted in this recipe for the sweet potato, or any combination of your choice as long as you adjust the cooking times for each.-Alternatively , you may skip cooking the potatoes and broiling-Assemble the whole dish and place in the oven to roast at 425 degrees for about 30-35 minutes.