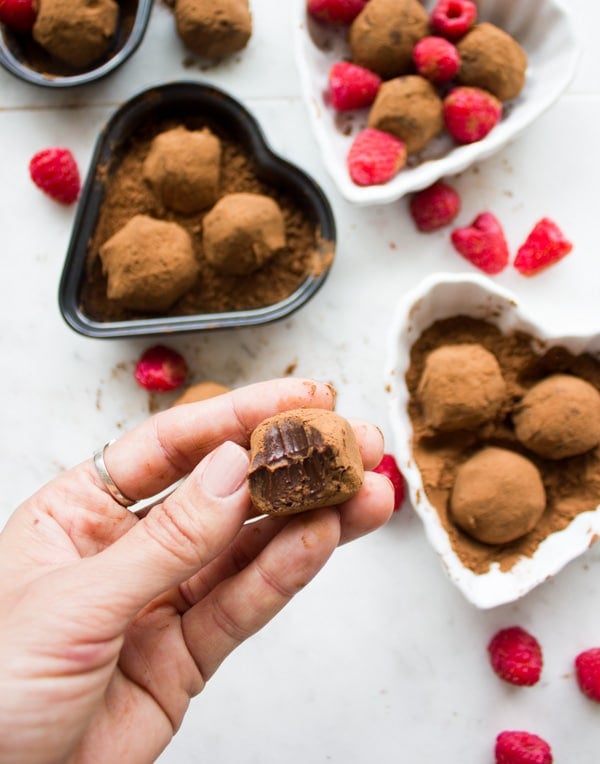 Here's a luscious easy chocolate truffles recipe that's absolutely divine. It's one of the oldest classic French delicacies that can never be replaced. Made withe just 2 base ingredients, and taste like pure chocolate lusciousness! No matter how you watch your calories, you MUST leave room for just one of those chocolate truffles–just one is all you need!! And no matter how busy you think you are, just 10 minutes is all you need to make these now!
Whatever happened to those classic absolute LUSCIOUS divine French chocolate truffles?? Those melt in your mouth unbelievably smooth creamy chocolate-y tiny little things?? Yes I know there are plenty of healthy versions of them now, aka date truffles, which are made of dates, almond butter and coco powder to start with and then flavored up. Now don't get me wrong–I have nothing against those healthy truffles, I make them once in a while.. But the bottom line is, the healthy truffles are one thing, and those chocolate truffles are something else. Completely something else.
Imagine velvety smooth melt in your mouth chocolate. Imagine deep chocolate taste with ultra luscious creamy feel. Imagine PURE chocolate taste. And now imagine only 2 ingredients, no fussy technique and no baking needed. Seriously can you imagine all of that?!!
So where's the catch you may ask,well it's not so much of a catch–all those claims are all so very true.. and the catch is the big "c" word, i.e the CREAM. And the truth is, no matter how you despise cream, you will never reach this velvety melt in your mouth texture without it. And for the record, not much cream is used for this recipe, but its' effect on the recipe is HUGE!
If you've been around the blog for a bit and read this one pan creamy mushroom tortellini recipe–which also uses cream. You would've noticed that it takes quite a bit of courage for me to use cream too! Only because I've figured many ways around it and the Mr.absolutely despises it…but I will admit to something I'm not necessarily proud of–well, creamy comfort feel foods always ALWAYS lift me up on a gloomy day.. And these chocolate truffles offer that with a chocoholic bonus. So one of those melt in your mouth truffles offer more than just a treat 🙂
So let's get to it, here's how two ingredients are used to their best! You'll need to finely chop 2 chocolate bars (or grate them after chilling in the fridge). In a pan or another bowl you're going to heat up the cream until it simmers ( you can do this in the microwave and you can also use the stove). Then simply pour the chocolate chunks in to the hot cream and whisk until smooth and chocolate is completely melted, and ultra shiny. Pour on to that a tablespoon of hot brewed espresso (or coffee) for a richer chocolate taste, pinch of salt and give it a final whisk. THAT'S IT !
All the work is done. This mixture gets covered and chilled for 1.5 hours. Then you'll take a melon baller, a cup of hot water and a bowl of rich dark cocoa powder. Scoop up balls from the chocolate mixture using the melon baller and place each velvety chocolate ball in the cocoa powder to coat. Dip the melon baller in the hot water cup between each scoop so the chocolate mixture doesn't stick to the melon baller. When all the mixture is done, its best to chill the truffles for just 10 mins or so. Or enjoy them right away!!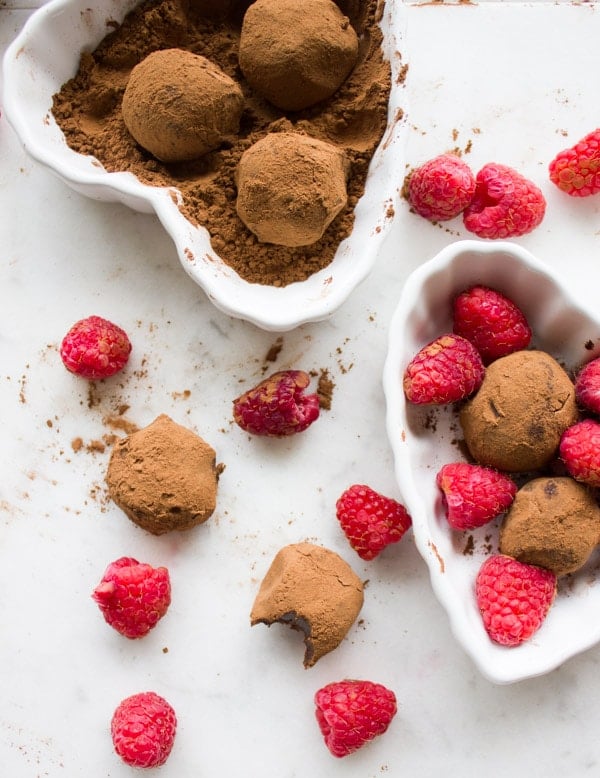 Now those are the most basic, simple and yet decadent chocolate truffles you'll ever make!! A long time ago when I used to live in Paris, those were the IT French truffles, but a few years ago when I went for a short visit, I found endless, and I mean endless variations of the truffles! So if you feel like jazzing things up, make different coatings to the truffles—chopped nuts work great, chocolate chips, shredded coconut, white chocolate, cranberries (or any dried fruit chopped up), a mixture of nuts and dried fruits, confectioner's sugar, and many more options! Also if you'd like to flavor the chocolate truffles themselves, you can add orange zest to the cream mixture, some spice like chai spice (it's actually SO good with a teaspoon of chai spice if you're a lover of that stuff!), cinnamon, extra coffee, etc.. Or go with my simple pure chocolate version. These chocolate truffles are a great treat for the Holidays and require no effort or fuss at all! Enjoy 🙂
Luscious Easy Chocolate Truffles
Ingredients
1

cup

( 1/2 lb) of chocolate pieces from a chocolate bark ( a mixture of milk and dark chocolate is my favorite—but entirely dark or milk or semisweet works too)

1/2

cup

of Whipping cream

1

Tablespoon

of hot brewed espresso

(optional)

pinch of salt

Dark Raw Cocoa Powder for coating
Instructions
Heat the whipping cream in a medium size pan over medium low heat, covered with the lid until it starts to simmer—alternatively you can place the cream in a microwave safe bowl and microwave it for 1 minute until it simmers.

Add the chocolate pieces into the cream and whisk them together until the chocolate melts and is shiny smooth.

Cover up the truffle mixture with plastic wrap, and chill it for nearly 2 hours until it sets.

Use a melon baller, scoop up ball sizes of the truffle mixture and dump it right in to a bowl of Cocoa powder. Roll the truffle in cocoa powder to evenly coat it.

Repeat with the remaining mixture making sure to dip the melon baller in a cup of hot water between each scoop to avoid any truffle sticking.

Chill the truffles or serve right away and enjoy!!

Store the truffles in the fridge for up to 3 days.