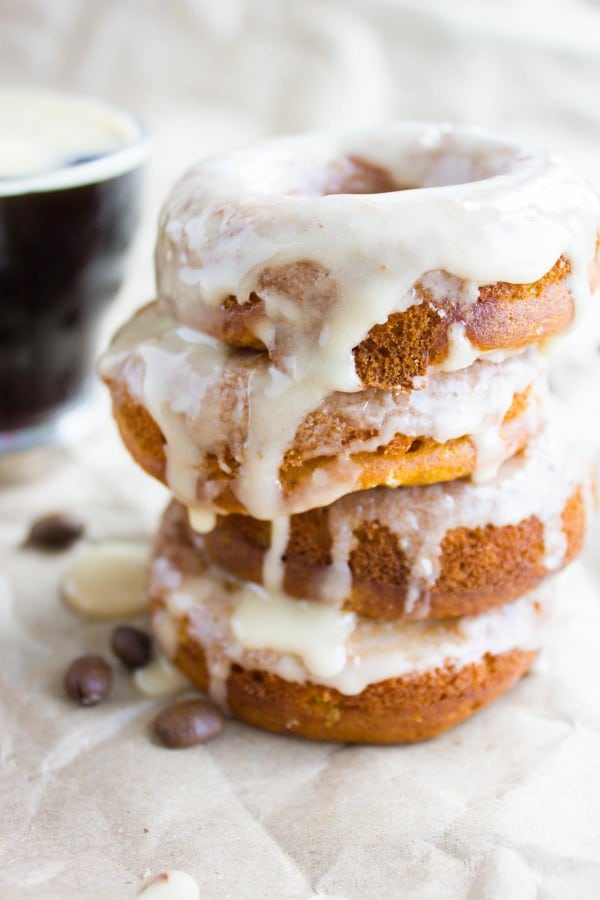 This espresso glazed pumpkin spice donuts recipe is a treat, a dessert and a coffee fix all at one. They are tender, moist, baked, cake like donuts with an incredible burst of pumpkin flavor that's spiked up with cinnamon, ginger, clove and cinnamon. And to finish it all off, a silky smooth espresso glaze covers these donuts for an incredible boost of caffeine and flavors!
So yes I admit it now, I am officially falling for Fall… Ahhh yes it took me a while to get over Summer, and it took a lot of courage combatting the pumpkin temptation, until now! So get ready for an overload of pumpkins, apples, soups, pastas, slow roasts and more..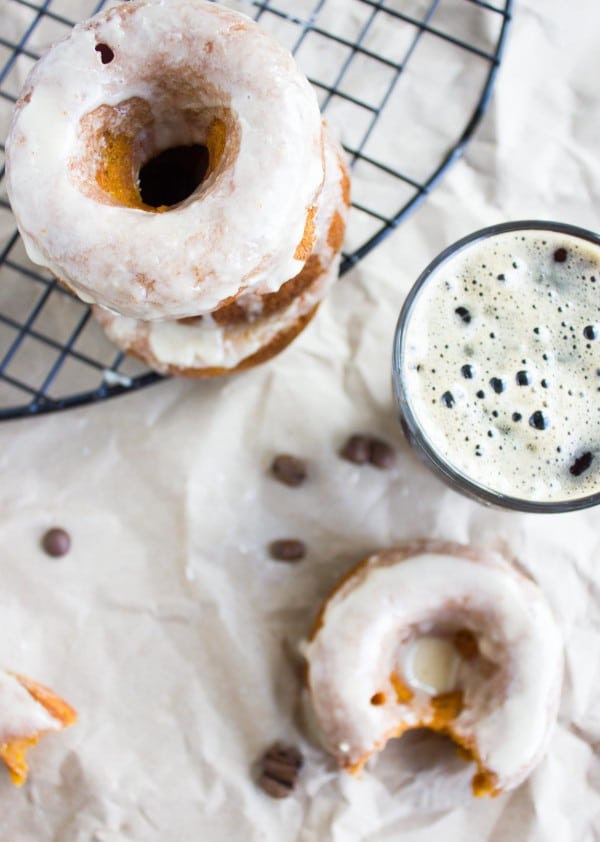 Now these espresso glazed pumpkin spice donuts remind me of a Fall favorite drink—the almighty pumpkin spice latte. For all you pumpkin latte lovers—these donuts will put a smile on your face! Now for those not so pumpkin latte fans, let me lure you into giving them a try—they might just be the perfect pumpkin-spice-espresso balance you were looking for!
Since these are pumpkin spice donuts in the first place, I will tell you the pumpkin flavor here is unbeatable! It's sweet, strong and very pumpkin-y! And the spice factor is completely optional here. I love the whole spice blend, but the Mr. isn't a fan, so I end up making those espresso glazed pumpkin spice donuts with half the spice—i.e cinnamon and ginger only..and to be fair, I love them just as much I hardly miss the rest of the spice!
Now for the glaze, feel free to use a classic vanilla like this cream cheese icing. I chose espresso because yes for sure I love espresso anything (hello-0-0 did you forget those chocolate caramel Latte muffins?) and also because love the contrast of sweetness from the pumpkin and espresso. I love the way both flavors merge and mellow each other perfectly. These espresso glazed pumpkin spice donuts for the record are not too sweet, so don't worry about the glaze over-sweetening them and at the same time don't worry if you skip glazing all together!


I bake these donuts in a donut pan because the batter is more like a cake/muffin batter. It's a thick one so you can try to pipe the donuts on to a baking sheet (lined with parchment paper), but keep in mind they might not all be identical in shape and size—unless you're that good of a batter piper (which I'm not)! And if you don't have a donut pan, your second best bet would be to bake the batter spread thin on a baking sheet (lined with parchment) and then using cookie cutters you can cut out donut shapes out of the baked and cooled cake.
Either way you attempt to make these espresso glazed pumpkin spice donuts, you will really enjoy a pillow light, tender soft, pumpkin bursting donut with a bit (or much) of spice and a sweet espresso glaze that will boost up your Fall, your mood and your sweet tooth! 🙂 Enjoy!! 🙂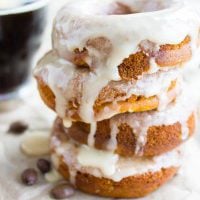 Espresso Glazed Pumpkin Spice Donuts
Ingredients
1 1/4

cups

of all purpose flour

1 1/2

teaspoons

of baking powder

1/4

teaspoon

of baking soda

pinch of salt

1 1/2

teaspoon

of ground cinnamon

1/2

teaspoon

of ground ginger

1/4

teaspoon

of ground cardamom

(optional)

1/4

teaspoon

of ground cloves

(optional)

1/2

cup

of sugar

1

cup

of canned pumpkin

(unsweetened)

1/2

cup

of Greek Yogurt

(low fat or fat free is ok)

1/4

cup

of melted butter

1

egg

Espresso Glaze:

1

cup

of confectioners sugar

2

tablespoons

of strong espresso

(more or less adjusted to the thickness of glaze you prefer)
Instructions
Preheat the oven to 400 degrees F.

In a medium bowl, whisk together the flour, baking powder, baking soda, salt and spices.

In a large bowl, mix the remaining ingredients and whisk them until well blended.

Using a spatula, fold the dry ingredients into the pumpkin mixture until all blended.

Place the batter into a piping bag and snip off the tip, then fill up the donut pan about 3/4th of the way.

Bake the donuts for about 18-20 minutes (depending on your oven).

In the meantime, make the glaze by whisking up the confectioner sugar and espresso until smooth. At this point, you can add more or less of the espresso to control the thickness of the glaze.

When the donuts are done, let them cool down for 5 minutes before removing them from the pan.

Dip each side of the donut in the glaze and flip it on a rack glazed side up, letting the excess glaze drip.