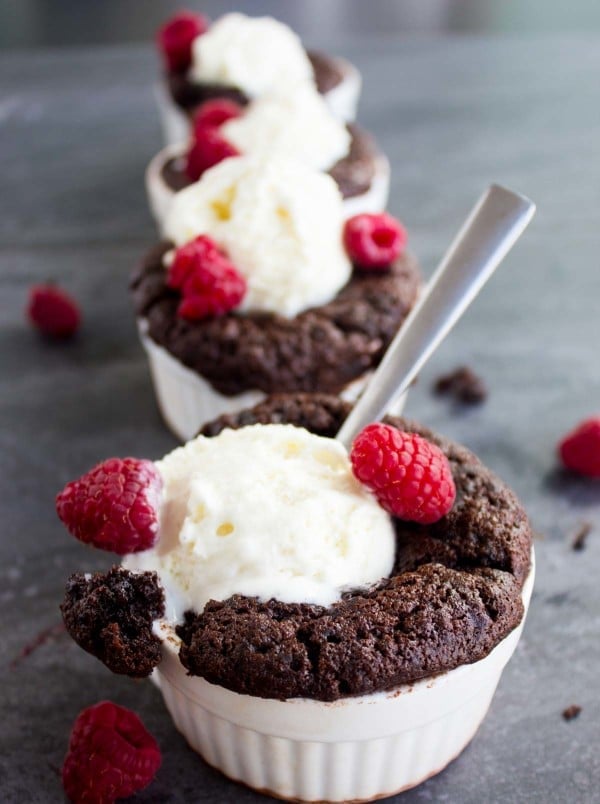 The ultimate chocolate cake and pudding sauce all in one. This mini chocolate pudding cake recipe is chocolate perfection-a layer of chocolate pudding at the bottom that is topped with a tender chocolate cake. Rich, satisfying, very chocolatey yet incredibly light and all ready to enjoy in half an hour! This will be your absolute go-to chocolate dessert from now on.
Well before we get into this show stopping chocolate pudding cake, I have to admit that I was never a chocoholic person when I was young. I know, some may judge me already and I might regret admitting this one day..but I will say another thing, now I am a die hard chocolate person! But that comes with a strong condition, one I never skimp on—I am a die hard chocolate person for really good (and I have to stress on the "good" ) chocolate goodies.
So now I can openly say, this is the perfect go-to chocolate dessert! I can't count how many times I made it last minute when suddenly someone shows up or when I need to visit a friend and want to bring a treat over with me.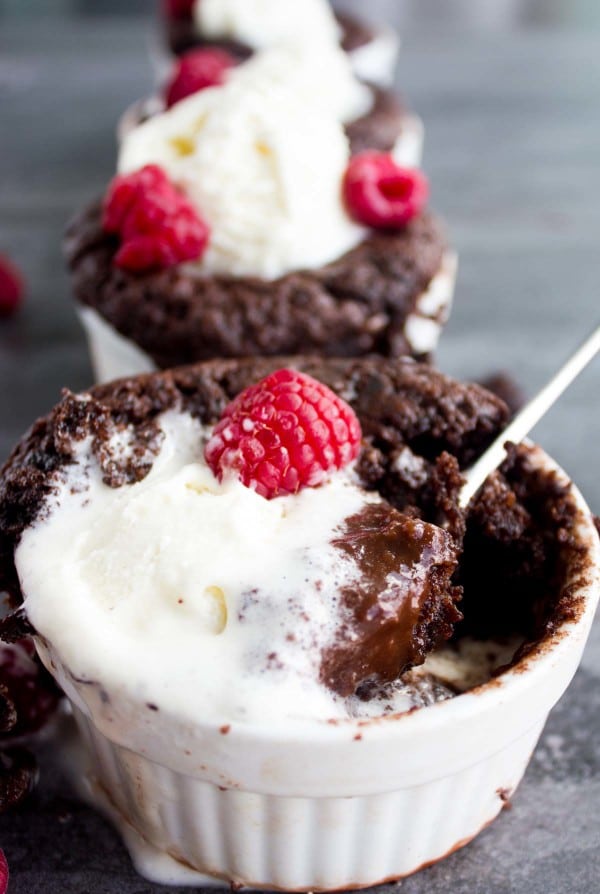 So much to brag about with those yummy chocolate cakes; they are intensely chocolatey, they are surprisingly light, they are prepared in 15 minutes, they're delicious eaten warm or cold, the pudding is self made in the oven so no extra recipe is made which makes it a perfect dessert served warm with some ice cream and berries ( aka my girls'  favorite way!) or ice cream and my homemade caramel sauce ( aka my moms' favorite way!).
Here's how amazingly easy and this recipe comes together. The cake is prepared in 5 minutes and then sprinkled with a sugar-coco mixture (no mixing to be done) and then boiling hot water is poured over that (no mixing done here either). So it's a cake layer a coco layer and a hot water layer, never mixed up, but when baked the sugar-coco mixture and the hot water thicken up into a silky smooth and thick chocolatey pudding that sinks all the way to the bottom of the pan. The cake (since it contains baking powder) will rise to the top and bake beautifully into a tender chocolatey cake.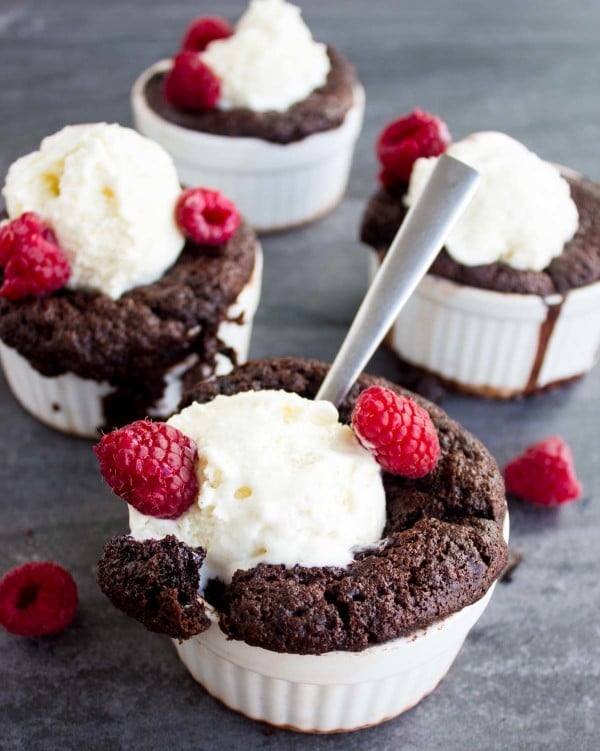 I love making them in individual or mini size cakes like that because they cook faster, and are a perfect serving size. But I have made them countless times in a 2 quart baking dish when I'm rushed or when I don't have enough ramekins and need to make it for a bigger crowd ( so I double the recipe).
These mini chocolate pudding cakes have satisfied the pickiest chocoholics I've met ! Give this one a try and enjoy the ultimate chocolate moment 🙂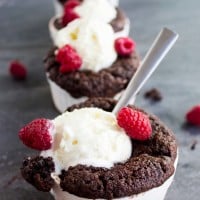 Mini Chocolate Pudding Cakes
Ingredients
1/4

cup

of oil

1

egg

1/3

cup

of sugar

2

Tablespoons

of buttermilk

1/4

cup

of milk or dark chocolate chips

pinch of salt

1/4

cup

of coco powder

1/3

cup

of all purpose flour

1

teaspoon

of baking powder

Topping:

3

Tablespoons

of coco powder

3

Tablespoons

of light brown sugar

3

tablespoons

of granulated sugar

Water:

1

cup

of hot boiling water

Serving

(optional):

Homemade caramel sauce

Ice cream

Berries
Instructions
Preheat the oven to 400 degrees F. Place 4 ramekins ( 6 oz.each) on a baking sheet ( no need to grease them).

Mix the topping ingredients in a separate bowl and set them aside.

Prepare the cake: Place the chocolate chips and oil in a large bowl and microwave them for 45 seconds until the chocolate is melted.

Add the buttermilk, egg and coco powder to the chocolate mixture and whisk them well.

In a small bowl mix the flour and baking powder, then fold them gently into the chocolate mixture.

Divide the cake batter among the 4 ramekins, and divide the coco-sugar mixture sprinkling on top of the cake batter (about 2 over filled tablespoons per ramekin).

Now carefully pour the boiling water ( 1/4 cup on each ramekin) onto of the coco-sugar mixture. Do not mix the layers at all.

Place the baking sheet in the oven and bake for about 12 minutes until the cake rises to the top and looks set and cooked. It will puff a little and may deflate as it cools down -don't worry if that happens!