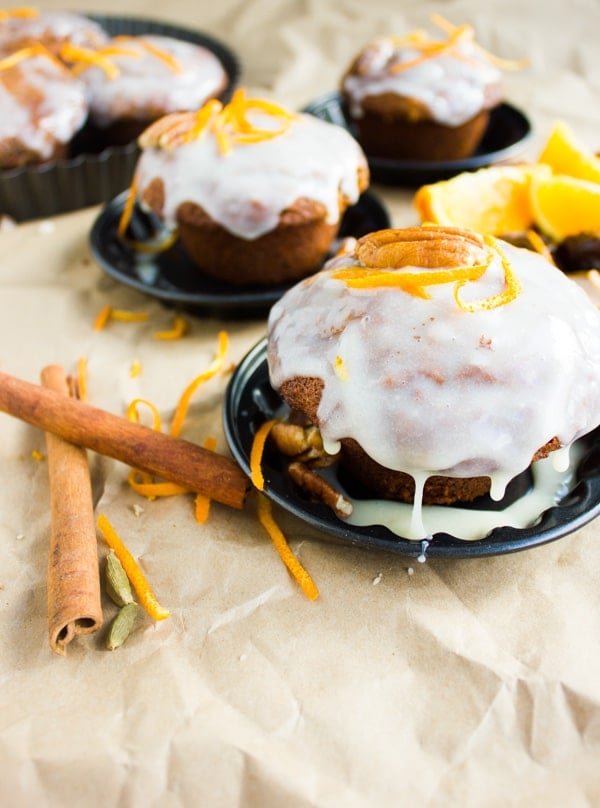 This orange chai spice date muffins recipe is a perfect breakfast power sweet treat that's sweetened with dates and figs, boosted with chai spice and made with whole wheat flour for extra fibre goodness! Add nuts and orange, chocolate chips and your favorite add-ons to customize these muffins and make them fit your taste 🙂 Whether you're a chai person or not, you'll find something to love here–maybe the date sweetness, the orange, the nutty earthy taste and feel of these will capture your taste buds!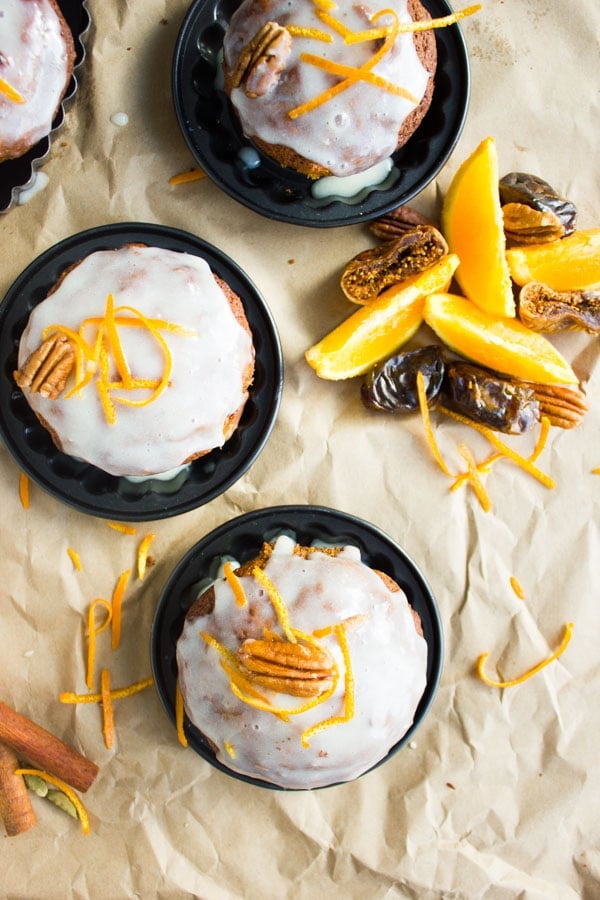 This is my mom's recipe. Long long ago before chai spice was cool, my mom discovered this spice mix from a trip to Dubai. She attended a VIP event and was served a super moist date cake with an intriguing spice she thought. She asked and asked until she reached the chef who catered the event, he told her about the spice combination he used. At that time–I'm talking like 20 years ago, it wasn't quite popular around here. But my mom just loved that date spice cake and insisted on replicating it. And she did.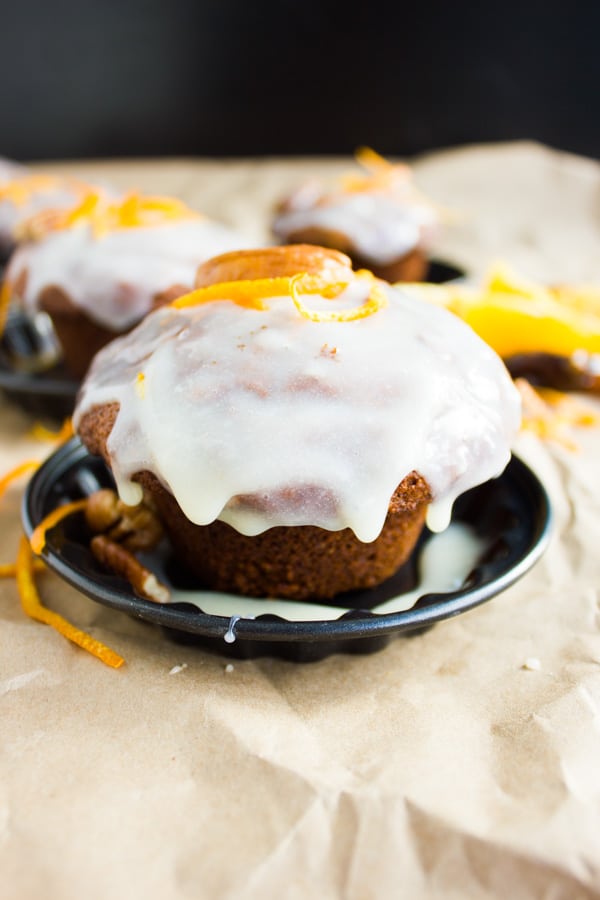 Not only did she make a super moist ultra light sweet orange chai spice date muffins recipe, she made the recipe not a cake, loaf, bundt, everything..she made it so very often to a point where my sister and I couldn't stand the sight of it anymore.. And as rude as we were, the sweet person that she is stopped making the date cake unless someone requested it. And soon enough we did! It's just this GOOD!!
So while my mom preferred this recipe as a bundt cake, I prefer it more in the muffin or loaf form. Just makes it feel more brreakfast-ish. And on the go-ish–which fits my oh so relaxed and serene lifestyle!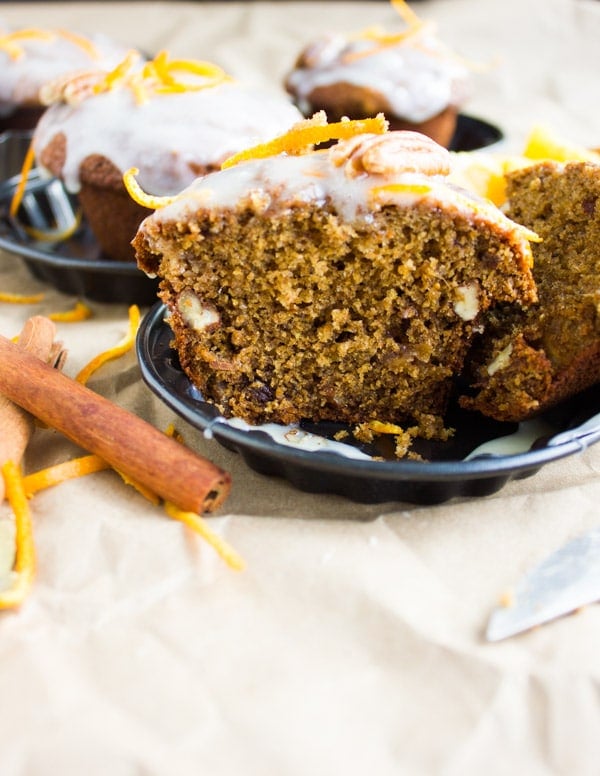 The only changes I made to mom's recipe was to use whole wheat flour–and aside from the fibre healthy obvious reasons, I find that it compliments the sweetness and spice perfectly. When you make these orange chai spice date muffins with regular all purpose flour, you get a real nice strong smooth date and spice flavor, while the whole wheat flour cuts that down a little while adding a slightly bitter-ish and nutty flavor with a bit of a bite. Have you tried this whole wheat banana bread recipe yet? It's hands down the best banana bread ever! I prefer the whole wheat version to the regular flour too, and these ultra moist whole wheat apple muffins-another whole wheat winner that will make you never wish for regular flour! Maybe try both flours here and decide your favorite?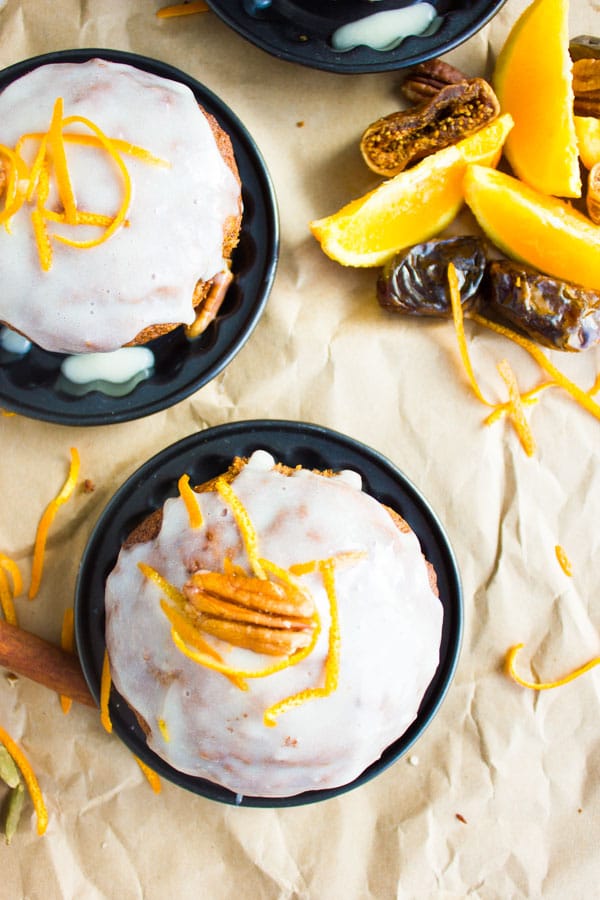 The other change I made to the recipe was to add a little bit of dried figs and replace some of the dates with it. I feel this adds a bit more character to the smooth date texture, and a slight tang. Now that's completely optional, and in all honesty, not a huge factor in the final outcome, it's a slight prefrence which I think you might enjoy 🙂 The beauty of these muffins is they can be made vegan and taste just as delish!
So in a snap-here's how this delicious, satisfying and earthy spice tasting orange chai spice date muffins recipe comes together–  pitted dates and figs are chopped finely and soaked in hot boiling water for a few mins while you prepare the batter. Wet ingredients go in a bowl, dry ingrediets in another. The water and date mix all go in the wet ingredients bowl, then go in with the dry ingredients, any add-ons you prefer and batter is done! Scoop up and bake!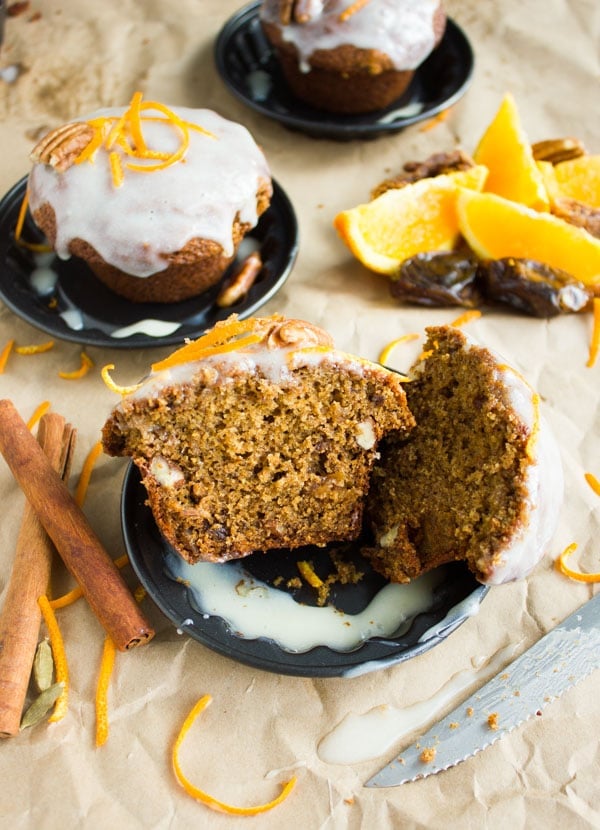 To glaze or not to glaze? I say GLAZE! Well these muffins are not super sweet, so a nice drizzle of orange cream cheese icing won't make you feel as guilty as you'd expect! And if you're crazy about dates– don't miss this irresistably moist, intensely chocolate-y good for you double chocolate date zucchini bread, or this power boosting healthy good for you instant chia chocolate pudding! And if you're crazy about dates and chai spice well hello orange chai spice date muffins recipe is just a line below 😉 Enjoy!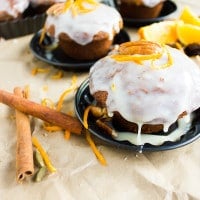 Orange Chai Spice Date Muffins
Ingredients
1/2

cup

of hot water or orange juice

3/4

cup

of minced pitted dates

1/4

cup

of minced figs

(or skip the figs and make the dates a full cup)

1

egg

(use 2 tablespoons of flax powder in a tablespoon of water for vegan)

1/3

cup

of oil

zest of 1 orange

1/2

cup

of light brown sugar

1/2

tablespoon

of ground cinnamon

1/2

tablespoon

of ground ginger

1/8

the teaspoon of ground cardamom

1/8

th teaspoon of ground clove

Pinch of black pepper

Pinch of salt

1

cup

of whole wheat flour MINUS 2 Tablespoons

( Use the full 1 cup if using all purpose flour)

1

teaspoon

of baking powder

1

teaspoon

of baking soda

1/3

cup

of chopped nuts

(pecans, walnuts or your choice)

1/4

cup

of raisins

(optional)

1/4

cup

of coconut shreds

(optional)

Glaze

(optional):

cream cheese icing with 1 teaspoon of orange zest.
Instructions
Preheat the oven to 375 degreesF.

Grease a standard size muffin pan and set aside.

Put the minced dates and figs (or dates only) in a bowl with the hot water (or juice) and set aside.

In a medium size bowl, whisk the flour, baking powder, baking soda and all the spice until blended. Set aside.

In a bigger bowl, add the oil, sugar, egg (or vegan option) and the water-date mixture all at once and whisk to combine.

Use a spatula and add the dry mixture into the wet bowl mixture then fold the batter together until just blended and no more streaks of flour appear. Add any extra add-ons and fold them in to the batter.

Divide the batter among 8 muffin cups and bake for about 15-18 mins until the muffin centers are clean when tested with a toothpick.

Let the muffins cool down for 10 mins and then glaze and serve.