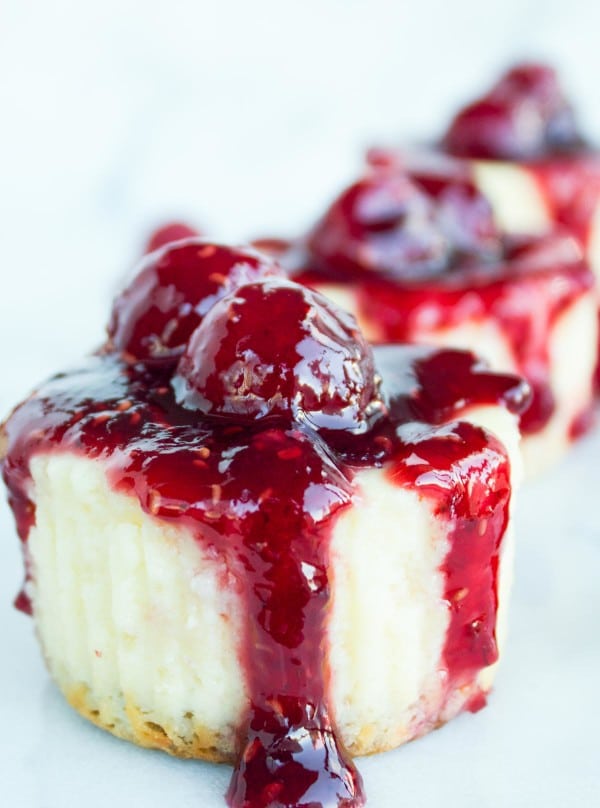 This mini raspberry cheesecakes recipe is for every cheese cake lover who's in search for cheesecake perfection. It's the simplest easiest quickest way to make this all time favorite dessert! A fool proof recipe that takes intimidation away and allows you to indulge and enjoy mini raspberry cheesecakes perfection!
I confess I am a cheesecake lover and a cheesecake obsessed baker! You might remember I confessed in an earlier post with those to die for mini chocolate pudding cakes that growing up I wasn't so much a chocolate person—now that has changed, but it didn't take away a tiny bit from my cheesecake love affair. Luckily my sweet mom shares the same cheesecake affinity, and I remember many nights we would chat, laugh and share a vanilla cheesecake while my sister, dad and brother (aka the pure chocoholics) would roll their eyes and indulge in chocolate!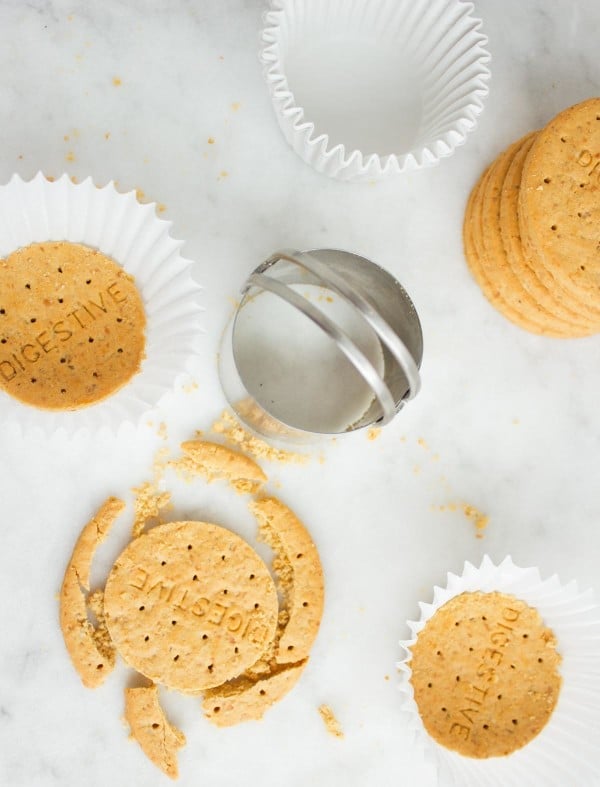 I'm sharing today an easy fool proof mini raspberry cheesecakes recipe that is sure to impress everyone including yourself! yet also surely satisfying and indulging that it's too good to be true! A while ago when we had just moved to Vienna, I made this recipe (in tiny mini muffin cups and with 3 different toppings) at a huge fancy VIP seated dinner we were hosting.I was in charge of dessert and I was so nervous and excited to be among the many people preparing for it. I found out everyone raved about dessert and some even asked for an extra serving—a very un common protocol at such events!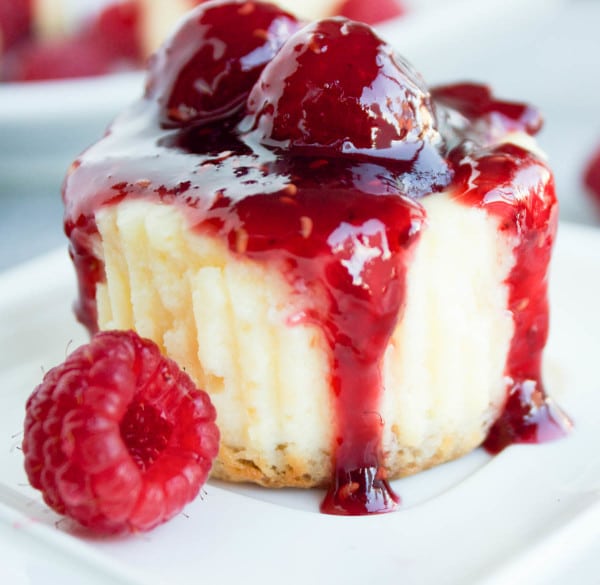 Later on while still in Vienna, I made these mini raspberry cheesecakes on so many other occasions and had to give away the recipe each time. Other than how good these mini raspberry cheesecakes are, they're very easy and un-intimidating to make. Unlike many cheesecake recipes of long water bath baking, covering or uncovering the cheesecake, high heat or low heat, crust baked first or crust baked with the cheesecake..and the list goes on..These mini raspberry cheesecakes are really shamefully easy.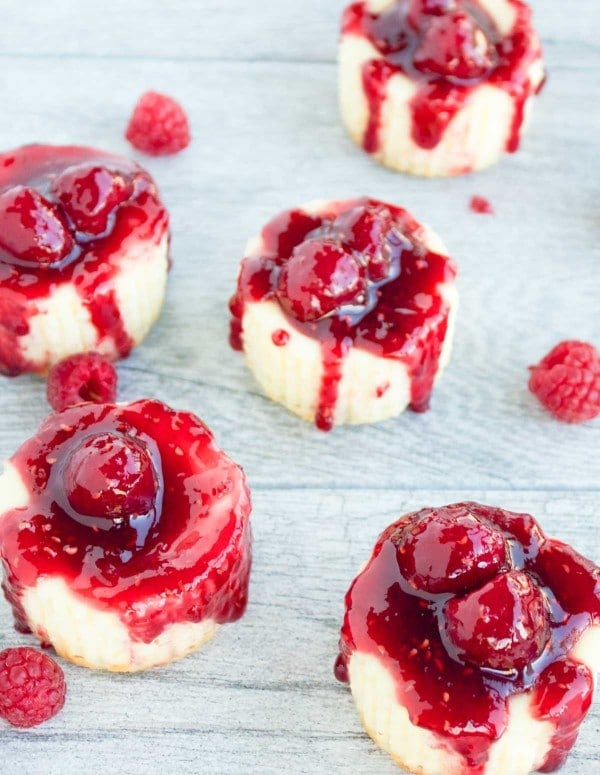 I love my cheesecakes to be dense, smooth and rich tasting but not heavy—so I prefer low fat cream cheese over full fat here, but feel free to use full or fat free too. I love a cheesecake that's not too sweet because I'll always find a sweet topping for it. I love my cheesecakes well chilled and even a few days after they were baked. I love a nice cookie crust at the bottom which I don't process with butter and sugar—just pure cookie! I use my cookie cutter to cut out exact sizes and place one cookie at the bottom of a muffin pan lined with paper cups (for easy release) and that's the base for each mini raspberry cheesecake.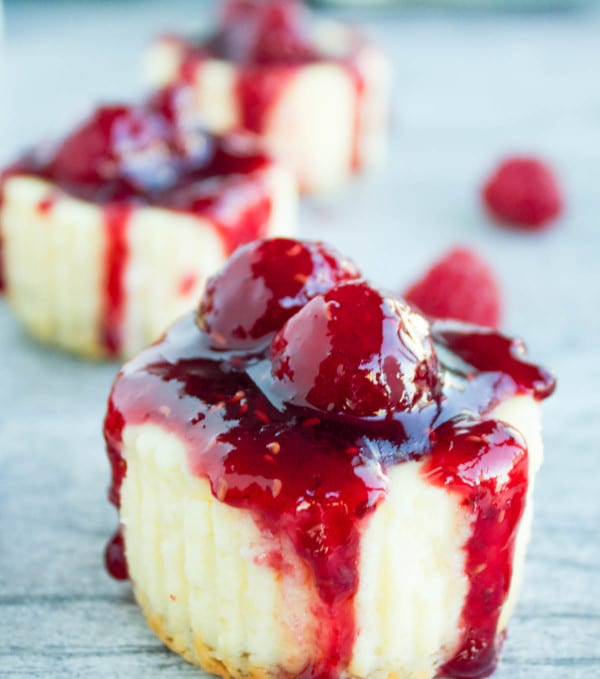 The cheesecake batter itself is simply cream cheese, sugar, vanilla and eggs. Poured over the ready cut cookies in a muffin pan, these mini cheesecakes bake for 15 minutes, cool down in the oven while it's turned off before moving them gradually to the counter then the fridge. On a busy day I will top my cheesecakes with this fabulous 1 minute raspberry sauce and it's mini raspberry cheesecake indulgence and perfection!!
I love how these cheesecakes are in mini or individual size portions—not only does this help with baking, but it makes them look cuter and more portion controlled. Also, they'll keep in your fridge for a week and will taste better the next day or two after baking, which makes them a great prepare in advance dessert! So go ahead prepare, indulge and enjoy these mini raspberry cheesecakes now!:)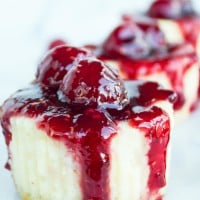 Mini Raspberry Cheesecakes
Ingredients
6

Digestive cookies or Graham crackers cut up int circles using a cookie cutter to the same size of your muffin pan

8

ounces

of cream cheese

1/3

cup

of sugar

pinch of salt

1

teaspoon

of pure vanilla extract

1

egg

1

Minute Best Raspberry Sauce:

1/2

cup

of your favorite pure raspberry jam

(use seedless if desired)

2

tablespoons

of hot water

1/2

cup

of fresh raspberries
Instructions
Preheat the oven to 350 degrees.

Line a muffin pan with 6 paper cups (use more if you prefer a rather slimmer cheesecake layer).

Place a round cookie at the bottom of each cupcake liner and press it down firmly.

To make the cheesecake batter, place the cream cheese, sugar, salt and vanilla in a bowl and use an electric mixer to beat the mixture well until it's smooth and no lumps appear.

Add in the egg and beat for just a few more seconds, avoid over beating the batter after adding in the egg because it creates air bubbles in the cheesecake.

Divide the batter among the 6 (or more if desired) muffin cavities on top of the cookie base. Bake the cheesecakes for 15 minutes until they puff a little.

Shut off the oven and leave the cheesecakes in for an hour before cooling them on the counter for another hour. Then chill them in the fridge for at least 6 hours.

Once chilled, remove the paper lining from around the cheesecakes and drizzle them with the 1 minute best raspberry sauce.

For the sauce: Microwave the raspberry jam and water in a small bowl for 30 seconds to loosen the consistency a little bit. Then add in the fresh raspberries and mix them gently with a spoon. Serve!