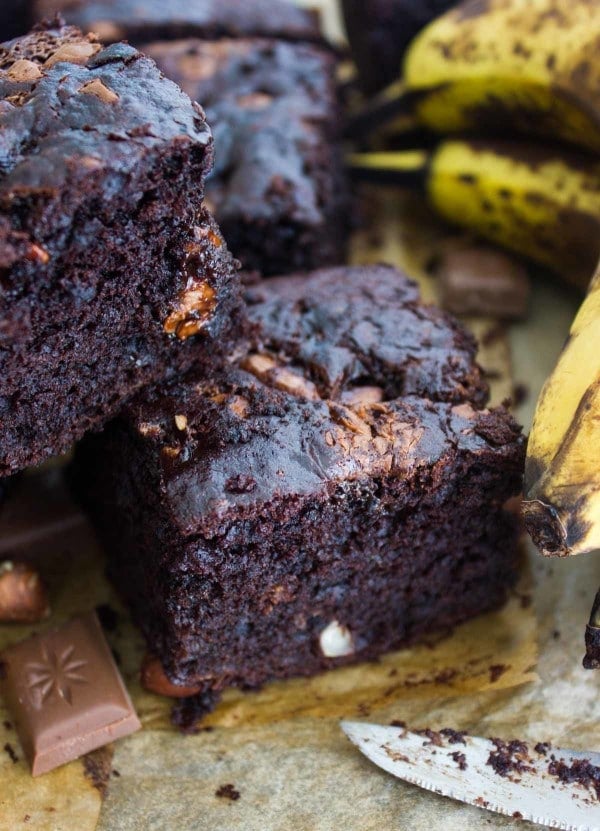 This chocolate banana chocolate chip cake recipe is everything you dream about in a rich, moist, chocolatey cake with a hint of banana flavor. It has an incredible chocolate flavor from the coco powder and the chocolate chips with a very moist crumb from the bananas, and i add hazelnuts for an extra delicate crunch. The perfect coffee or tea time companion!
I have baked many, many, many chocolate cakes over the years, and I came to the conclusion that I shouldn't and couldn't pick one favorite. That's because each of these chocolate cakes has a little secret something inside that makes it special. And makes it perfect for different occasions.  And makes us feel like we can never have enough chocolate cakes in life!
Well this simple, humble chocolate cake is special because it has mashed bananas in it! It doesn't necessarily add much banana flavor, rather just a tiny hint. But the bananas add a lot of moisture to the cake, and make it stay fresh for 4 days. The bananas also give this cake a slightly denser and chewy texture, so it isn't exactly a fluffy cake, nor is it a brownie with a dense texture. It is exactly in between!
Now bananas aside, this cake has quite a lot of coco powder and little flour. This gives it a very deep rich dark chocolate flavor which is complimented perfectly with tiny bits of milk chocolate pieces to fulfill any chocoholic moment! Feel free to substitute the milk chocolate with dark or semisweet chocolate for a darker richer chocolate taste! I love using hazelnuts here because it's really my favorite combo with chocolate, but any other nuts would work just as fine!
This cake I love to make in an 8 inch square pan and cut it further into squares like brownies, so they feel like a fluffier version of brownies. But I've also made it into a loaf , muffins and a circle cake. All the same perfect texture, just different baking times.
Make this cake today or on a lazy weekend morning and enjoy it with your cup of coffee, or use it as an excuse to get rid of some really ripe bananas laying on your counter! Enjoy:)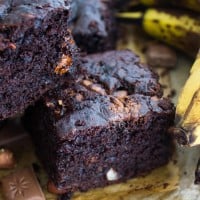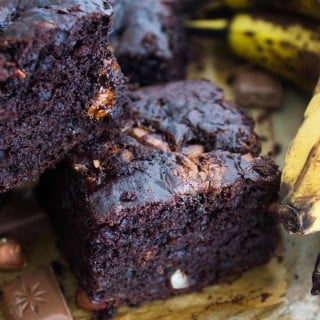 Chocolate Banana Chocolate Chip Hazelnut Cake
Ingredients
2

large

, very ripe bananas, mashed

1

scant cup of light brown sugar

(1 cup minus 1 Tablespoon)

1

teaspoon

of vanilla

1

egg

1/3

cup

of vegetable oil

1/3

cup

of buttermilk

1/2

cup

of dutch process coco powder

1

scant cup of all purpose flour

( 1 cup minus 1 Tablespoon)

1

teaspoon

of baking soda

a pinch of salt

2/3

cup

of milk chocolate pieces

(from a good chocolate bar!)

1/3

cup

of chopped hazelnuts
Instructions
Preheat the oven to 375 degrees and take an 8 inch square pan and line it with parchment paper.

In a large bowl, add the mashed bananas, brown sugar, vanilla, egg, oil, buttermilk and coco powder. Whisk this mixture well until it's all very smooth.

In a separate small bowl, mix the flour, baking soda and salt.

Gently whisk in the flour mixture into the banana coco mixture until just combined into a thick pudding like texture batter.

Add the chocolate pieces and hazelnuts and fold them into the batter, then pour it into the prepared pan.

Bake the cake for 35-45 minutes (depending on your oven) until a toothpick inserted in the cake comes out clean (melted chocolate is ok, but not batter!).

Cool the cake in the pan and then cut it and serve!