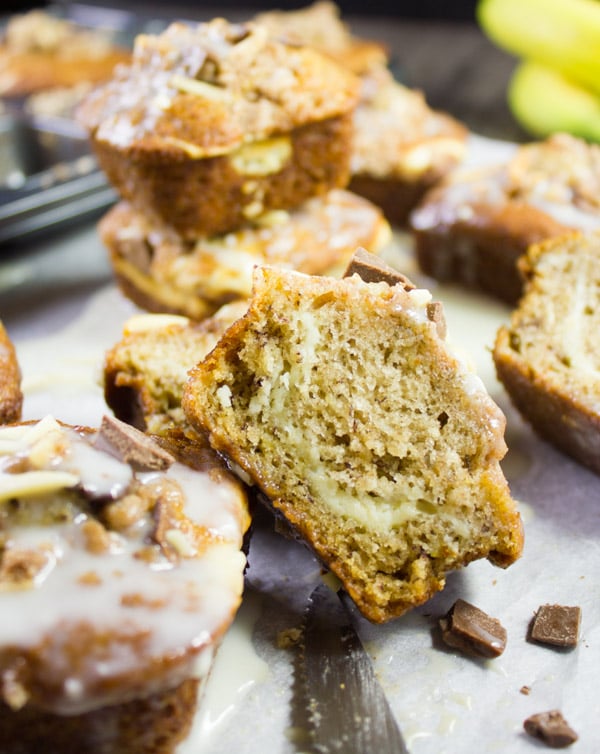 Can you ever get enough banana everything? This Cream Cheese Banana Bread Muffins recipe will top your list! It's a moist tender intensely banana flavored muffin with a thin filling of cream cheese, an almond chocolate chip crunch on top and a drizzle of cream cheese glaze for a perfect finale 🙂 You see these banana bread muffins are indeed perfection! Perfect breakfast, dessert, snack, treat..you name it 🙂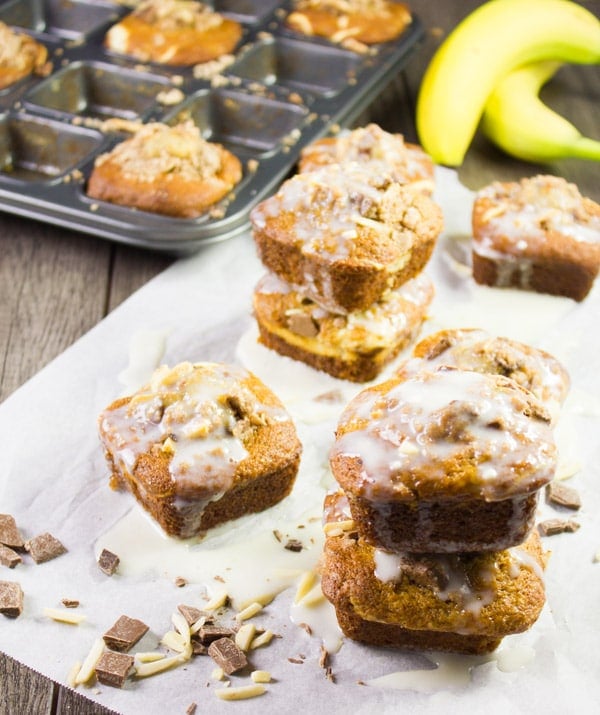 Well it's certainly a sweet day over here—sweet with a touch of comfort. It's the type of sweetness that you can't get enough of. I don't know about you, but for me—I can only take a tiny slice of a decadent dessert. However… when it comes to a comfort treat like those banana bread muffins, well I can grab a couple with no shame or guilt. So yes, today's recipe is one of those irresistible things in life 🙂
Can you believe it's the first day of Spring already!! 🙂 It's gorgeous today outside, like really gorgeous and even  if it doesn't last, that's ok-at least our first day of Spring really feels like it! But seriously, it's end of March already—this year is flying by so fast for me, faster than I can catch up lol. Like today I started thinking, ok, Spring Birthday for my oldest girl :), Spring cleaning, Spring recipes—hello Strawberries! and more! Just thoughts like that put a smile on my face 🙂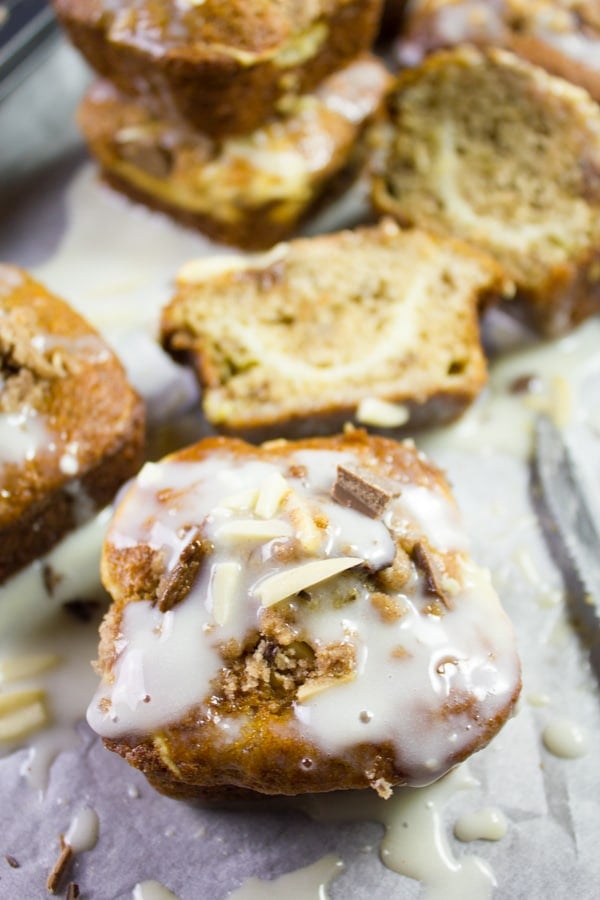 Now let's talk bananas 🙂 This is a perfect recipe all year round, to me it's like the  perfect breakfast! But don't be surprised if you find yourself making it your go to banana dessert/ banana treat! Think about the creamy dreamy tiny layer of cream cheese, the crunch topping and the cream cheese glaze. It feels like the best of both worlds and I'll tell you why.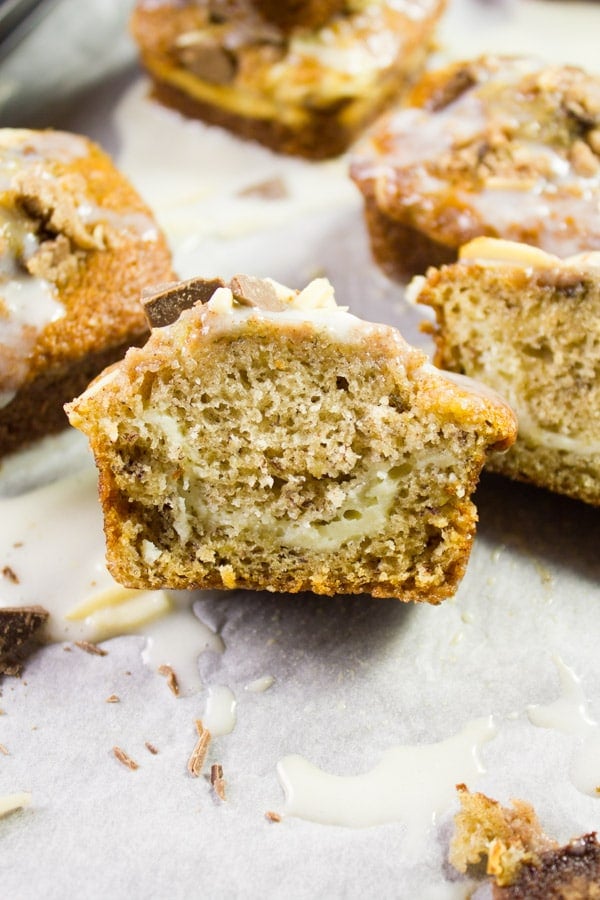 Ok, it starts with the base—the banana bread muffin. If you haven't made my whole wheat banana bread recipe, you're seriously outrageously missing out! When you try it, you'll feel like that's the one. It's NOT a dense or oily banana bread for the record, it's just utterly moist and tender with a slightly fluffy crumb. For me this is pure LOVE! And then comes the cream cheese. I have a weakness for cream cheese anything, from something as simple as the best cream cheese icing, to my decadent mini raspberry cheesecakes and this divine cheesecake streusel raspberry cake or these fresh berry citrus poppy seed bars!
Quick How To
Now that doesn't mean I want to infuse my banana bread muffins with a cream cheese filling that takes over the tender fluffy muffin experience, so I go with a really thin layer of cream cheese. And then I drench my banana bread muffins with more cream cheese glaze. BUT as I always say in my cooking classes, on this blog and everywhere—feel free to stuff your muffins with as much/little cream cheese as your heart desires, believe me you can't go wrong either way 🙂 When it comes to the cream cheese filling and icing, I use a simple trick by making the cream cheese, vanilla and sugar mixture. Then I divide that into two bowls, one of them for the filling (to which I add an egg) and the other for the icing to which I thin out with milk.
Finally that crunch topping. It's totally optional, again you can't go wrong no matter if you chose to use it or not. It's a combo of almonds and chocolate chips with a sugary-flour-slightly buttery crumb. But that combo of crunch, smooth cream cheese, tender banana bread muffins, silky glaze..like seriously I can't say more. You'll just need to make it and see for yourself 🙂 So go ahead and enjoy!!
Recipe
Cream Cheese Banana Bread Muffins
Ingredients
Whole Wheat Banana Bread

(made with whole wheat, white wheat or all purpose flour)

Cream Cheese Filling/Glaze:

6

ounces

of cream cheese

1

teaspoon

of vanilla

2/3

cup

of confectioner's sugar

For the filling:

Take half of the cream cheese mixture and add to it 1 egg

For the glaze:

Take the other half of the cream cheese mixture and add to it 2Tablespoons to 3 Tablespoons of milk to thin it out

Crunch Topping:

2

Tablespoons

of flour

2

tablespoons

of sugar

1

Tablespoons

of unsalted Butter

1/4

cup

of chopped nuts

(almonds, walnuts, hazelnuts, pecans..any or a combo)

1/4

cup

of chocolate chips
Instructions
Preheat the oven to 375 degrees F. Prepare the banana bread recipe and divide two thirds of the batter into a12 regular size muffin pan leaving the remaining third aside.

make the Cream cheese filling/glaze by mixing all ingredients in a medium bowl and then divide this mixture into two bowls.

To one bowl add one egg and mix well. Dollop a Tablespoon and half (more or less to your taste) of the cream cheese mixture over the banana bread batter in each muffin tin.

Take the remaining third of the banana bread batter and dollop it evenly over the cream cheese layer.

Make the crunch topping by mixing all ingredients in a small bowl using a fork to roughly blend everything together.

Top each muffin tin with a tablespoon (more or less) of the crunch topping and bake the muffins for 20 mins.

To the remaining bowl of cream cheese glaze/mix, add the milk while whisking it to gradually reach the consistency you prefer.

Once the banana bread muffins are out of the oven, wait for them to cool for about 10 minutes. Then remove the muffins and drizzle some glaze over each one of them, enjoy 🙂

**note:

You can double/triple the cream cheese mixture to make the cream cheese filling layer thicker for each muffin.