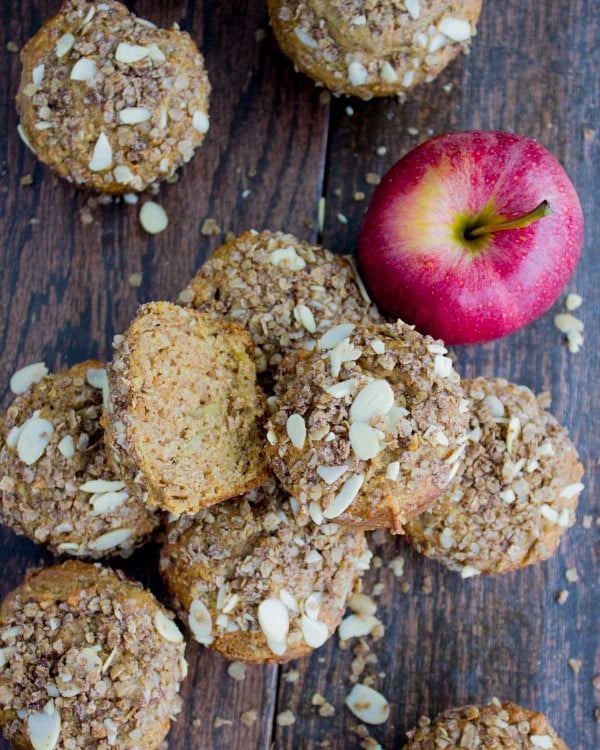 This whole wheat apple muffins recipe is hearty, tender, light and perfectly balanced. Not too sweet, packed with apples, spiked with cinnamon and topped with an oatmeal almond cinnamon crunch. The whole wheat flour adds extra fibre and a nutty taste. It's the guilt free version of any apple muffin but just as satisfying.  
A good apple muffin recipe I think is one of those essential recipes to have on hand. For starters it's apple and cinnamon—it has a comfort food association. Then it's a muffin and that means you need one bowl and a whisk to get the batter ready. And that also means baking time is about 15 minutes.
As a bonus this whole wheat apple muffins recipe is not too sweet so you don't feel heavy or guilty. And it's made with whole wheat flour so it has a nice nutty flavor and a good hearty feeling. And finally it has the oatmeal almond crunch which is like the icing on the cake!—So why wouldn't this whole wheat apple muffin be an essential baking recipe?


All baking fears aside, muffins shouldn't really be considered baking. They're straight forward, forgiving and really really easy. If anyone tells you otherwise, I'd like to know who! I have a dear friend, who will not bake a thing out of mis-communication with her oven. It's quite an old oven, and she preferred not to deal with it at all. Because she is a busy mom, time is too precious to waste on understanding an oven. One of those days, fate forced her to open the channels with her oven and roast a turkey as per her in-laws request. I helped out that day and took advantage of the situation to bake some muffins for the kids, she was again forced to be part of the muffins.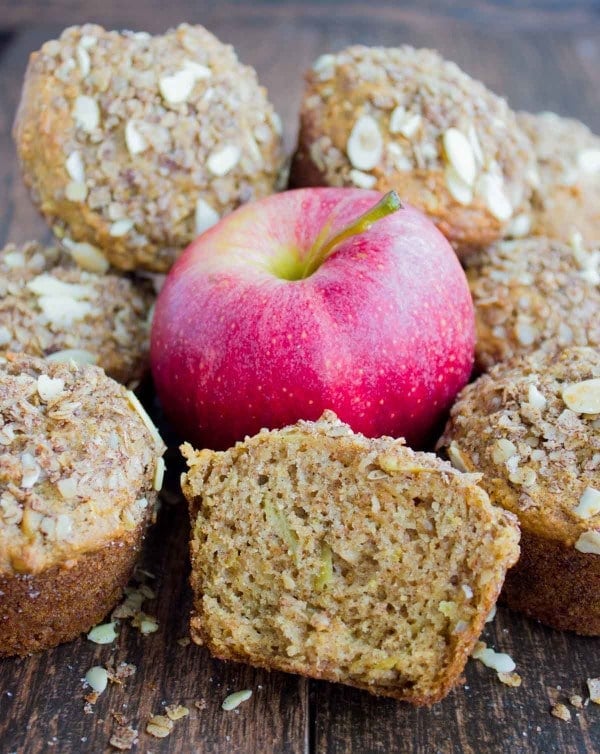 She mumbled and complained all along—then she wanted a cheer me up moment and decided to have a muffin. It was like meant to be—love at first bite! It wasn't just how good the muffins were, it was also that feeling that she made muffins for the first time and it worked! Then it grew on her, as though she was trying to test if this was a one time success—so she made the muffins again, and again, and again—and eventually that feeling of I did it! was old news.
Back to those whole wheat apple muffins, they are tender, fluffy, moist and so whole wheat-y. They stay fresh for at least 3 days and their flavor is outstandingly apple-ish with a hint of cinnamon. I sometimes add ginger to them, sometimes apple pie spice, and sometimes skip cinnamon and all other spices, and just add vanilla.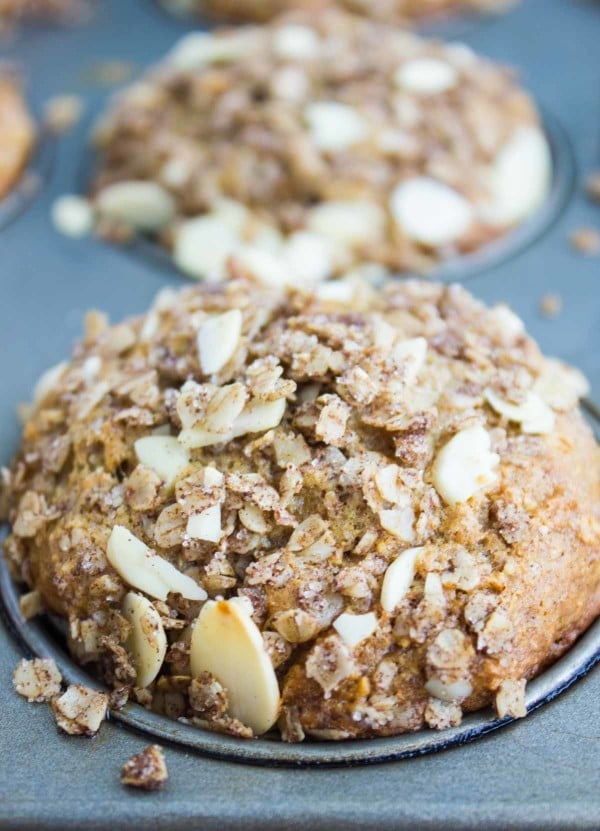 The crunchy topping is very much optional, it does add a delicate crunch and an extra flavor from the oats and almonds. I added cinnamon to the crunch topping because I already used cinnamon in the whole wheat apple muffins and wanted to spike the flavor even more. Any type of nuts will work here, and any spice. Either way, all you need is a big bowl and a whisk to whip up these wonderful whole wheat apple muffins and enjoy !:)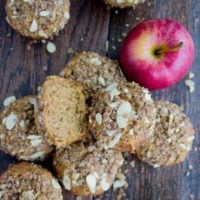 Whole Wheat Apple Muffins
Ingredients
1 1/2

cups

of whole wheat flour

1

teaspoon

of baking soda

pinch of salt

1

egg

2/3

cup

of light brown sugar

3/4

cup

of buttermilk or plain yogurt

1/4

cup

of oil

2

apples

, cored and grated or shredded

1

teaspoon

of cinnamon

Crunch Topping:

2

Tablespoons

of oats

(any type)

1

Tablespoon

of sugar

1/4

teaspoon

of cinnamon

2

tablespoon

of slivered

, sliced or chopped almonds
Instructions
Preheat your oven to 375 degrees F.

Grease or line your muffin pan with paper liners.

In a small bowl whisk in the flour, baking soda and salt. Set that bowl aside.

In a large bowl add the egg, yogurt, brown sugar, oil and cinnamon and whisk them well. then add in the flour mixture and apples and use a spatula and mix everything together until it's blended—but still has some visible lumps of batter. Do not over mix the batter at all.

Divide the batter among the muffin pan and sprinkle a generous 1/2 teaspoon of crunch topping on top of each muffin. It's best if the muffins wait 10 minutes before baking because of the whole wheat flour.

Bake for 15-18 minutes until a toothpick comes out clean when inserted in the middle of the muffin.