This shop has been compensated by Collective Bias, Inc. and its advertiser. All opinions are mine alone. #SpoonfulsOfGoodness #CerealAnytime #CollectiveBias
There's never enough breakfast muffins, and specially when it comes to those Ultimate Blueberry Raisin Bran Muffins recipe. They're absolutely tender and moist, loaded with bran flavor, blueberries and raisins. Pure bran muffins perfection in minutes!
Oh Yay so I just came back from a sweet warm FL family vacation!! It's never boring, no matter how often you go. It's never too crowded, even though you can hardly make six rides all day at a Disney Park. Plus, it's never outrageous how girls act out, lose their sleep and forget they had manners. When it comes to the weather, it's never too warm or too cold, it's just always perfect. The funny things is, this perfect picture can be someone else's nightmare of a vacation lol. And that's totally ok, it's the beauty of life and how we live it.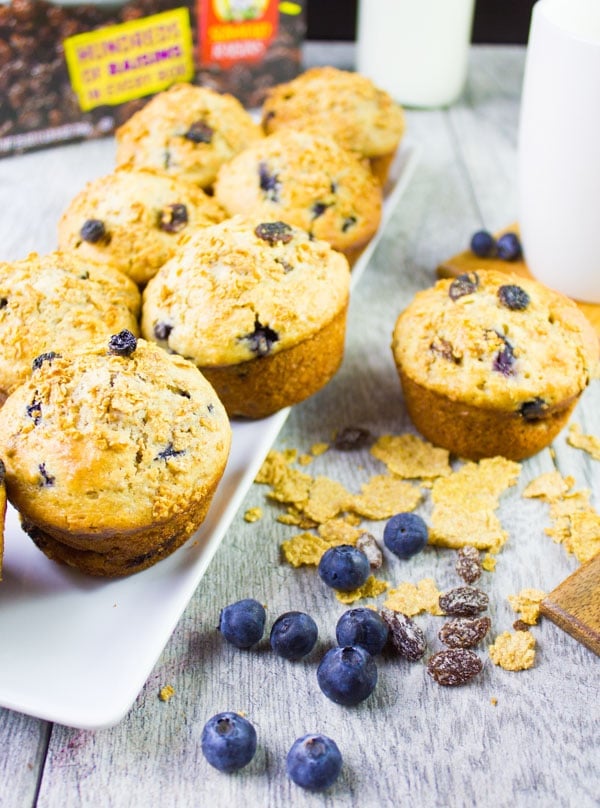 When it comes to food, it's a hit or miss with my vacations. This time, I had bigger portions than I should and way more sugar than I should. The truth is, it's hard to eat out 2-3 times a day for three weeks! Even though we had no "junk", it's still hard. So I look at the menu and I tell myself, hey it's a vacation. Girls insisted on having Donuts everyday for breakfast across the street from our hotel, and I tell myself it's ok, it's a vacation. Well at some point, the girls, the hubby, my parents, and myself just said that's it—we need a break!
That's why the urge for these ultimate blueberry raisin bran muffins came to life. I've started my year pretty well, plenty of fresh healthy recipes, smaller achievable goals, and yet a couple weeks off felt like I need to start over. I came home craving a healthy easy delicious breakfast muffin. Not just me, even the donut loving kids! The girls devoured these bran muffins, and not because they're sugary or fried, but because they were SO yummy loaded with blueberries. And who doesn't love blueberries?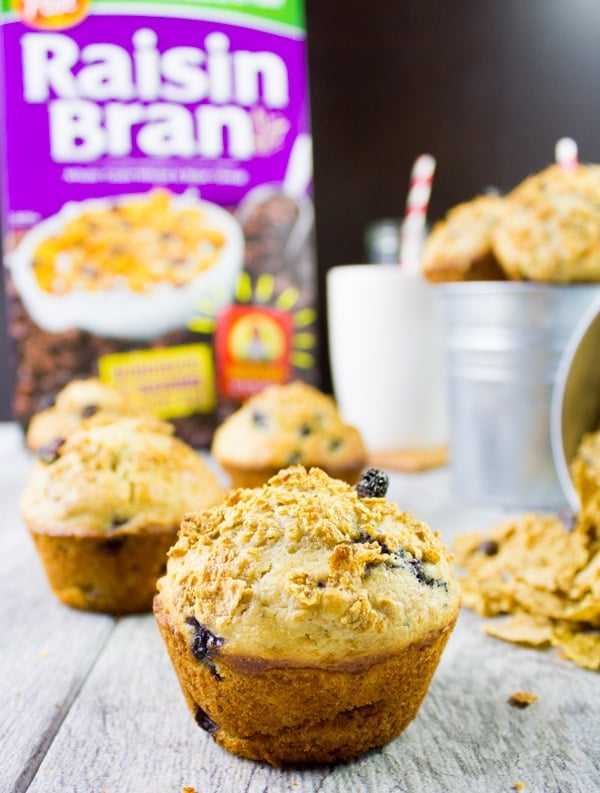 On a side note, every time I feel the world is going through a new turbulence, I remember how food brings everyone together. I think of how similar we all are, how we all need love and how our breakfast tables look just the same. Just families sharing love and food every morning to start off their day, irrespective of where and when. That moment and those memories make up stories we can tell forever.
Now back to today's breakfast star—the bran muffins! Forget any bland tasteless bran muffin you had, these are NOTHING like that. These are muffins you'll make, share and talk about forever! I can promise you that 🙂 They're ultra moist, fluffy and have such an amazing bran flavor. Not sweet at all, so the raisins and blueberries add a good load of sweetness here—not to mention the YUM! Who doesn't love their blueberry muffins, now imagine a slightly nutty bran flavor added to that. Plus fibre and protein goodness! And guess what the secret ingredient is? I added in Post Cereals Raisin Bran to get my bran power and raisin sweetness all in one.
I went to an Orlando Walmart to look for the Post Cereals, I found SO many options to make my muffins with—the Post Cereals Raisin Bran (23 grams of whole grain and 8 grams of fiber and hundreds of tasty Sun-Maid California raisins.) The all time favorite Post Cereals Grape Nuts Original (A morning staple for over 100 years with an excellent source of 7 grams of fiber and 52 grams of whole grain.) And I also bought the one and only Post Cereals Honey Bunches of Oats Honey Roasted ( awesome textures and flavors, four different types of grains, heart healthy with 0 grams of trans fat, saturated fat, and 0 milligrams of cholesterol per serving.)
I love how delicious and good for you the Post Cereals taste. They're part of my breakfast table—even my pickiest little Miss.J. loves them! And if you read my blog, by now you know how picky this little Miss is! But guess what–she ate those muffins two days in a row for breakfast when we came back to MI! Not only that, just a few days later she asked for them again. I may sound like a crazy mom right now, but if you have a picky eater you'll totally connect with me! Like just that tiny fact made MY DAY when I came back home 🙂 The funny thing is I know I shouldn't abuse that and refrain from making them next month, I don't think I can lol We ALL loved them!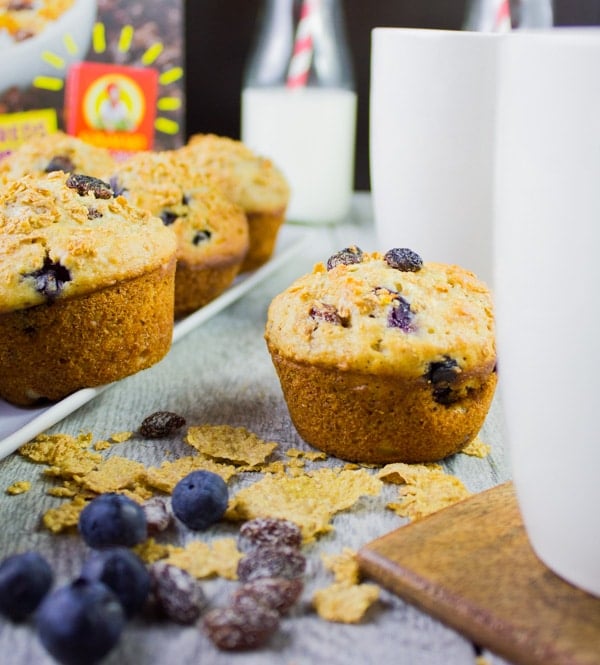 Ok before I let you go with this MUST try delicious (not bland) blueberry bran muffins, I wanted to share with you a tip about making Blueberry Raisin Bran Pancakes. YES. YES. YES for bran pancakes! If you've missed those amazing Fruity Pancake Recipe (also made with Post Cereals), then you need to treat yourself. To make the bran version, simply remove 1/3 cup of flour and replace that with the crushed bran. Then top the pancakes with more crushed bran and blueberries! YUM and enjoy!
Quick How To
Quick step by step for those amazing muffins—a bowl and a whisk type of recipe. First you'll need 2 cups of Post Cereals Raisin Bran in a zip lock bag which you'll crush with a rolling pin. Then simply place the wet ingredients in a large bowl, and dry ingredients in another bowl. Then add the dry to the wet ingredients, the crushed Post Cereals Raisin Bran and blueberries. Bake the muffins (topped with extra crunchy Post Cereals Raisin Bran—optional) for 16 minutes and they're ready!
You need to try those blueberry bran muffin for a really tasty healthy breakfast! If you've deviated a bit from your new year's healthy resolutions, this treat will get you back on track! And if you're still hanging on to your healthy lifestyle, then those bran muffins fit in perfectly. We all need an amazing start to the day—delicious, healthy and mood lifting! Don't forget to check out the many, many, many varieties of Post Cereals at your local Walmart—and don't forget they're amazing as they are with milk, and even more amazing with pancakes and in those bran muffins! 🙂 You can also follow them on Pinterest! Here's to a happy breakfast, enjoy!! 🙂
Recipe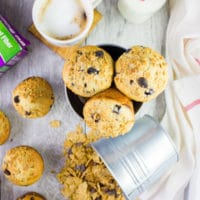 Ultimate Blueberry Raisin Bran Muffins
Ingredients
1 1/4

cups

Flour

1/2

cup

of Whole Wheat Flour

2

teaspoons

of baking soda

pinch of salt

1

teaspoon

of vanilla

2

cups

of Post Cereals Raisin Bran

2

eggs

1

cup

of light brown sugar

1/2

cup

of oil

1 1/2

cup

of buttermilk

1

cup

of blueberries

(fresh or frozen, if frozen do not thaw)
Instructions
Preheat the oven to 400 degrees. In a bowl, add the flours, baking soda and salt. In a larger bowl, add the eggs, vanilla, sugar, oil and buttermilk.

Place the Post Cereals Raisin Bran in a ziplock bag and use a rolling pin to crush the cereals into oat size pieces.

Add the crushed Post Cereals Raisin Bran (removing 2 Tablespoons for topping) to the flour bowl. Then add that to the wet ingredients bowl, and add the blueberries.

Use a spatula to fold in all the ingredients together and divide the batter into a 12 cup standard muffin pan.

Sprinkle the remaining crushed Post Cereals Raisin Bran over the muffins and bake for 16-20 minutes. Serve and Enjoy 🙂