This whole wheat banana bread recipe is so tender, moist, flavorful, light and fluffy that you will never look for another banana bread recipe again. I keep this basic recipe very simple and once a while will jazz up the spices, or throw in chocolate chips, nuts and raisins. Or swirl nutella, peanut butter or almond butter into it. Or maybe add a streusel crunch topping to make it feel upscale. So many possibilities, all start with this basic recipe.
Many recipes are labeled "best" banana bread and some are quite good, but to be fair I think everyone's idea of "best" is a little different than others. And in a way that's the beauty of food, and the beauty of life..So let me express my idea of the "best" banana bread.
I like to fully taste the bananas ( I don't over weigh it with cinnamon or any spice, even when I'm using them). I like my banana bread not to be too sweet, and I prefer the slight bitterness from the whole wheat flour contrasting the sweetness of the bananas (but I still love it with all purpose flour !). I love my banana bread to be on the fluffy side, not on the denser side. And I love it to be light, no greasy feeling in my mouth. If that's your perfect banana bread moment too, well you're in luck! this is the perfect recipe for you.
Another bonus this recipe has to offer, is it makes amazing muffins. It takes on chocolate chips and nuts when you're in the mood for it, it takes on a swirl of your favourite nut butters or nutella, it takes a streusel topping when you're not too rushed, it can pretty much be made your own and be made differently every time you crave it!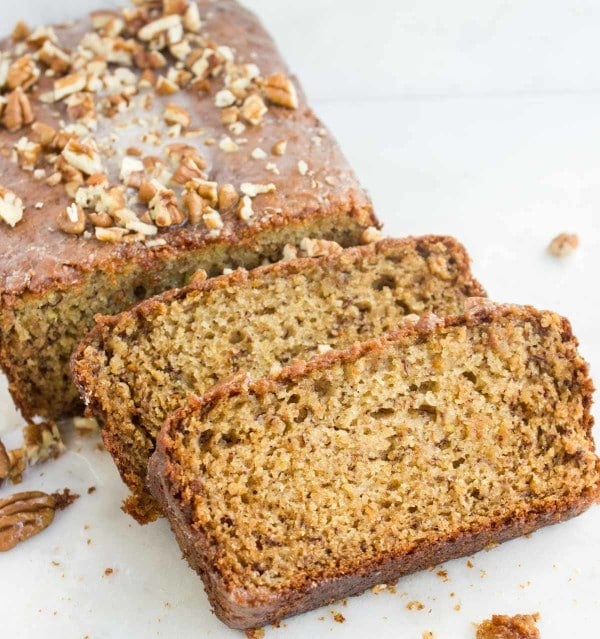 My oldest daughter loves a vanilla glaze or homemade cream cheese icing, I don't necessarily. But I still let her have her fun, specially when we're taking photos:) P.S – those are the perfect looking bananas for this recipe, super ripe, super sweet and flavorful!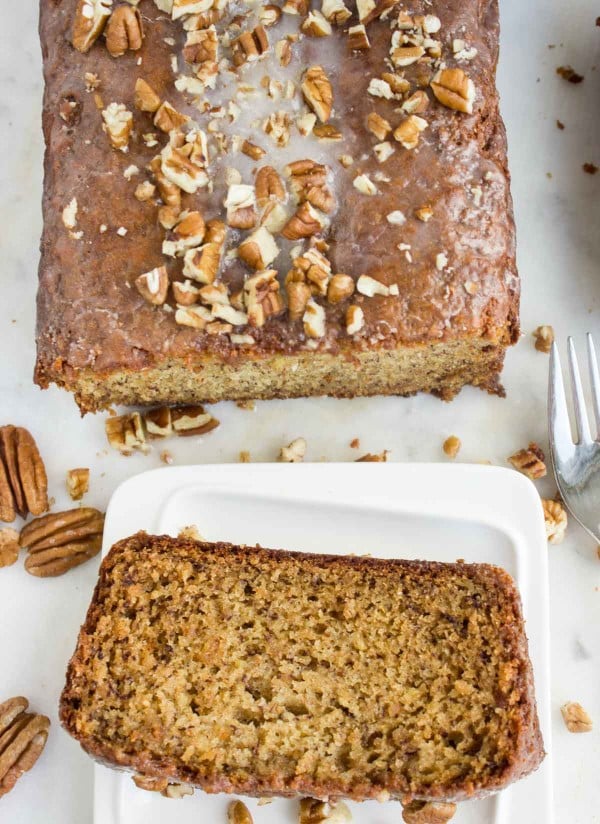 Try this whole wheat banana bread recipe and double enjoy!:)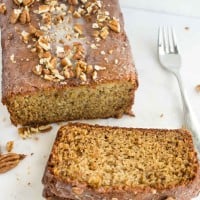 Whole Wheat Banana Bread
Ingredients
2

large very

, very ripe bananas ( or 3 smaller ones)

2/3

cups

of light brown sugar

1/3

cup

of oil

1/3

cup

of buttermilk

1

egg

1

teaspoon

of vanilla extract

1 1/2

cups

of whole wheat or all purpose flour

3/4

teaspoon

of baking powder

3/4

teaspoon

of baking soda

pinch of salt

pinch of cinnamon
Instructions
Preheat the oven to 375 degrees.

Layer a 9 inch by 5 inch loaf pan with parchment paper and set aside.

Mash the bananas until smooth ( or leave them slightly chunky if you prefer that texture)

Add the sugar, oil, buttermilk, vanilla and egg to the banana mixture and mix them well using a whisk.

In a separate bowl, mix the flour, baking powder and baking soda, salt and cinnamon.

Using a rubber spatula, gently mix the flour mixture into the banana mixture and don't worry about making a smooth batter. Just mix them until you no longer see separate pieces of flour in the wet mixture.

Pour the batter into the prepared loaf pan and wait for about 10 minutes before you bake it. (This wait time is optional, but it enhances the whole wheat flour and produces a more tender, moist and flavourful bread)

Bake ( middle rack) for 20 minutes. Lower the oven temperature to 350 degrees and bake for another 30-40 minutes until the loaf is done. (Test this with a toothpick, insert the toothpick in the middle of the loaf and if it comes out clean or with just a crumb or two hanging, it's done. If it doesn't come out clean, re-test the loaf 10 minutes later until done)

Note:To make them into muffins, drop the baking time to 18-22 minutes at 375 degrees.