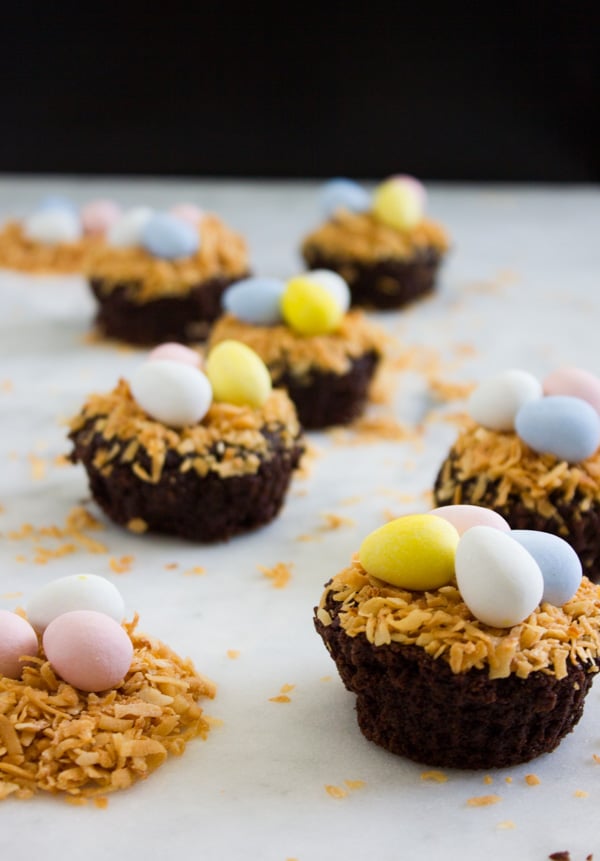 Here's a coconut explosion–a crispy coconut chocolate fudge brownies recipe! Not just any brownies, an ultra fudgy ultra chocolatey brownies with a boost of coconut from the coconut oil, and an extra level of coconut crunch from the crispy toasted coconut shreds. A fabulous contrast of fudgy soft and delicate crisp coconut flavors in a deep dark chocolate background.. A must try recipe!
Are you all geared up for Easter chocolates and goodies? These brownies are perfectly themed for Easter but in fact they are perfect all year long! Now if you're one of those coconut and chocolate lovers–let me tell you, you're in for a treat! An absolute treat. And one that doesn't make you feel as guilty as when you grab a chocolate bar, but you'll definitely not want to reach for that bar after these crispy coconut chocolate fudge brownies.
So like everyone out there, I have a thing for fugdy deep dark chocolate-y brownies–here's a reminder in case you missed those caramel stuffed spiced brownies which are based on those super loaded fudgy brownies : super fudgy dark chocolate brownies that are naturally gluten free and loaded with chocolate chips, hazelnuts and raisins! Those for me are like the ultimate recipe for my all time favorite good old brownies! This coconut version here is the ultimate recipe for an exotic coconut dark chocolate fudge brownie.


The secret to the boost of coconut flavor in the brownies is also the secret to an ultra fudg-y texture and it is coconut oil. If you've ever read about coconut oil, then you know how good for you it is. It's actually a great way to add good fats into your diet, and you can cook/bake with it all you want too because it has a nice high smoking point. And above all, it has an incredible sweet taste of coconut. So it's my pick for maximum benefits and coconut flavor for these crispy coconut chocolate fudge brownies .
So let's talk a little bit about the coconut shreds. As always I will say you can buy toasted sweetened or unsweetened coconut shreds (your choice) ready from the store. Or you can simply make it your own. You'll need shredded coconut (again sweetened or unsweetened), and you'll place them on a baking sheet lined with parchment paper and simply toast them in a 350 degree oven for about 15-20 mins while stirring them halfway.
So these crispy coconut shreds as simple as they are, add A LOT to the brownies! They add an unbeatable delicate crunch which is perfect with the fudgy smooth brownie texture. And they add an extra bit of coconut flavor which is different from the coconut oil. Plus as an Easter theme, they make this beautiful shape of a nest which I lay on some mini chocolate eggs! 🙂


These crispy coconut chocolate fudge brownies can very much be made in any shape and form you like. I, as always love everything in the "mini" form ( some of my favorite sweets in mini are: mini raspberry cheesecakes, mini chocolate pudding cakes, and some savory minis are those kale veggie mini frittata and tomato tarts tatin). BUT these brownies can be made in a regular 8 inch square pan and cut up into squares, or a circular pan and cut up into wedges. I made them today in my good old muffin pan (which I lined with parchment paper—because yes these are ABSOLUTELY extremely fudgy!!!!).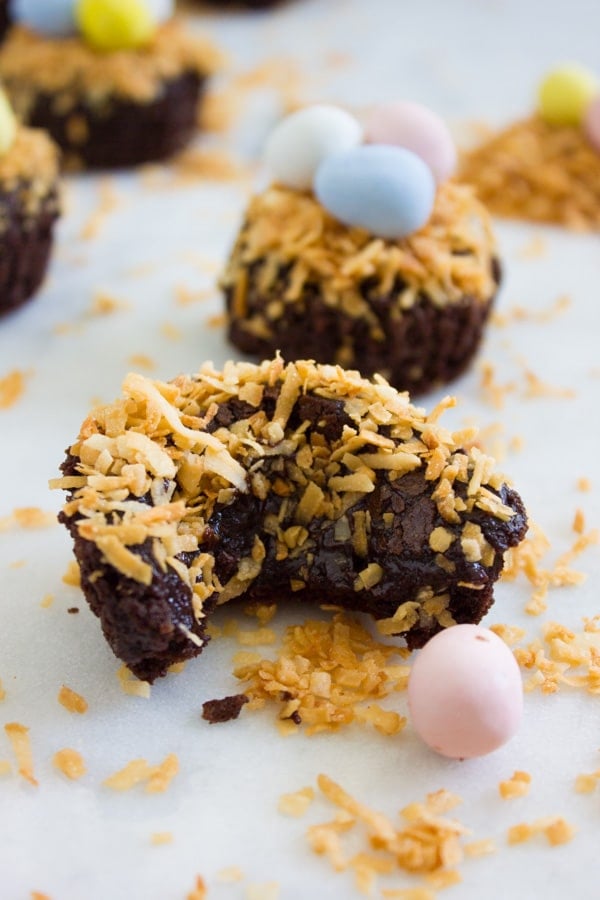 Now, if you're celebrating Easter, MAKE these today—all it takes is a bowl, a whisk and a muffin pan. And pair them with those cute, easy & quick Easter egg tart potato nests for a festive brunch! And even well after Easter—these will find a way to your table and curb your brownie cravings! Enjoy 🙂
Crispy Coconut Chocolate Fudge Brownies
Ingredients
1/2

cup

coconut oil

1/2

cup

of cocoa powder

pinch of salt

3/4

cup

of light brown sugar

2

eggs

1/2

cup

of flour

Topping:

Toasted shredded Coconut**see note

Mini chocolate eggs

(for the Easter theme)
Instructions
Preheat the oven to 375 degrees.

In a bowl, add the coconut oil and cocoa powder, and whisk them well. Add the salt, sugar and whisk.

Then add in the eggs, whisk them in, and add the flour. Whisk it in until smooth and divide your batter among 12 standard muffin pan cavities. ( Line your muffin pan with baking paper and fill them about half way).

Bake the brownies for 15 mins until slightly puffed and no longer jiggly.

Let the brownies cool for about 10 mins and then remove the baking paper gently.

Press a handful of coconut shreds on top of each brownie and top the with the chocolate eggs. Serve and Enjoy.

Note: To make you own coconut shreds:

Take coconut shreds (sweetened or unsweetened—your choice) and spread them on a parchment lined baking sheet.

toast them in a 350 degree oven for about 15-20mins and toss them a few times during toasting for even browning and crisping.