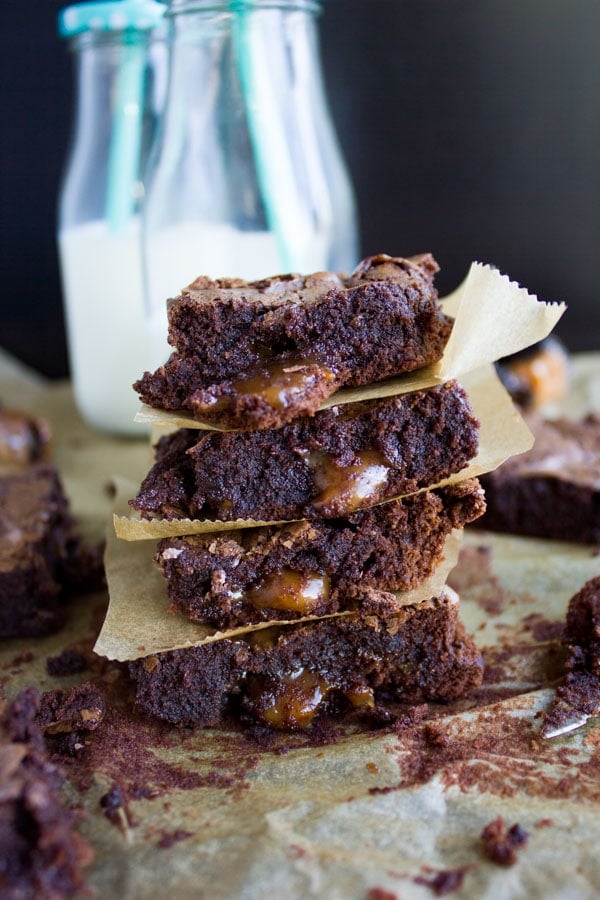 This caramel stuffed spiced brownies recipe is as intriguing and decadent as it sounds. It's no secret that anything tastes BETTER with chocolate, but the secret here is, cayenne spice can make chocolate taste BETTER!! You'll taste a strong, deep chocolate flavor with a bit of heat that's so perfectly rounded off with a sweet smooth vanilla caramel oozing in your mouth with every bite! All you'll ever need at this point is a cup of nice cold milk and wish for this moment to never end 🙂
Alright brownie lovers here it comes. My husband is probably the biggest brownie lover on earth! I can't count how many batches of brownies we bake through-out the year! I can say that these caramel stuffed spiced brownies have been made THREE times last week alone, so they're the "newest" addition to our never ending brownie production around here!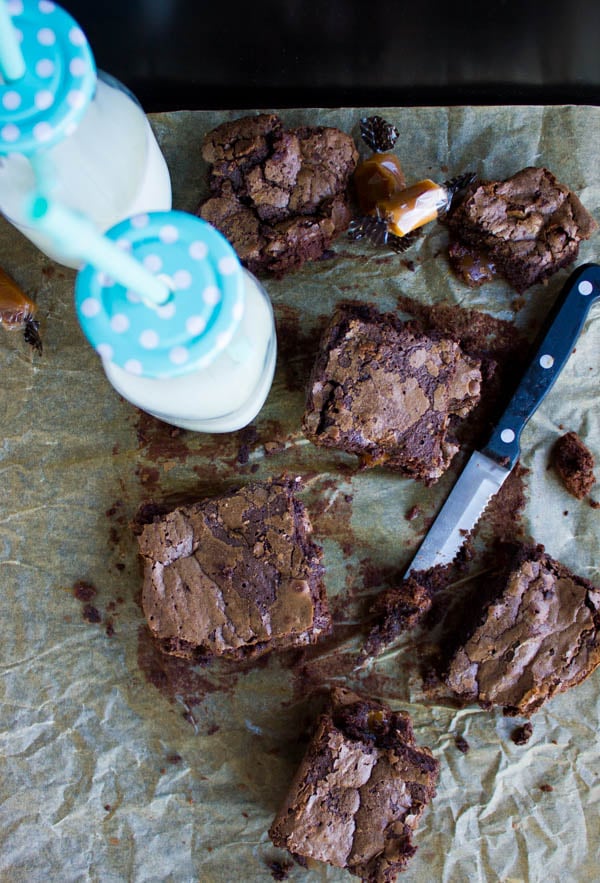 Do you remember these super loaded fudgy brownies — they're super chocolatey dense fudgy and magically gluten free brownies loaded with hazelnuts, chocolate chips and raisins—they're a must try- no miss recipe too!! They're like the perfect brownies base recipe.  Well today's brownies are a version adapted from that perfect brownie base recipe–only spiced up a little, and  infused with oozing caramel!
Let me stress again, the spice is really optional, but very recommended! It's just a pinch and it's a miracle how it elevates the chocolate flavor and cuts down the sweetness of the caramel. If you've ever had Mexican hot chocolate before, you'll totally relate to this. It's basically a nice hot chocolate spiked with cayenne ever and cinnamon, which in turn spikes up your taste buds in a fascinating way! 🙂
pushing caramel in the batter
swirling batter over the caramel
So for the caramel–use ready store bought caramels or use this homemade caramel sauce recipe and cut the cream in half. Let the sauce cool completely before using it. Both options work perfectly well–but the store bought caramels will give you a slight bite when the brownies cool completely, while the homemade caramel sauce won't.. today I'm using ready store bought caramels because I had a ton left over after the Holidays and I HAD to make use of them.
This caramel stuffed spiced brownies recipe comes together using a bowl and whisk. It starts by melting some chocolate chips, butter and oil in a microwave (the oil adds plenty of fudgy chewy character to your brownies while the butter adds the richness and flavor you want). Then the eggs go in, some sugar, tiny bit of flour (use gluten free oat flour for a gluten free brownie), pinch of salt and spice,  and that's it! Spread the batter in a parchment lined 8 inch square pan.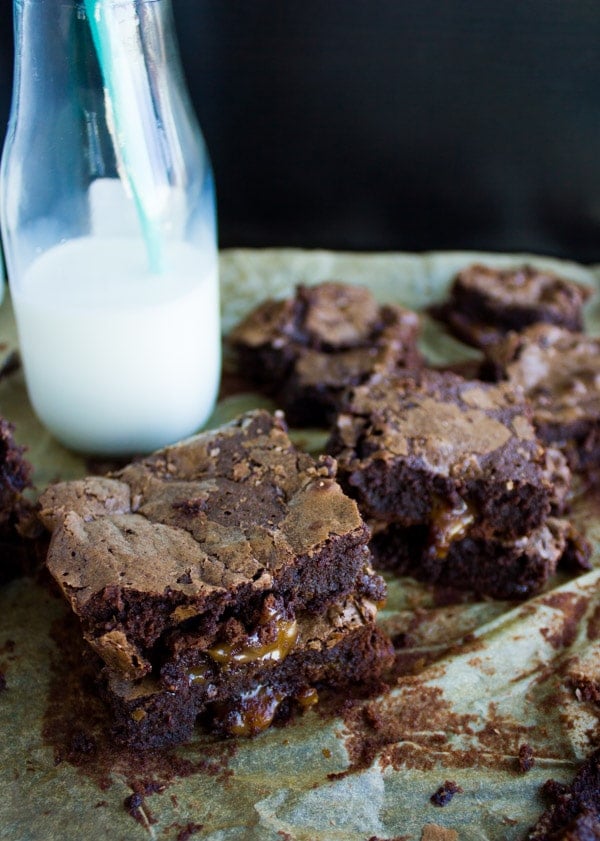 Now for the caramel, either scatter the ready bought caramels and push them into the batter and drown them in all the way (as the brownies bake the caramels will sink in eventually). Or if you're using the homemade caramel sauce recipe, dollop a teaspoon at a time of caramel and push the dollop into the batter nearly all the way. Bake away for 20 mins and wait patiently for the brownies too cool down (about 10-15 mins) before cutting and devouring them! Remember the caramel will be hot–so waiting here is a must 🙂
Ok serious brownie lovers I will leave you with these seriously DIVINE caramel stuffed spice brownies so you can make them and enjoy! 🙂
Caramel Stuffed Spiced Brownies
Ingredients
4

Tablespoons

of unsalted butter

2

tablespoons

of oil

1

cup

of dark

(or semi-sweet) chocolate pieces cut off from a nice chocolate bar-about 8 ounces

1/3

cups

of sugar

2

large eggs

pinch of salt

1/8

th teaspoon of cayenne spice

1

Tablespoon

of cocoa powder

¼

cup

of gluten free Oat flour

(or All purpose flour)

½

cup

of milk chocolate pieces chopped

(optional)

2/3

cups

of chopped store bought caramels

(each caramel cut in half) or

2/3

cup

of this homemade caramel sauce

(using HALF the amount of cream)
Instructions
Preheat the oven to 375 degrees F.

Line an 8X8 inch square pan with parchment paper and let the parchment paper over hang on any two opposite sides of the baking pan.

In a large microwave safe bowl, add the butter, oil and dark (or semi-sweet) chocolate pieces. Microwave the bowl for 1 minute and using a whisk, mix the butter-oil-chocolate mixture until it melts completely. It may need another 10-30 seconds in the microwave, but whisk it well before microwaving it longer than the 1 minute.

To the melted chocolate, add the sugar, eggs, salt,spice, cocoa powder, oat flour and whisk them well. Add the chocolate chips (optional).

Pour the brownie batter into the prepared baking pan and dollop the caramel pieces (if store bought) all over the surface of the brownies, then gently push them down all the way through. Swirl the brownie batter with your fingers to cover up the caramels.

If using homemade caramel sauce, make sure the sauce has cooled. Take a teaspoon at a time of the caramel sauce and dollop it into the batter (scattered leaving half an inch apart) and push the caramel down from the spoon into the batter. Swirl the batter over the caramel as best you can (it doesn't have to be perfect).

Bake for 18-22 minutes. The brownies will puff slightly.

Cool the brownies in the pan for 10 minutes before lifting the brownies using the over-hanging parchment paper. Slice and serve.