Today's delicious recipe is sponsored by Egg Farmers of Canada. All opinions are my own.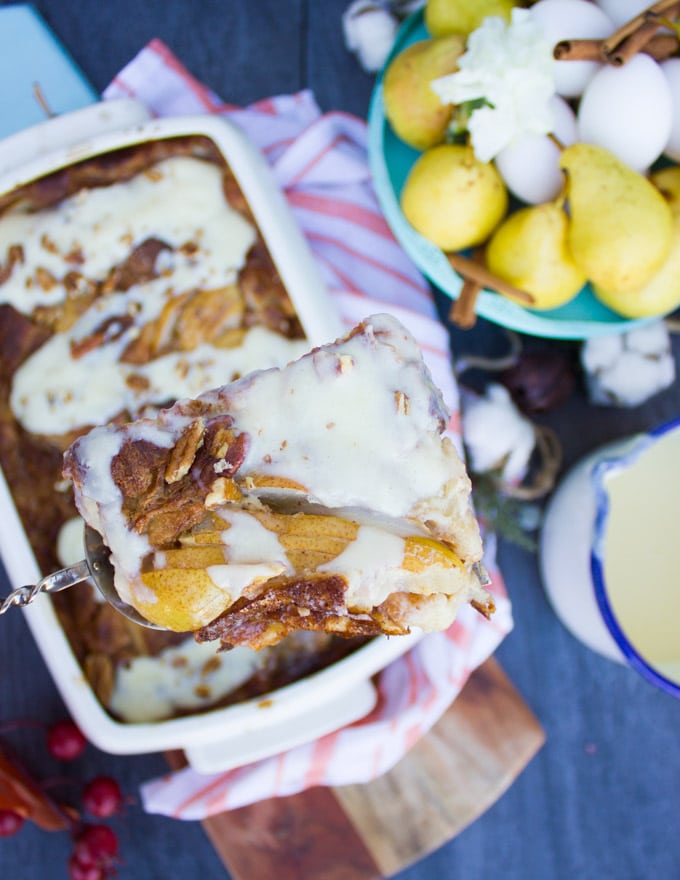 There's something about bread pudding that screams comfort, and this Pear Croissant Bread Pudding with Creme Anglaise takes comfort to an even more luscious level!
Happy World Egg Day! Did you know that October 12th is a global day dedicated to celebrating eggs? How amazing is that?! I could eat eggs everyday but since it's World Egg Day, I wanted to make something extra special using them.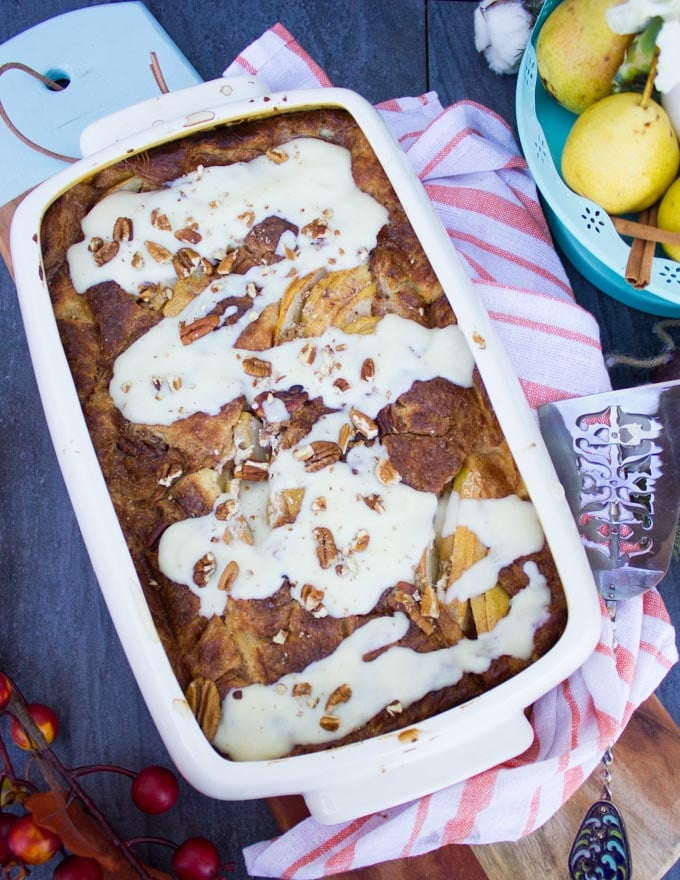 It seems like the last few years I've celebrated with savory egg dishes like this Baked Eggs in Sweet Potato Crusts. So a croissant bread pudding studded with fresh sliced pears and a velvety creme anglaise sauce is very well deserved around here!
Why Eggs 
Read these incredible facts about the nutrition value of an egg and you'll know what I mean!
I've used local Canadian eggs from local farmers that take great pride in providing exceptional care for their hens and producing eggs of the highest quality.
Canadian eggs are produced in every province, including the Northwest Territories by more than 1,000 farm families. So you can be certain that no matter where you purchase your eggs, they are from a local farmer
Why this Pear Croissant Bread Pudding recipe works
First of all, it's GOOD for you! So instead of diving into a luscious creamy dessert that you feel guilty about, try this bread pudding. It's a treat you'll find loaded with eggs and drizzled with a creamy cooked egg sauce.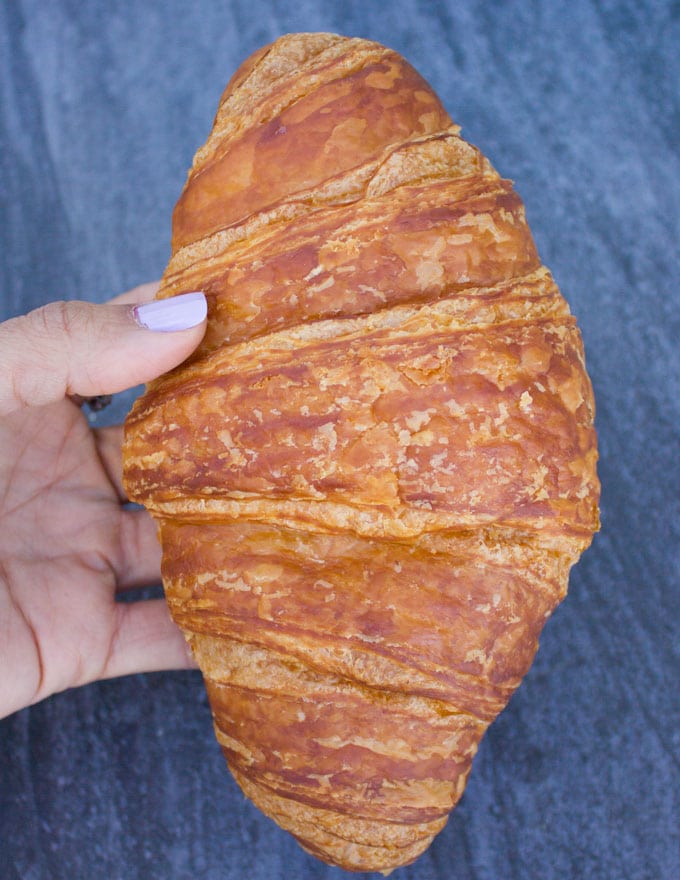 Back to the bread pudding.It's super easy to make. Probably the easiest type of dessert you'll ever make. The croissants are store bought and all that's left for you is to assemble the bread pudding.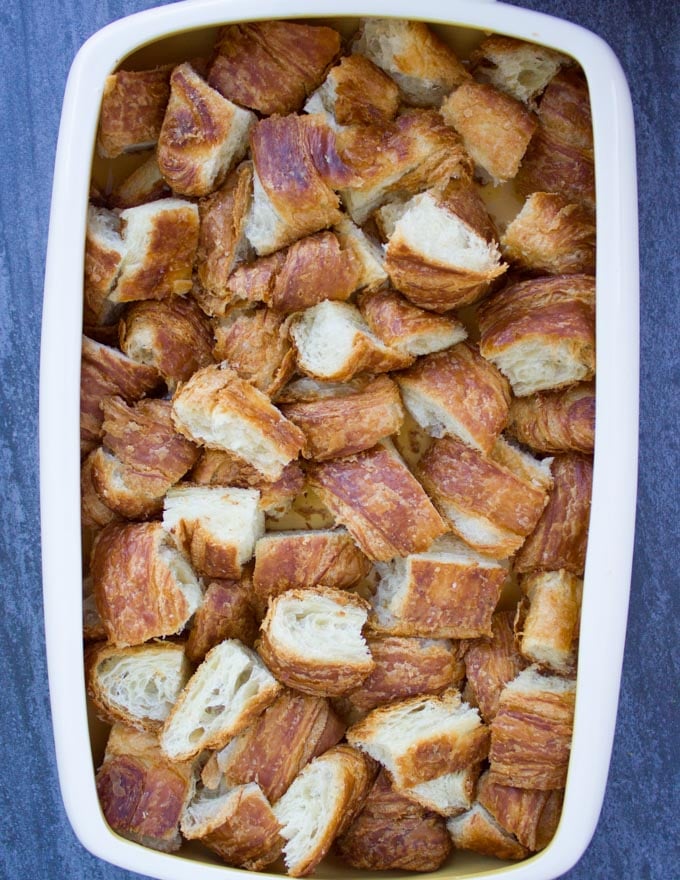 There's no soaking required! Because we used croissant in this bread pudding rather than the classic stale bread, soaking is not required. The croissant is tender, buttery, soft and bakes beautifully in the custard.
Another thing is the versatility. Ive used fresh seasonal sweet pears here, but you can certainly skip them or swap them for apples, cranberries, berries, banana chunks, peaches..etc. Any fruit works beautifully here!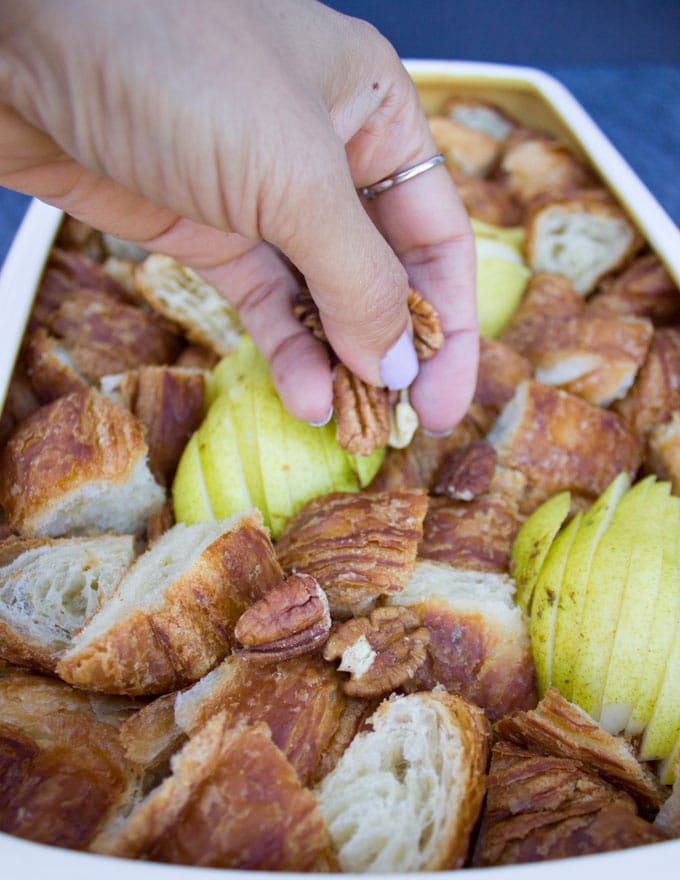 Now let's talk custard. The croissant and fruit are drenched in a rich egg, milk, sugar, vanilla and cinnamon custard before baking. The custard is all absorbed by the croissant and fruit infusing the pudding with a sweet creamy taste.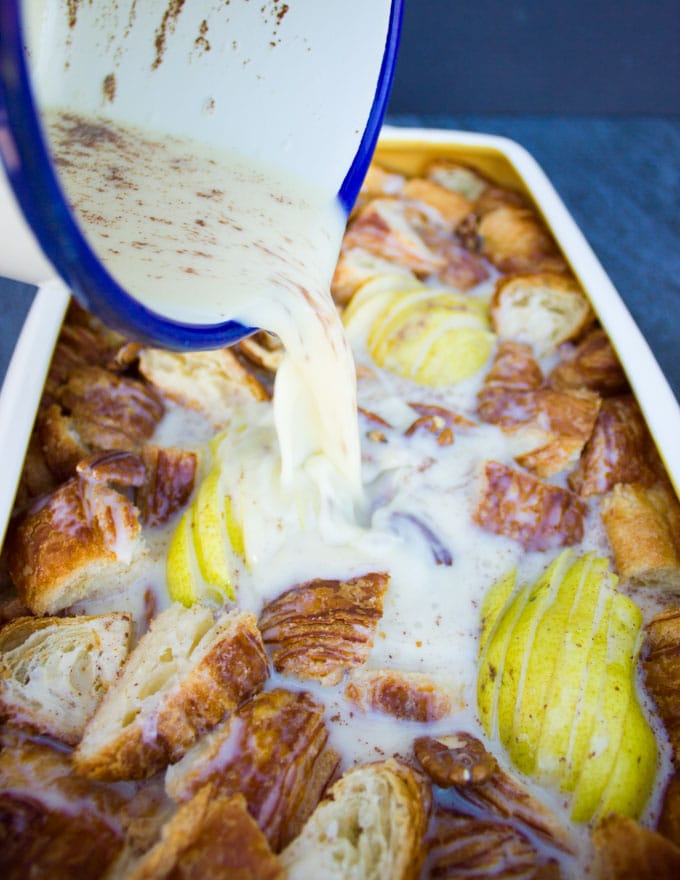 While cinnamon was my top pick for spice today, I think chai spice would feel more like Fall! I wasn't sure the kids would eat it though so I opted for the cinnamon. But you could play around with the spices, or skip them all together and make it a vanilla custard, and it was still taste delicious!
This croissant bread pushing recipe is absolutely not heavy on the sugar, and it leaves you room to adjust. So adding a few tablespoons more or less of sugar won't affect the recipe at all. Therefore feel free to adjust it to your taste buds! I prefer it that way so I can taste the croissant too.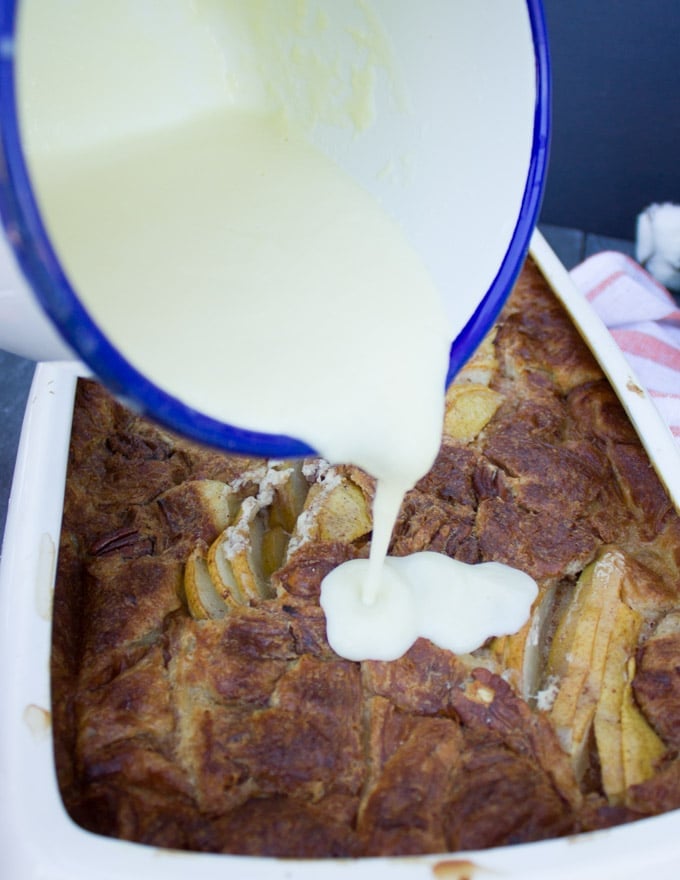 Finally, the creme Anglaise. As fancy as it sounds, it's simply a cooked egg custard. the trick to the best creme anglaise is to keep whisking it while cooking. So it's probably not the best time to make it while you're on the phone 🙂
How to Make Pear Croissant Bread Pudding with Creme Anglaise
Let's start by cutting, tearing or hoping the croissants into an inch cube size pieces. Scatter them on a baking dish and add fresh sliced pears in between.
Sprinkle some pecans (optional but so good!!)
Pour the cinnamon-egg-sugar-vanilla custard over the croissants and bake for 30 mins.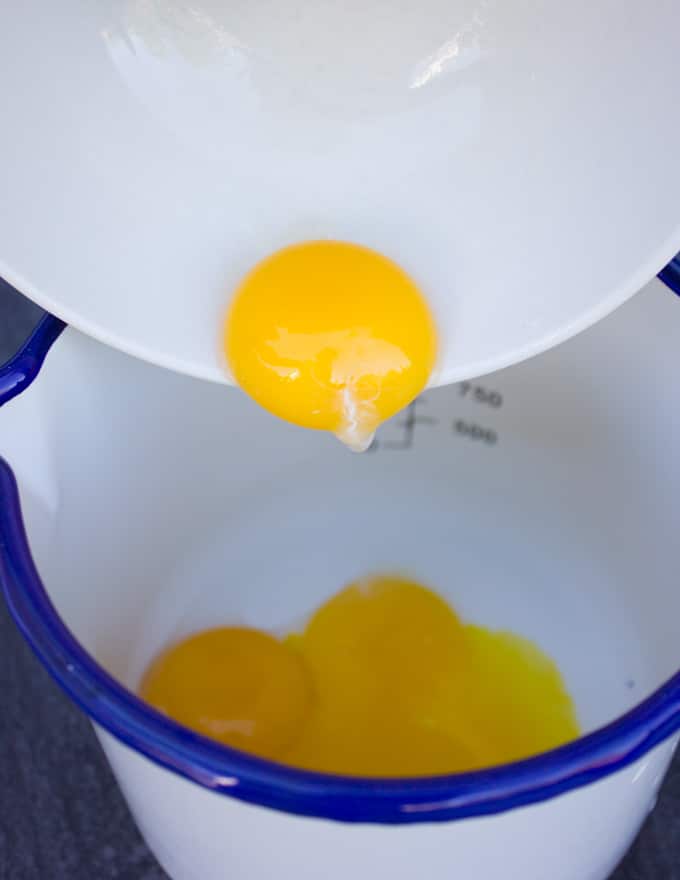 In the meantime, you'll start on the creme anglaise. You'll start by whisking the egg yolks and sugar really well, then you'll pour hot milk gradually.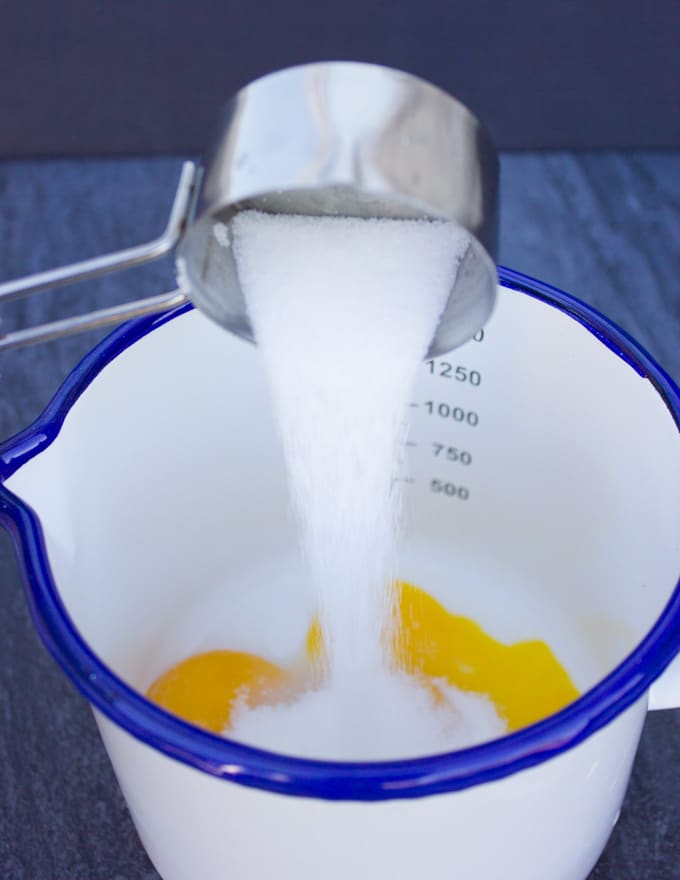 At this moment, you'll need to put the pot on the stove and start whisking. Now this is when you should sort of stick to your pot. You'll need to whisk it for almost 10 minutes.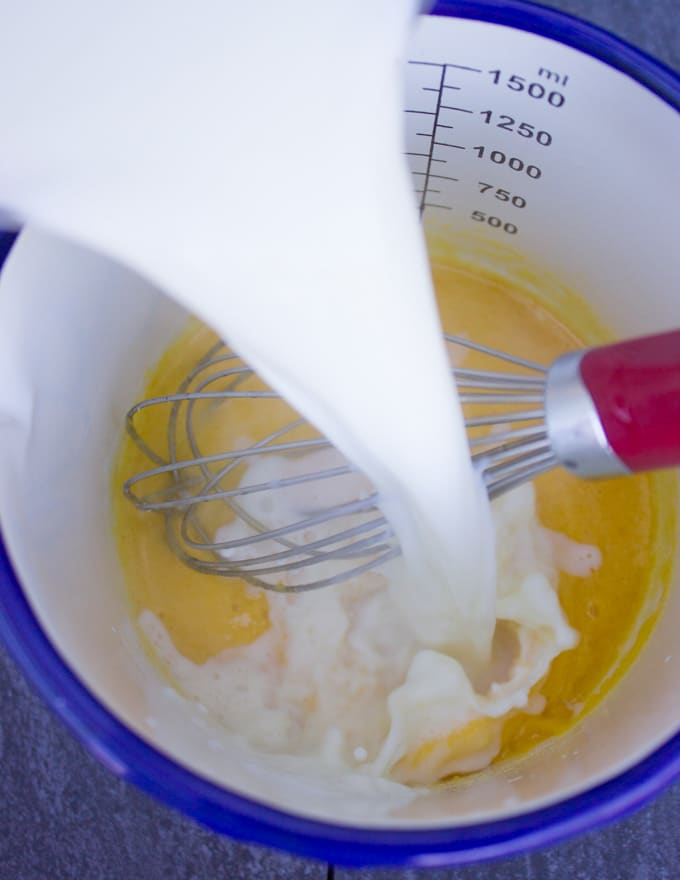 Basically you want the eggs to cook and the sauce to thicken beautifully, not curdle. So which and take a few seconds break then go back to whisking and so on.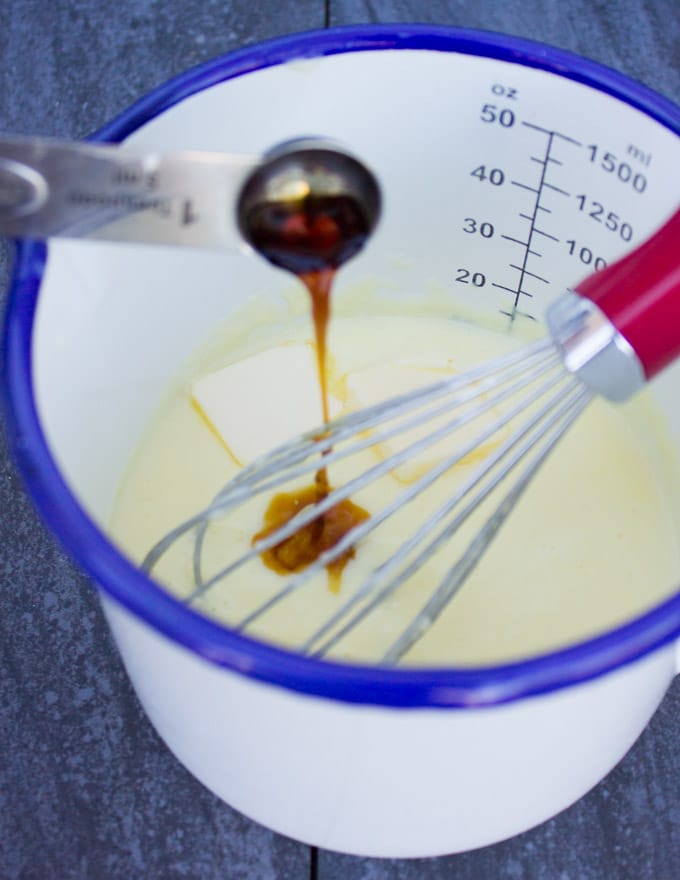 Now once the bread pudding is ready, drizzle a light layers of the creme anglaise and sprinkle some extra pecans for crunch. So GOOOOOOD!!
This recipe is a seriously easy one, and the creme anglaise is absolutely worth every single bit of whisking you do!
Tips for Success:
Make sure you don't over fill your oven dish, because it may overflow in the oven and you don't need that! Remember the croissant bread pudding will puff in the oven.
For your bread pudding to have the best contrast in texture, use a combo of croissants, fruit and nuts.
For the Creme Anglaise, remember to keep whisking until it starts to simmer on the edges and gradually thickens. Likewise, remember to not bring it to a boil.
If you feel your creme anglaise needs to be smoother, pass it through a sieve and add a tablespoon of butter at the end. Let the butter melt in the heat of the sauce for a velvety creamy texture.
You can prepare the bread pudding 3 days in advance and store it in the fridge. Likewise, you can freeze it for 3 months (without the creme anglaise).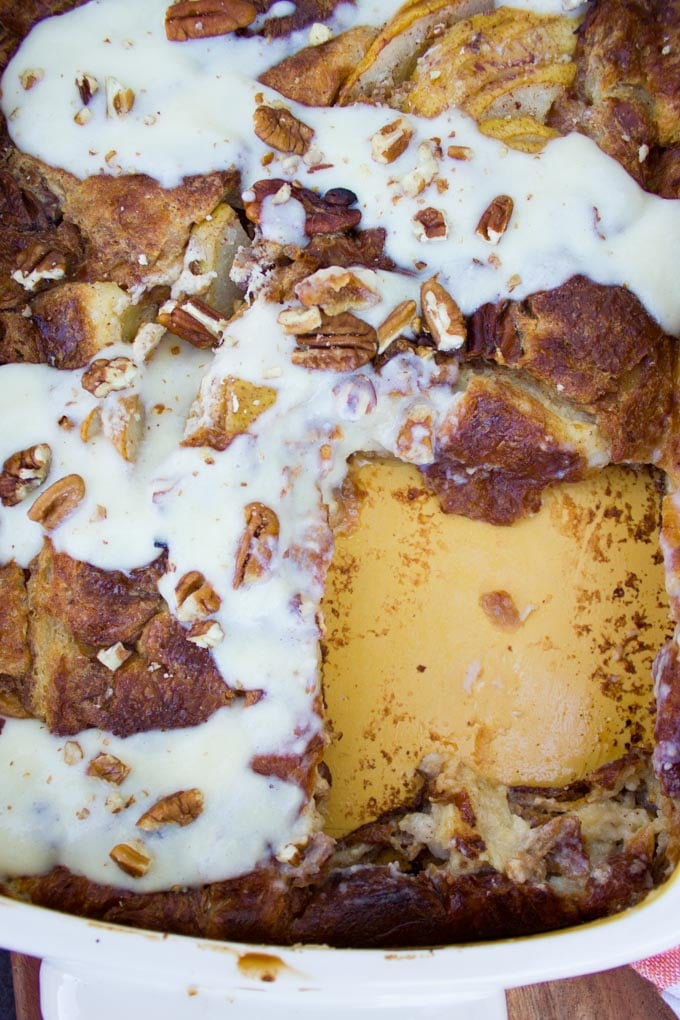 Now ENJOY!! You just made yourself a perfect dessert for the Holidays, a perfect potluck dish for parties and a good for you egg rich dessert to celebrate World Egg Day!!
How will you celebrate this Day dedicated to the miraculous delicious egg? Tag me and use #WorldEggDay so I can see your delicious creations!
More Bread Recipes: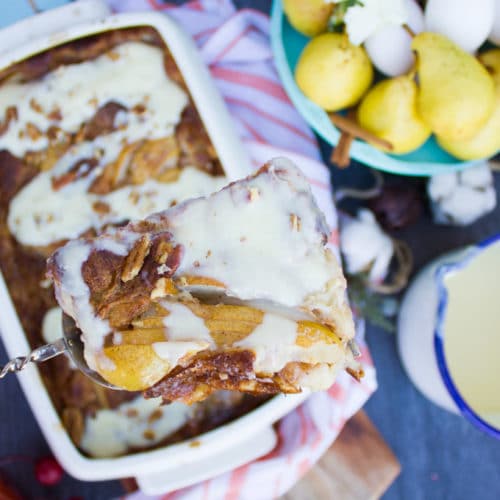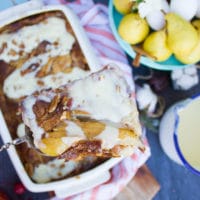 Pear Croissant Bread Pudding with Creme Anglaise
There's something about bread pudding that screams comfort, and this Pear Croissant Bread Pudding with Creme Anglaise takes comfort to an even more luscious level!
Ingredients
6

croissants cut up into 1 inch cubes

2

pears cored and sliced thinly

1/4

cup

pecans coarsely chopped

4

tablespoons

sugar

3

eggs

2

cups

milk

whole, 2% or half n half

1

teaspoon

cinnamon

1 1/2

teaspoons

vanilla
Creme Anglaise:
3

egg yolks

1/4

cup

sugar

1

cup

hot milk

1

teaspoon

vanilla

1

Tablespoon

butter
Instructions
Preheat the oven to 375F.

In an oven safe dish, put all the croissants cubes, make sure they fill only half the depth of the pan. Arrange the ear slices and pecans between the croissant pieces.

In a bowl, whisk the sugar and remaining ingredients to make the custard and pour that over the croissant and pear mixture evenly. Press down the croissants to make sure the custard is evenly distributed.

Bake the bread pudding for 30 mins until all the custard is absorbed and the pudding had puffed to the top of the dish.

In the meantime, make the creme anglaise.

Whisk the egg yolks and sugar in a small pot until it's well blended and smooth. Then put the pot on the stove over medium heat and add in the heated milk gradually. Whisk gradually as you add the milk, and then keep whisking the creme anglaise until the eggs start to cook.

Whisk for about 10 minutes until the sauce thickens, then strain the sauce for a smoother texture.

Add the vanilla and butter to the sauce.

Drizzle the creme anglaise over the bread pudding, cut up and enjoy!
Nutrition Facts
Pear Croissant Bread Pudding with Creme Anglaise
Amount Per Serving
Calories 360
Calories from Fat 162
% Daily Value*
Fat 18g28%
Cholesterol 176mg59%
Sodium 278mg12%
Potassium 214mg6%
Carbohydrates 37g12%
Protein 9g18%
Vitamin A 695IU14%
Calcium 142mg14%
Iron 1.4mg8%
* Percent Daily Values are based on a 2000 calorie diet.