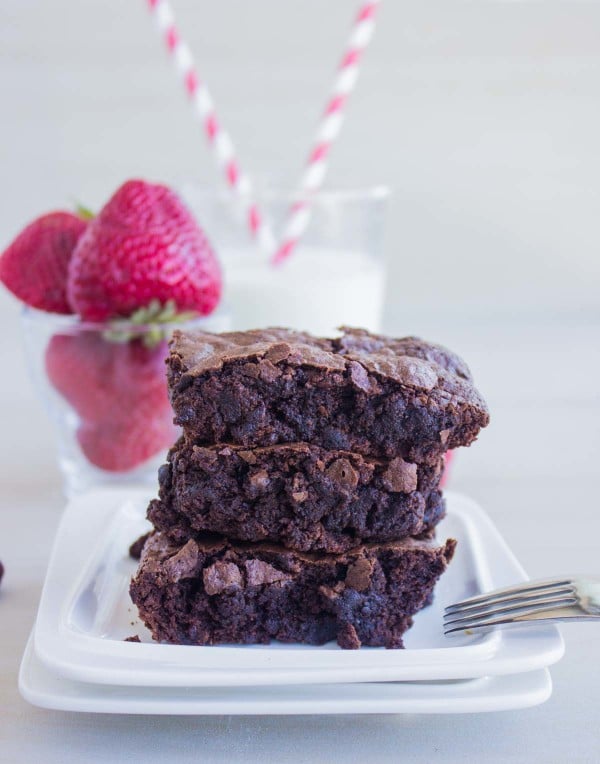 This is a fool proof, wow factor guarantee, ultimate brownies satisfaction, gluten free, super loaded fudgy brownies recipe. It's very chocolatey, fudgy and loaded with chocolate chips, hazelnuts and raisins. It takes a bowl, a whisk, a few ingredients and 20 minutes to bake into your go to brownies recipe! I don't know why it's been that long for a brownie recipe to show up here! It definitely doesn't take longer than a couple of weeks before I find myself baking one for friends or myself! 
I've made brownies quite a few hundred times and I can say that a good brownie recipe is like a good friend—it can cheer you up and last forever!



I love this particular brownie recipe because it's intensely chocolatey and very fudgy—not stick to your mouth fudgy but a nice chewy fudgy. I love adding hazelnuts to it because you've probably guessed by now, I love hazelnuts and chocolate together. And then there's the chocolate chips, because, well you got to have chocolate chips in your brownies.
When it comes to the raisins as unusual as it may sound (especially to my not so raisin friendly sister), they add a touch of sweetness and a nice chew with very minimal close to none raisin flavor. I mean how can any other flavor shine with all this chocolate brownie goodness?
I love using some oil in my brownies, although using all butter does add much flavor (I admit—before you start judging), the oil adds a nice chew and much needed hearty texture which helps me cut down the amount of flour. I love cutting down the flour here because I get a richer chocolate-y flavor, and a fudgy smooth texture.
I've made it these super loaded fudgy brownies with all purpose flour and they're just as perfect as they are with gluten free oat flour. I now prefer it with the oat flour because it's a little healthier.
If you've ever made brownies before, you'll know how easy and simple they are, and if not, be prepared to be pleasantly surprised 🙂 It starts with one microwave safe bowl, you add in the chocolate pieces, butter and oil and melt them all together. Then you grab a whisk and mix in the sugar, eggs, coco powder and oat flour. Finally you add in the chocolate chips, raisins and hazelnuts, then pour the batter in a parchment lined bakeware and bake 20 minutes.
Don't by any means over bake your brownies, it's almost a crime to that fudgy smooth texture you're longing for! And don't slice the brownies when hot right out of the oven—as hard as it is, please wait 5 minutes, lift the brownies out of the pan with the parchment paper, and slice, bite, grab and enjoy!:)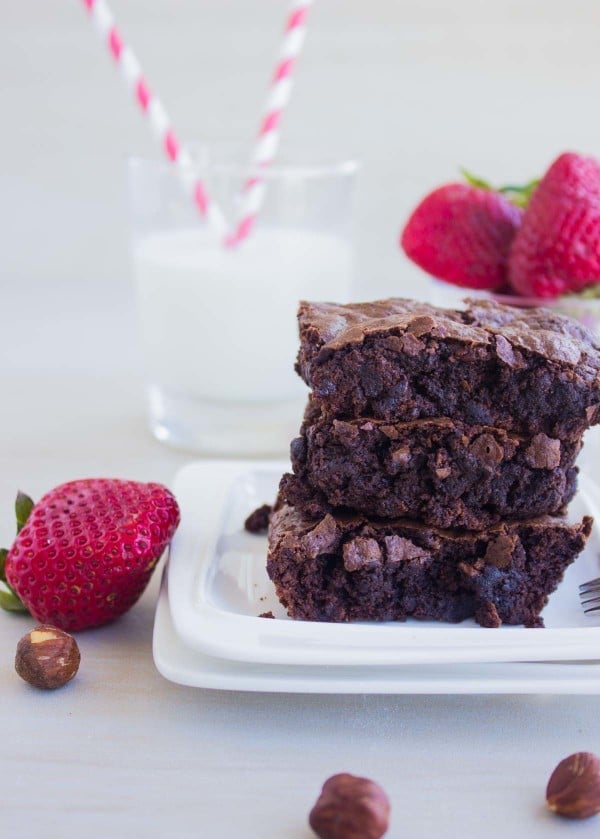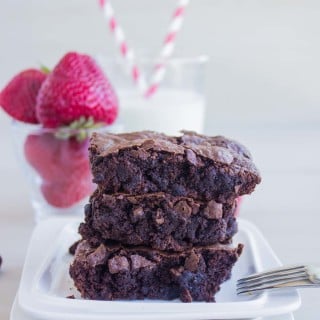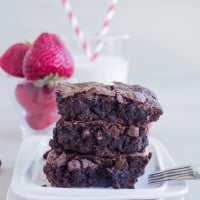 Super Loaded Fudgy Brownies
Ingredients
4

Tablespoons

of unsalted butter

2

tablespoons

of oil

1

cup

of dark

(or semi-sweet) chocolate pieces cut off from a nice chocolate bar-about 8 ounces

2/3

cups

of sugar

2

large eggs

pinch of salt

1

Tablespoon

of coco powder

1/4

cup

of gluten free Oat flour

(or All purpose flour)

1/2

cup

of milk chocolate pieces chopped

1/2

cup

of chopped hazelnuts

1/3

cup

of raisins
Instructions
Preheat the oven to 375 degrees F.

Line an 8X8 inch square pan with parchment paper and let the parchment paper over hang on any two opposite sides of the baking pan.

In a large microwave safe bowl, add the butter, oil and dark (or semi-sweet) chocolate pieces. Microwave the bowl for 1 minute and using a whisk, mix the butter-oil-chocolate mixture until it melts completely. It may need another 10-30 seconds in the microwave, but whisk it well before microwaving it longer than the 1 minute.

To the melted chocolate, add the sugar, eggs, salt, coco powder, oat flour and whisk them well.

Add the chocolate chips, hazelnuts and raisins and whisk them in.

Pour the brownie batter into the prepared baking pan and bake for 18-22 minutes.

The brownies will puff slightly and if you insert a toothpick in it, only a few moist crumbs should stick to the toothpick.

Cool the brownies in the pan for 5 minutes before lifting the brownies using the over-hanging parchment paper.

Slice and serve.
Nutrition Facts
Super Loaded Fudgy Brownies
Amount Per Serving
Calories 412
Calories from Fat 207
% Daily Value*
Fat 23g35%
Cholesterol 61mg20%
Sodium 42mg2%
Potassium 139mg4%
Carbohydrates 49g16%
Protein 5g10%
Vitamin A 310IU6%
Vitamin C 1mg1%
Calcium 59mg6%
Iron 1mg6%
* Percent Daily Values are based on a 2000 calorie diet.