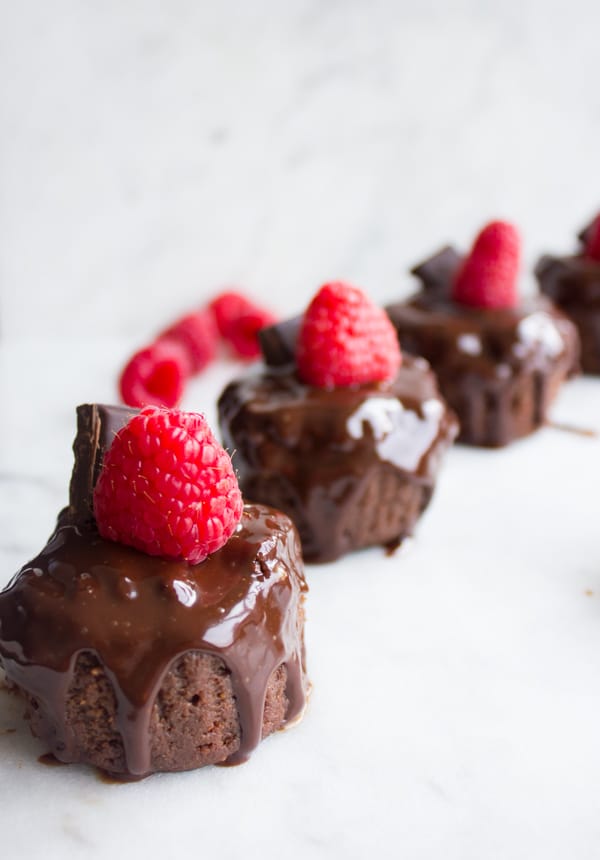 This ultimate chocolate cheesecake recipe is the ultimate chocolate lovers dream and cheesecake lovers dream. It has a rich chocolatey taste with a luscious creamy delicate texture. Almost like a rich chocolate ice cream with a crust. Drizzled with caramel sauce, chocolate sauce or even plain as is, it's a fool proof chocoholic treat that bakes in just over 15 minutes.
When it comes to cheesecakes, as you remember in those mini raspberry cheesecakes, I don't mess around with them—they are my favorite dessert and I put all the effort to get them done right. And those mini or single serving size make baking time a breeze, and eliminate any water bath fuss for baking. The biggest bonus here, is the chocolate in this ultimate chocolate cheesecake!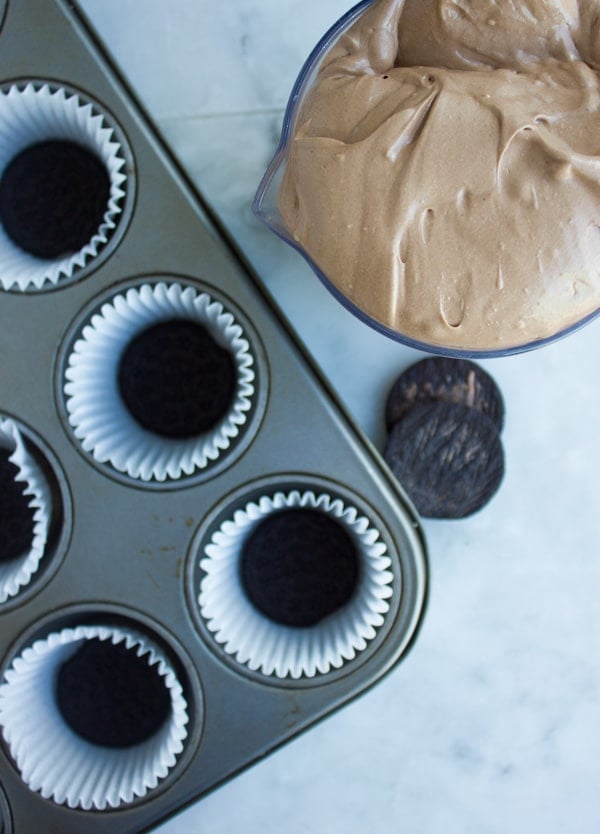 I'll tell you what to expect from those mini chocolate beauties—a rich chocolatey taste, which is not too sweet, rather deep and chocolatey. A chocolate crust which is made using your favorite chocolate cookie (no butter or sugar added, just place one cookie at the bottom of the pan). A filling that is almost in between a fudge and a mousse, very melt in your mouth creamy silky feel yet not too heavy or greasy. Rather refreshingly creamy chocolatey and when served cold, almost feels like a good chocolate ice-cream—as described by kids;)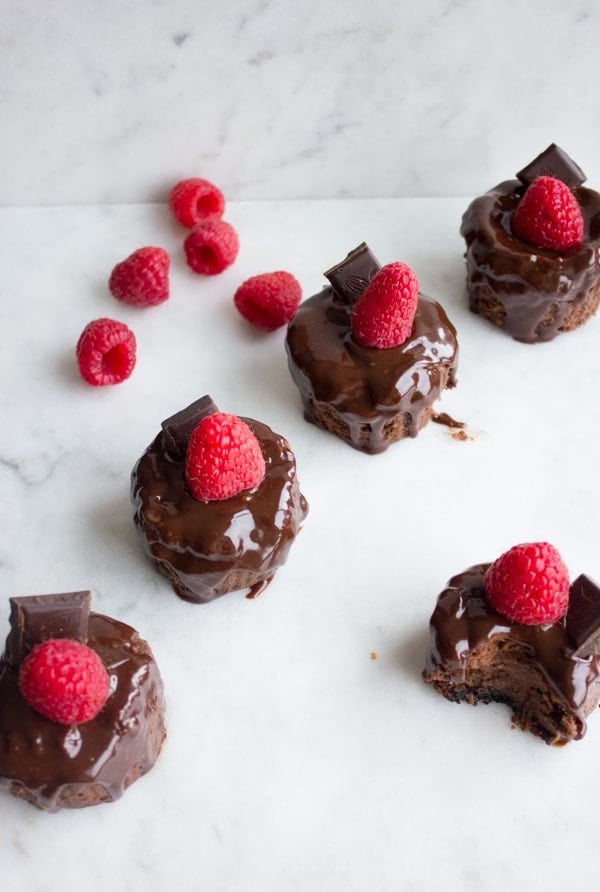 Just like my mini raspberry cheesecakes, this ultimate chocolate cheesecake is made using low fat cream cheese. It gives me the cheesecake taste I want without the heavy feeling. And I add to it a little bit of low fat sour cream to fluff up the texture because the chocolate version tends to be on the dense side.
Melted chocolate, cream cheese, sour cream, sugar and eggs are the basic ingredients here. I've included 2 tablespoons of cocoa powder which are optional because they give a deeper chocolate taste—so it's a personal thing. When it comes to flavoring, I always use vanilla, and if I'm not serving this in a kid friendly party, I will add a tablespoon of espresso for an even intense chocolate flavor, otherwise I'll leave it out. Many other flavor options like orange zests, mint extract, almond extract, cinnamon and whatever you like your chocolate with. It takes this recipe to another level. Otherwise use this basic, makes everybody happy version.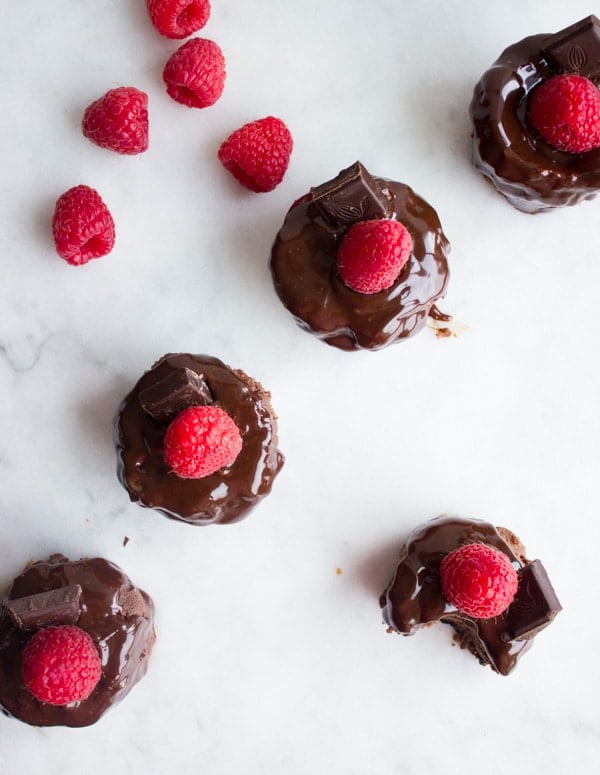 Now when it comes to the topping of this ultimate chocolate cheesecake, a plain version is good and a topped version is sinfully good—it's a decision only you can make! I've used my homemade caramel sauce to top some of the cheesecakes, because, I nearly always have it on hand (it takes me 5 minutes to prepare and keeps in my fridge for months!) and because there's something magical about chocolate and caramel when combined together! Another topping is a simple chocolate ganache which is made lighter with 2%milk and dark chocolate chips melted in the microwave. A final sprinkle of raspberries is what I used here, but feel free to use your favs!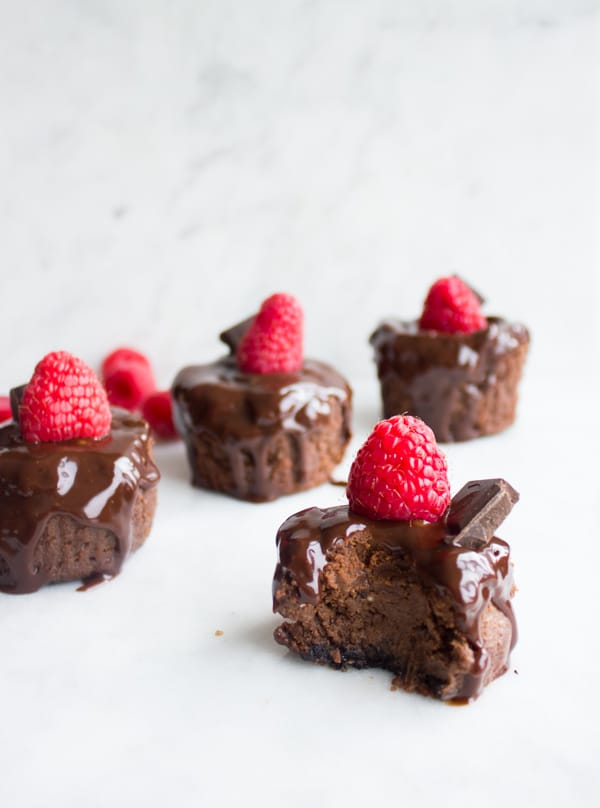 The beauty  and convenience of this ultimate chocolate cheesecake is they taste much better a day after they're baked—so they're perfect to prepare in advance for a special occasion. And they last in your fridge for at least 5 days, so you can enjoy one every day for a while. They're prepared in almost 10 minutes, baked for 15-18 minutes, and last for a while..and above all, they're so chocolatey-satisfying-mood-lifting-long-lasting-happy-making little bites of a chocolate dream. Now do yourself a favor, make those and enjoy:)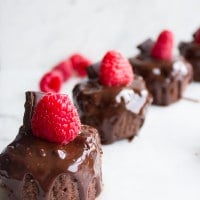 Ultimate Chocolate Cheesecake
Ingredients
12

piece

of chocolate cookies

(like oreo, or you favourite cut up with a cookie cutter to that size)

1

bar of low fat cream cheese—16 oz

, room temperature

2/3

cup

of sugar

2

egg

1/2

cup

of low fat sour cream

8

ounces

of semi sweet

(dark or milk) chocolate chips, melted in a bowl in the microwave for 45 seconds

2

Tablespoons

of cocoa powder

(for a darker chocolate taste—optional, but recommended)

pinch of salt

1

teaspoon

of vanilla extract

Toppings:

Homemade Caramel Sauce

Milk Chocolate Ganache:

2

tablespoons

of low fat milk

1/2

cup

of dark chocolate chips
Instructions
Preheat the oven to 350 degrees F.

Line a standard size muffin pan with paper cups.

Place one cookie at the bottom of each paper cup and press it well so it becomes a crust.

In a large bowl, Add the cream cheese, melted chocolate and sugar and mix with a hand held mixer or a whisk for 2 minutes until the mixture is creamy ad smooth.

Add in the sour cream, pinch of salt, vanilla and mix again. Then add in the eggs and mix well. Do not over mix after adding the eggs to avoid air bubbles.

Pour the chocolate mixture on top of the chocolate cookie crust, dividing it evenly over the 10 cookies.

Bake for 15-18 minutes until the cheese cakes are no longer wiggly and slightly puffed.

Turn off the oven, open the door and leave the cheesecakes inside for about 30 minutes. Remove them to cool on the counter and then remove each cheesecake with the paper liner and place on plate to cool in the fridge.

Chill the cheesecakes for at least 1 hour to completely form up before removing the paper liners gently.

Serve the cheesecakes, cold drizzled with caramel or chocolate sauce or both!

To make the chocolate sauce, place the milk in a microwave safe bowl and microwave for 1 minute until extremely hot. Add in the chocolate chips and use a whisk to fully melt the chocolate into the milk forming a sauce. Cool the sauce for 10 minutes and it will thicken as it cools.