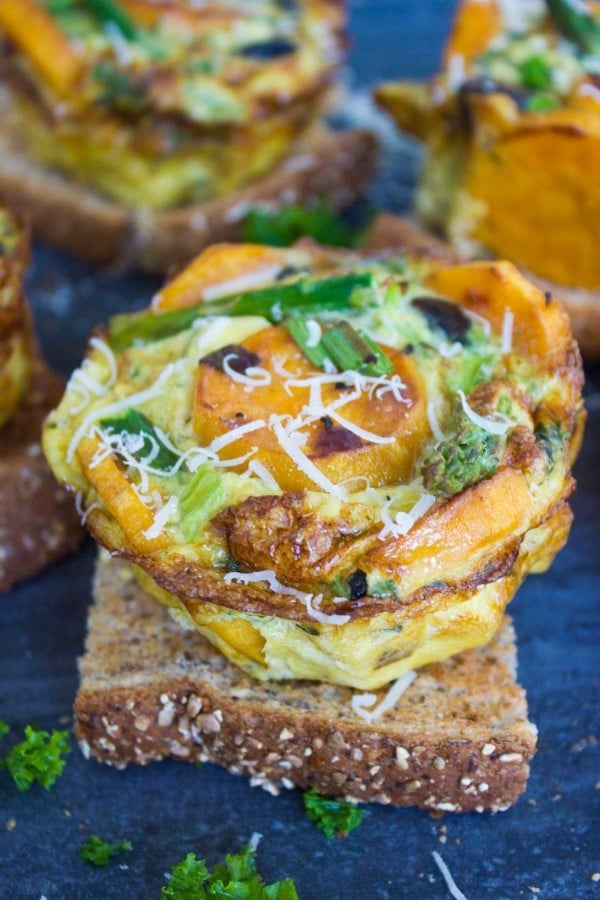 This kale veggie mini frittata recipe is the perfect breakfast to fuel you up with the goodness of veggies and eggs. Tender pan cooked veggies are arranged in a muffin pan and a mixture of eggs, herbs and kale is poured over them. These mini goodness bites are baked and served on whole grain toast breads with a sprinkle of parmesan and more kale—the classic egg breakfast made easy, healthy and delicious!
A good breakfast or a healthy breakfast is always on the "to do" list of many of us. For some reason there's never enough time, or enough ideas. Sometimes there's the someone who doesn't feel like it and would rather have an early lunch. Well all these excuses aside, the fact is we really do need a good breakfast!
I'm in love with asparagus now because I see it everywhere and I can't stop myself from making the most of it. Luckily one of my girls likes asparagus, yes you guessed it—my oldest one. Hopefully one of those days I will write a post and say my picky littlest one loves this or that!
The beauty of these kale veggie mini frittatas is you can use any veggies you like or have on hand, and you can roast them, fry them, boil them, pan sear them—however you prefer! In this recipe, I sauté some scallions, sweet potatoes, sun dried tomatoes and asparagus for 1 minute, then I lower the heat and cover the skillet for 5 minutes until the veggies are tender. I find this way to be one of the best methods to cook vegetables without losing their nutrients.
Then I arrange those veggies in a muffin pan and I cover them with a mixture of beaten eggs, chopped fresh kale, fresh basil and parsley. These kale veggie mini frittatas bake for 8 minutes until eggs are puffy and done. I let them cool for just a minute and then serve them on toasted slices of whole grain bread, with a nice sprinkle of fresh Parmesan and extra chopped kale.
These kale vegetable mini frittatas make the perfect breakfast! They are packed with vegetables, super kale and eggs! Talking about protein! And they're a really great way to eat more veggies—an everyday challenge for many! Plus they need maximum 20 minutes from start to finish, and even less time if you're vegetables are ready beforehand.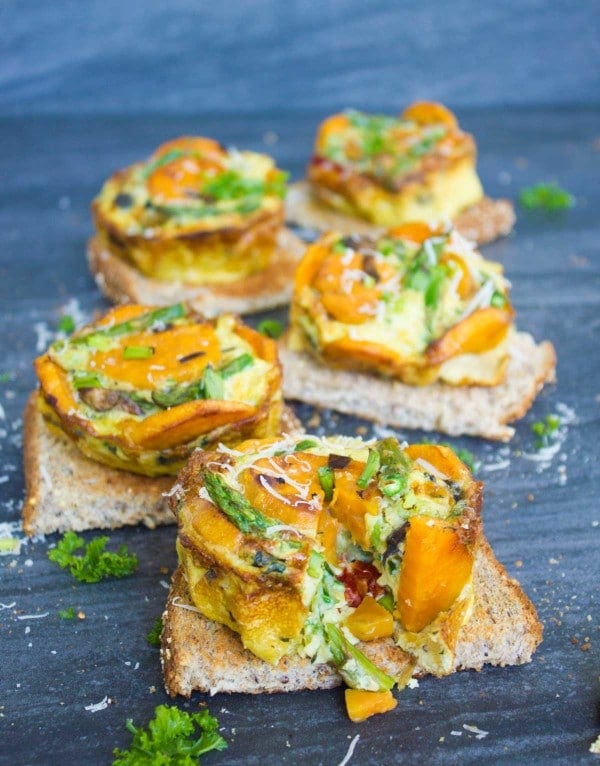 Speaking of preparing in advance, if you happen to have a nice vegetable dinner, save some for these kale vegetable mini frittatas! You can prepare any veggies you prefer and save them in your fridge, then all you'll need to do is beat up the eggs with kale, herbs, pour and bake! Try adding pesto to these frittatas, cheeses of your choice , spices and meats. It also works if you want to make it an egg-white kale vegetable mini frittata, or if you want to make it into a large skillet and cut it up into wedges (just adjust baking time to 20 minutes at least). This is great for gluten free diets if served on gluten free toasted bread.
Either way, fuel yourself up with a nice healthy vegetables, eggs and kale packed breakfast and enjoy!:)
Kale Veggie Mini Frittata
Ingredients
1

tablespoon

of butter

(or use oil)

2

scallions

, sliced

1

large sweet potato

, peeled and sliced up into 1/16th of an inch thick slices

1

bunch of asparagus tips

4

sun dried tomatoes

, sliced

8

eggs

2

tablespoons

of milk

(any type and any fat concentration)

1/2

teaspoon

of kosher salt

1/2

teaspoon

of fresh black pepper

pinch of red pepper flakes

(optional)

1

cup

of chopped fresh kale

2

tablespoons

of fresh basil

, sliced

1

tablespoon

of fresh Parsley

, minced
Instructions
Preheat the oven to 375 degrees.

Grease a large muffin pan (1cup capacity each) or a standard size muffin pan and set aside.

In a non stick skillet over medium high heat, melt the butter and add the scallions. Sauté for a minute and add in the sweet potatoes and sauté for another minute.

Add in the asparagus and sun dried tomatoes and sauté for 30 seconds, then lower the heat to low and cover the skillet with a lid.

Let the veggies slowly cook and soften up on low heat for about 5 minutes.

While the veggies are cooking, in a a large bowl, beat the eggs, milk, kale, herbs and seasoning.

Arrange the slightly cooled vegetables in each muffin pan cavity in any way you prefer. Pour the egg mixture dividing it evenly over the veggies.

Bake the frittatas for about 8 minutes (depending on the size) until eggs are puffed and cooked through.

Remove them form the oven and allow them to cool for 1-2 minutes. Gently remove the frittatas from the muffin pan and then serve them not heir own or on toasted whole grain bread (or gluten free bread if needed).