This Tuna Salad Recipe with Olive Oil Dressing comes together in 15 minutes and will change your attitude towards canned tuna forever! It's the best Tuna Salad recipe you can make with tips and video, plus an olive oil dressing that you can't miss!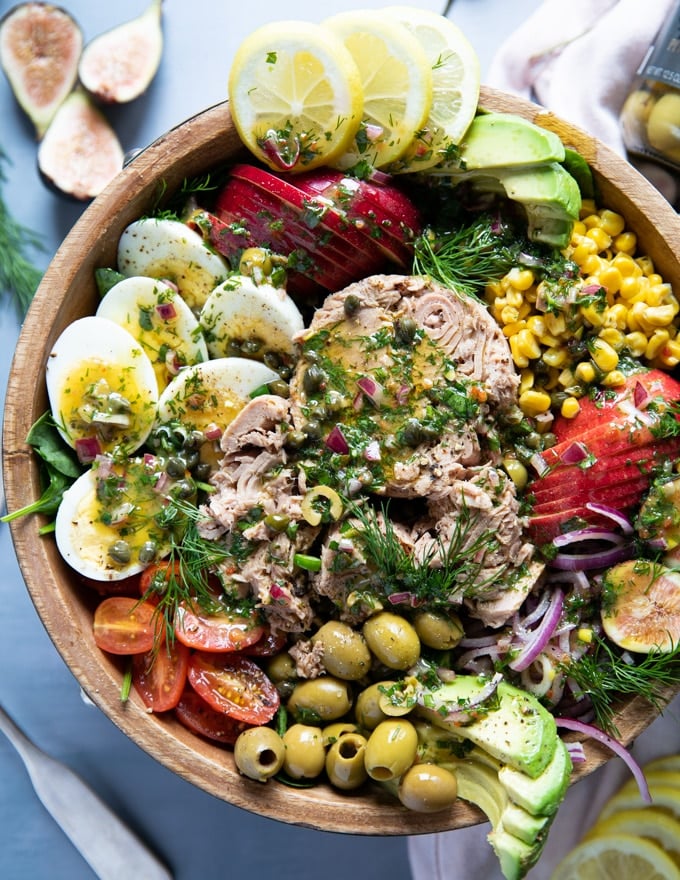 Today's bright and tasty salad is in partnership with my friends at Mina. Makers of authentic Moroccan products that elevate everyday recipes.
THIS TUNA SALAD RECIPE
Everyone, and I mean everyone has a favorite tuna salad. Today's recipe is not your average one, and it's out favorite for so many reasons!
While lots of people think of using yogurt instead of mayo in their salads, I prefer none. Believe me, you don't need them!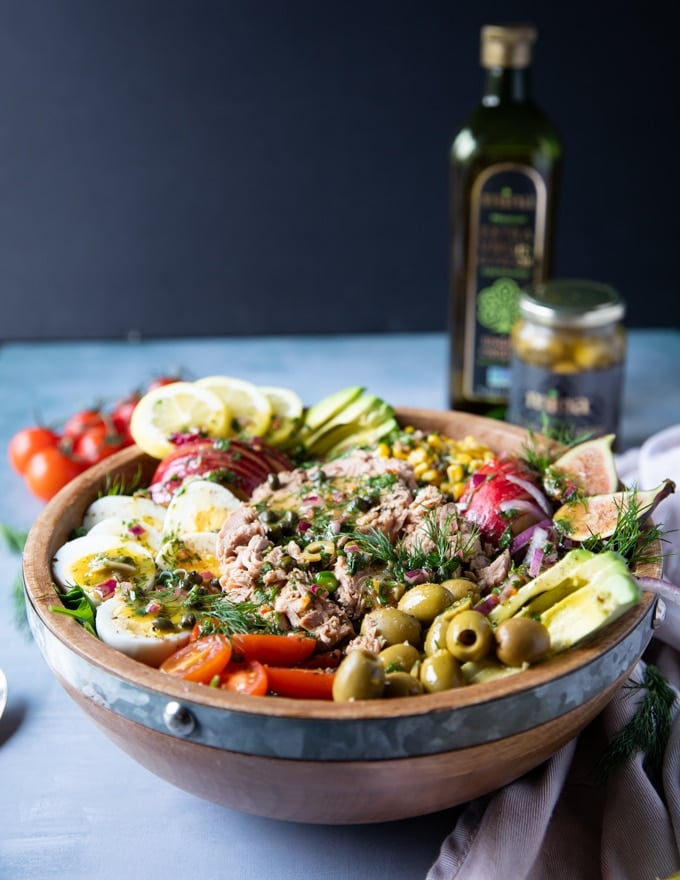 Why I love this Healthy Tuna Salad
It's not mushy!
The dressing is mayo free, and while I have nothing against mayo, I prefer tasting the tuna and salad over tasting a mayo tuna mush!
The salad is filling and you can use it as a full healthy meal.
You can totally personalize the ingredients and adapt it to your taste or whatever you have on hand.
The dressing is so unique— it's similar to a Greek dressing but loaded with minced olives.
I absolutely LOVE tasting olive oil when I use it. So I'm using my favorite Mina's Olive Oil here and I taste the richness of olive oil with every bite! Read more about why I absolutely love Moroccan Olive Oil in this post.
I also add in green olives to accentuate the flavor even more!
The salad is so bright and refreshing!
It's completely dairy free, so it feels light as air.
It can be made in advance so you can pack it for picnics and more.
You can turn it into a tuna sandwich too.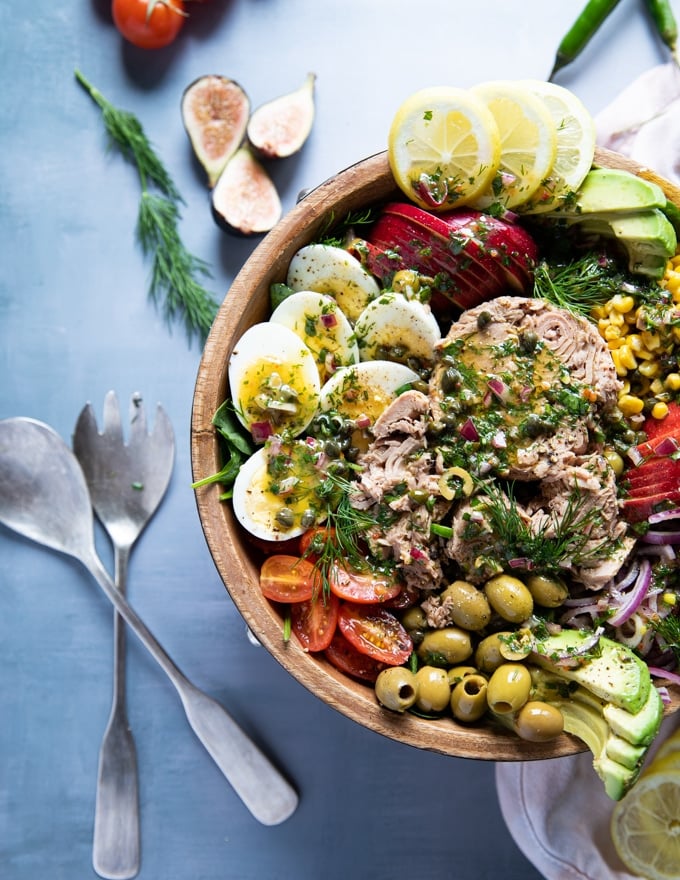 HOW TO MAKE TUNA SALAD
First of all you'll need to gather your ingredients. As you can see I used a bountiful of fresh veggies and fruits, but you can absolutely swap, add on or remove some of those.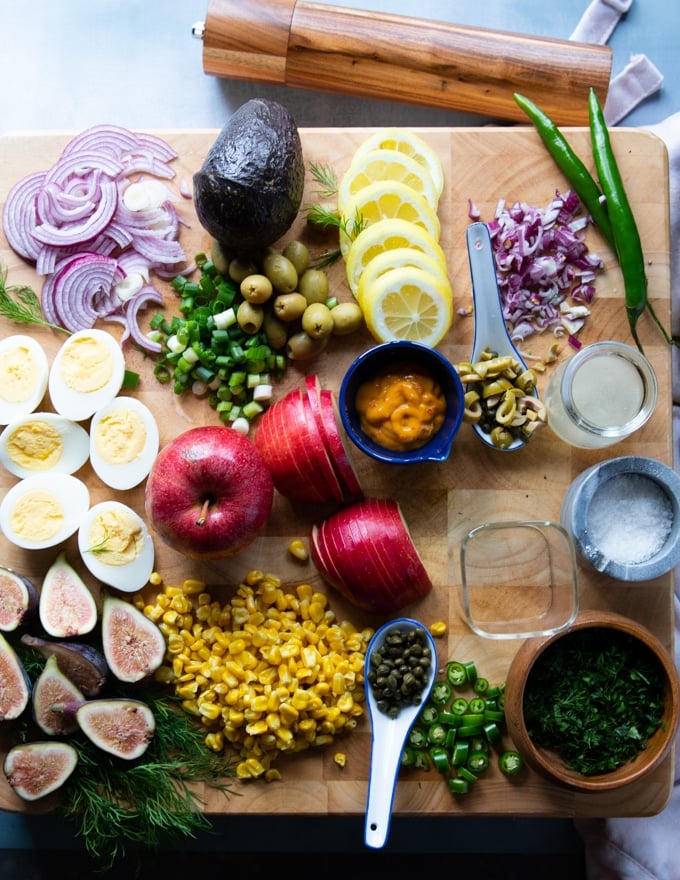 Tuna Salad Ingredients:
Greens (spinach, kale, arugula, lettuce or your favorite)
Avocado
Apples
Hard boiled eggs
Red onions
Mina Moroccan Green Olives (plus the brine)
Corn
Jalapeños
Tomatoes
Capers – I love these premium non-pareil capers from Mina. If you're wondering what non-pareil capers are, they're basically the smallest type of capers well known for their delicate texture and flavor.
Optional- Dill Pickles
After you've prepared the ingredients you'll need to get started by making the dressing.
OLIVE OIL DRESSING
The beauty of this tuna salad recipe dressing is that you can use it on other salads as well not just this one. It keeps in your fridge for up to 10 days.
This olive oil dressing is really about the olive oil.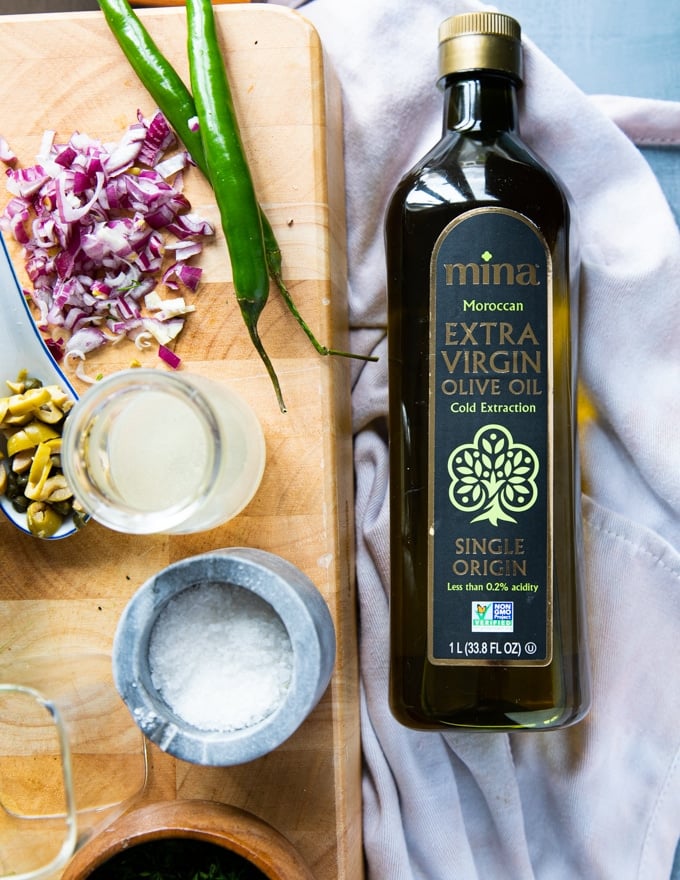 A few secret ingredients I love here and I certainly urge you not to swap them. First one is the Mina olive oil. Again it's all about quality olive oil for your dressing. You can read more about my love for it in the Olive Cake Recipe post.
It's a single origin and traceable olive oil that's loaded with the antioxidants and taste you need!
Plus you can get a great deal on amazon if you subscribe and save using this link.
Another is the olives, also from Mina. Authentic Moroccan green olives which come whole or pitted. I even use a tablespoon of the brine in my dressing instead of vinegar and it's a game changer for your dressing!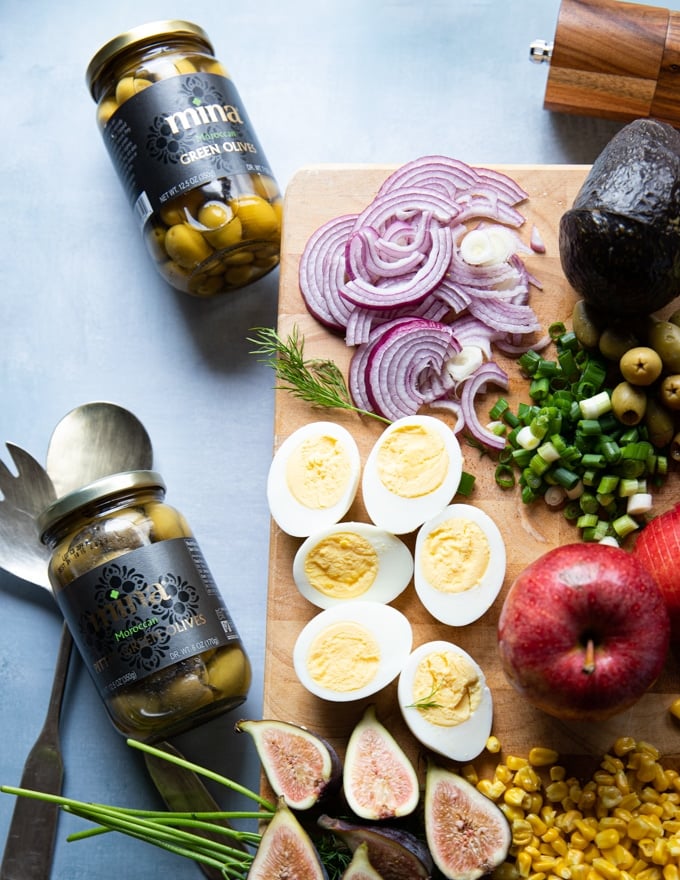 Herbs infuse the olive oil dressing with so much freshness and flavor, I especially love focusing on dill. However if you're not a fan of it, feel free to use extra parsley. And while we're on the dill subject, make sure to try this phenomenal Sweet Mustard Dill Sauce.
Mustard emulsifies the dressing, and I used a sweet and spicy honey Dijon. You can use regular Dijon or grainy mustard here, and add to that a tablespoon of honey.
Other bits of flavors that add up are the chopped onions, the capers, the lemon juice and of course the seasoning.
You'll beed a bowl and whisk and mix everything in until it's smooth and emulsified.
Store the olive oil dressing in air tight container for up to 5 days and use it on salads, sandwiches and more!
Another of my favorite salad dressings is this Greek Salad Dressing and this luscious crowd pleasing Blue Cheese Dressing.
Assemble the Tuna Salad
Probably my favorite tip here is to toss the greens, green onions and jalapeños with a little bit of dressing before loading up the remaining salad ingredients.
This adds so much flavor to the greens and you taste the dressing throughout!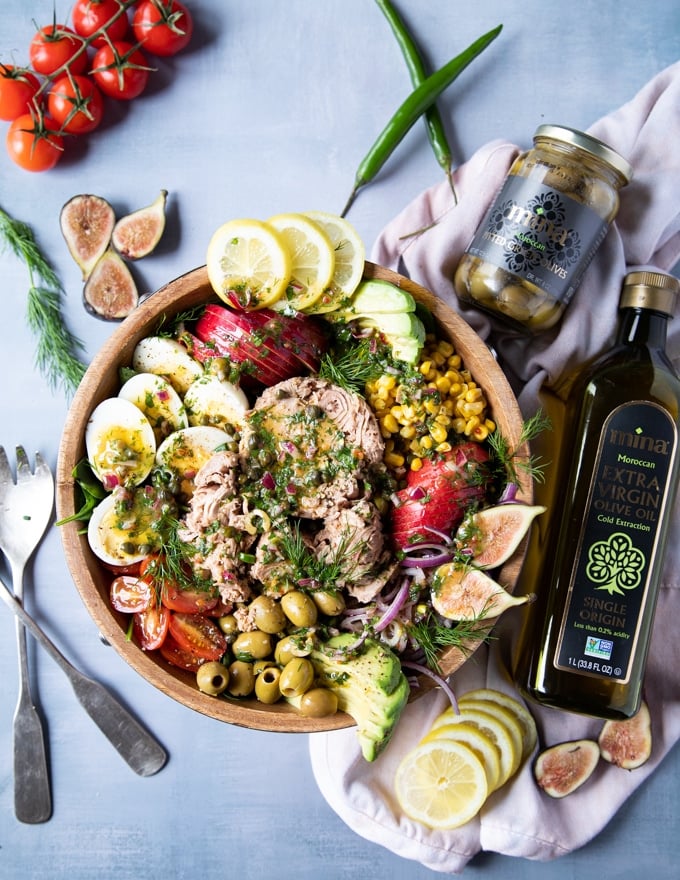 Then you'll load up the ingredients.
Drain your canned Albacore (whether it's tuna packed in water or oil). I love adding the tuna in chunks right at the center of my salad bowl.
Generously drizzle the salad dressing over the salad.
Serve it up and enjoy!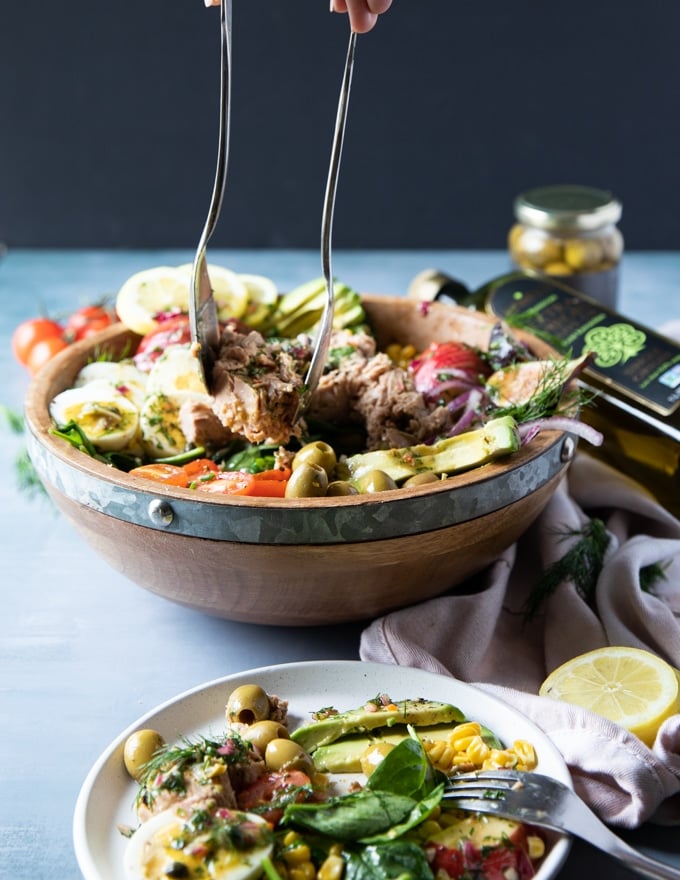 TIPS AND Q&A FOR TUNA SALAD
Prepare your ingredients (chops, slice, mince)
Make the dressing first and keep it in a jar in the fridge
Toss the greens and bottom layer of the salad with the dressing before assembling the remaining salad ingredients.
Drain the tuna before using.
To make this in advance or for meal prep: Assemble the salad bowl and dress it up before serving.
Use quality olive oil here since it's the bulk of the flavor along with the herbs. Get yourself some Mina olive oil which is the one I use.
Leftover Tuna Salad makes the best healthy lunches next day!
How long does tuna salad recipe last ?
This healthy tuna salad can last in the fridge anywhere between 3-5 days. This depends on the ingredients you're using. Tomatoes usually make it last less. Avoid watery ingredients to stretch out the salad to 5 days in the fridge.
Is Tuna Salad Healthy?
The Mayo loaded tuna salad is not my choice for healthy salad at all. This version is bright, tasty, satisfying and much healthier.
Can you Freeze Tuna Salad?
For this recipe, YES you can freeze the tuna fish drained out of the can drizzled with the dressing. We can't freeze the salad as it is with the fruits and veggies.
I don't however freezing since you can make this salad ahead of time and keep it in the fridge.
How to Make a Tuna Sandwich?
Turn this tuna salad recipe into a tuna sandwich simply by picking your favorite type of bread. Load the salad into the bread and wrap it up!
Give this Healthy Tuna salad recipe a try and you'll be forever hooked!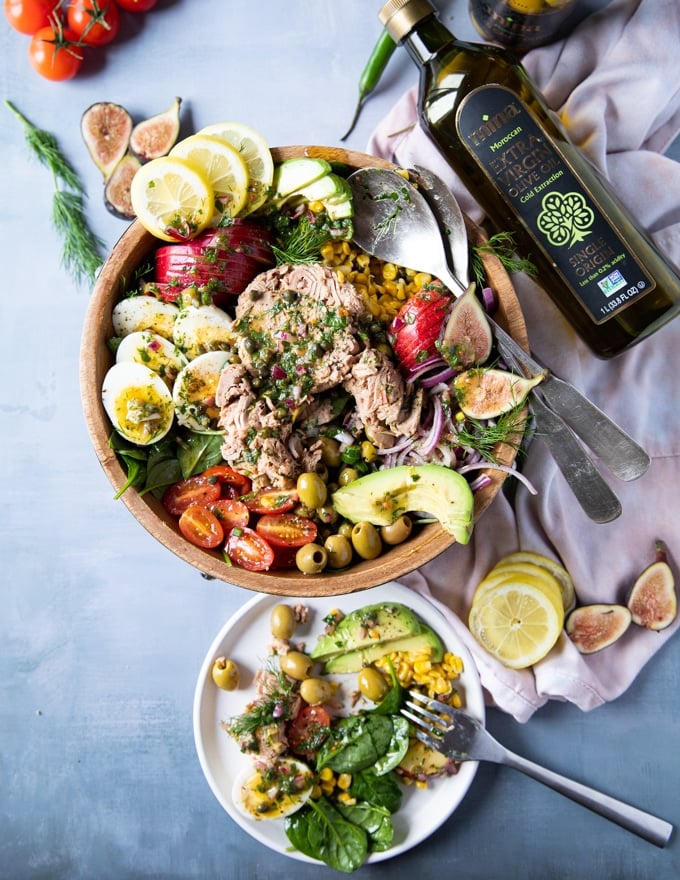 MORE OLIVE OIL RECIPES
Labneh Dip with Zaatar Pistachio Mint Olive Topping
Baked Salmon With Greek Dressing
Grilled Lamb Chops with Black Olive Herb Butter
Mini Zesty Feta Stuffed Peppers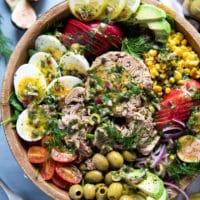 Tuna Salad Recipe with Olive Oil Dressing
This Ultimate Tuna Salad with Olive Dressing comes together in 15 minutes and will change your attitude towards canned tuna forever! An easy, healthy yet satisfying salad recipe, indefinitely adaptable and perfect for all seasons!
Ingredients
For the salad:
3

cups

spinach

(or mixed greens)

2

small apples

, cored and thinly sliced

1-2

avocados

, thinly sliced

a handful of halved cherry tomatoes

, about 1 cup

1

small

red onion

, thinly sliced

1 1/4

cup

cooked corn

(or canned)

2/3

cup

green olives

3

hard boiled eggs

2

tablespoons

capers
Sauce Ingredients:
1/4

cup

minced red onions

2

scallions

, minced

1/4

cup

minced green onions

(any type, but the olives packed in chilli is best)

3

Tablespoons

grainy honey mustard

( or grainy mustard and 1 tablespoon of honey)

1

tablespoons

minced capers

1

jalapeno

, minced

1

large

lemon

(or 2 small ones)

1/4

cup

finely minced herbs

( a mixture of cilantro, parsley and mostly dill)

2/3

cup

extra virgin olive oil

(flavored olive oil works too)

1/4

teaspoon

salt

1/4

teaspoon

pepper

2 - 3

cans of tuna

, drained if applicable and left whole as is
Instructions
Prepare your salad ingredient and place them in a large bowl.

In another bowl, mix all the sauce ingredients until smooth. Taste and adjust the seasoning.

Take 2 tablespoons of the sauce and drizzle of the chunks of tuna and set aside.

Take another 3 Tablespoons of sauce (more or less to taste) and toss it with the salad ingredients.

Arrange the salad ingredients on the plate, I've clumped each ingredient separately with the greens at the bottom of the bowl.

Then top the tuna over the salad and drizzle more sauce on top. Serve the salad and enjoy 🙂
Recipe Video
Recipe Notes
Drain the tuna and drizzle it with a bit of olive dressing to make it extra flavorsome!
A couple of tablespoons of capers on top of the sliced boiled eggs take them to the next level.
For meal prep, chop all the ingredients, mix the tuna with some dressing and store everything in the fridge until ready to assemble
Nutrition Facts
Tuna Salad Recipe with Olive Oil Dressing
Amount Per Serving
Calories 808
Calories from Fat 486
% Daily Value*
Fat 54g83%
Cholesterol 216mg72%
Sodium 1388mg60%
Potassium 1163mg33%
Carbohydrates 37g12%
Protein 51g102%
Vitamin A 2947IU59%
Vitamin C 42mg51%
Calcium 137mg14%
Iron 6mg33%
* Percent Daily Values are based on a 2000 calorie diet.