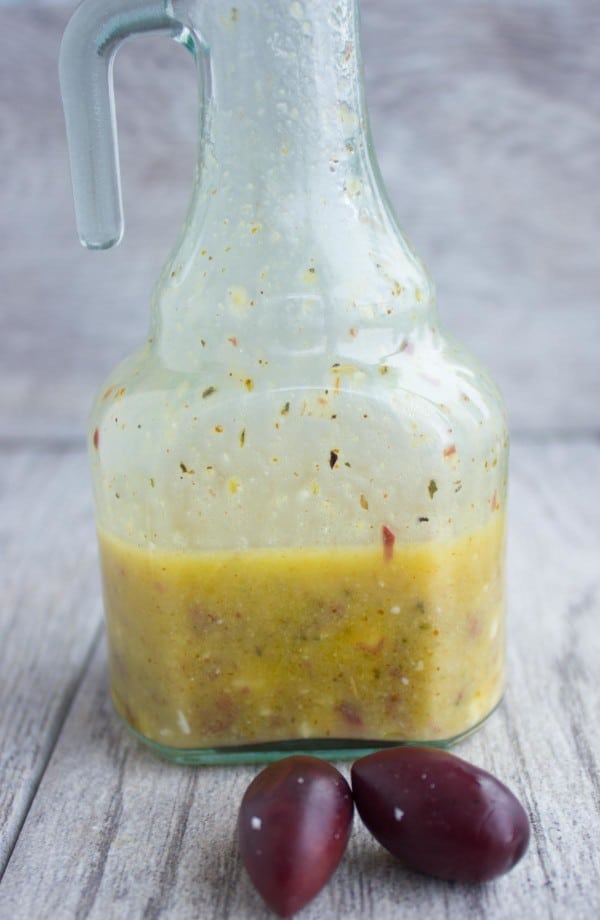 This honey Greek salad dressing recipe perfectly garlicky, tangy, bursting with oregano and sweetly balanced with honey. Drizzle it on my favorite healthy kale Greek salad or use it as a sauce or marinade for fish and chicken. Prepared and ready in 3 minutes, keep it in your fridge for 1 month and enjoy! This recipe will make you never buy ready made dressing again! 
I know I know, who makes salad dressings when they're everywhere and are affordable??? Well, I will say this, not all salad dressings are made the same, taste the same or even "are" the same! And while you may be thinking it's ok I don't mind my store bought dressing, I will say another thing : Try this recipe once and it will change your mind!
All you need is any container that has a lid : class jar or plastic box, anything. You add all the ingredients to the container, then firmly place the lid on and seal the container. Then shake shake shake for a few seconds until the dressing is emulsified and ready! taste the seasoning and use in many many ways..
Drizzle it on my healthy kale Greek salad, or use it as a sauce on grilled or roasted fish, chicken or meat. Add extra garlic and lemon juice to it and use it as a marinade, add some sour cream or mayonnaise and turn it into a creamy dressing or sauce or spread it on your favourite sandwich, or add it to cream cheese and transform it into a dip..the possibilities are endless. And it all starts with 3 minutes in the kitchen, double or triple this recipe and keep it in the fridge for a month. Just shake it again every time you use it.
I love the addition of honey to this dressing, it makes it unique and it really balances out the garlic, oregano, feta and lemon juice. Enjoy!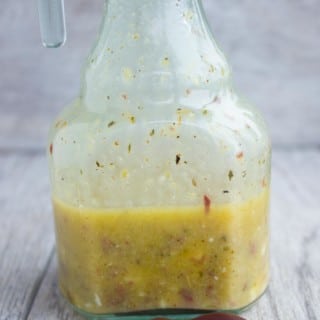 Honey Greek Salad Dressing
Ingredients
1

large clove of garlic

2

tablespoons

of dijon mustard

2

tablespoons

of honey

1

teaspoon

of dried oregano leaves

1

teaspoon

of fresh oregano leaves

2

tablespoon

of lemon juice

2

tablespoons

of white balsamic vinegar

1/3

cup

of extra virgin olive oil

1/4

teaspoon

of salt

pinch of black pepper

2

tablespoons

of crumbled feta cheese

1

tablespoon

of minced Kalamata olives
Instructions
Place all the ingredients in a container that has a lid. Seal the container tightly with the lid and shake the dressing vigorously for a few seconds until it emulsifies and becomes homogenous.

Serve, or store in the fridge for up to a month. Shake well each time you use it.