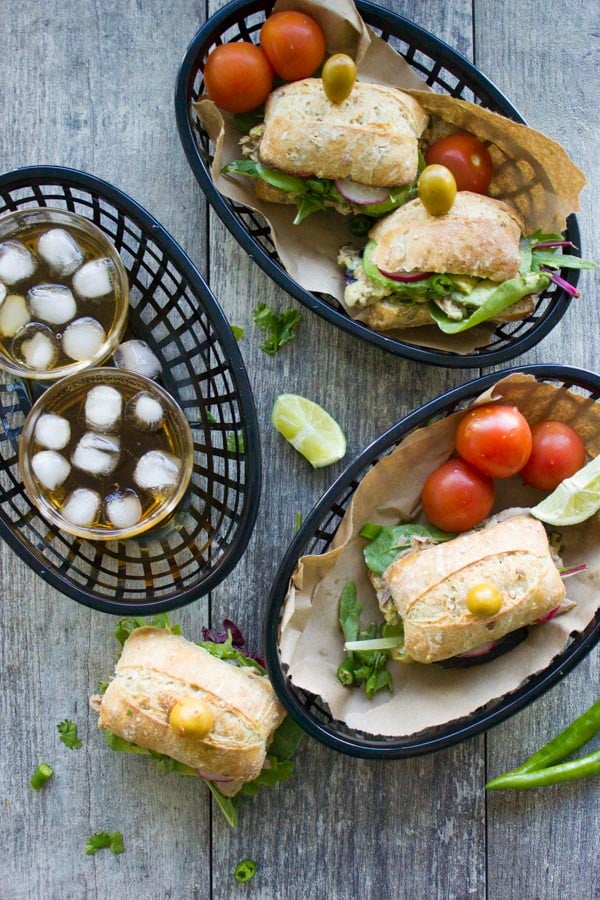 This is my absolute favorite Spicy Chunky Tuna Sandwich recipe. I know everyone has one probably, but try this ultimate version and you could change your mind! Nice crusty bread rolls, plenty of fresh herbs in a zesty spicy sauce that coats the tuna—no mayo required! And now all you need is a mix of smooth avocado, crunchy radishes, greens, jalapeños and your favorite toppings to turn the tuna into a super tuna sandwich.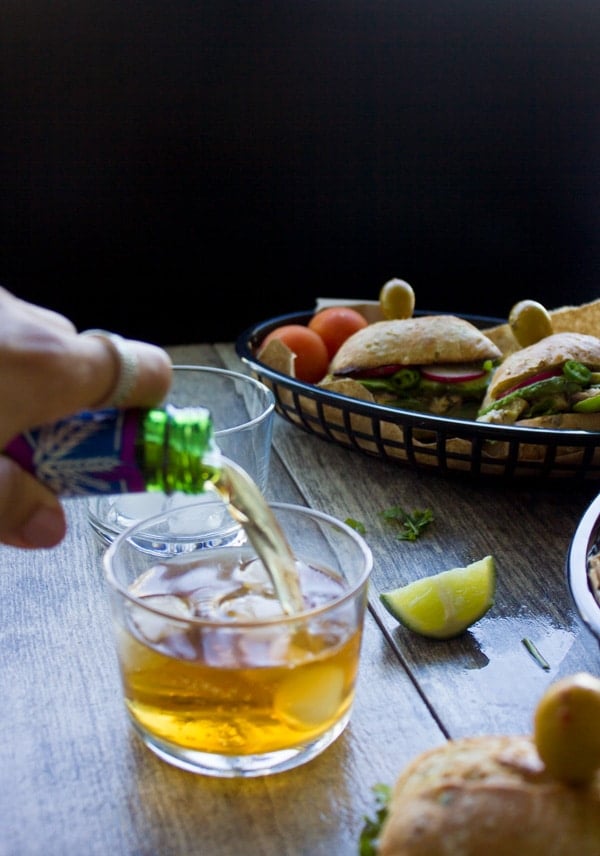 Before you turn away if you're a tuna mayo loving person—because my husband was too..and now he picks this tuna sandwich over all others..so please keep reading dear Reader 🙂 Just a little history—I never appreciated tuna, ever. As I grew to appreciate food more and more, I wanted to dig more into it—specially after I met my husband. He was CRAZY about tuna sandwiches. So after much digging, I realized two things made me run away from tuna sandwiches—the excessive mayo which made me taste nothing but mayo, and the mush texture of tuna mayo paste.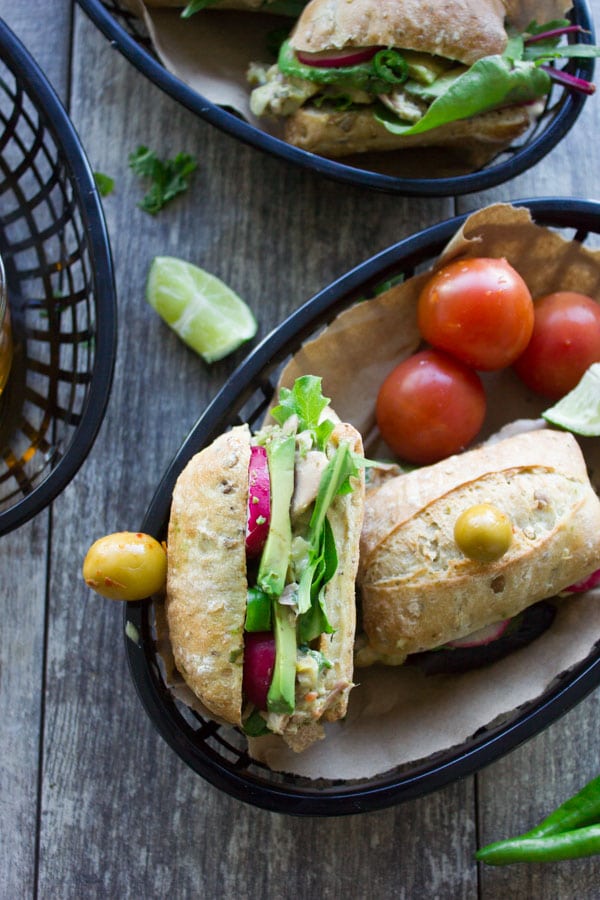 Ok so I worked my way around avoiding those two things, and I'll tell you it wasn't easy! Tried many many sandwiches, don't even know how I managed to go through some of them..all while watching hubby enjoy them. I mean let's face it, I was young and loved the feeling of having so much in common with my husband lol And as silly as it sounds, it was the blunt truth which had me force myself to tuna, tuna salads and tuna sandwiches!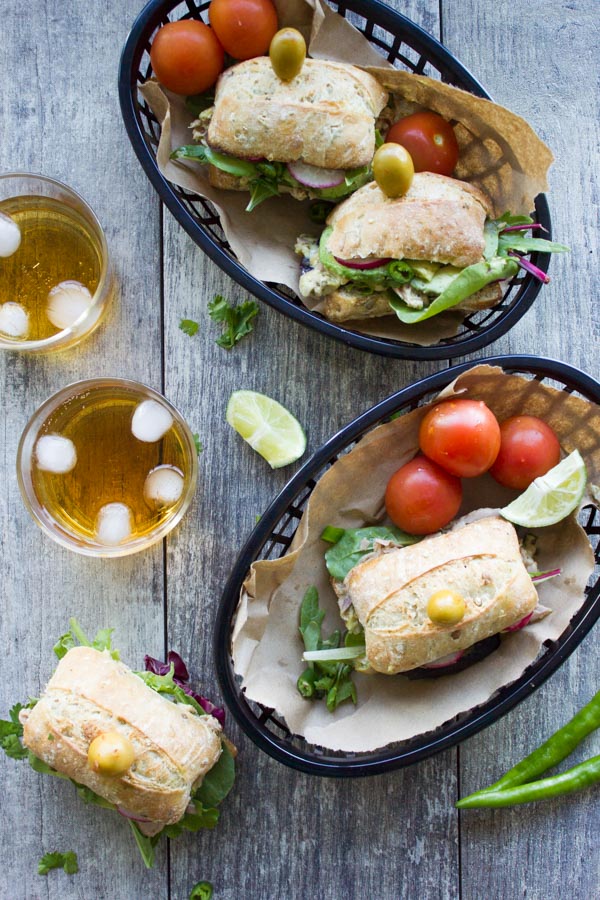 Now I'm actually a REAL tuna lover and I'm going to start showing off this love as I write more about this amazing sandwich. Not that I don't do mayo, but for tuna I tend to stay away from mayo in the mix, but it still finds its' way to the sandwich so don't worry. I love making a nice spicy and zesty sauce in a large bowl, then I flake the tuna into this sauce and gently mix it to coat only. I don't mash or mix the tuna too much because I really love my tuna in chunks.
When it comes to this sauce, I'll tell you how I love to flavor it..but you can use your favorite stuff and change things around. For example, I love having scallions or shallots here as a base for the sauce, no garlic whatsoever. And here's where you can easily accommodate this tuns sandwich to your taste if you're an extreme garlic person.


So on top of those scallions, I add plenty of mustard (honey mustard works beautifully here too to counter balance the spice) and some chopped jalapeños, plenty of chopped cilantro and parsley. And my favorite thing here, I add plenty of chopped spicy pitted green olives. I love the tuna/olive combo, they perfectly compliment each other.
When it comes to the sandwich building itself. I love a spread of mayo—ha! I told you mayo will somehow make a comeback and it did. So a nice spread of mayo on both sides of the sandwich is my way to go. Then I layer up some fresh salad greens ( you can use kale, spinach only or just lettuce), I also love avocados here. Truth be told I love avocados in general, and with sandwiches they add the perfect smooth feel to any texture. Then I layer some crunchy radishes, more jalapeño slices and more shallots (if you like that).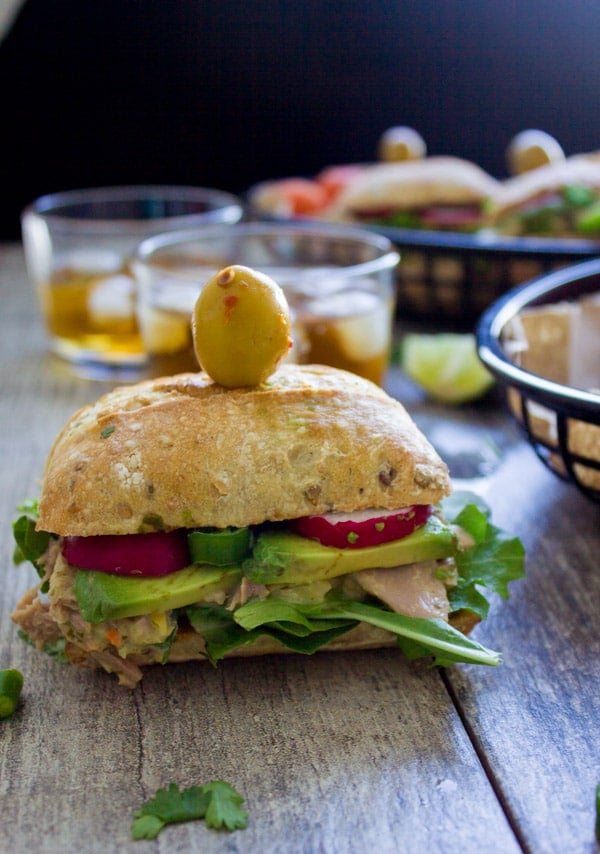 I don't blame you if you're thinking you need some sliced tomatoes and cucumbers for the sandwich, I'm just like that. But out of experience, maybe bitter experience, I stopped. They get very soggy and lose their fabulous taste and textures if the sandwich isn't eaten right away. So that's why I prefer the build up I made today—the mayo layer tends to prevent much of the tuna and liquid to reach the bread fast, and to start with I used a nice crusty roll. Then I protect the bottom piece of the bread even more with some salad greens, I layer the tuna mixture over that and top it with avocados and radishes. The toppings prevent the top crust form getting soggy too (along with the extra mayo spread).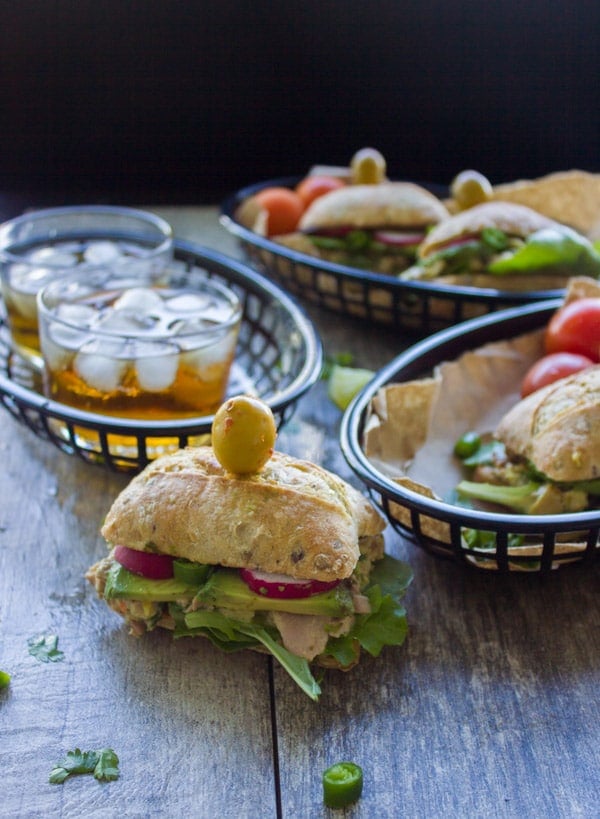 Again I will stress this is my favorite tuna sandwich, with my favorite sauce and fixings..try it as is I promise it's crazy delicious! And you can always twist things around to your taste, and I know it'll be just as awesome! Enjoy!!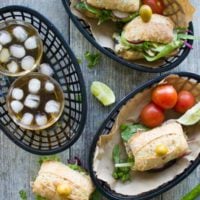 Spicy Chunky Tuna Sandwich
Ingredients
6

crusty bread loaves

, toasted

2

Tablespoons

of Mayo

2

cans of chunky tuna

, canned

Sauce:

3

Tablespoons

of spicy grainy mustard

(honey mustard, or your favorite)

1

tablespoon

of honey

3

scallions chopped

( or 1 shallot)

Juice of 1 lemon

1/2

jalapeno minced

(more or less to taste)

3

Tablespoons

of chopped pitted green olives

1/4

cup

of chopped herbs

(mix of Parsley and Cilantro)

1/8

teaspoon

of salt

1/4

teaspoon

of pepper

pinch of red pepper flakes

2

Tablespoons

of olive oil

Toppings

handful of salad greens

(spinach or kale)

1

large avocado thinly sliced

thinly sliced radishes

thinly sliced onions

sliced jalapeños
Instructions
Spread the mayo over the toasted crusty bread on both sides of each sandwich.

In a large bowl, mix the sauce ingredients well. Taste and adjust spice, salt, sweetness if you like.

Drain the canned tuna from oil or water and add it to the sauce bowl.

Using a fork, gently break up the tuna into large chunks and using a spoon gently fold over the sauce over the tuna.

Assemble the sandwiches by layering a good amount of salad greens, followed by tuna chunks, followed by jalapeños, followed by radishes and more jalapeños. place the bread top and make the sandwich.

Top the sandwich with a piece of green olive skewered on a toothpick in the centre of each sandwich.