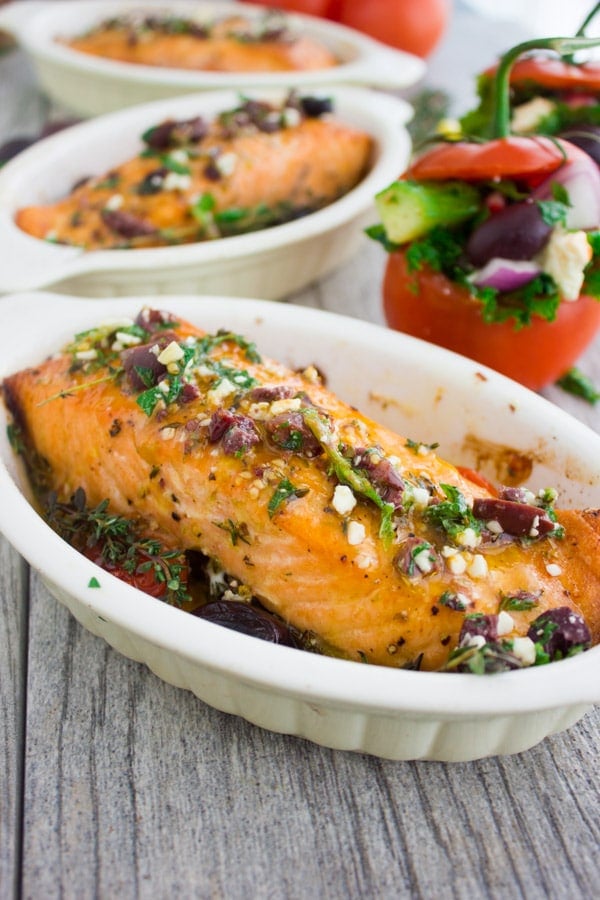 This Baked Salmon with Greek Dressing recipe is all about the flavors, freshness, convenience and gourmet! Succulent baked salmon fillets with no marinades or fuss,  and drizzled with a honey Greek dressing that's loaded with feta, herbs and olives to brighten up the salmon! Served with a kale Greek salad stuffed in tomato shells for a deceivingly fancy Mediterranean style salmon dinner you will devour!
This is such a special recipe. Not only because it tastes AMAZING and simple to make–but also because it's a guaranteed crowd pleaser! And I say that from experience. There's nothing on the ingredient list that a picker eater can bad mouth! There's no flavor that stands out as unusual–rather a smooth melody of all the "usual" flavors combined.
When it comes to convenience, ease and speed–leave it to this baked salmon recipe to impress! One pan, all ingredients go in together and it bakes in the oven. 20 minutes later, you're all good to go with a drizzle of the BEST honey Greek salad dressing. What I love about this technique–drizzling the flavor over the already cooked fish, is that it gets absorbed so deep into the fish. The hot fish allows the dressing to permeate in and become fully infused–so you taste a bit of garlic, lemon, oregano, mint, feta, olives and olive oil with EVERY single BITE of salmon!




On a bit off topic note–this recipe is super special to me, it reminds me of my first ever cooking class about 7 years ago! My interview was possibly the worst on earth. My newborn was sick, I had to leave her and meet the head of the cooking school, I could only think of my baby. The cooking school felt I was qualified but probably hesitated because of my awful interview lol non the less I was given a trial cooking class. That day, I was so nervous I think I was going to faint lol And I looked at everyone who came to my cooking class and kept wondering what they thought of me, how I compared to other culinary instructors, if they will like my cooking style and food..etc.. But when I started talking and working on this fabulous baked salmon recipe with them, I gradually forgot all that.
It's like the passion came out, the excitement, the energy. Trying to teach everyone how simple it is to make a fancy seafood dinner like this and how to infuse all the fabulous flavors in a fish with minimal efforts..I suddenly felt they were the sweetest bunch and didnt care how I compared to anyone. I couldn't wait until they all tasted the food and share what they thought. Honestly, this recipe was deemed a WINNER, and I was given the OK to continue at the cooking school–which I still run cooking classes at today.. 🙂




Let's talk for a second about the fancy looking salad in tomato cups. The photos above will best show you how simple they're done. So simply slice off the top of the tomato, run a knife around the tomato ligaments inside. Then use a small metal (sturdy) spoon and scoop out the flesh. It will resist a little bit at the bottom of the tomato where the ligaments are still attached to the base, so just use your spoon to disconnect that and scoop out the flesh. In a separate bowl, prepare your Healthy Kale Greek Salad and Honey Greek Salad Dressing with 2 tablespoons extra of fresh chooped mint added in. Then scoop in about 1/4 cup of the dressed up salad into the shallowed tomato and put the cap over the top. This is just a sweet way of serving salads I find it works fabulously in parties or just everyday dinners. It feels personalized. You can make plenty of variations here–like this blackberry pecan roast veggie power salad stuffed in an apple! Or this Mexican style lentil detox salad stuffed in tomatoes.
Serve this easy roast salmon with the salad for the lightest possible dinner option, or with a light quick pasta like this 10 min Greek cheese tortellini, a simple rice side dish, loaf of crunchy bread to mop up the juices, or maybe these best herb roast potatoes? anywhich way you chose to serve them, you will enjoy them 🙂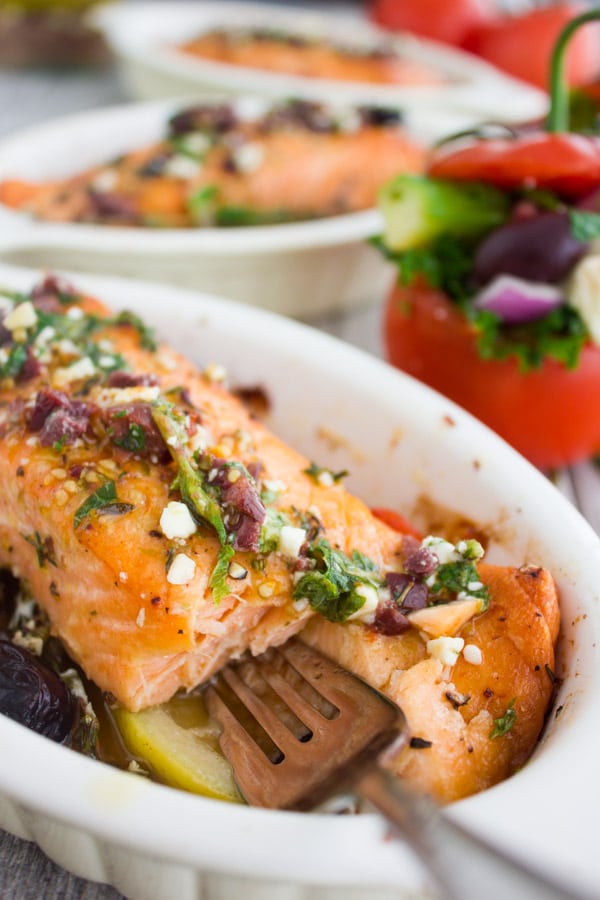 Baked Salmon With Greek Dressing
Ingredients
4

fillets of salmon

(skin removed optional)

1

teaspoon

of plive oil

1/4

teaspoon

of salt

1/2

teaspoon

of pepper

1

lemon sliced

2

garlic cloves sliced

8

sprigs of fresh theyme or 1 teaspoon of dried thyme

Honey Greek Salad Dressing

Healthy Kale Greek salad

4

tomates on the vine
Instructions
Preheat the oven to 475 degrees F.

Season the salmon fillets with salt, pepper and olive oil.

In a an oven safe ramekin or dish, place a teaspoon of plive oil, top it with lemon slices, garlic slices and fresh theyme sprigs.

Place the salmon fillets on top.

Scatter some tomatoes and olives if you're using.

Place the ramekins o a baking sheet and bake for 15-20 mins (depending on the size of your fillets). Until the fish is firm to the touch when pressed in the center.

Take out the fish and while it's still piping jot, drizzle 1-2 tablespoons of Honey Greek salad dressing over the top of each fillet ( to taste).

Serve with the tomato salad