Succulent, tender and absolutely flavor packed—these Grilled Lamb Chops with Black Olive Herb Butter are a must try this BBQ season! The minute the lamb chops hit the grill, all the flavors burst out and just a few minutes later they're ready! This is the type of recipe that's easy, quick and festive on any platter paired with bread, greens and salad. Summer Entertaining at its' BEST! 🙂
I'm so excited for today's recipe and I'm honoured to partner with the American Lamb Board to share all the lamb LOVE! 🙂 I grew up with plenty of lamb goodness and that distinct beautiful flavor is absolute comfort for me! But aside from all the deliciousness, lamb is very nutritious, packed with protein, vitamins and omega-3. When buying lamb, always always reach for American lamb. It's SO MUCH fresher than any other type of lamb, it's meatier, nutritious and has a sweet rich taste 🙂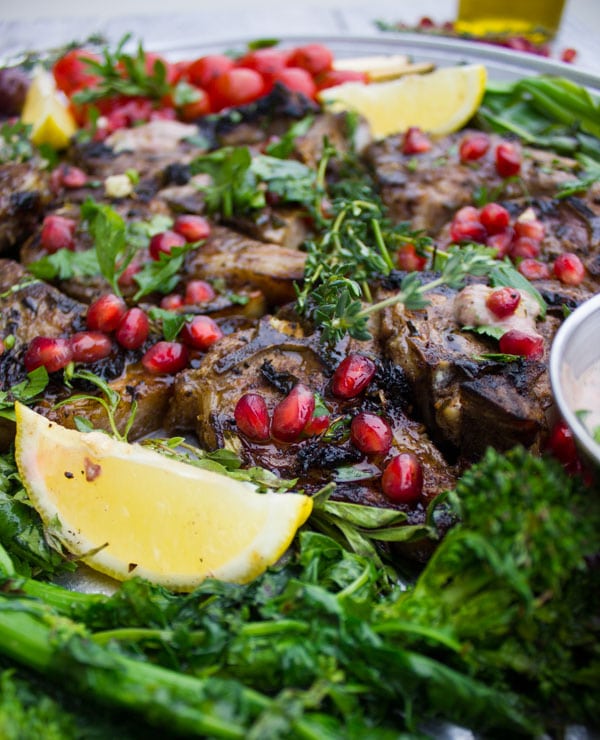 Often times at large grocery stores if I'm unsure I'll ask the butcher and he'll show me. I also recently looked at the lamb locator and found a small butcher shop in MI which only sells American lamb. It's become my favorite place! I call the butcher and tell him exactly which cut I want, the amount I need and he'll have it all ready for pick up 🙂 I love supporting small businesses like that, and by buying American lamb you'll not only get the best quality lamb you'll also be supporting the many family farmers and ranchers nationwide!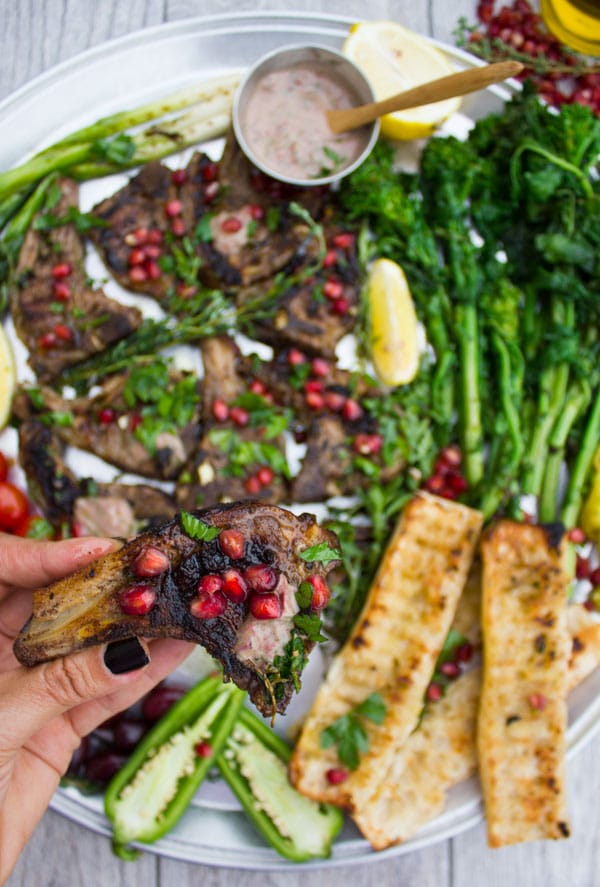 Now let's talk grilled lamb chops! They're probably one of the most popular cuts of lamb. I love lamb chops for many reasons, first of all, they're very flavorful since they're surrounded by a piece of bone ( from the spine and ribs). Also, they're marbled in a way that most of the fat is on the outside which makes it easy for you to control how much fat you keep on each lamb chop. Another thing I love about lamb chops is how perfectly portioned they are, they look almost like a lollipop with a piece of succulent lamb attached. And finally, they cook so beautifully fast! On the grill, stove, oven, however you cook them, they're super speedy!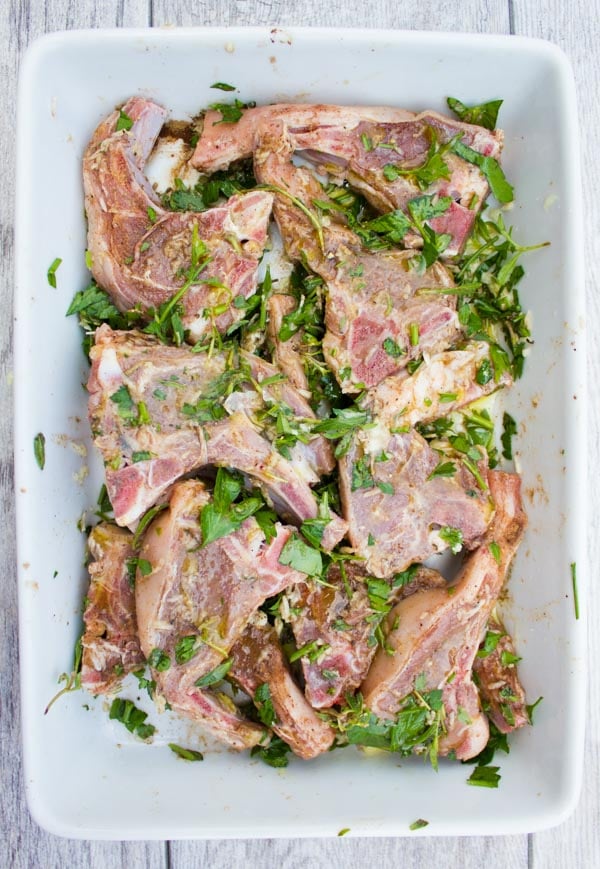 When it comes to marinades and spices, those grilled lamb chops don't need much because of the black olive herb butter I add to them once they're cooked. I use and teach this technique a lot in my cooking classes and it's perfect for busy days of fresh summer dinner days. Basically, a fragrant mixture (flavored butter, sauce, dressing, salsa..etc) is drizzled over the fully cooked meat when it's still hot. Since the cooked meat is still hot, it absorbs SO MUCH of the flavors you add to it at that point. So for today's grilled lamb chops, right after they come off the grill and while they're piping hot, I drizzle a few of them with a mixture of butter, black olives, fresh oregano, fresh parsley, salt, pepper and lemon juice.
All those flavors get infused beautifully into my grilled lamb chops along with plenty of juicy goodness!! I strongly urge you to try this amazing way of flavoring your lamb rather than waiting for hours of marinades. Before grilling, I love tossing the lamb chops with garlic, lemon juice, herbs and olive oil then immediately grill the chops. Depending on the doneness you prefer for the chops, they should take 4-6 minutes per side at most. Seems like everyone I know prefers a medium done grilled lamb chop, so it's 5 mins per side 🙂   
Before I let you go with this succulent grilled lamb chops recipe, don't forget to check those Best Lamb Burgers Loaded with Nachos! I promise you'll LOVE it and it's a perfect way to get started on the LAMB LOVE 🙂 🙂 Plus have a look at this authentic Turkish Pizza Lahmacun for a seriously delicious twist on pizza and this Ultimate Lamb Kabab Platter for a treat like no other! 🙂 I can't encourage you enough to give lamb a chance, the more you try it, the more you'll fall in LOVE with it! And eventually you'll swap it for beef in most of your recipes 🙂 Enjoy what's left of the Summer!!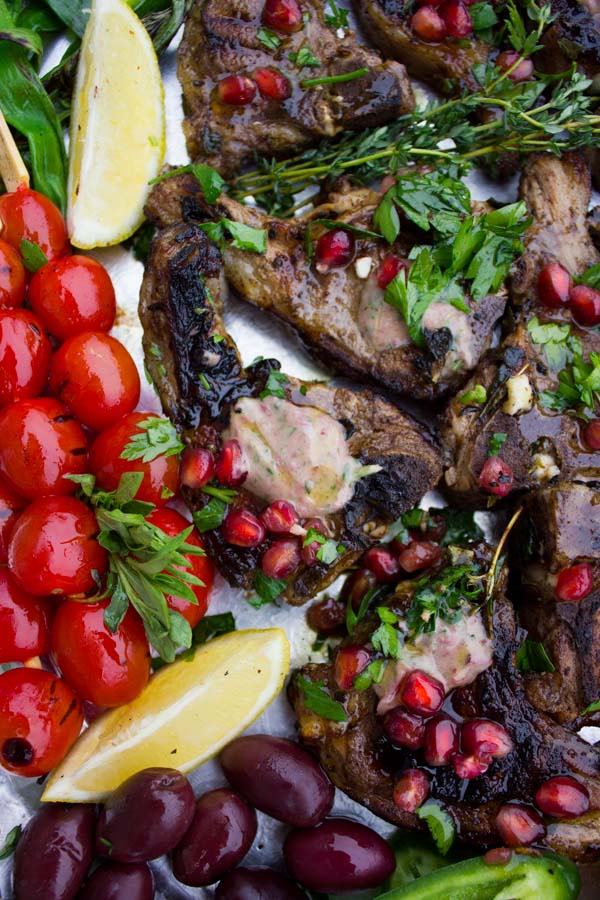 Grilled Lamb Chops with Black Olive Herb Butter
Succulent, tender and absolutely flavor packed—these Grilled Lamb Chops with Black Olive Herb Butter are a must try this BBQ season! The minute the lamb chops hit the grill, all the flavors burst out and just a few minutes later they're ready! This is the type of recipe that's easy, quick and festive on any platter paired with bread, greens and salad. Summer Entertaining at its' BEST! 🙂
Ingredients
Lamb Chops:
15

pieces

of lamb chops

6

large garlic cloves

minced

juice of 2 lemons

1

cup

of minced mixed fresh herbs

1/4

cup

of olive oil

1

teaspoon

of salt

1

tablespoon

of freshly cracked pepper

1

teaspoon

of ground nutmeg
Black Olive Herb Butter:
4

Tablespoons

of unsalted butter

room temperature

1/4

cup

of pitted Kalamata Olives

1/4

cup

of Mixed minced fresh herbs

oregano, basil, parsley and mint

Juice of half a lemon
Grilled Rapini, Grilled Skewered Tomatoes, Grilled Baguette Sticks:
1

bunch of rapini

trimmed

2

pints

of grape tomatoes

skewered on bamboo sticks

1

baguette

cut up into an inch thick sticks—about 4 inches tall

1

teaspoon

of salt

1

tablespoon

of olive oil
Instructions
Preheat your grill to medium high. In a large plate add the lamb chops with all the remaining ingredients and toss well.

Begin grilling the lamb chops for 5 minutes on each side, keeping the grill on medium high and closing the lid halfway through grilling.

Grill for a minutes less or more depending on how you prefer the lamb chops to be done.

In the meantime, for the herb butter, process all ingredients in a food processor until smooth.

For the grilled veggies and bread, season them with salt, pepper and olive oil. And grill them for a minute or two per side at most.

As soon as the grilled lamb chops are ready and hot off the grill, immediately drop half a teaspoon (more or less) of olive butter on the lamb chop and let it melt!

Serve the lamb chops alongside extra olive butter, grilled veggies and bread and lemon slices. Enjoy 🙂