This sweet Mustard & Dill Sauce is perfectly sweet, slightly tangy, very dill-y, super easy and extremely versatile. Use it on your salads, veggies, chicken, and it's the best Dill Sauce for Salmon!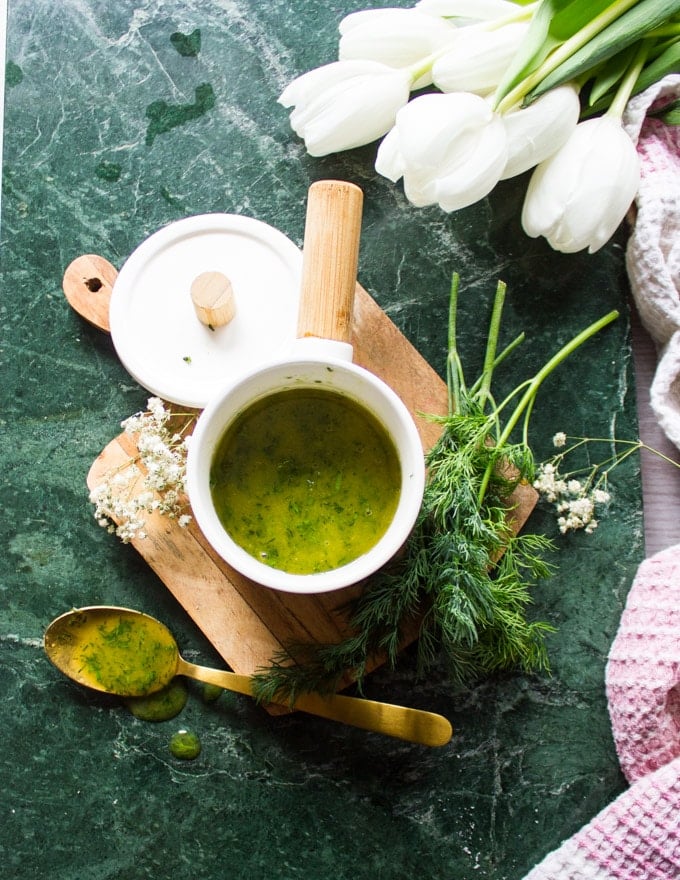 All it takes is 5 minutes and keeps in your fridge for 4-6 weeks!
I love Mustard Sauce and Dill Sauces. This one is a combo with honey and white balsamic vinegar, studded with fresh dill for a boost of flavor and freshness!
DILL SAUCE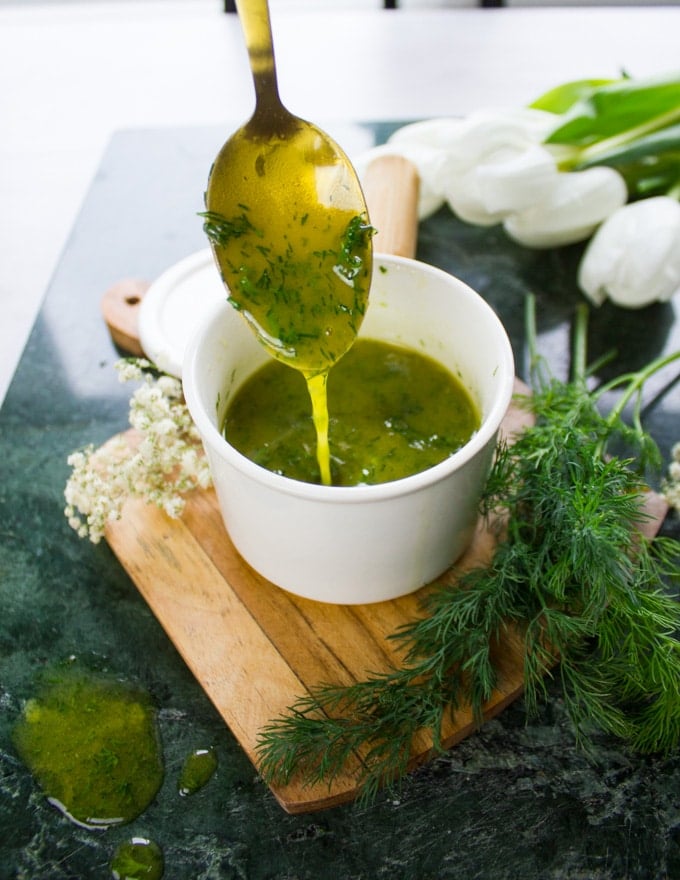 You've probably had a few dill sauces. Some very tangy, others very sweet, very dill-y, other times just a touch of dill, very mustardy while other times just a hint of mustard, very thick or quite runny. So I can tell you, this one is super balanced.
What Is Dill Sauce Made Of?
First of all, the dill. Fresh chopped dill is ideal, however I've made it using dried dill and it was still super tasty.
The Mustard. You can use here honey mustard, Dijon mustard, Grainy mustard, Spicy mustard or whichever you prefer. Mustard is not only used here for flavor, it's actually used to emulsify the sauce and bind ingredients together.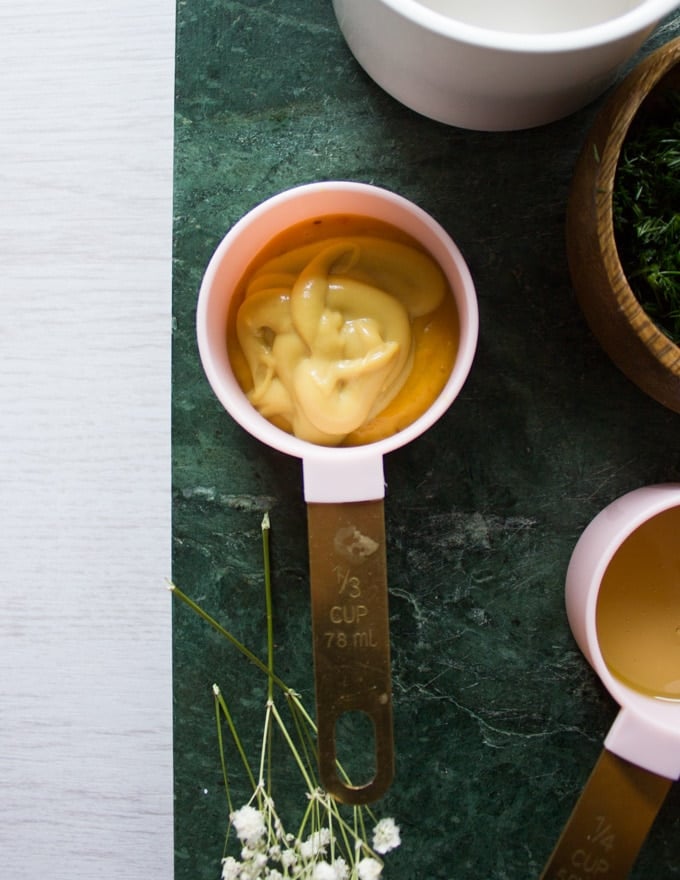 The Vinegar. I love using White Balsamic Vinegar, however any type of light vinegar works just as well. So think apple cider, white wine vinegar, etc.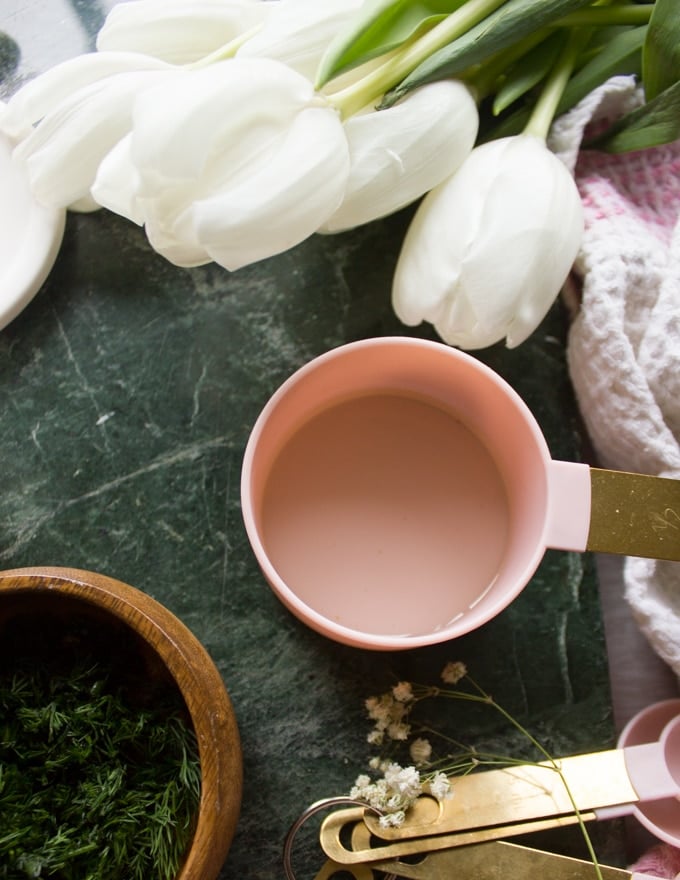 The Honey. It's the perfect touch of sweetness to balance out the mustard and vinegar. Honey also thickens up the sauce.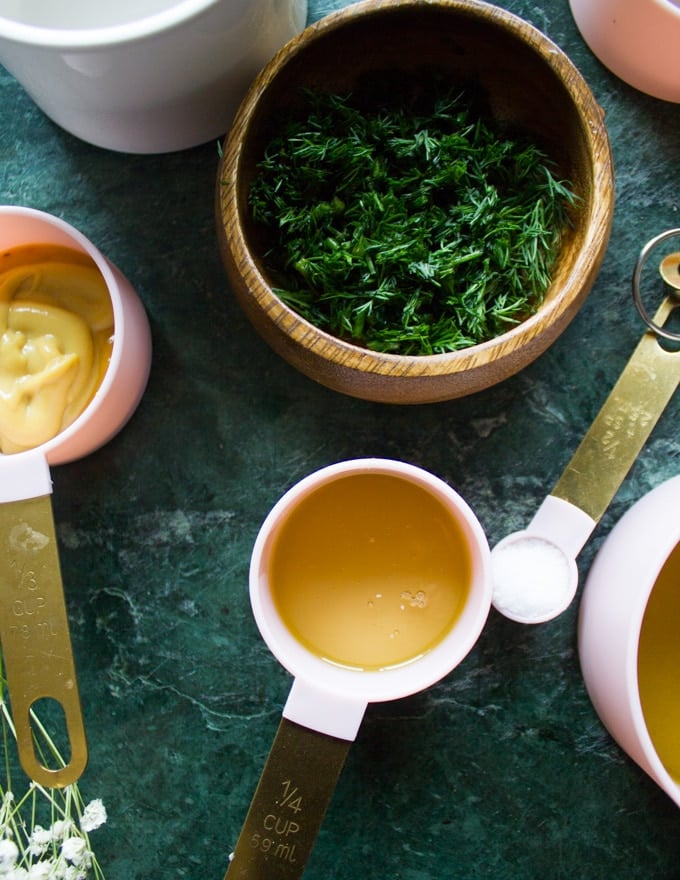 Olive Oil. I used extra virgin olive oil because it's loaded with flavor, and also, oil helps the sauce emulsify and binds the sauce together.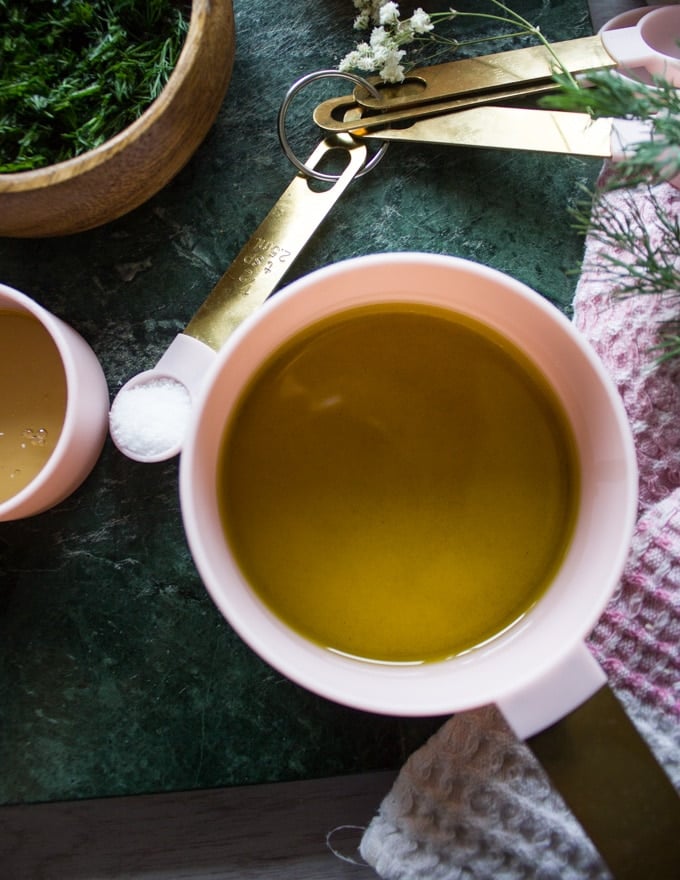 Salt. It brings out all the flavors and seasons the sauce. Use Kosher, Mediterranean or pink Himalayan salt if you can.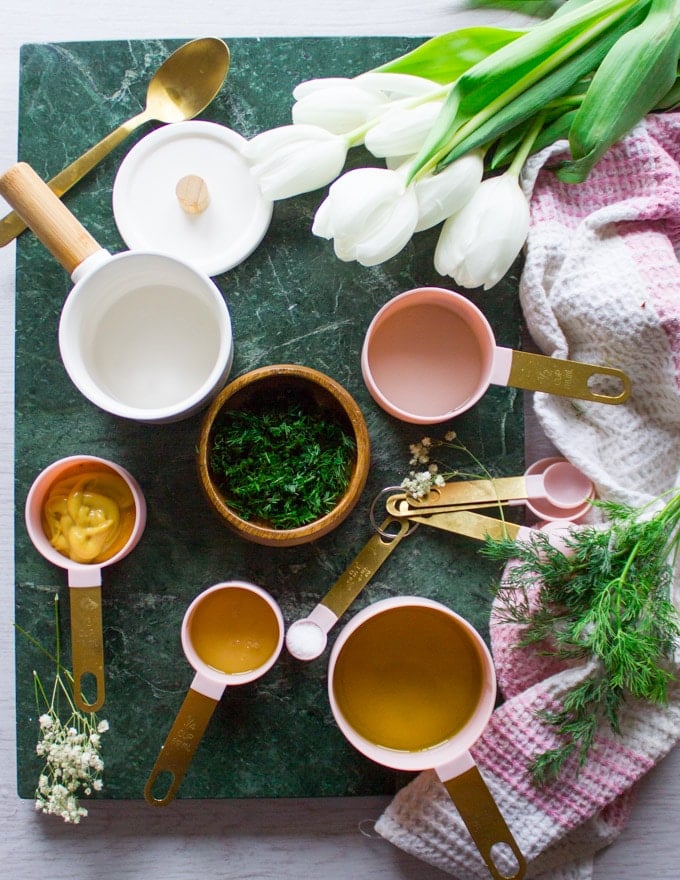 What Goes With Dill Sauce?
It may sound cliche, but seriously everything goes with dill sauce! Here are some of my favorites, use it for:
Salad Dressing
Salmon
Veggies
Dip
Sandwiches
Chicken
Fish
Potatoes
Tofu
Beans
Lentil Salad
Tuna Salad
Cucumber Salad
Marinade
Smoked Salmon
Add Mayo to it and use it as a spread.
Can Dill Sauce Be Frozen?
Yes!! You can freeze the sauce in an ice cube tray and simply defrost it when you're ready to use. Otherwise, you probably don't need to because the Dill Sauce lasts in the fridge for upto a month!
Make MUSTARD DILL SAUCE
Here's how to make the sauce:
Simply place all ingredients in a bowl and whisk until the sauce emulsifies and becomes thick.
The one thing you may need to add to my recipe is chilli flakes. I skip it because my daughter loves this sauce and I felt it could bother her, otherwise I would definitely add chilli flakes!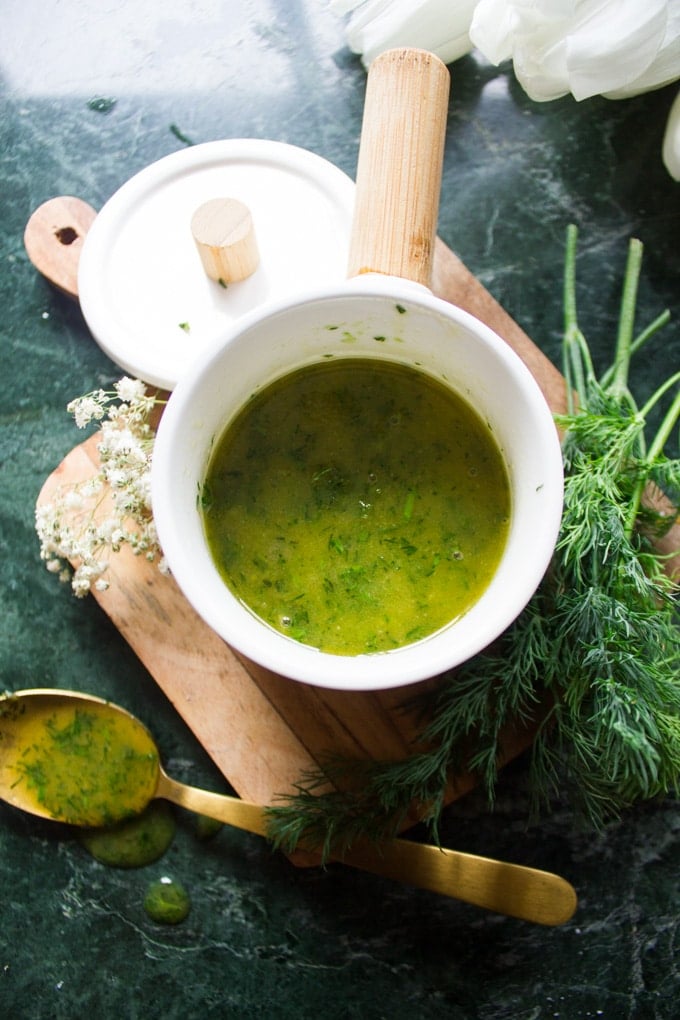 ENJOY!
DILL RECIPES
Salmon Salad With Sweet Dill Dressing
Quinoa Stuffing with Corn Cranberries Pecans and Dill
Blood Orange Salmon Salad With Orange Dill Dressing
Ultimate Tuna Salad Recipe with Olive Dressing
Shrimp Salad Recipe With Lentils Avocados And Shallot Vinaigrette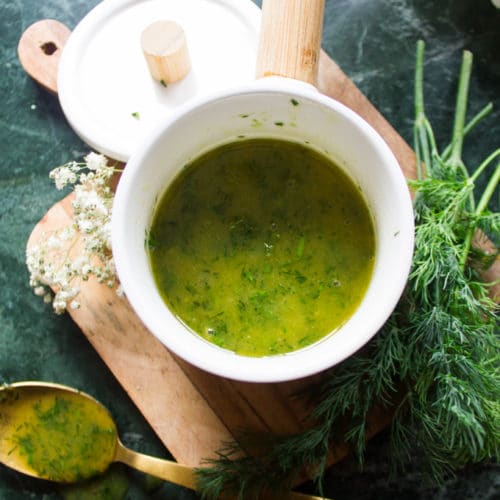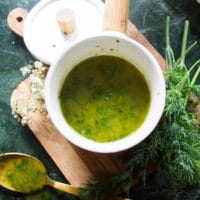 Sweet Mustard Dill Sauce
This sweet Mustard & Dill Sauce is perfectly sweet, slightly tangy, very dill-y, super easy and extremely versatile. Use it on your salads, veggies, chicken, and it's the best Dill Sauce for Salmon!
Ingredients
2

tablespoons

dijon mustard

Use honey mustard, whole grain or spicy or your favorite

2

tablespoons

honey

3

tablespoons

white balsamic vinegar

1/4

cup

extra virgin olive oil

3

tablespoons

dill

minced

1/4

teaspoon

salt
Instructions
Place all the ingredients in a container that may be sealed with a lid. Seal the container and shake it vigorously for a few seconds until the sauce is emulsified and smooth.
Recipe Notes
DILL SAUCE
Use your favorite type of mustard (honey mustard, dijon, spicy or whole grain)
If you don;t have fresh dill, use dried dill in half the amount.
Honey is a must to balance the tang and the vinegar. Use Maple Syrup for vegan option.
Any type of mild light vinegar such as white balsamic, apple cider, white wine...etc.
 
Nutrition Facts
Sweet Mustard Dill Sauce
Amount Per Serving
Calories 167
Calories from Fat 126
% Daily Value*
Fat 14g22%
Sodium 234mg10%
Potassium 24mg1%
Carbohydrates 11g4%
Protein 1g2%
Vitamin A 23IU0%
Vitamin C 1mg1%
Calcium 8mg1%
Iron 1mg6%
* Percent Daily Values are based on a 2000 calorie diet.