This spicy fried chicken fingers recipe is everything you crave for in a fried chicken finger, ever! It's perfectly spiced, very moist with a delicate and crispy crust, it can be flavored  in endless options , and served in endless ways. It's easier, faster and so much better than your favorite chicken joint! Serve them fancy or on the go, they're easy, quick and satisfying! 
This is one of those "what? fried? " moments in life where I admit I have a tiny deep dark junky side that loves spicy fried chicken fingers..yes I do. And if you have one too, keep reading it gets better!!
Chicken, meat and fish are almost like bad words in our home—because my littlest one absolutely doesn't appreciate any of them..not any..however she loves those fried chicken fingers (without the spicy!) which we refer to as crispy fingers at home. And even though I blame her for being so picky about food, I don't blame her for loving these at all.
I love making these with whole chicken finger pieces ( not ground up chicken which is later shaped into fingers) because I feel the texture is much more appealing when whole. I also love a nice crispy yet delicate crust on my fried chicken fingers, not one that it so thick and separates from the fried chicken or take away from the chicken taste. And when it comes to flavors.. I can't really say I have a favorite-I love making them with different flavors and I enjoy each one! The one I've posted here is the most common "spicy" flavor which many of us associate fried chicken fingers with and I serve it with garlic blue chees dip because it's a classic too–recipe to come out tomorrow!
It all starts with 2 large wide bowls and the chicken. On one bowl there's flour—not just flour, but flour seasoned with salt, pepper, oregano, garlic powder, cayenne and sweet paprika. On the other bowl, there's an egg—not just an egg, but an egg flavored with minced garlic, honey mustard, hot sauce, oregano, salt, pepper and sweet paprika.
In order to get a delicate yet nice crinkly crust on the fried chicken fingers, they have to be dipped in the flour bowl, then dipped into the egg bowl and then back into the flour bowl again. This not only gets a perfect crust, but you're guaranteed every piece of chicken finger has no where to escape from those wonderful flavors!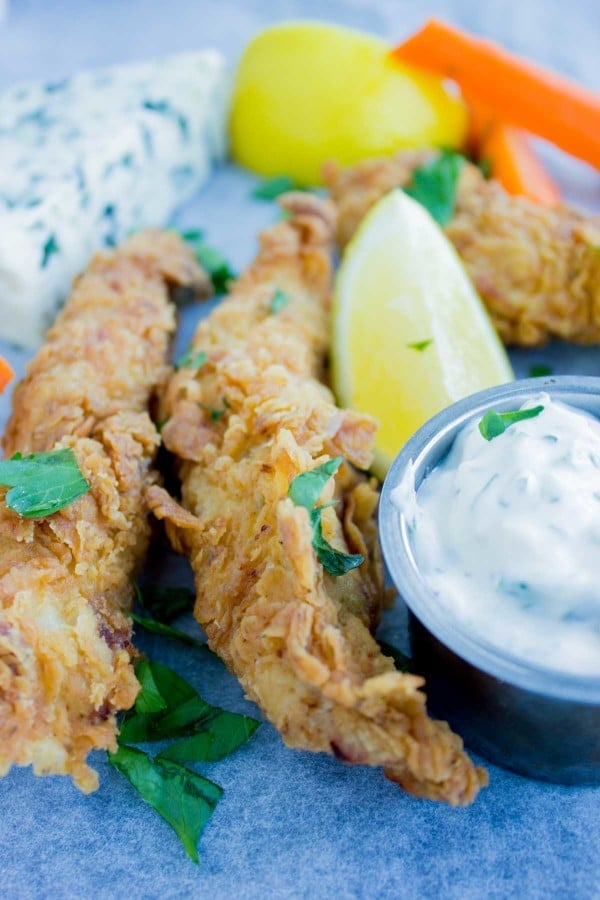 Now let's talk more possibilities—make this completely Mexican and spice up both bowls with cumin, chilli powder, oregano and add some salsa to the egg bowl! Or Italian and add some rosemary to both bowls and basil pesto to the egg mixture! Or Indian and add garam masalaa, turmeric and curry powder, or Asian and add soy sauce, ginger and sweet chilli sauce to the egg bowl while leaving the flour bowl with salt, pepper and garlic powder..Or just simple pure garlic and lemon juice to the eggs and garlic powder, salt and pepper to the flour..I can go on and  on forever..but you get the idea and when you get started on those, you'll go on and on forever too!
The pretty little plastic cups on the cover photo are one of my favorite ways to serve these on the go, or jazz up the kid-friendly appeal, or simply as a finger food. I layer the dip at the bottom (your favorite or this garlic blue cheese dip–recipe to come tomorrow!) and I top it with chicken fingers, then I add a few sticks of carrots, sweet peppers and celery in between the chicken fingers.
A final note about frying those, my favorite way would be using a deep fryer. If you don't have one, I prefer frying in a small pot with smaller amounts of oil and frying a few fingers at a time. This way your frying is much easier—you don't have to worry about the temperature of the oil, you don't have to worry about one finger being ready to flip while the rest isn't, you don't have to worry about throwing away a lot of oil and messy clean up! you'll just get yourself a batch of perfect fried chicken fingers—now enjoy!
Fried Chicken Fingers
Ingredients
2

lbs

of boneless chicken breasts cut into strips

(size and thickness of your choice)

Flour Mix:

2

cups

of all purpose flour

1

teaspoon

of salt

1

teaspoon

of black pepper

1

teaspoon

of garlic powder

1

teaspoon

of dried oregano

1/2

teaspoon

of sweet paprika

1/4

teaspoon

of cayenne spice

(or to taste)

Egg Mix:

2

eggs

(or 1 extra large egg)

2

tablespoons

of honey mustard

2

garlic cloves

, minced

1/4

cup

of hot sauce

(or to taste)

1/2

teaspoon

of salt

1/2

teaspoon

of black pepper

1/2

teaspoon

of dried oregano

1/2

teaspoon

of paprika
Instructions
Mix the flour mix ingredients in a wide bowl and the egg mix ingredients in another.

Place the chicken fingers in the flour mixture and then shake away any excess flour from each piece of chicken before coating it in the egg mixture.

Preheat your deep fryer to 375 degrees, or alternatively heat a small pot filled half way with oil over medium high heat.

When you're ready for frying, take out the chicken pieces from the egg mixture and dredge it back into the flour mixture, making sure to press it well and get a good coating of flour into each piece.

Place the chicken pieces in the fryer (if using) and fry for about 3-5 minutes (depending on the size and thickness of your chicken fingers) until golden and cooked through.

For stove top frying, place 2-3 pieces of chicken fingers at a time to control the oil temperature and to make sure they all cook at the same time. Fry the chicken fingers for 3-5 minutes (depending on size and thickness) until golden.

Drain the fried chicken fingers on paper towels for a minute and serve.