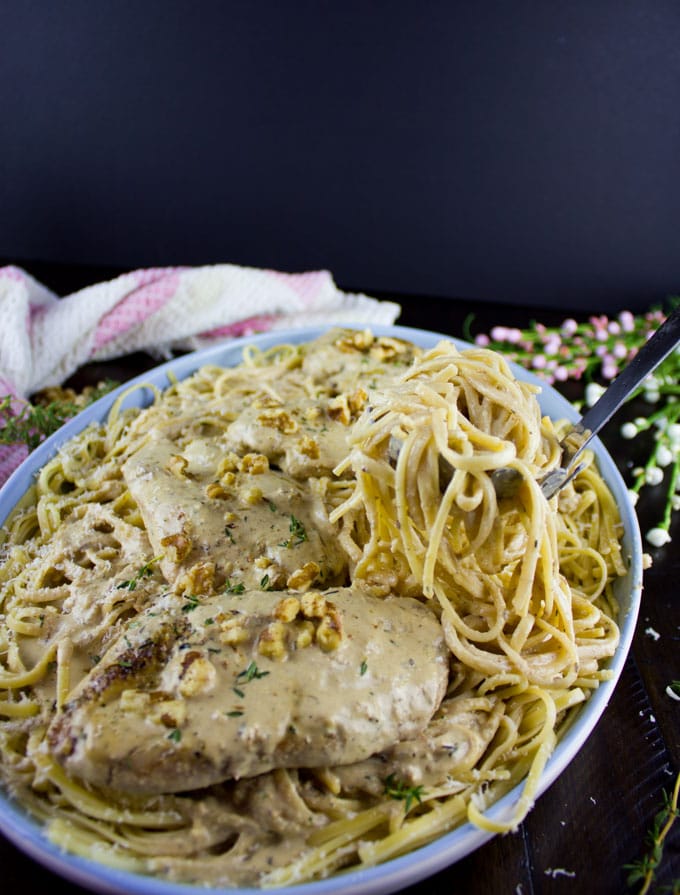 There's nothing like a home cooked chicken dinner, even more, a chicken dinner that comes together in minutes and tastes like a five star restaurant meal. I'm talking about this luscious Creamy Walnut Chicken Dinner recipe. It's one of my Mom's recipes that's actually easy and quick! So unlike her other fancy complicated sauces, this one is as straight forward as can be. Make this fancy five star walnut chicken dinner and prepare to impress 🙂
Almost everyone I know is asking me for chicken recipes and chicken dinner recipes. It's dinner with a mix of comfort food, good protein, and above all, it's a quick dinner! So I know I speak for many when I say there's nothing like a delicious home cooked chicken dinner. Nothing.
If you guys remember, I always envy my Mom's food. It's a blend of sophisticated French cuisine with extra Mediterranean flavor. While I crave many of her recipes, I don't always get a chance to cook them. It's either I have no time, or if I have some time, I know my kids wouldn't eat anything with fancy sauces so I pass. But, out of the many many delicious things my Mom makes, this is one recipe I make so very often.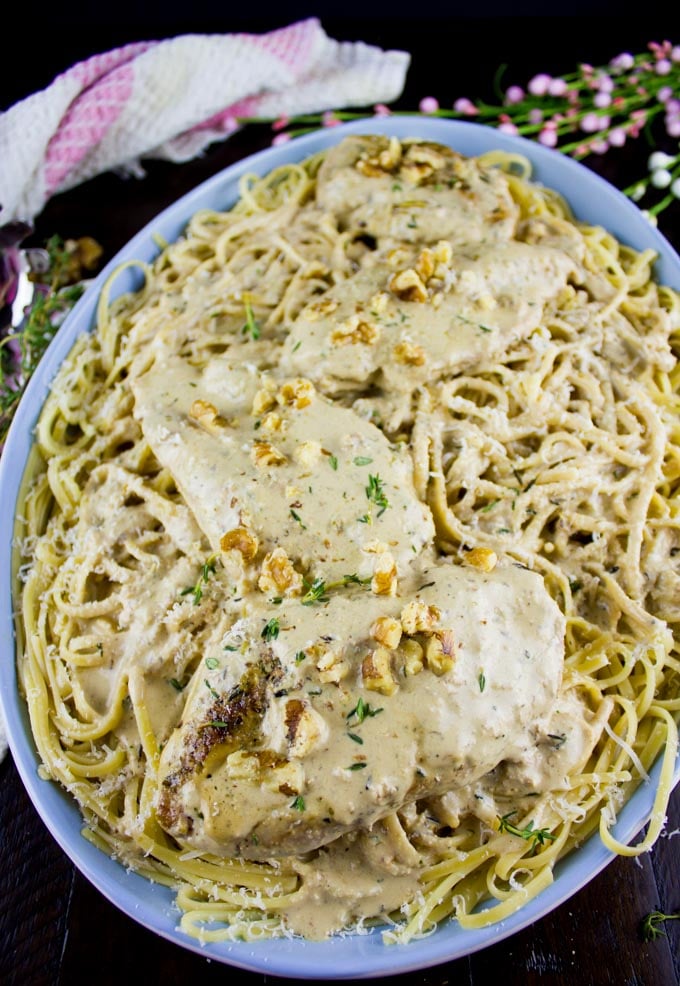 Here's the deal, it's absolutely easy and quick. So you can't go wrong. Another thing, it's insanely delicious. Finally, it feels, tastes, looks and smells like something you would pay lots of $ for at a fancy restaurant. Plus there's a bonus, you'll feel amazing after pulling this chicken dinner off! lol Yes indeed. Now double bonus, if you have friends or family over and pull it off, then woohoo to you!
I won't talk much, here's how this amazing chicken dinner comes together—and P.S if you follow me on Instagram (hello let's connect!), I'll be sharing an Instagram story step by step on making this chicken dinner in a breeze! So start searing your chicken breasts on both sides until nice and golden. No marinades needed, just a nice sprinkle of salt, pepper, oregano and garlic powder for the chicken.
This has to be one of my favorite spices for quick and easy chicken dinners, especially chicken breasts—I use it in this popular Skinny Grilled Chicken Parmesan recipe too! Now remove the seared chicken (they won't be cooked through) and add in some butter. Yes butter. Obviously you could use olive oil, but I'm sticking to butter today. Sauté some garlic and walnuts, some fresh herbs (or dried) and then add in some chicken stock and heavy cream, and bring the sauce to a boil.
At that point you can use an immersion blender or regular blender to blend the sauce into a nice smooth one. Pour the sauce back to the pan and now it's time to add in the chicken. Have the chicken simmer in the walnut sauce for 8-10 minutes until it cooks all the way through and the sauce has thickened. If you prefer a runnier sauce, add in some extra chicken stock to the pan, while if you're looking for an even thicker sauce, then let it simmer for 3-5 minutes longer.
I absolutely love this walnut chicken dinner served over pasta. Something incredibly comforting and divine about that combo. However I think it would be just as great over rice or with some crispy baguette and a salad. I'm all for indulging today so I skipped the salad. It's one of those days. I'm allowed right? I'll admit, that does put a smile on my face lol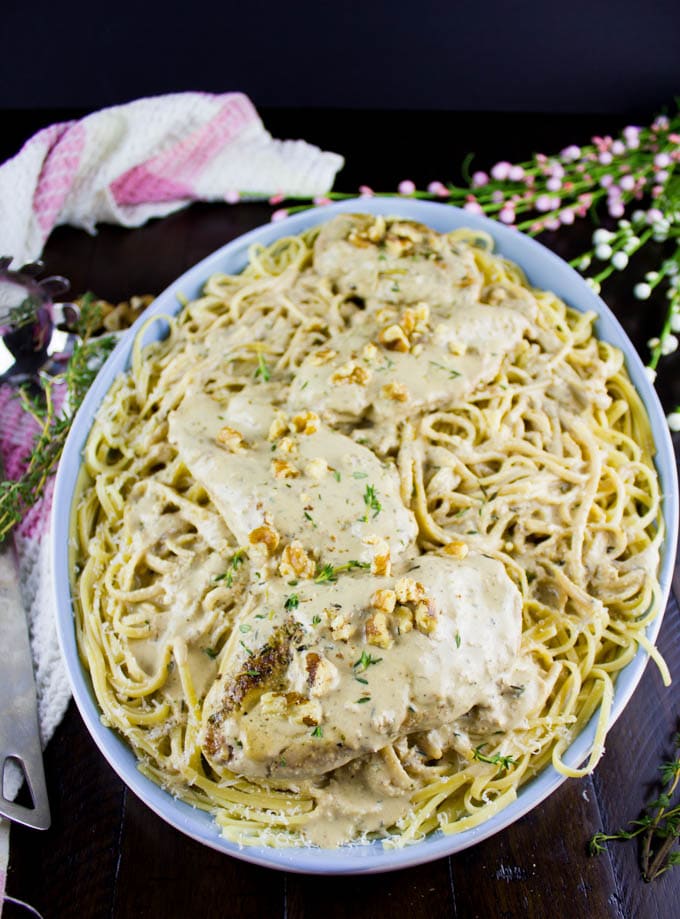 The good news is, I promise you'll LOVE this recipe and I won't be surprised if you make it your go to chicken dinner for those crazy days or just when you feel like indulging! While you're thinking of chicken, here's another favorite of mine when you're in a zesty mood:  Quickest Chicken Fajitas with Mango Pineapple Salsa and Fiery Tandoori Chicken Tacos with Cilantro Corn Slaw are quick, flavor packed and easy chicken dinners! Oh and if you're a Piccata person, here's the one and only Lemon Caper Artichoke Chicken Piccata recipe you'll ever need! Now Enjoy!!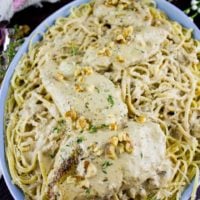 Creamy Walnut Chicken Dinner
There's nothing like a home cooked chicken dinner, even more, a chicken dinner that comes together in minutes and tastes like a five star restaurant meal. I'm talking about this luscious Creamy Walnut Chicken Dinner recipe. It's one of my Mom's recipes that's actually easy and quick! So unlike her other fancy complicated sauces, this one is as straight forward as can be. Make this fancy five star walnut chicken dinner and prepare to impress 🙂
Ingredients
1

tablespoon

of butter

4

pieces

of chicken breast

1

teaspoon

of salt

2

teaspoons

of black pepper

1

Tablespoon

of garlic powder

2

teaspoons

of dried oregano

1

Tablespoon

of butter

2

cloves

of garlic

minced

3

teaspoons

of minced fresh thyme leaves or 1 teaspoon of dried oregano

1

cup

of walnuts

3/4

cup

of chicken stock

1 1/4

cup

of table cream

Salt and pepper to taste
Instructions
On medium high heat, preheat a deep 9 inch skillet with the butter. Season the chicken breasts with salt, pepper, garlic powder and oregano on both sides. Start searing the chicken for about 5 minutes er side until slightly golden, but not cooked all the way through.

Remove the chicken from the skillet and lower the heat to medium low.

Add the extra tablespoon of butter to the skillet along with the garlic and walnuts. Sauté the mixture for a minute and add in the herb, and sauté for another minute. Add in the stock and cream and bring the mixture to a boil by increasing the heat to medium high.

Place the sauce in blender or in a deep bowl and use an immersion blender to blend the sauce till smooth. Tate for seasoning and add in some salt and pepper to your taste.

Place the sauce back to the same skillet and then add the chicken back.

Keep the heat at medium low and allow the chicken to cook through in the sauce for 8-10 minutes gently simmering.

If the sauce is too thick, add some stock to thin it out. If the sauce is too run for your taste, allow it to boil for an extra 3-5 minutes util it thickens further.

Serve the creamy walnut chicken dinner over some boiled pasta and enjoy! 🙂