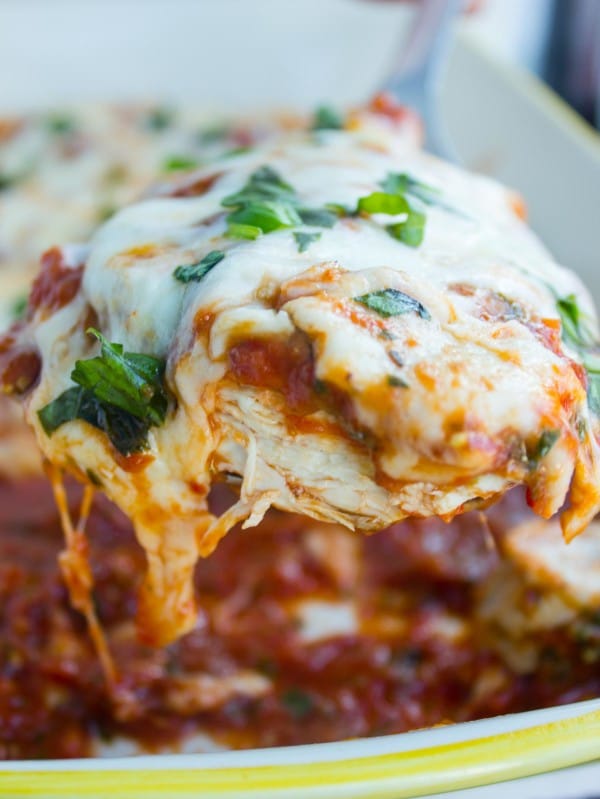 This skinny grilled chicken parmesan recipe is the ultimate guilt free version of a beloved classic. Tender juicy and flavorful pan grilled chicken breasts are topped with basil pesto, parmesan and mozzarella cheese, and baked in a fresh quick homemade marinara sauce. The perfect Italian comfort food to serve with pasta, salad or crusty bread! 
I've always loved chicken parmesan, and if you've been to Italy or even been invited to Italian homes you'll feel this is a classic that symbols comfort. And like many other comfort foods, this lovely chicken dish will taste differently from place to another and from home to another. Much of the taste relies on the marinara sauce used, and the breading used to pan fry the chicken.
grilling the chicken
chicken on a bed of marinara sauce and topped with pesto
parmesan cheese tops the pesto and more marinara covers up the chicken
more parmesan and some mozzarella top it off
I love the original fried and breaded chicken, and I know I'm not alone when I say this. But as it turns out, it leaves me feeling heavy (or maybe that's because I over-eat it every time?) and it takes me a while before making it again..
So I wanted to make this lighter and enjoy as much of it as I want! And if you know me at all, you'll imagine I had to boost much flavor here to make up for that "lightness". I start out by seasoning the chicken breasts with salt, pepper and dried oregano, and pan grill them till they're nice and golden. Then I use my favourite quick homemade marinara sauce because i love the flavors and freshness it adds to this dish. Then once the chicken is beautifully placed on the marinara sauce, it gets a teaspoon of my protein packed nut free homemade basil pesto, parmesan cheese, more marinara and finally a sprinkle of parmesan and mozzarella cheeses! Baked in the oven and ready to devour!
I had a little ( ok, a lot) of help from my oldest daughter helping out here—and yes she insisted on showing off her fancy nail polish! And showing off her love for the yummy chicken dinner.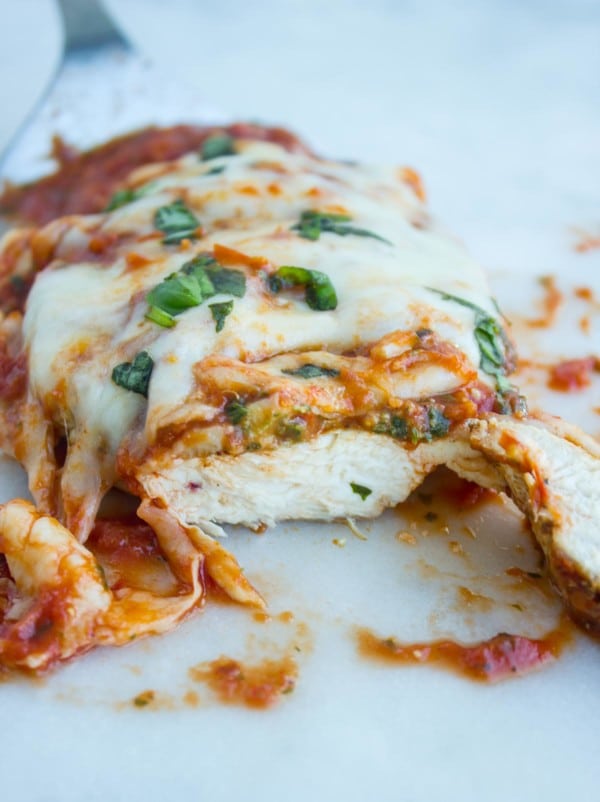 Make this Chicken Parmesan tonight and serve it with salad, pasta, crusty bread or whatever makes you happy!:) Enjoy.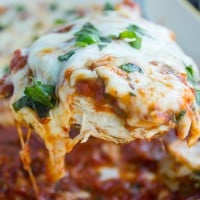 Healthy Grilled Chicken Parmesan
Ingredients
4

boneless

, skinless chicken breasts ( about 2 pounds)

1/2

teaspoon

of salt

1/4

teaspoon

of pepper

1

teaspoon

of dried oregano

2

tablespoons

of olive oil

1

batch of quick homemade marinara sauce

4

teaspoons

of basil pesto

1/2

cup

grated parmesan cheese

1/2

cup

of shredded mozzarella cheese
Instructions
Preheat the oven to 375 degrees.

Bring out a 9 inch by 13 inch oven safe plate and pour tow thirds of the marinara sauce at the bottom of the plate. Set aside.

Preheat a cast iron grill pan (or any skillet of your choice) over medium heat and add in the olive oil.

Season the chicken breasts with salt, pepper and dried oregano on both sides.

When the pan is ready, sear the chicken on one side for 3 minutes and then flip it and sear it for an extra 3 minutes. Lower the heat to medium low and flip the chicken one last time,and continue to cook for another 2 minutes.

Remove the chicken onto the marinara sauce in the oven safe plate.

Place a teaspoon of

nut free basil pesto

on top of each chicken breast and spread it on the entire piece of chicken and then place 2 tablespoons of marinara sauce on top of each chicken breast ( or more to your taste) making sure to cover the entire surface.

Sprinkle the cheeses on top ( about 1/4 cup of cheese in total per chicken piece).

Place the plate in the oven and bake for 12-15 minutes, until the cheese is melted and the chicken absorbs much of the marinara flavour.