Baked Haddock is one of our favorite family weeknight dinners. It's so easy to make, so delicious and packs so much flavor from a crunch coating that we love! All you need to to is the prep work, while the oven does the rest for you–one of the best seafood dinners you'll make!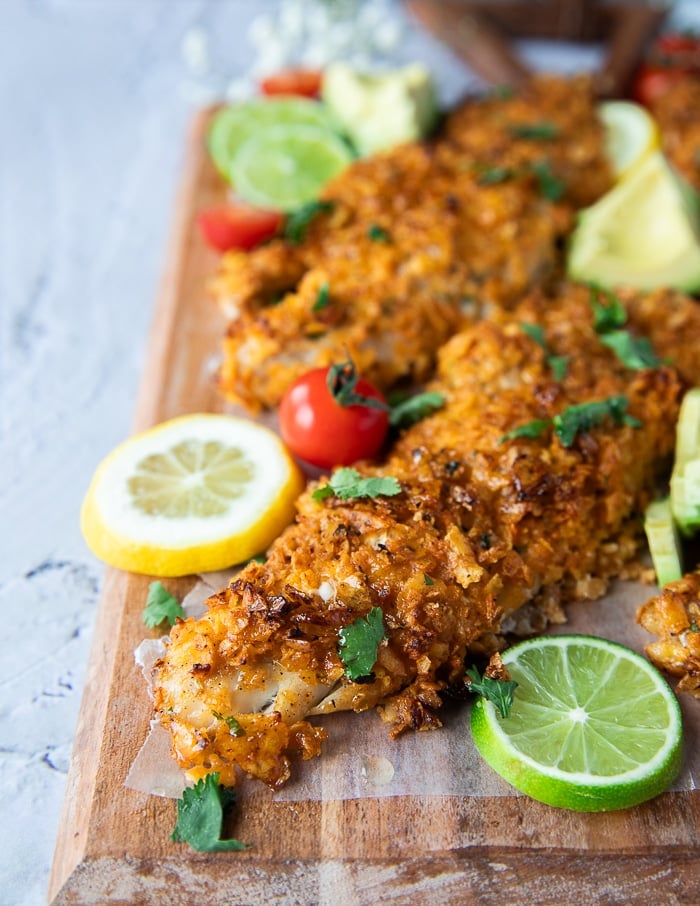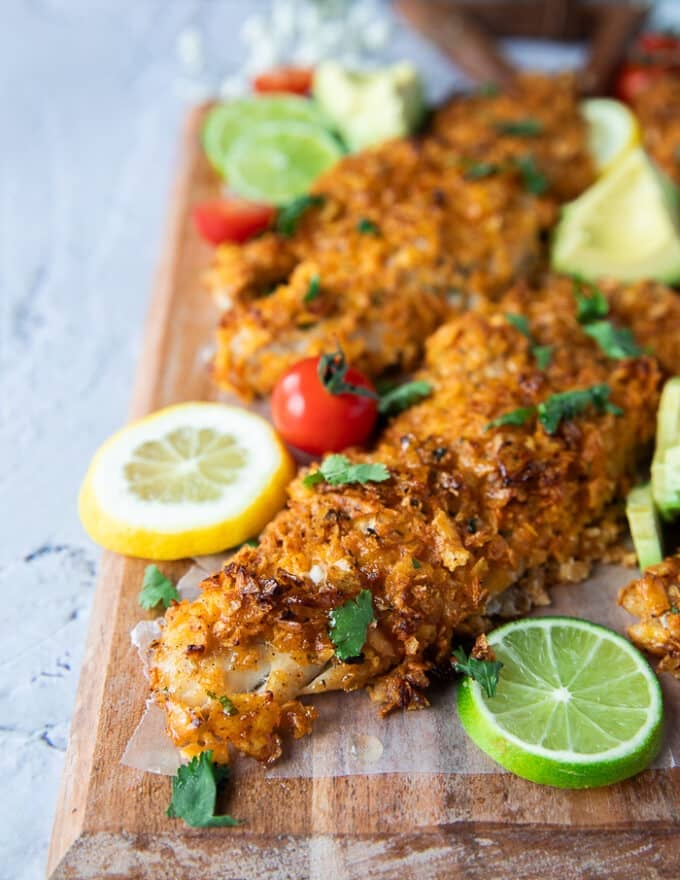 We have a HUGE selection of seafood and fish recipes on this site which are weeknight dinner wonders and some of teh best entertaining recipes! Our super popular types of fish to try is Chilean Sea Bass, Halibut, Baked Mahi Mahi, Tuna Tartare, How to Cook Scallops, Lobster Roll, Shrimp Scampi, Air Fryer Salmon, Mussels Marinara and no cook Shrimp Ceviche!
While each fish, whether fillet or shelled is so unique in it's flavor and texture, there's not really a perfect fish for each recipe. So this baked haddock recipe can be made using Mahi Mahi thanks to it's firm texture. And haddock may also be made into tacos like Salmon Tacos.
So feel free to try all the unique and amazing Seafood recipes on this site and adjust your favorite types of fish to each recipe.
Why Baked Haddock
There's a super popular baked haddock in New England where the fish is coated in butter then Ritz crackers and baked. If you've tried it you'll know how simple yet comforting that dish is! Today we're adapting the same concept, except with a touch more flavor and texture!
If you've tried our Fish Fry which is another MUST make recipe for fried fish that's fool proof with video. You'll notice we flavor our coatings and this makes a huge difference in my opinion.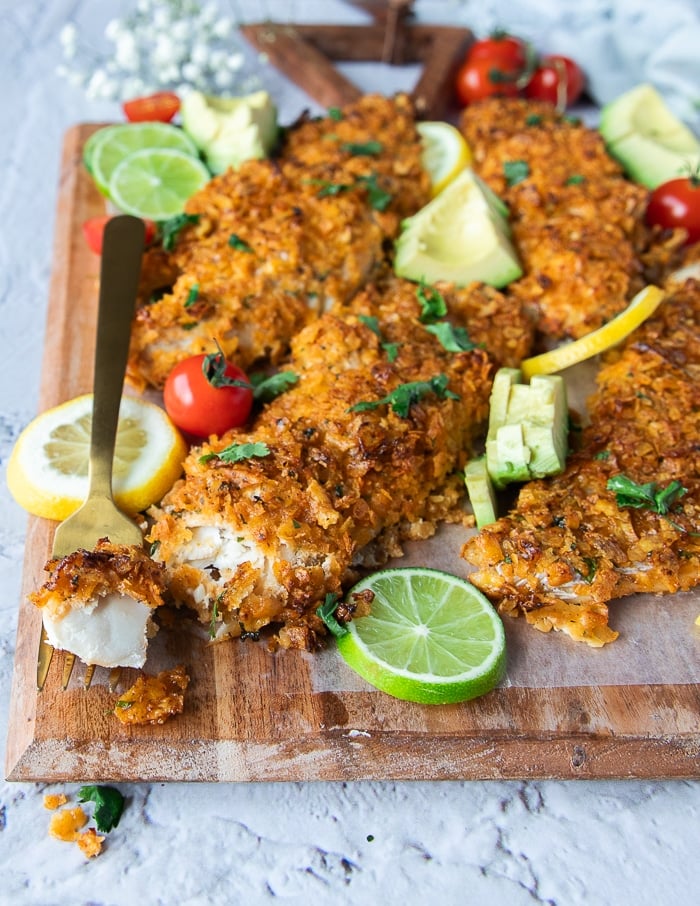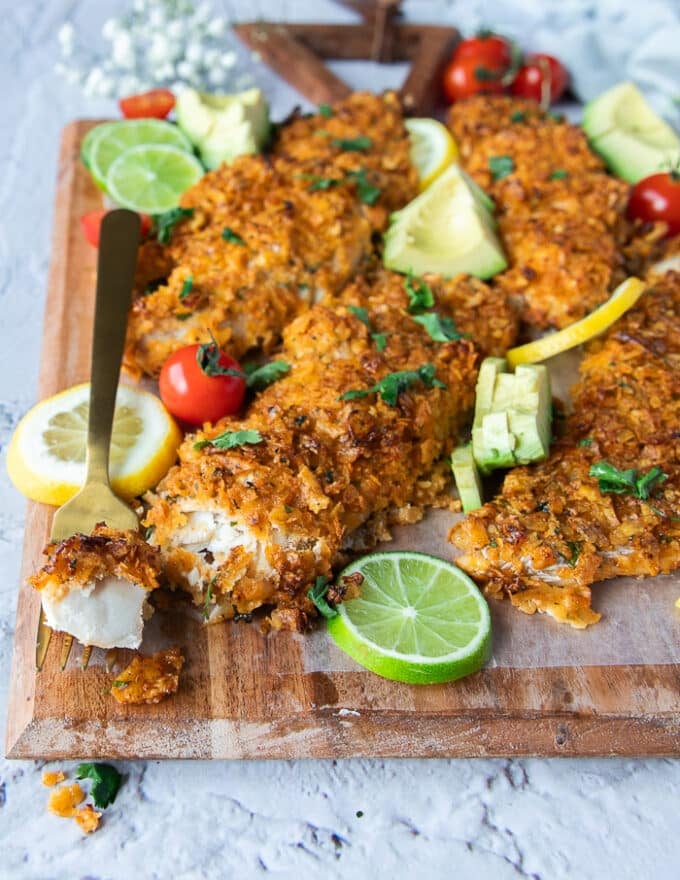 Baked Haddock is a great choice because the fillets is perfect choice for baking because:
The fillets is firm enough to hold it's shape.
Haddock is a relatively thin fish so it can stand a layer of coating.
It cooks in 18-20 minutes in the oven while you can get your sides ready.
It's a low calorie option.
The coating can vary from ritz crackers to doritos to any type of flavored chips you like!
The fish is very neutral tasting so you can spice it up or keep it as mild as you prefer.
The crunch makes it a kid friendly and family favorite recipe!
You can absolutely cook it in the air fryer too–follow this Air Fryer Fish guide.o cook, but this recipe proves otherwise.
Haddock Ingredients
Haddock fillets: Usually fillets are boneless and skinless, and they're approximately 6 ounces each.
Coating Ingredients
These are the first coating ingredients in which the fish will be dipped in before the final crunch coating.
Eggs- for the coating to stick
Cilantro –for fresh herb flavor
Spice blend –to flavor the fish: Salt, pepper, chilli powder, cajun blend and oregano
Garlic– finely grated
Sour cream–adds a melt in your mouth texture to the fish
Crunch Coating
Your favorite chips or doritos crushed in a bowl with some minced fresh cilantro.
How to Bake Haddock
Start by patting the fish dry.
Prepare two bowls, one with the wet coating and the other with the crunchy coating.
Start by placing the haddock in the wet mixture bowl and toss it around to coat well.
Now place the coated fish in to the plate of crunchy doritos/chips and press dow to coat well on both sides.
Repeat the process with all the fillets you have, making sure to coat well and press down the crunchy coating on both sides.
Now place the ready to bake fish on a baking tray and spray with some avocado oil before baking.
Bake until dark golden on the outside, opaque on the inside and the fish can flake easily using a fork.
Serve the haddock on a large platter with some extra cilantro on top for garnish, lots of lemon/lime, some avocados and tomatoes. SO GOOD!! Tips to make the best recipe
Haddock Fish Tips and FAQ
Make sure the haddock fillets are boneless and skinless for this recipe, as it can be hard to fish out the bones with a crunchy coating.
You can use fresh or frozen fish here, if frozen make sure it's well defrosted before proceeding.
Patting the fish dry before beginning the coating process will make the coating stick even better.
Add more or less of your favorite spices to the wet coating.
As for the crunchy coating, make it ritz, chips, breadcrumbs or any crunch coating you prefer.
Spraying the fish with avocado oil before baking adds another bit of texture to the coating when baking.
The fish is ready once the coating is crunchy and the fish is opaque, and flakes easily with a fork.
How to Store, Freeze and Reheat Haddock?
Store leftovers in the fridge for up to 3 days.
Freezing: You can freeze the fish coated and raw for up to 3 months, likewise you can freeze the cooked fish for the same time. Make sure they're well wrapped.
To Reheat/cook from frozen : Allow the fish to be at room temperature for 2 hours, and Air fry at 350 degrees for 10-12 minutes.
What Temperature Should Haddock be cooked at?
400 degree F oven is an optimal temperature for baking haddock as it allows the fish the cook well on the inside without burning the exterior coating.
Breadcrumbs Vs Crackers Coating
We love doritos or any spicy chips here to coat the fish, and that;s because they're sper crunchy and well seasoned. You can however use breadcrumbs for ease, and feel free to flavor them to your taste.
If using crackers or chips, place them in a ziploc bag, and use a rolling pin to press down until they are broken up to the size of your choice. They're ready to use.
What other fish can I use?
Feel free to use Mahi Mahi, Tilapia, Halibut, cod or any white firm fillet.
Fish Recipes