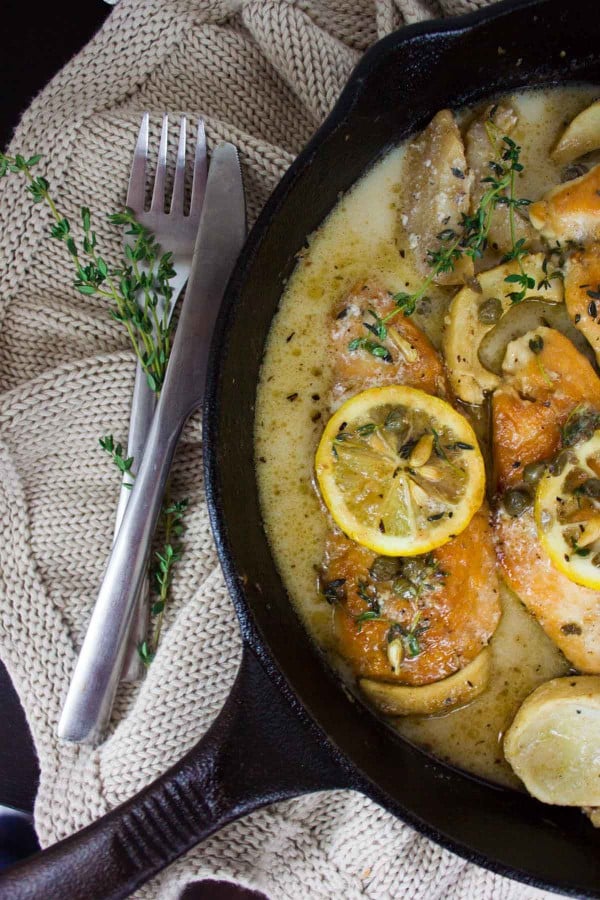 This lemon caper artichoke chicken piccata recipe is a refreshing chicken dinner that's a burst of zest and flavors in 15 mins! Light, healthy and a crowd pleaser every time—this perfectly lemony chicken makes every side dish shine, so weather you're serving it with salad, pasta, rice, potatoes or a loaf of crusty bread—you'll be sure to make an amazing meal!
This is sort of an off season recipe around here, I know. It feels anything but lemony zesty fresh right now—but I needed to make this non-the-less, in hopes of brightening up the gloomy rainy weather. Well guess what, it actually worked!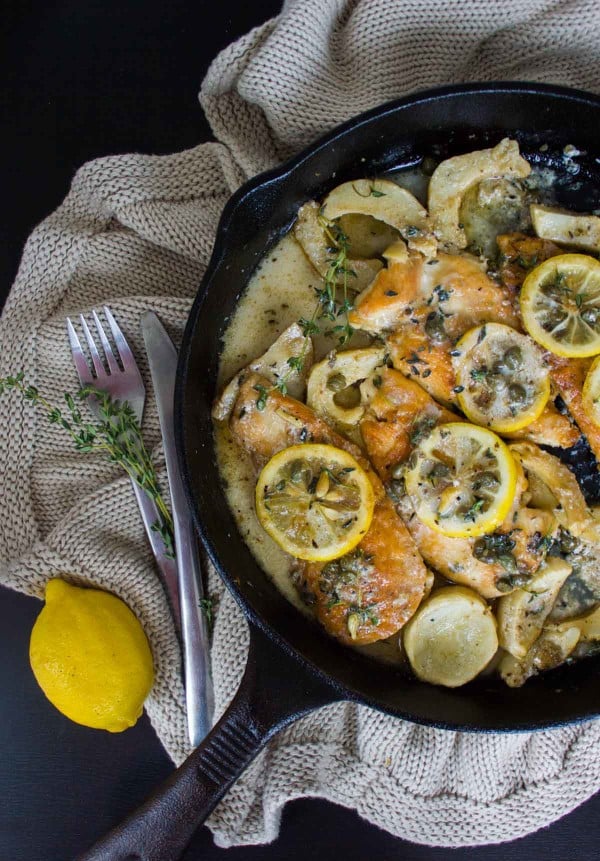 It's just one of those 15 min meals that lift you up on a gloomy day, or save you when you're rushed on time—and puts a smile on your face. I also love making this lemon caper artichoke chicken piccata because it reminds me of a little restaurant I used to go to a long, long time ago. I had a pharmacy job and would feel anything but excited by the end of the day. So my closest friend and me would go after work to treat ourselves after a bad day.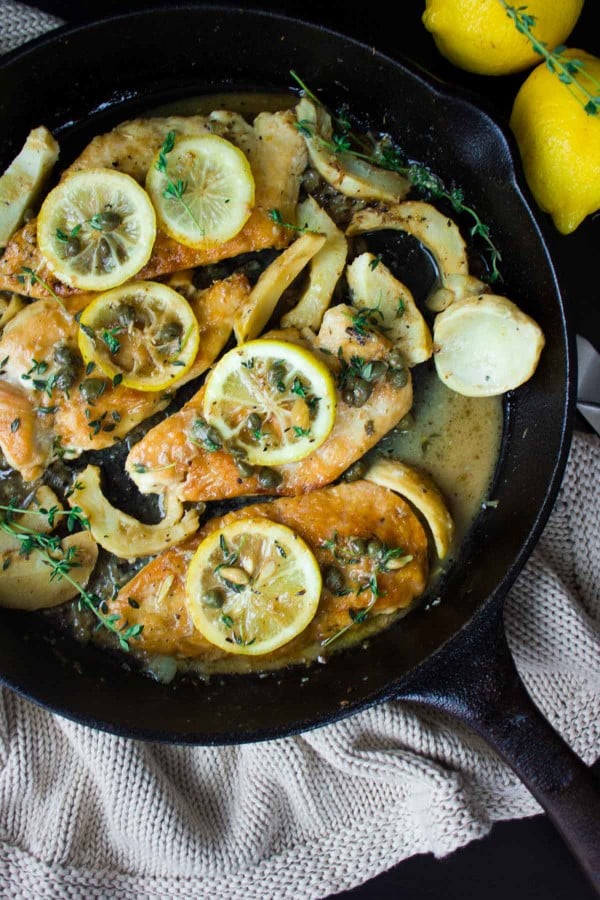 We always ordered the same thing: a nice plate of lemon chicken and a plate of Alfredo pasta. That was pure comfort. Pure comfort with a fresh twist. If I ever go back, I would visit the same little place and order the same thing today. This lemon caper artichoke chicken piccata reminds me of that lemon chicken I ordered years ago. It was lemony, garlicky, with a faint sauce that's light and tangy. Pasta was my side dish of choice back then, but now, I would pick a nice loaf of crusty bread t mop up all the sauce! Potatoes, rice, salad would make perfect sides too.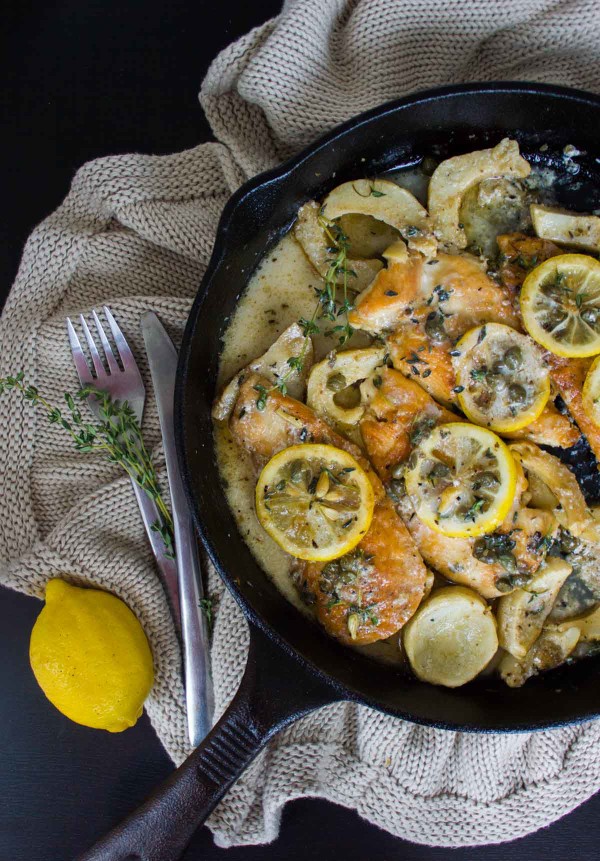 It's really a no fuss recipe, simple fresh and quick. No harsh spices, no sophisticated cream sauces, no long list of ingredients. It starts with a dusting of flour on the chicken which gets seared in butter on both sides. That flour coating on the chicken, then sticks to the skillet and helps thicken up the sauce magically, so you don't have to! After that the chicken gets removed and more butter goes into the skillet, plenty of garlic, some lemon slices, artichoke slices and fresh thyme for a quick sauté. Then the chicken goes back in with some lemon juice and stock on medium heat for 3 mins. A secret ingredient finished off and rounds up the flavors—Greek yogurt! It adds a hint of creamy feel with a nice zesty tangy note that perfectly compliments the lemon, the chicken, the capers, the artichokes..everything!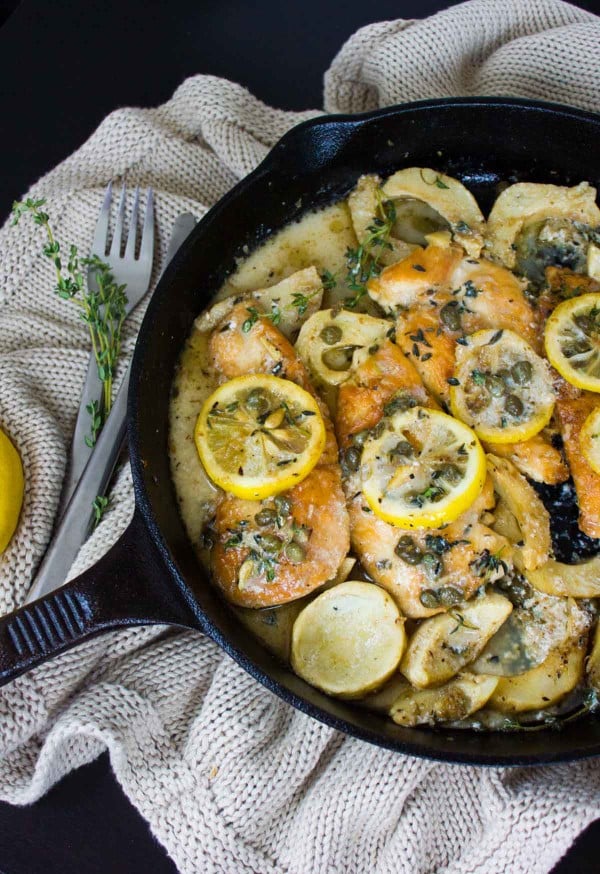 So while artichokes are one of my favorite ingredients, I used it in this amazing lemon artichoke garlic  roast chicken with salsa, and this bright kale artichoke walnut pesto (which I later used to stuff mushrooms: kale pesto stuffed mushrooms and to toss with pasta: shrimp kale artichoke pesto pasta)—-I know a certain someone who dislikes them quite a bit, so if you're like that someone—take that artichoke right out! Don't hesitate! And make this lemon caper artichoke chicken piccata minus artichokes. Also feel free to throw in some spinach, sun dried tomatoes, feta, olives, asparagus, more yogurt, less lemon, or more lemon, parsley….endless ingredients you love! It's a very forgiving recipe that just screams to be made right now, so you can brighten up your dinner today and enjoy 🙂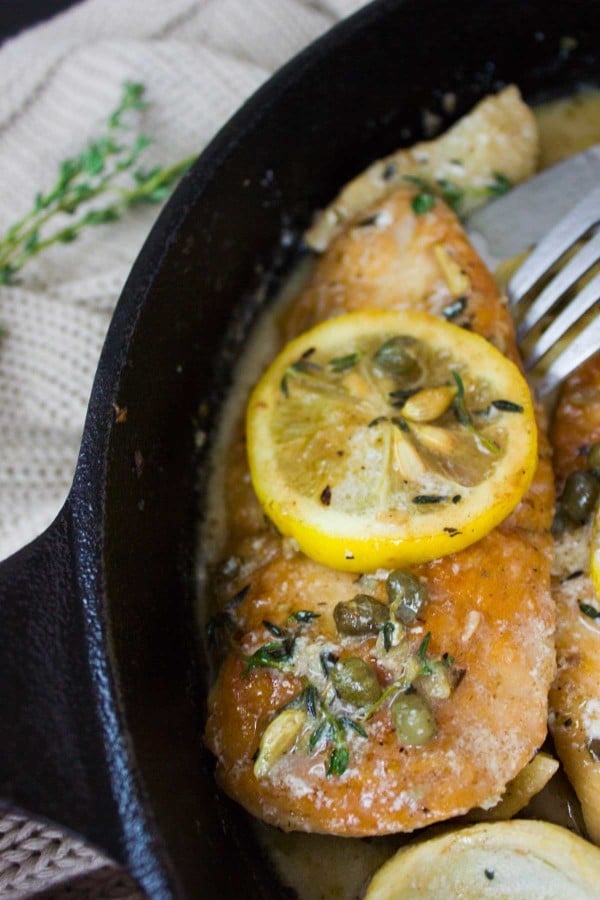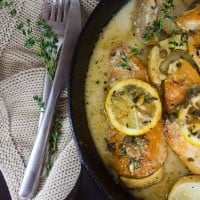 Lemon Caper Artichoke Chicken Piccata
Ingredients
4

pieces

of boneless skinless chicken breasts

, 2 lbs

1/4

cup

of all purpose flour seasoned with a pinch of salt and 1 teaspoon of oregano

1

tablespoons

of butter

2

tablespoons

more butter

4

cloves

of garlic

1

lemon thinly sliced

juice of 1 lemon

3

tablespoons

of fresh thyme leaves

3

tablespoons

of capers

4

large frozen artichokes

(or jarred), sliced

1/4

cup

of chicken stock

2

tablespoons

of Greek yogurt

1/4

teaspoon

of salt

1/4

teaspoon

of pepper
Instructions
Preheat a skillet over medium high heat and add in the butter.

Coat the chicken generously with the seasoned flour and shake off any excess.

Sear the chicken in the butter for 2 mins per side until nice and golden.

Remove the chicken on a plate and add in the remaining butter to the same skillet without washing it.

Add in the garlic, lemon slices, fresh thyme, capers, artichokes and sautee for a minute.

Add in the lemon juice and stock, then place the chicken back in the mixture and let it cook over medium low heat for about 3-5 mins (depending on the thickness of your chicken).

Add in the yogurt and take the skillet off the heat. Mix the sauce to blend, season and serve.