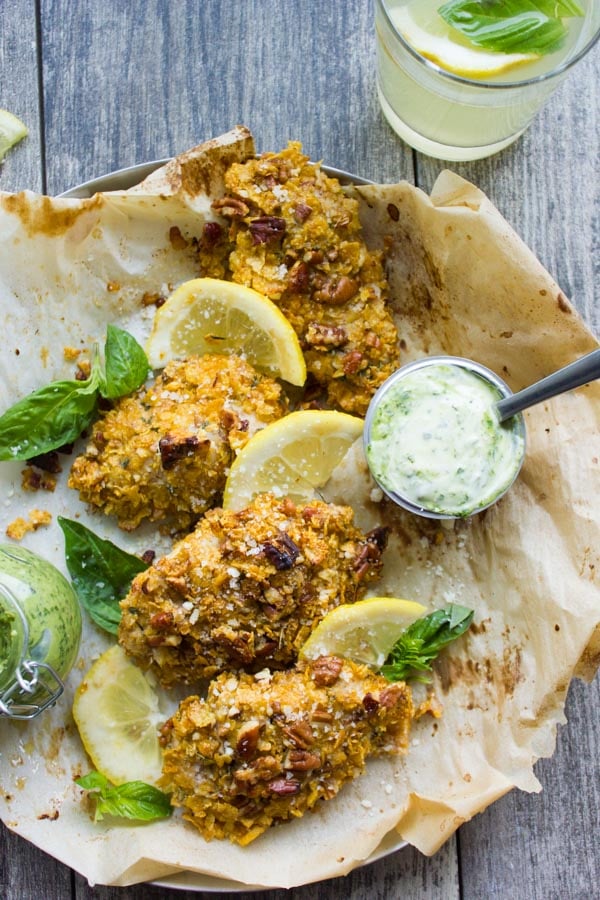 This Pecan Crust Baked Chicken Tenders recipe is a quick dinner favorite that's a real crowd pleaser. Super succulent tender chicken fingers with a nice flavor packed coating of garlic, mustard, oregano and a dash of hot sauce. Now coat these with plenty of crunchy pecans and corn flakes, bake and you're all set for a super delicious, quick and succulent chicken dinner with a perfect crunch!
We all have a thing for chicken tenders, chicken fingers however you call them..I have a thing for the baked version and I also have a think for the junky fried version—just make those spicy fried chicken fingers one time and you will understand 😉 I'm honestly not even ashamed. I love my healthy food, and I can go as healthy as can be for weeks, but I also love my junky side, my sweet tooth..I basically LOVE everything food!! 🙂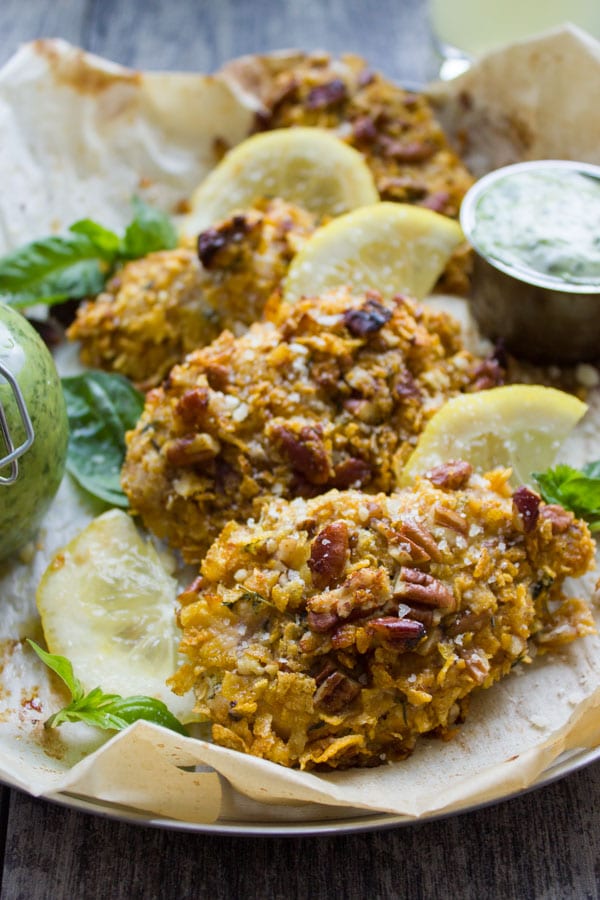 So how do you guys do chicken tenders? I have to tell you, for me it's about flavor plus crunch. If one of them is missing, it doesn't feel right. A very long time ago back when I was in high school, I lived in Moscow for nearly four years. I absolutely loved it, I think I loved all places I've lived in and I've associated every one of them with some food memories. I remember we rarely ate any chicken in Moscow, and that's because we tasted one of the best tasting meats over there—to a point where we didn't feel like we should waste much days on chicken! Now when I look back, I don't think I can skip chicken dinners like that.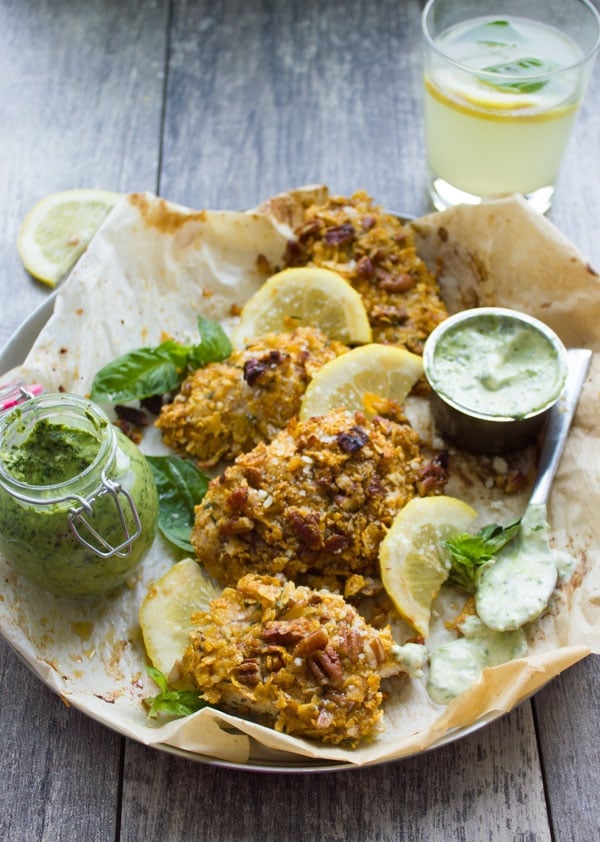 Fo me, yes I love chicken, and I also love how quick and easy it is to have a super yummy chicken dinner on the table. So even a whole roast chicken—while it's a bit more time consuming, it's absolutely easy and quicker than you think..just take a peak at this amazing Quick Roast Tandoori Chicken or this Easiest Garlic Herb Roast Chicken! But we're back to these succulent lick your fingers good pecan chicken tenders now.
For the record, I've made these chicken tenders with almonds, walnuts and hazelnuts..and I happen to prefer the pecans. They have a faint sweetness with a neutral flavor. Almonds are neutral as well, but just a bit too neutral I think, now if you're all for a boost of nutty flavor, I guarantee you'll love the hazelnuts version. And if you have an abundance of pistachios, by all means go for it! And take a peak at this decadent five star Pesto Pistachio Fish Fillet—a show stopping fish dinner that's a favorite at the cooking school!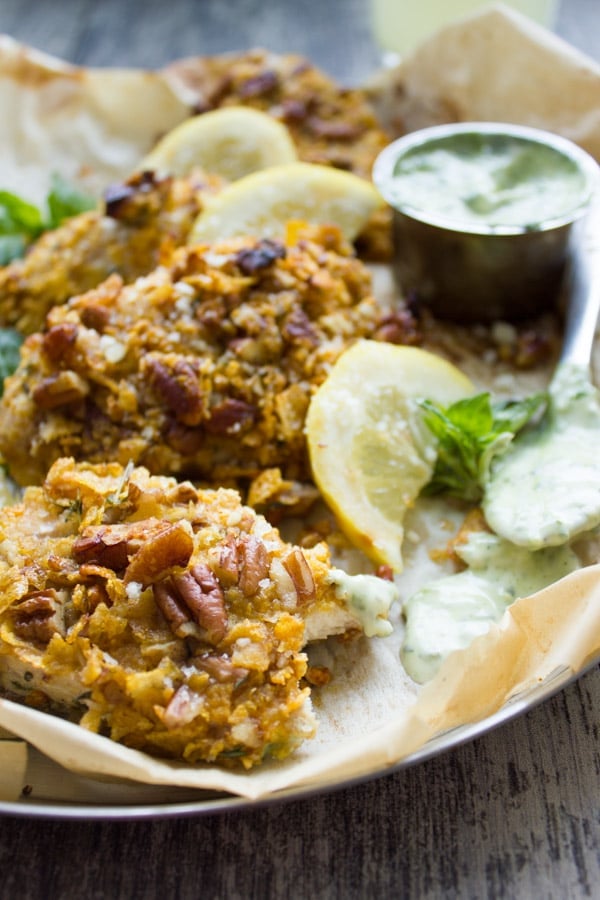 When it comes to flavor, I'm all for it..and the best part is, you can mix and match your favorite spices here and make a different version of these chicken tenders every time. So the chicken fingers are coated in a mixture of egg, plenty of grated garlic, lemon juice honey mustard, Mayo, dried oregano, a dash of hot sauce and some salt and pepper. This sticky chicken now is ready for the crunch coating. The more you let it sit in this egg mixture, the more flavor it gets, but it's absolutely not essential. I bake them right away and they're still SO SO GOOD!!
For the crunch, I use plenty of pecans and corn flakes and I season them lightly with salt, pepper and oregano..I mean why should we skimp on flavor, ever. Now coat each chicken tender in this crunch mix and place the chicken tenders on a lightly oiled parchment lined baking sheet. Then spray or drizzle some olive oil over the chicken tenders and bake them at a high oven for 15 mins. Perfect crunch, succulent chicken strips, super flavorful chicken dinner in a flash.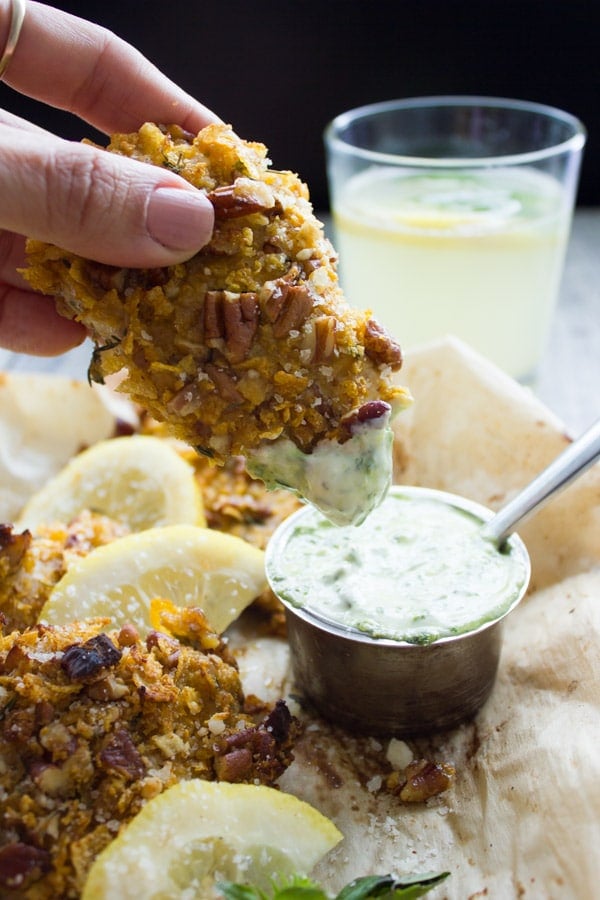 Oh did I forget to mention the basil dip? I had quite an abundance of basil pesto (if you have 5 mins and fresh basil on hand—then check this Fettuccine with Pistachio Pesto Sauce for the basil pistachio pesto, or this Protein Packed Nut Free Hemp Bail pesto). I simply mixed a couple tablespoons of basil pesto with some sour cream and what a perfect compliment to my chicken tenders! Make this recipe and enjoy! 🙂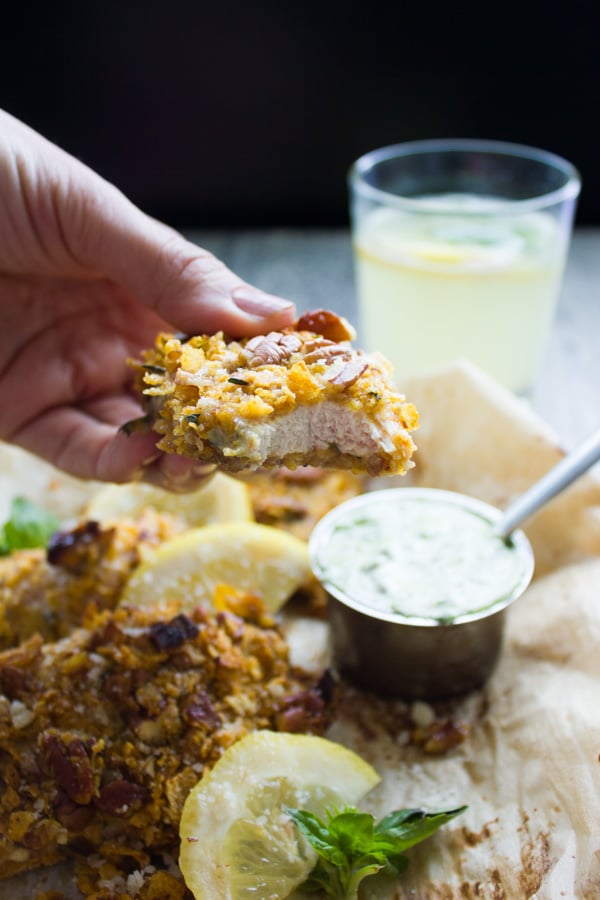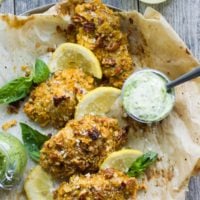 Pecan Crust Baked Chicken Tenders
Ingredients
For the chicken:

2

lbs

boneless skinless chicken breasts cut into strips

1

egg

2

large cloves of garlic

, minced

2

tablespoons

of honey mustard

zest and juice of 1 lemon

1/4

teaspoon

of salt

(more or less to taste)

1/2

teaspoon

of black pepper

1

teaspoon

of dried oregano

2

tablespoons

of hot sauce

(optional)

1

Tablespoon

of Mayo

Coating:

2

cups

of crunched pecans

1

cup

of crushed corn flakes

pinch of salt

, pepper

1/2

teaspoon

of dried Oregano

Basil Dip

2

Tablespoons

of Basil Pesto

( Check the recipe here or here)

1/2

cup

of Sour Cream

pinch of salt
Instructions
Preheat the oven to 450 degrees F.

Line a baking sheet with parchment paper and spray or drizzle it with some olive oil.

In a bowl, mix the chicken ingredients (without the chicken or coating) until the mixture is smooth. Add the chicken strips into the egg mixture and toss them well to coat.

In another shallow bowl, mix the coating ingredients together.

Take the chicken strips and coat them in the crunchy pecan mixture well on both sides, and pat each chicken strip very well to coat.

Place each chicken strip on the baking sheet. Repeat with the remaining strips.

Drizzle or spray some olive oil over the chicken strips and bake them for 12-15 mins (depending on the size of your chicken strips).

In the meantime, mix the basil dip ingredients in a small bowl.

Serve the chicken and basil dip together.