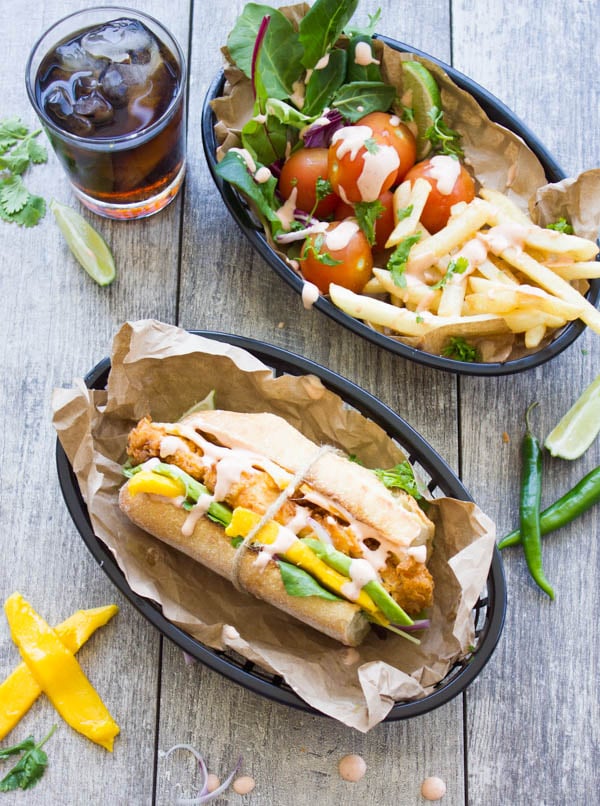 When you're craving that classic taste of spicy and sweet fried chicken sandwich, grab a few ingredients and make this Spicy Sweet Sriracha Mango Chicken Sandwich recipe. Crusty bread, creamy pink Sriracha sauce, avocado, cilantro, green chilli, mango slices, onion slices, crispy spicy fried chicken fingers—YES fried with all the good stuff 🙂 And finally a layer of cheese which melts slightly as it sits over the fried chicken..so grab your appetite.
I don't know what it is about fried chicken that sometimes just gets into me. Just the fried stuff. Ok you might be thinking how can I sometimes go crazy for salads and super healthy clean meals. And I absolutely LOVE those meals. Other days I go for a sweet decadent treat and skip my lunch over it. And then there are today's sort of days.. fried chicken sandwich sort of days. It's whatever I'm craving, what my mood feels like, and deep down I'm hoping that I'm like everyone else. Do you get those crazy cravings of super healthy meals or decadent sweets or once in a while fried junky foods too?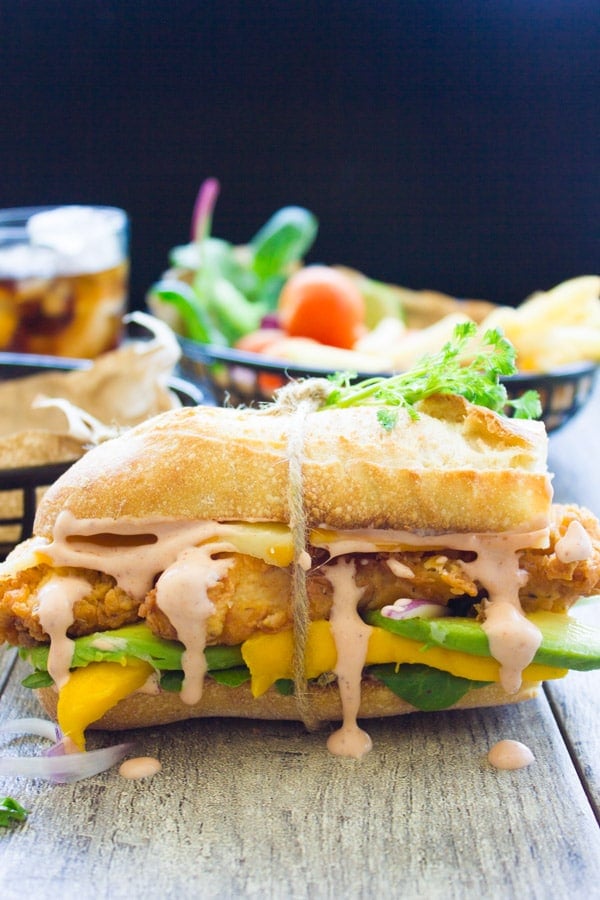 For the record it's often related to a bit of emotional stress, today my dad left to Africa. He stayed with us for a bit over a month and it was like a dream. I've always admired my dad, he was as kind to us as can be, as fair as can be and as understanding as can be. And as a grandpa, he's even more than that. But with all this, I rarely and barely get to spend time with him. He's quite a busy man, he travels so often and he reads like there's no tomorrow. So the last month he got to spend with us was super special, even though the weather was anything BUT special lol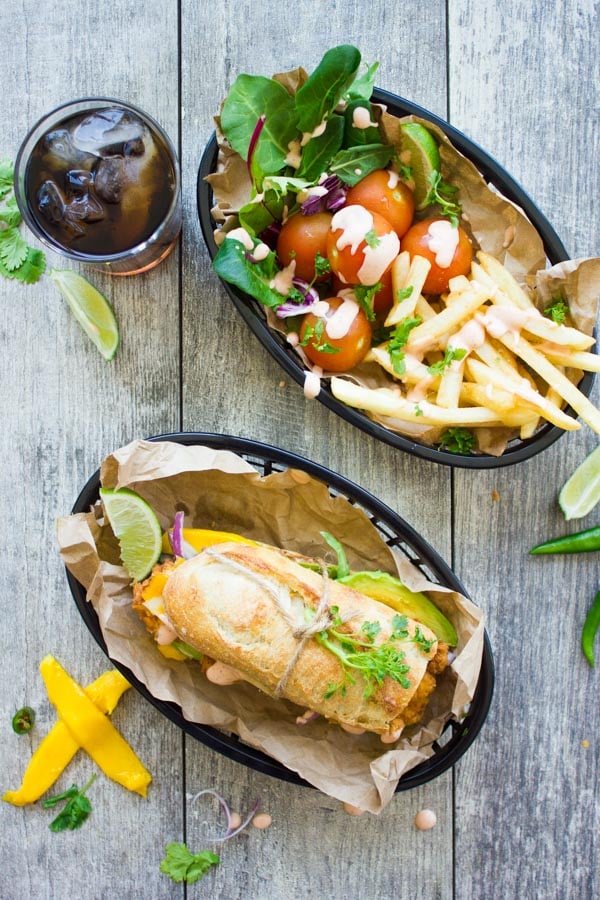 After we dropped my dad at the airport, I came back had a little rest, a long phone call with a friend and started looking in my fridge/freezer for something to feed the kids. I found my favorite and seriously the BEST Spicy Fried Chicken Fingers uncooked in the freezer. I strongly urge you to read that recipe—it's my go to fried chicken fingers recipe, it's a recipe I get asked for every SINGLE time someone tries it for the first time, and I share my favorite tips of making endless variations of it! And luckily today I found some ready for frying chicken fingers in my freezer that saved me from worrying what to feed the girls when I came rushing home with the school bus drop off.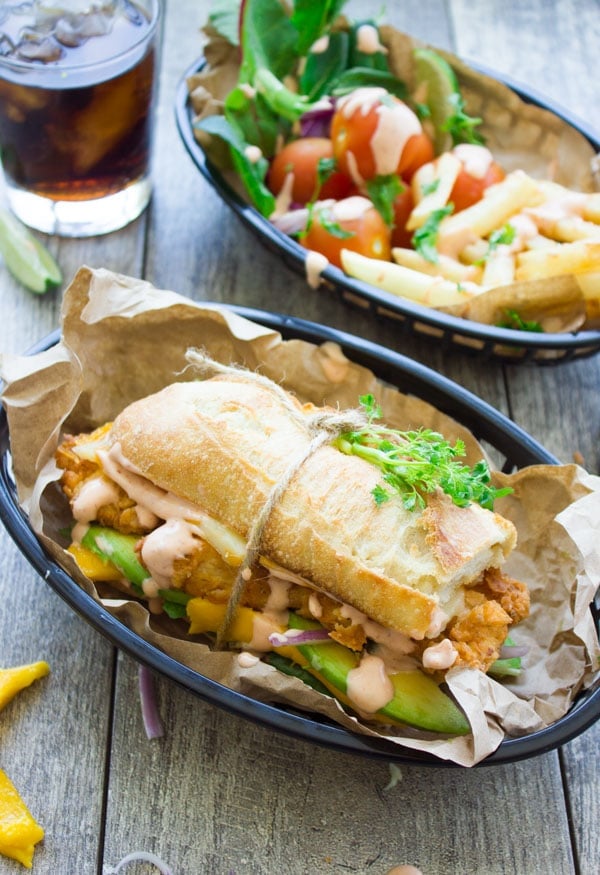 I fried them in my handy dandy deep fryer. Yes I have one, and at times like these I love it. Then I went ahead and put some fries in. YES indeed I did. And then that smell, that crunch just called my name—I needed a fried chicken sandwich. I kept some aside for me and my mom and I started  imagining building up a killer chicken sandwich to cheer me up on the day my dad left 🙂 I looked at the fridge and gathered my ingredients—luckily I had everything I needed!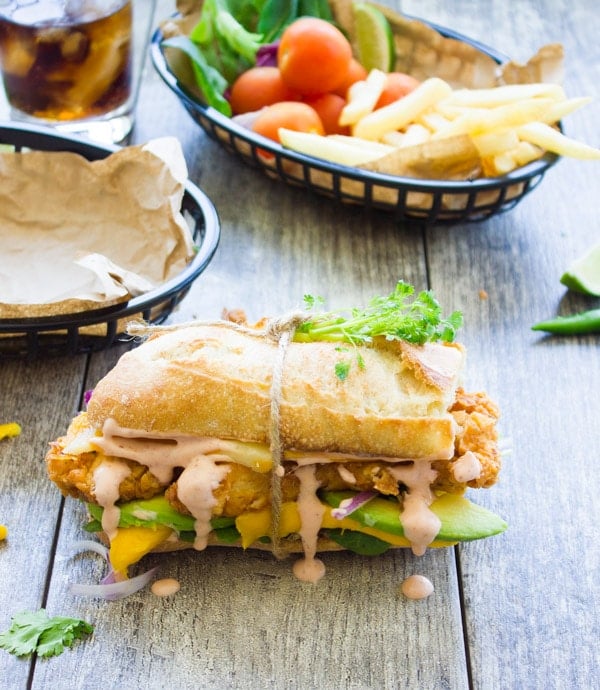 A mango that had to be used, and I love the combo of mango and spice ( did you miss my Spicy Mango Chicken Wings with my easy quick homemade mango chutney?). A bottle of Sriracha sauce which I mixed up with some ranch dressing for a Sriracha ranch sauce-YUM! An avocado, some cilantro leaves, a bunch of greens, some red onions, some green chilli (or jalapeño) and some marbled cheese. Here are the step by step photos to assemble the BEST chicken sandwich ever! Quick note—the type of bread you chose is totally optional and will define the character of your chicken sandwich. I chose a crunchy ciabatta style baguette, but a good old burger bun works perfectly well here—just your choice of how you want your chicken sandwich to be.
Quick How To
Slather the Sriracha ranch on your bread, layer up the toppings to your taste and drizzle more and more of the Sriracha ranch over the sandwich and simply dig in! Serve this up with some fried, some cherry tomatoes, more spicy sauce and ENJOY 🙂 Now as always, I can't stress enough how you can twist this recipe to suit your personal taste and suit what you've got hanging around in your fridge. Think–sliced peaches, pears, apples, blue cheese, goat cheese, Monterey Jack, Swiss cheese, feta cheese, sliced tomatoes, olives…and more! Plus think about making this into a wrap on soft naan bread or tortilla, and think about making a habanero ranch, lemon ranch, garlic ranch…Like seriously endless ways to indulge! Now seriously make this and ENOY 🙂
Recipe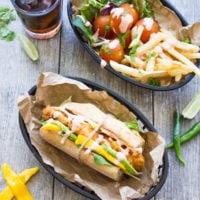 Spicy Sweet Sriracha Mango Chicken Sandwich
Ingredients
1

large piece of boneless skinless chicken breast prepared like the Spicy Fried Chicken Fingers recipe

1/2

cup

of Ranch dressing

(your favorite brand or homemade)

3

Tablespoons

of Sriracha hot sauce

1/2

cup

of greens

(any type or mixed)

8

thin slices of mangoes

1/2

an avocado sliced

thinly sliced red onions

1/4

cup

of cilantro leaves

2

green chilli sliced

(or jalapeños)

4

slices

of marbled cheddar cheese

( or your favorite type)

freshly ground pepper

Your favorite type of bread--either a burger bun or a crusty baguette or a soft naan wrap..etc
Instructions
Cook the chicken according to the recipe.

Chose your favorite type of bread, toast it if you prefer.

Make the Sriracha Ranch by mixing the Sriracha sauce and ranch dressing in a small bowl.

Spread a couple tablespoons of the Sriracha sauce at the bottom of your bread, layer the greens, mangoes, avocados, chilli, cilantro, sliced onions and then top that with the fried chicken fingers.

Place the cheese and a grind of fresh black pepper over that then top with more Sriracha ranch sauce and then the top part of the bread. Enjoy 🙂